Europe can be called the cradle of human civilization as great civilizations like Roman and Greek belong to this continent. Roman civilization is still influencing lives of modern people. That is why lots of tourists flock to European countries which have Roman relics. The capital of Roman world is Rome that attracts thousands of travelers. Apart from this city of Italy there are others which have astonishing Roman relics too.  Brescia in northwest of Italy is one of such cities. Brescia was a very important Roman city in ancient time. it is a great center for Renaissance also. in a word if a tourist makes up his or her mind to visit this place, he or she will not be disappointed.
Here Are 5 Really Remarkable Things To Do While In Brescia, Italy
1. Step into the Museum of Art and History
The Roman forum needless to say is the main attraction of Brescia. You can visit this place or walk past this and step into the Museum of art and history locally known as Civici musei d arte e storia Santa Giulia. This museum is housed in a monastery building. It has astonishing number of articles, objects and models that exhibit mostly the Roman era in the city as well as post Roman and Renaissance influence on the city too. Experts say that the museum covers artifacts from 1st  century BC to 5th century AD. Ancient art lovers will have a rollicking good time here to see great Roman mosaic, religious frescoes etc.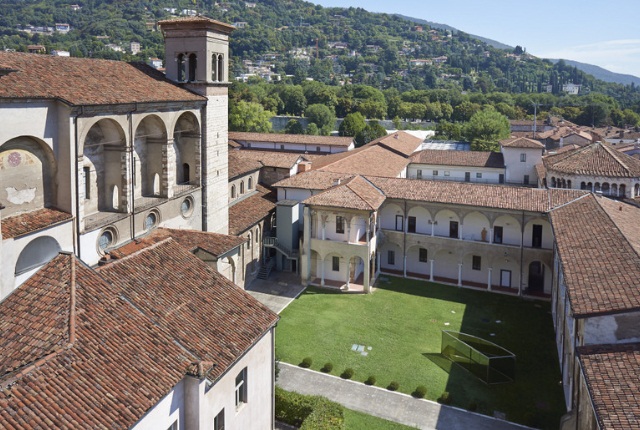 2. Find Ancient History In The Roman Forum
As told earlier the Roman forum is the main and popular tourist spot of Brescia. Romans called the city Brixia. Now an interested tourist can see remains of Roman streets, shops and other establishments here. The relics of this historic spot mostly date back to 1st century AD. The relic of a basilica of that era also can be visited here. Besides there is a Roman gate and another place called Teatro Romano or Roman theater that can be dated back to 3rd century AD to visit too here in this forum. The spot is locally called Piazza del foro.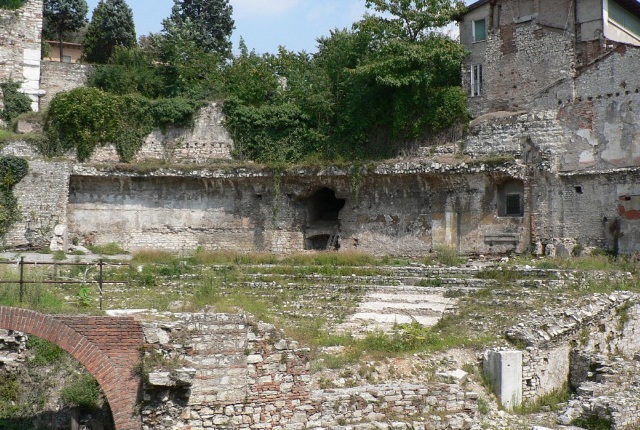 3. Do Not Miss The Roman Temple
No place that has Roman relic can give you full satisfaction if it does not have a few remains of a Roman temple. This Roman temple is the most imposing relic near the Roman forum. It was built during the rule of Roman emperor Vespasian in 73 AD. The temple was dedicated to Jupiter, Juno and goddess Minerva. Though only a few columns remain tourists can see some chambers and art in the temple too. The site is locally called Templo Capitolino.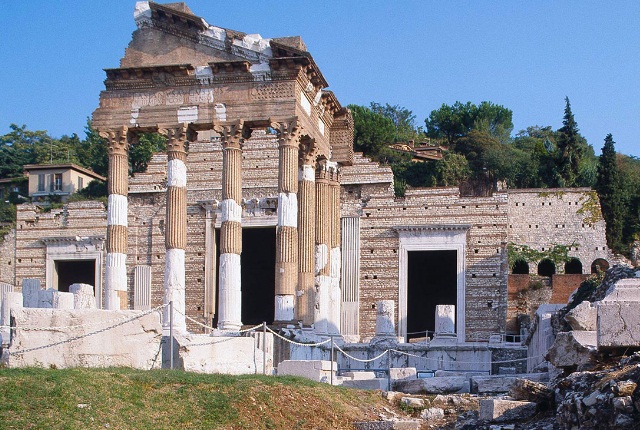 4. Bathe In The Medieval Glory Of Brescia Castle
A historic town like Brescia in Europe can't be imagined without a medieval castle. Brescia has its own castle of medieval period that was built in 13th century. But historians say that the interesting and spectacular path through which it is approached at present was added later. There is a drawbridge which was also  a later addition. The castle looks really mesmerizing from outside. It houses two important museums that tourists can visit.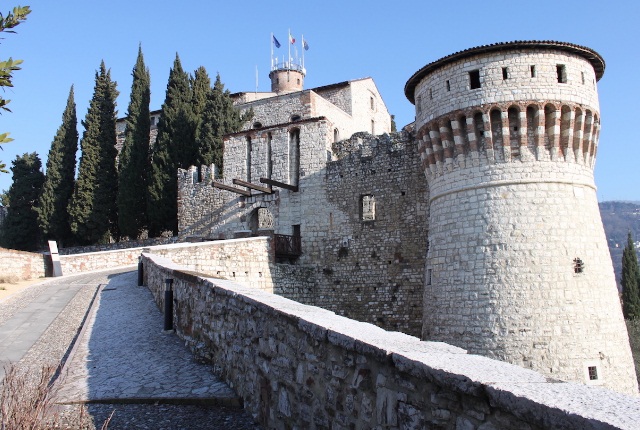 5. Get Close To God In Old And New Cathedral
Very few places in the world has such a close proximity of two big churches one old and the other new side by side like Brescia. The new one is big, looks fine and built in early decades of 19th century. The old one is relatively small in size and looks a bit strange architecturally. It was a cathedral locally called Rotonda for a kind of round shape. But if you are looking for old religious relics the old one has some great relics like ancient or early medieval, arts, sarcophagus etc.