Frankfurt is the business and financial hub of Germany. The fifth largest city in Germany, Frankfurt, also boasts of numerous world class luxury hotels. The luxury hotels in Frankfurt are designed to pamper guests and meet their exacting demand. These hotels, which are designed to be a 'home away from home' are a veritable oasis of luxury. Le Meridien Parkhotel, Villa Kennedy and The Falkstein Grand Kempinski are some of the classic luxury hotels in Frankfurt. To know more about these, and other luxury hotels in the city of Frankfurt, read on.
Here Are 7 Awesome Luxury Hotels In Frankfurt:
1. Le Meridien Parkhotel
Le Merdien Parkhotel, Frankfurt, epitomizes classic luxury. This grand hotel is located at walking distance from Frankfurt Central Station and the city's historical center. Le Meridien Parkhotel which is the perfect mélange of luxury, style and historic architecture, comprises of 300 spacious and well appointed rooms.
Each of the rooms at this hotel display classic Viennese accents and have all the mod-cons like flat screen TV, Wi-Fi facility and safe deposit boxes.
Guests can head to 'The Restaurant Le Park' to enjoy authentic French cuisine. The 'Casablanca Bar' serves up creative cocktails while the open air 'Beer Garden Le Jardin' conjures up numerous memorable culinary delights. This awesome hotel also boasts of a roof top sauna, a well equipped fitness center and a hammam.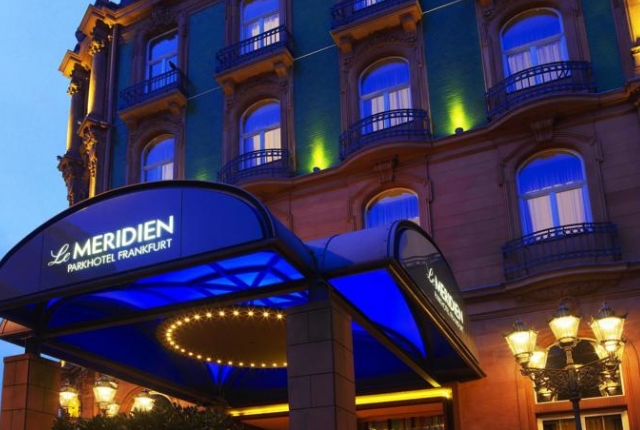 2. Grandhotel Hessischer Hof
Grandhotel Hessischer Hof has the unique distinction of being the only privately owned, five star luxury hotel in the German city of Frankfurt. The 121 inviting rooms and suites of this hotel allows guests to enjoy the most magnificent views of the Taunus Mountains and the glamorous skyscrapers of the Rhine Main metropolis. Guests can enjoy the delectable food which is served in the sophisticated environs of Sevres.  'Jimmy's Bar' serves a wide range of cocktails and liquors. The cozy 'Winter Garden' is the ideal place to retreat to, to enjoy a large slab of cake. This hotel also has a top notch business center, a fitness center, a sauna and a hammam.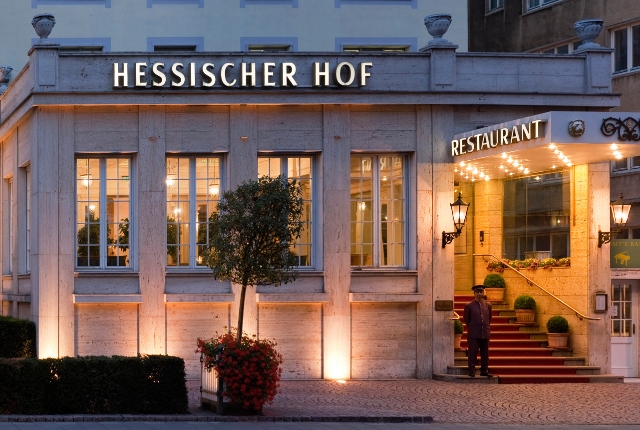 3. Villa Kennedy
The five stars Villa Kennedy which functions out of a historic villa is located at a convenient distance from the Frankfurt International Airport. Villa Kennedy, which was renamed in honor of the former American President John.
F Kennedy, boats of 163 charmingly appointed rooms and suites.
Some of the standard conveniences available in the sound proof rooms and suites at Villa Kennedy include flat screen TV and high speed internet facility. Guests can enjoy authentic Italian fare at the award winning 'Gusto Restaurant'. The JFK Bar serves a wide variety of cognacs, cocktails, whiskies and fine wine . This hotel also has a world class business center, an indoor pool,a fitness center, a hammam, a Jacuzzi as well as a spa and wellness center.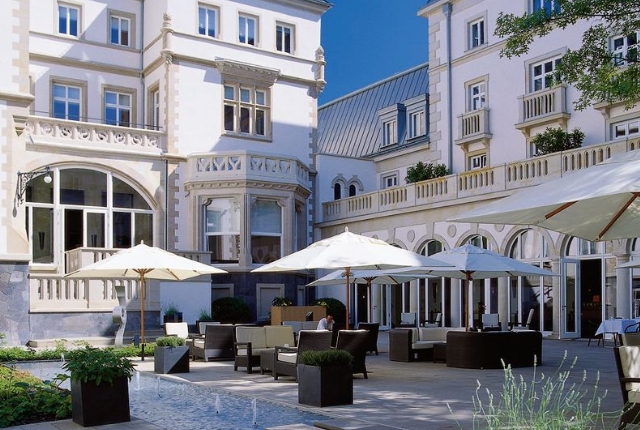 4. The Falkstein Grand Kempinski
The Falkenstein Grand Kempinski is a fascinating testimony to grand architecture. This beautiful hotel, which was built by Kaiser Wilhelm II, is surrounded by 6 acres of beautifully landscaped gardens and dense woodlands. The hotel is located in Konigstein by Taunus.
Besides its idyllic location, Falkstein Grand Kempinski which boasts of 112 rooms is also famed for its unparalleled service and luxury.
The rooms and suites of this hotel feature standard amenities like flat screen TV, entertainment center, laptop size safe and working desk. Guests can enjoy outstanding culinary experience at 'Landgut Falkenstein' and at 'Raffael's Bistro-Bar-Lounge'. To rejuvenate the mind and relax the body guests can head to the Ascara Fitness and Spa Club. Other facilities which are offered by Falkstein Grand Kempinski hotel to its guests include a business center, a sauna, Jacuzzi and a solarium.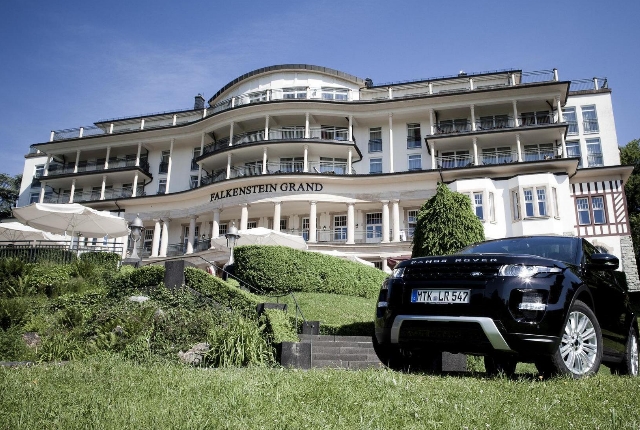 5. Jumeirah Hotel
The four year old Jumeirah hotel lies right in the heart of the financial district of Frankfurt. The entry of this hotel (part of the Jumeirah chain of hotel which is headquartered in Dubai) into Frankfurt's hotel scene has upped the overall luxury quotient.
This elegant hotel comprises of 217 uber luxe rooms and suites.
Some of the standard amenities which guests can find in the accommodation of their choice include a massive 42 inch flat screen TV and a nespresso machine. Guests can dine at 'El Rayyan Restaurant' or 'Max on One Restaurant'. To enjoy a glass of champagne or a creative cocktail guests can head to 'Ember Bar and Lounge'. The 'Talise Spa' offers a wide array of full body massages, facials and beauty treatments. Other facilities which are available at this hotel include a business center, a fitness center and a well stocked library.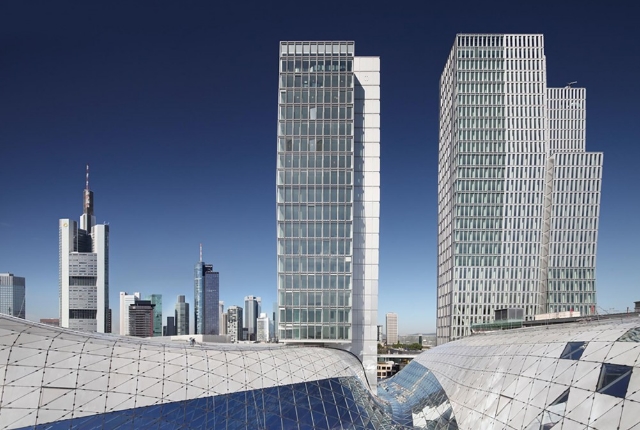 6. The Westin Grand Hotel
The upscale Westin Grand hotel is just a short hop from the U Bahn, European Central Bank and Gothic Frankfurt Cathedral. This hotel is synonymous with dedicated service and unique setting.
The 371 tastefully decorated rooms and suites of this hotel feature all the modern conveniences.
Guests can choose to dine at any of the four in house restaurants i.e. 'Grandseven Restaurant and Bar', 'Motions', 'Sushimoto' or 'San San'. The Emotion Spa at the Westin Grand offers a range of relaxing massages and beauty treatments. This hotel also has a business center, a fitness center and a solarium.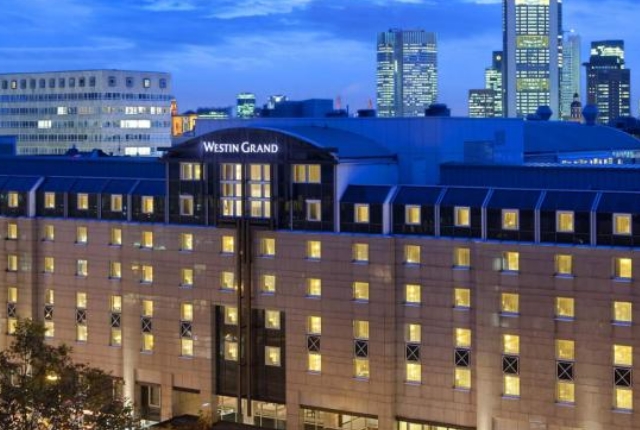 7. Hilton Frankfurt City Center Hotel
A stay at Hilton Frankfurt City Center Hotel, which is located in the center of Frankfurt, ensures a sophisticated and enriching experience for leisure and business travelers alike. The 342 stylish rooms and suites of this hotel come with all the modern conveniences. Guests can enjoy a relaxed meal in the soothing environs of 'Pacific Colors Restaurant'. 'Gekkos' serves a variety of whiskies while the 'Vista Bar and Lounge' serves a range of wine and cocktails. The hotel also features an awesome business center and an Olympic size swimming pool.
Hilton Frankfurt City Center Hotel