Slovenia, a beautiful country in Central Europe, is bordered by Italy, Croatia, Hungary and Austria. Slovenia is a rich tapestry of turquoise green rivers, snow capped mountains and Venetian style coastline. This tiny nation of around 2 million people is also famed for its rich gastronomic heritage. Slovenia has increasingly become popular in recent years as a chic travel destination. This country offers a prismatic travel experience replete with modern cities, dazzling villages, grand architectural sites and stunning natural scenery. Read on to discover the unique and diverse attractions this country has to offer.
Here Are 6 Remarkable Places To Visit In Slovenia
1. Triple Bridge
Triple Bridge or Tromostovje, are a group of three bridges, which spans the beautiful Ljubljanica River, and provides an elegant entrance to Ljubljanica – the capital city of Slovenia. The Triple Bridge is probably one of the most unique and frequently visited tourist attractions in Ljubljanica. Two sections of this architectural icon were constructed by the prolific architect Jose Plecnik in 1931.  However, the original stone bridge was built sometime in 1842.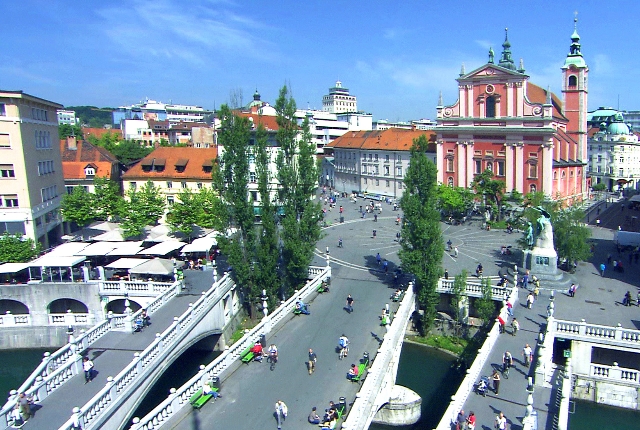 2. Postonja Caves
The magnificent Postonja caves, is a complex network of passages, caverns and galleries. These caves are located in Postonja, in southwestern Slovenia. The 24 kilometer long underground cave system has delighted locals and tourists alike for over a century. A guided tour of this underground world opens up a unique opportunity to study sparkling limestone curtains, spectacular pillars and awe-inspiring drop stones. Visitors to the Postonja Cave can also enjoy an extensive tour of the caves aboard the quaint electric train.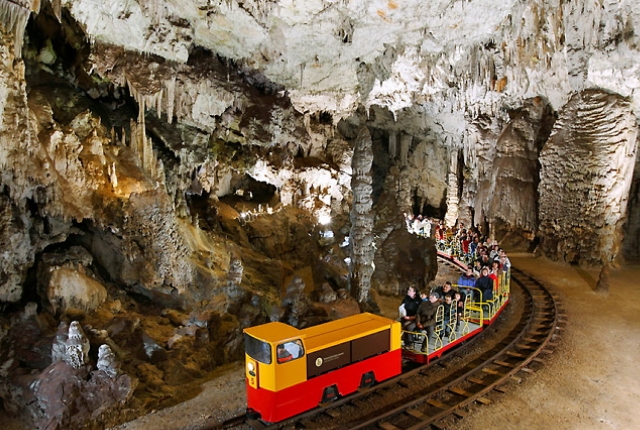 3. Lake Bled
The emerald green water of Lake Bled surrounded by the lofty Julian Alps is truly a sight to behold. This breathtakingly beautiful lake is located in the northwestern region of Slovenia.
Lake Bled borders the picturesque town of Bled.
This pristine lake which is nearly 2120 meters long, was formed when the massive Bohinj Glacier melted away. The Church of the Assumption rises grandly from the scenic island which is located on the western side of the lake. Tourists have to climb 99 stone steps to reach this church. Lake Bled, and its surrounds is a magnet for backpackers, honeymooners and families.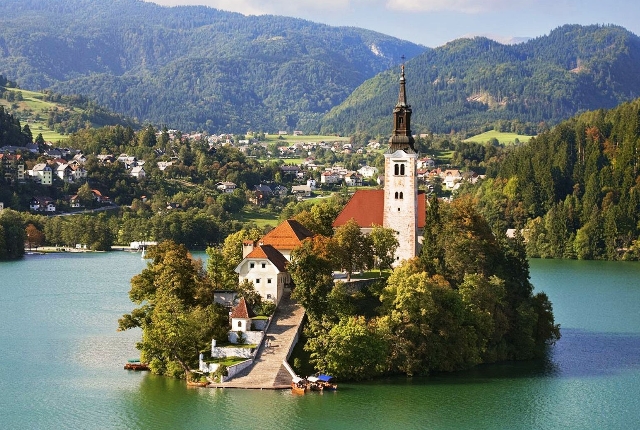 4. Triglav National Park
Triglav National Park has the unique distinction of being the only national park in Slovenia. Located in northwest Slovenia, Triglav National Park encompasses an area of nearly 838 square kilometers.
The Triglav National Park is bordered by Julian Alps on the eastern side and Italy on the north western side.
This national park which is famed for its ethereal natural beauty was designated a protected space way back in 1924. This visually stunning region is home to fabulous alpine meadows, deep ravines, labyrinthine cave systems, fantastic waterfalls and magnificent lakes.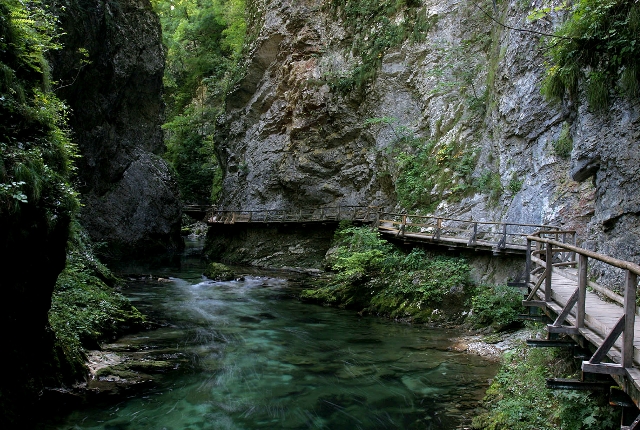 5. Bled Castle
The history of the medieval Bled castle, which sits precariously on the slopes of a precipitous cliff, dates back to 1004 AD. German King and Holy Roman emperor Henry II bequeathed this magnificent castle to Bishop Albuin of Brixen.
From that period onwards, the Bled castle became the seat of the powerful Bishops of Brixen for nearly 800 years.
Today, a visit to this gothic castle is not complete without touring the castle museum and stopping over at the quaint 16th century gothic chapel (located within the precincts of the castle). A visit to Bled Castle also affords visitors one of the most spectacular views of Lake Bled.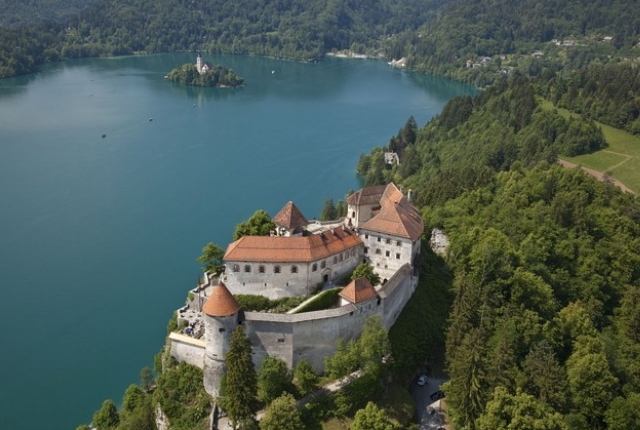 6. Tivoli City Park
Tivoli Park which was laid out in 1813 is the largest, most spectacular park in the capital city of Ljubljana, in Slovenia. This park is situated on the northern fringes of center district. The ancient trees which provide extensive green cover to this park are the ideal places to enjoy a laid back picnic with friends and family. The park is famous for its innumerable sculptures, beautiful fountains and stunningly laid out flower beds. The Tivoli Park also has dedicated hiking and fitness trails.