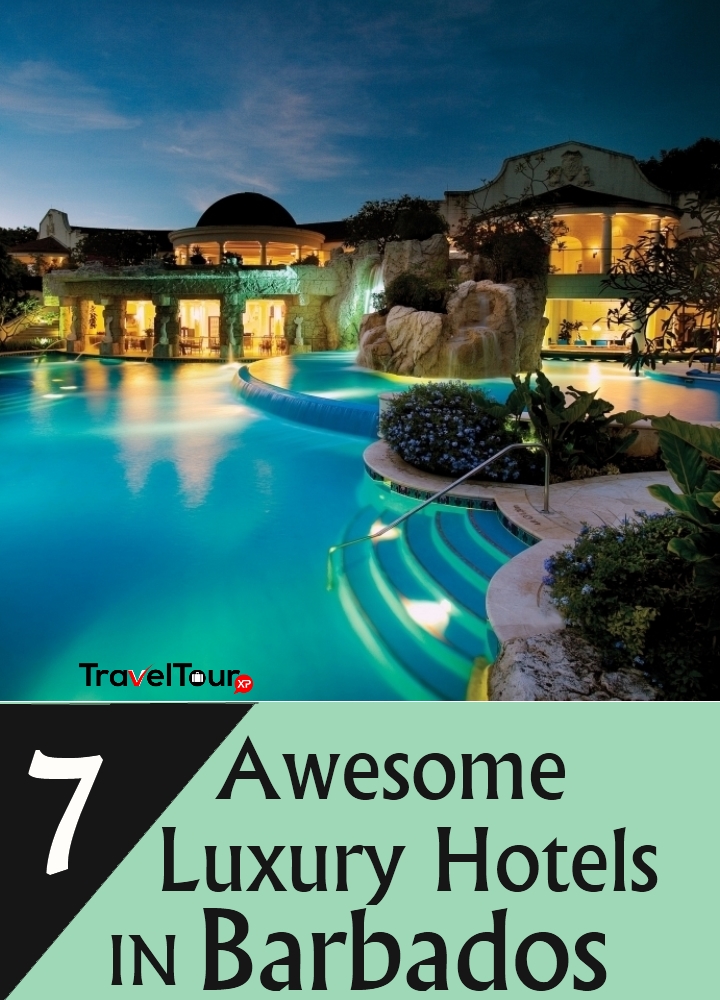 Barbados is a gorgeous tropical island which is located in the Lesser Antilles. This tourist hot spot in the Caribbean has punched above its weight in almost all categories. With stunning beaches, luminescent turquoise bays and a pulsating nightlife, Barbados is the stuff that tourist's dreams are made up of. This charming country also has numerous stunning luxury hotels which are famed for their excellent amenities and world class services. To discover some of the truly spectacular luxury hotels of this country, read on.
Here Are 7 Awesome Luxury Hotels In Barbados:
1. Sandy Lane Hotel
Sandy Lane, an uber luxe, five star, beach resort, meets the expectations of the most discerning guests. This iconic hotel and resort is located in St. James, close to Holetown and Paynes Bay. The 96 spacious rooms of this resort hotel epitomize luxury and comfort. The elegant guestrooms and suites of Sandy Lane create a soothing ambiance by using fine furnishings. The 4 restaurants of this hotel feature stunning menus which are inspired by Asian and Provencal flavors. This hotel has numerous bars and a world class wine cellar. Guests can enjoy a blissful spa experience at the in house spa. Sandy Lane Hotel is home to some of the best golf courses in the Caribbean.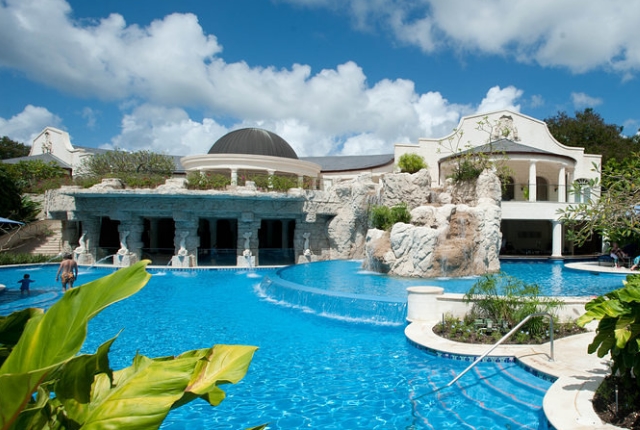 2. The Crane Resort
The Crane Resort is located on Crane Beach – one of the most scenic beaches in the world. This luxurious hotel which is set amidst beautifully landscaped gardens was founded in 1887. The 252 ultra spacious guest rooms and suites of the hotel feature a host of world class amenities which include free Wi-Fi, DVD player and cable TV. The elegantly decorated rooms of Crane Resort allow guests to enjoy stunning vistas of the ocean. Guests can embark on an exhilarating culinary journey by dining at 'Zen', 'L'Azure', 'D'Onofrio's Trattoria', 'The Carriage House', ' The Village Café' or at the 'Grove Beach Bar and Grill'. Guests can enjoy pre dinner drinks or a night cap at 'Bar 1887'. Additionally this hotel also has a fitness center, outdoor pool and spa and wellness center.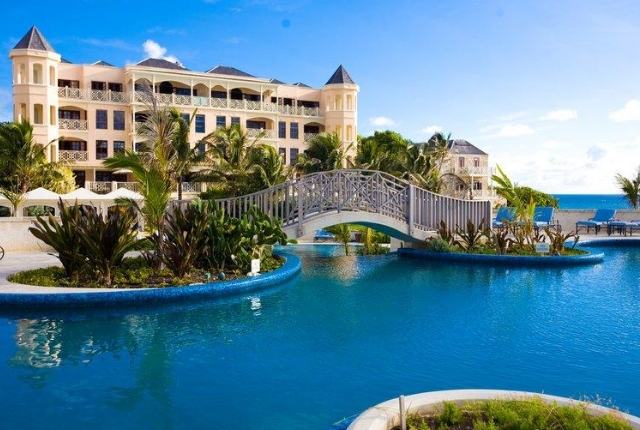 3. Fairmont Royal Pavilion Hotel
One of the most exclusive resort hotels in Barbados, Fairmont Royal Pavilion Hotel is located in St. James. This stunning hotel overlooks the idyllic Alleynes Bay beach. The Folkestone Marine Park and Museum is within walking distance of this hotel. The international airport is located just 29 kilometers from Fairmont Royal Pavilion Hotel.
The 72 junior suites and deluxe rooms are decorated in a style that is congruous with the stunning locale of this hotel.
Guests staying at Fairmont Royal Pavilion Hotel can enjoy standard amenities which include DVD/ CD players, flat screen TV, refreshment centers and comfortable beds. Guests can enjoy a casual dining experience at 'Taboras' or enjoy a memorable meal in the stunning environs of 'Palm Terrace Restaurant'. The hotel has numerous on site water sport facilities which guests can avail of. Fairmont Royal Pavilion Hotel also has a fitness center, outdoor pool and sun terrace.
Visit Fairmont Royal Pavilion Hotel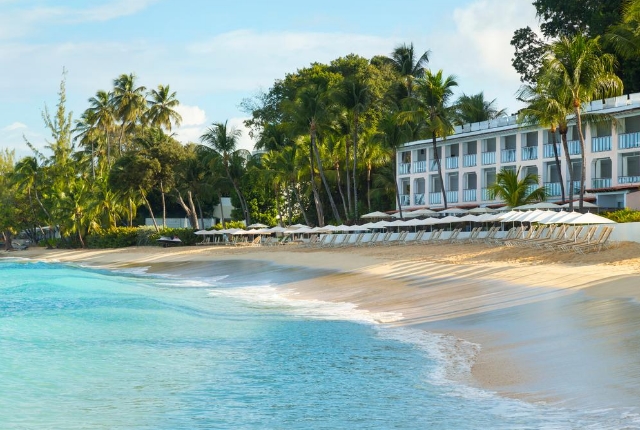 4. Hilton Barbados Resort
Embark on your dream vacation in the Caribbean by staying at the luxurious Hilton Barbados Resort. This resort which is set on the sandy shores of the Atlantic Ocean lies nestled between gently swaying palm trees. Some of the top tourist attractions of this country, which includes Barbados Museum and Historical Society and George Washington House are located just a short hop from this hotel. The 350 bay / ocean view rooms of this hotel are tastefully decorated and feature an array of mod cons.
'Cuppa Café', 'Lighthouse Restaurant', 'The Grille' and 'Water's Edge Bar' are the restaurants and bar at Hilton Barbados Resort.
The Hilton Barbados Resort boasts of the first Eforea Spa in the Caribbean. Highly trained therapists provide guests exceptional personalized care in the lavishly appointed treatment suites of the Eforea Spa. Additionally, this hotel has a business center, fitness center, outdoor pool, sun terrace and Jacuzzi.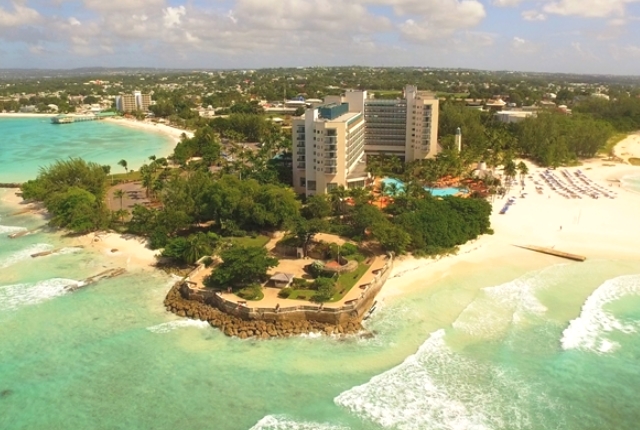 5. Cobblers Cove Hotel
Set amidst stunning tropical gardens, Cobblers Cove Hotel is a luxury hideaway in the west coast of the country. This English country house style hotel is a veritable oasis of tranquility and grace. Set amidst lush tropical gardens and surrounded by glorious sandy beaches Cobblers Cove Hotel comprises of 40 tastefully decorated suites. The suites of this hotel are decorated in plantation style. Guests can savor delicious, island inspired dishes, at the charming 'Camelot Restaurant'. The friendly and charming atmosphere of 'Cobblers Cove Bar', allows guests to relax and to enjoy a variety of cocktails and spirits. Additionally the hotel has a spa, a fitness center and tennis courts.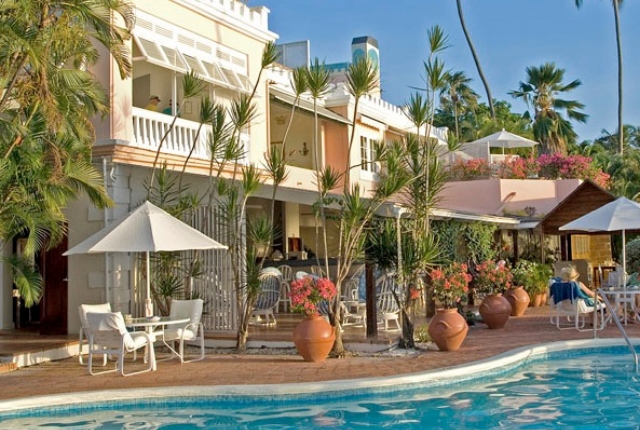 6. Bougainvillea Beach Resort
Bougainvillea Beach Resort a stunning beach front resort hotel is located on tranquil Maxwell beach. Barbados Museum and Historical Society and Garrison Savannah Racetrack are located within driving distance of this beach resort. The upscale accommodations at this hotel are a reflection of the island's unique charm and tranquility. Guests can savor decadent local fare while enjoying spectacular views of the ocean at 'Lanterns by the Sea' restaurant. 'Siam Bar and Restaurant' serves delectable food and signature cocktails. Some of the other amenities provided by the hotel to its guests include a games room, conference room, spa and fitness center.
Visit Bougainvillea Beach Resort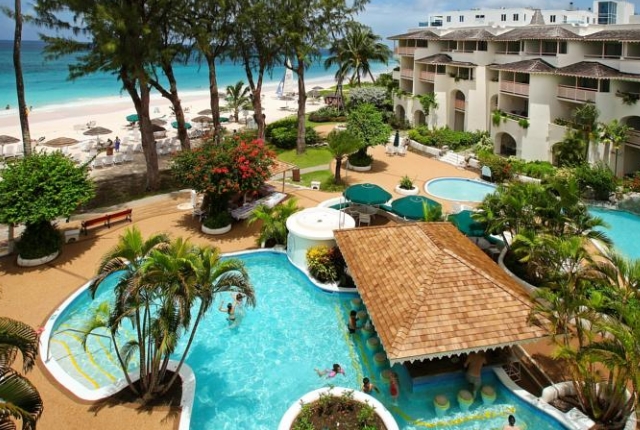 7. Sandpiper Hotel
The charming Sandpiper Hotel is one of the exclusive small hotel on the island of Barbados. This hotel is tucked away in the west coast of the island close to the St.James beach.The 50 rooms of this hotel affords guests the most stunning views of the hotel garden and the sea. Each of the guestrooms and suites are done up in laid back island style. Guests can enjoy head to the bar to enjoy cocktails and other hard liquors. The hotel also has a fitness center and tennis courts.