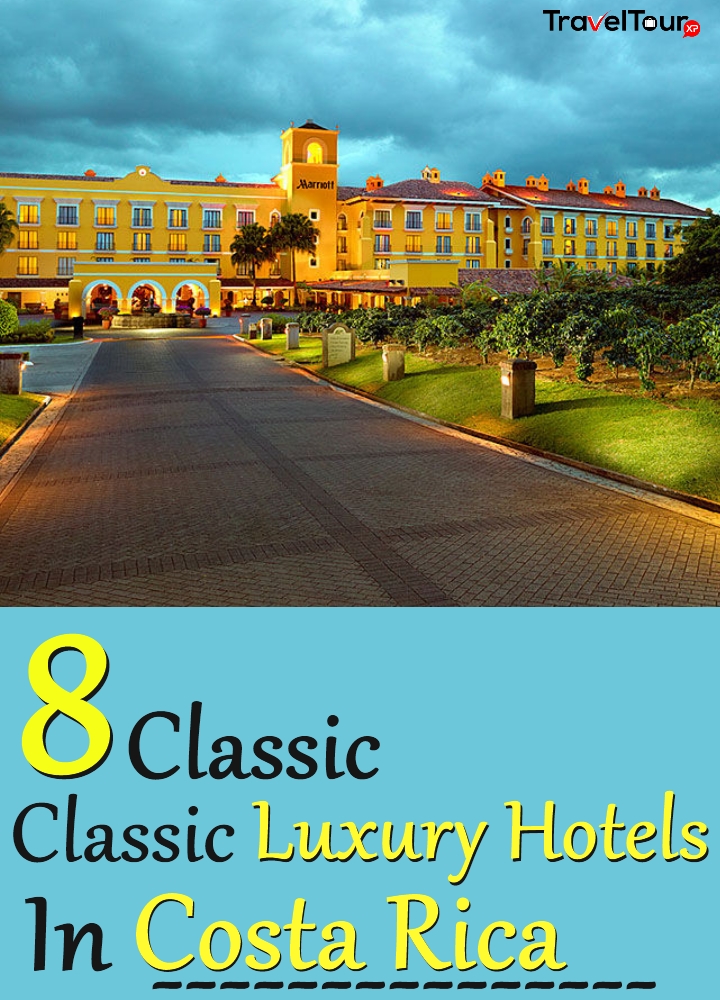 Costa Rica a Central American nation epitomizes nuanced living. This country which dances to a different beat is all about enjoying nature and embarking on a once in a lifetime adventure, but in a sustainable manner. Costa Rica abounds with rare wildlife and exotic locales which is sure to set the pulse racing. The luxury hotels on this country are in complete harmony to their stunning surroundings. Hotel Barcelo San Jose, JW Marriot Guanacaste Resort and Spa and Barcelo Tambor Hotel are some of the top notch luxury hotels of this country. To get an in depth insight into these and other luxury hotels in Costa Rica, read on.
Here Are 8 Classic Luxury Hotels In Costa Rica:
1. Hotel Barcelo San Jose
Hotel Barcelo San Jose a premium 5 star hotel is situated in La Uruca, a quiet neighborhood in the capital city of San Jose. Contraloria train station, Juan Santamaria airport and Museo Nacional de Costa Rica are located within driving distance of the hotel.
The 254 spacious rooms of this modern hotel is equipped with standard modern conveniences which include complementary WI-Fi, 32 inch LCD TV and electronic safe.

'Anfora Restaurant', 'Miyako Restaurant' and 'Rancho Grill' the three restaurants at Hotel Barcelo San Jose, serve an array of mouthwatering fare from across the globe. 'El Bosque Bar' serves delicious sandwiches and imported drinks. The hotel also has a business center, fitness center, spa and wellness center, outdoor pool, terrace and Jacuzzi.

2. JW Marriot Guanacaste Resort And Spa

Guanacaste Resort and Spa, a high end oceanfront resort hotel in Pinilla, has been constructed in accordance with the local design language. Avellana Beach, Blanca Beach and Hacienda Pinilla Golf Course are located just a short distance from this hotel.

The 310 gorgeously appointed rooms at JW Marriot Guanacaste Resort and Spa offer stunning views of the resort garden, Mansita beach or the pool.

Each of the guest rooms are kitted out with the latest luxury amenities. Guests can enjoy a memorable meal at 'Azul Pool Bar', 'Azul Grill', 'Nau Lobby Bar', 'Mansita Restaurant', 'Sabanero Steak House', or at 'Tamarine' – the in house restaurants at JW Marriot Guanacaste Resort and Spa. Guests can enjoy signature spa treatments which are administered by a team of qualified spa therapists at the 'JW Marriot Guanacaste Spa'. This hotel also boasts of a well equipped business center, fitness center, sauna, hammam and infinity pool.

Visit JW Marriot Guanacaste Resort And Spa

3. Barcelo Tambor Hotel

The 5 star Barcelo Tambor Hotel a uber luxe beach front resort hotel is located on scenic Tambor beach. Refugio Nacional Curu a wildlife refuge is located within driving distance of this popular resort hotel. The elegantly decorated 402 guestrooms and suites of the hotel allow guests to enjoy stunning views of the lush garden or the azure blue waters of the ocean. The rooms feature standard amenities which include LCD TV, paid Wi-Fi and safety deposit box. The hotel has 4 restaurants which serve both local and international cuisine. The hotel also has a fitness center, business center and outdoor pool.

4. Four Seasons Resort Costa Rica At Peninsula Papagayo

Four Seasons Resort is set on a verdant coastal hillside, and overlooks the sandy beaches of Culebra Bay and Gulf of Papagayo. This Forbes 5 star rated resort, consists of 181 thoughtfully decorated guestrooms and suites.

Each of the rooms at this hotel, are designed to capture the exotic allure of Costa Rica.

'Sol Y Sombra Latin Market and Sea Food Grill', 'Cena Sociale Italian Kitchen and Wine Bar', 'Caracol', 'Tico's Lounge' and 'CR Burger Shack', the restaurants at Four Seasons Resort Costa Rica at Peninsula Papagayo are famed for their innovative menus which are prepared by using the freshest of local ingredients. The spa at this luxe hotel provides relaxing treatments which are inspired by the therapeutic treatments of Central America. This hotel also has a business center, fitness center, outdoor pool, Jacuzzi, terrace and outdoor pool.

Visit Four Seasons Resort Costa Rica at Peninsula Papagayo

5. Intercontinental Costa Rica At Multiplaza Mall

Intercontinental Costa Rica an uber luxe urban retreat is a five star hotel which is located in the heart of Escazu. This family friendly hotel is located within the famous Multiplaza Mall. Parque Metropolitano La Sabana and Estadio Nacional de Costa Rica sports stadium are located just a short distance from this hotel.

Some of the amenities which guests can enjoy at the 372 guestrooms and suites of Intercontinental Costa Rica include a 37" LCD TV, wireless internet and i-Pod docking station.

Guests can embark on a magical gastronomic journey by dining at 'Pimento', 'Factory Steak and Lobster', 'Nau Sushi Lounge' or at 'The Market'. 'Zambra Lobby Bar' serves a variety of martinis, cocktails and light tapas. A 24 hour fitness center, Jacuzzi, spa and business center are some of the other facilities which guests can avail of at the Intercontinental Costa Rica hotel.

Visit Intercontinental Costa Rica at Multiplaza Mall

6. Hotel Punta Islita, Autograph Collection

Hotel Punta Islita ,is an upscale beach resort located approximately 30 kilometers from Samara Bay Beach. This rustic, luxe hideaway is wedged between a tropical forest and the Pacific Ocean. The large, airy guestrooms and suites which are decorated in an authentic Costa Rican style are categorized into standard, deluxe, junior suite and private villas. Guests can enjoy a lively ambience at '1942', the in house restaurant at the hotel. The hotel also has a stunning spa and a spectacular 9 hole golf course.

Visit Hotel Punta Islita, Autograph Collection

7. Oxygen Jungle Villas

Oxygen Jungle Villas which feature all glass villas is located in the middle of a beautiful rain forest in Costa Rica. This boutique hotel which is located just outside the mellow coastal town of Uvita allows guests to enjoy some of the best views of the Pacific Ocean.

The 12 spectacular villas of this boutique resort are temples of peace and luxury.

Despite its remote location, the hotel provides its guests standard mod cons which include wireless internet, fully stocked mini bar and safe deposit box. Guests can enjoy a sumptuous meal at 'Oxygen restaurant'. The hotel also has a spa, sun terrace and garden.

8. Arenas del Mar Beach And Nature Resort

Arenas del Mar Beach and Nature Resort is an awesome 38 room hotel which is located on the fringes of the famous Manuel Antonio National Park. The large plate glass windows of the guestrooms and suites tempt guests to drink in the awesome views of the ocean and the rain forest. Guests can embark on a authentic Costa Rican culinary journey by dining at 'El Mirador Restaurant and Bar' or at 'Playitas Restaurant and Bar'. Guests can enjoy a range of superior spa treatments at the tranquil Las Brisas Wellness Center. The hotel also has a large outdoor pool.

Visit Arenas del Mar Beach and Nature Resort