There are some mysterious places on earth mysteries of which still are unexplained by modern science. One of these places is Rapa Nui Island popularly known as Easter Island of Polynesian group. This island is one of the remotest places in the earth which is governed by Chile. The main tourist attraction of this place is hundreds of stone carved strange statues knwon as Moai.. It is told that these are works of Rapa Nui people more than thousand of years ago. There are several other tourist attractions of Easter island as well. This island is one of the world heriatge sites of UNESCO.
Here Are 5 Marvelous Tourists Attractions Of Easter Island, Chile:
1. Ahu Tongariki
The strange statues or Moais are the main attractions of Easter Island. There are several sites or places where a tourist can see these statues. Sometimes some are in disarranged way buried much under earth. But this Ahu Tongariki near the volcano Rano Raraku is the best site to see a group of Moais in perfect order. Here you can see at least 15 such statues on a 200 feet long platform that is Ahu side by side. The highest of these statues stand 14 meters and you can spot it easily. The sight is really marvelous that will make your jaw dropped in wonder.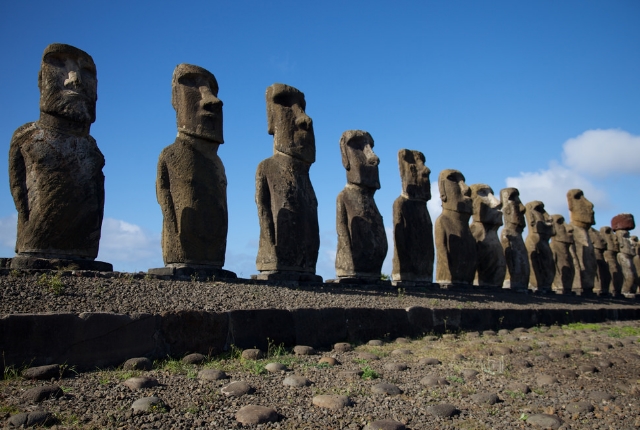 2. Ahu Vinapu
Ahu Vinapu near Mataveri airport runway in Easter Island is an interesting as well as much discussed archeological  site. The number of Moais are small here, only two or three. But remains of a monolithic platform catches eye here. Experts say that it can be dated back to 1200AD and resembles archeological remains of Incas that are found in Bolivia. Ahu Vinapu was some kind of a ceremonial place some archeologists think. You should not miss this old site in Easter Island.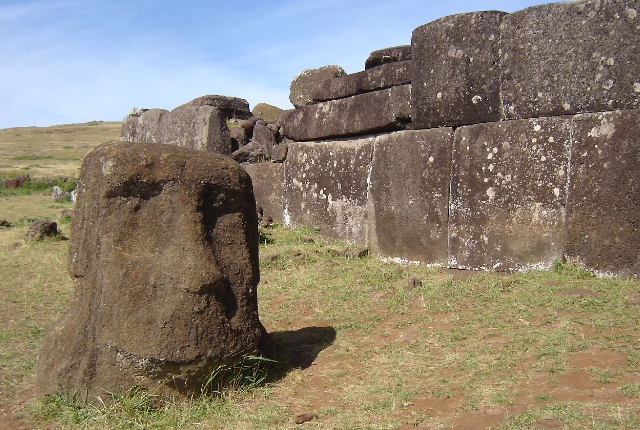 3. Crater Lake And Quarry Of Rano Raraku
You just can't imagine a Pacific island without a volcano dormant or dead. This island also has Rano Raraku which is long dead. The crate is covered by a lake. You can visit this amazing place for its natural beauty. The other astonishing thing about the site is this is the place where most of the Moais of the island were built.  There are remains of some Moais too. Some are in incomplete shape. Historians say that the place or quarry was abandoned hundreds of years ago.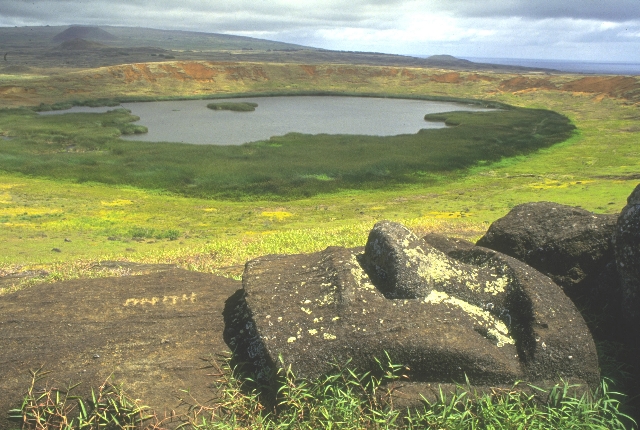 4. Tahai Group Of Moais
The Moais of Tahai have their back to the sea and there are not much Moais to view there either. But one of the Moais in Tahai is unique because it has a cap like thing on its head and eyes that stare straight almost at you. There are a certain gap in between this Moai with eyes and other group. This site is frequently visited by tourists also.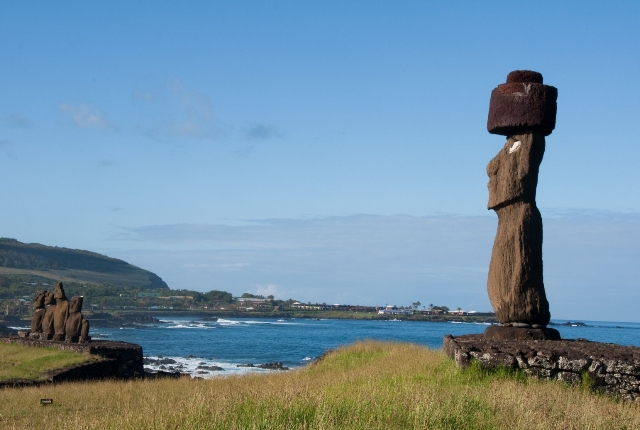 5. Anakena Beach
An island in Pacific ocean should have atleast one spectacular sea beach where a visitor can relax and enjoy proximity of sea. Such a beach in Easter Islanad is Anakena. The specialty of this beach is that it has terrific white sands and palm trees. The sea water is just spectacular blue green. If you want to see some Maois, there are the NauNau group that looks quite impressive with the whole setting of the place. It is said that one of the important figures of Rapa Nui people a king had set foot here on this beach. It was a highly regarded place to island people in past.