Dubai is the world famous destination and tourism spot of United Arab Emirates which is known for the tourist attractions, adventure, lifestyle and amazing cultural highlights. In Dubai, both traditional and modern culture are lovable and appreciating for every visitor.  This city also have many tall buildings and shopping malls which are eye-catching for all viewers. The nightlife of this city is also very enjoyable and visitors here can enjoy beautiful environment and lifestyle everywhere. If you're planning your upcoming vacation in United Arab Emirates especially Dubai then you must visit these places.
The Best Must See Tourist Attractions For Every Visitor:
1. Burn Khalifa:
This is the tallest building of the world which is 829.8m in height and is well known as the landmark building of Dubai.  The top floor i.e. 124th floor of this building is easily reachable with very high speed elevator and from here you can enjoy the bird-eye perspective view of entire city. Night time visit to this city is extremely popular among photographers because of popular city lights panorama of Dubai. At the ground of this tall building, you can enjoy the greenery of beautifully designed garden having winding walkways can make you refresh and happy during your visit to Dubai.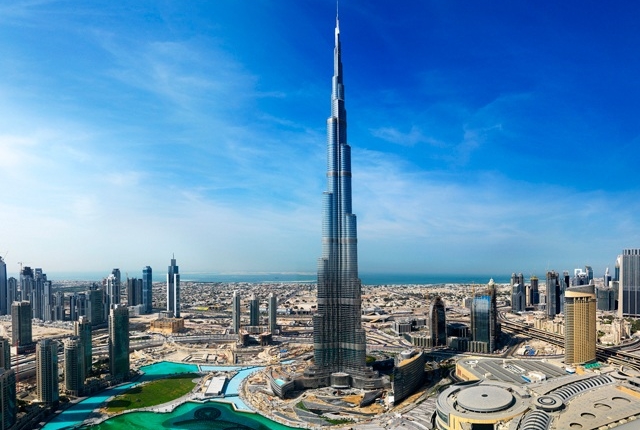 2. Dubai Museum:
Dubai museum is one of the most prominent place for visiting which is built in 1787 housed in Al-Fahidi fort. The upper floor of this building have a support of wooden poles known as 'handels' while its ceiling is made from mud, plaster and palm fronts. This museum also have courtyard of traditional boats which can cause an eye-catching impression to its regular visitor.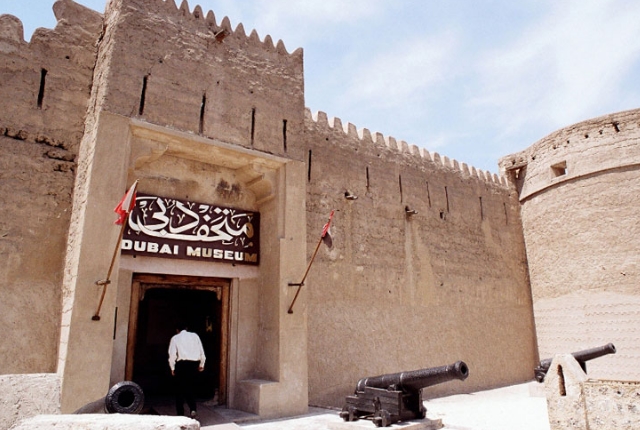 3. Bastakia Quarter:
Bastakia Quarter is a fantastic tourism spot for the visitor in Dubai as the walls of this quarter are topped with wind towers where the trapped winds can be easily trapped down to the houses in form of air conditioning towers.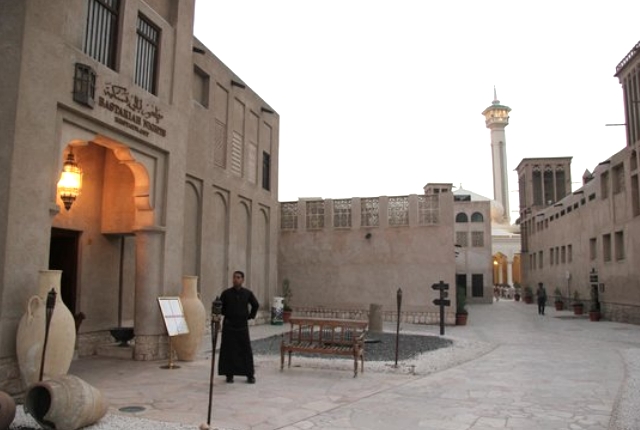 4. Sheikh Saeed Al-Maktoum House:
This house is a fine example of Arabian architecture which is designed beautifully with gypsum ventilation screen having geometric and floral design.  In this house, around 30 rooms are built which have fine finishing of teak doors and windows having wooden lattice screens. Here you can get the best example of photography having photos of boat building, pearling and fishing showing the ancient architecture in the best way. This museum also has a vast collection of coins, stamps, maps and letters that shows the development of Emirates perfectly.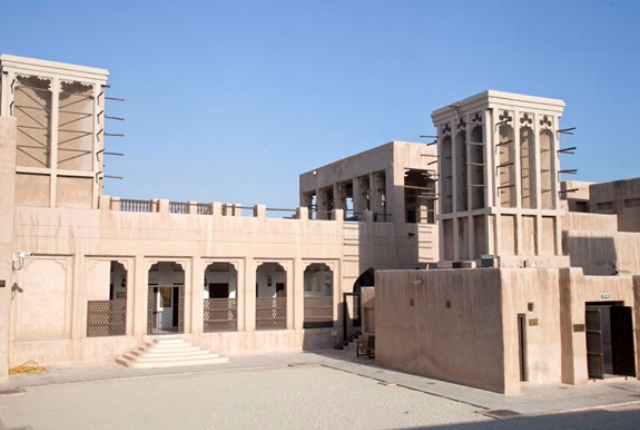 5. Dubai Creek:
Dubai creek is another fabulous place for the tourist to visit which actually divides this city into two parts viz. Bur Dubai to the south and Derai to the north. Tourists loves to visit Dhow Wharfage which is located in Dubai creek. There are many Dhows in Dubai creek and its visitor can visit any of the Dhow  out of many on tourist cruise so as to enjoy the natural beauty of this city.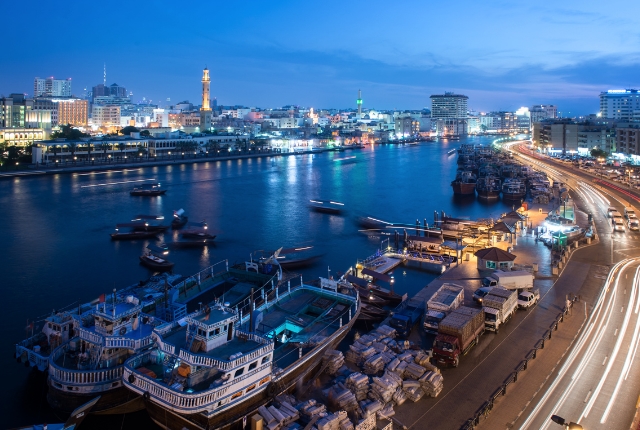 6. Deira Souks:
Deira souks are a famous tourist attraction in Dubai which is considered to be the heart city of United Arab Emirates. Deira is very much popular among tourists for its traditional souks i. e. market especially the 'Gold Souk' which is the largest gold market in the world even today. It is only this gold market, that gives Dubai the name of "Golden City" as here you can easily find wide varieties of designs in jewellery at one place.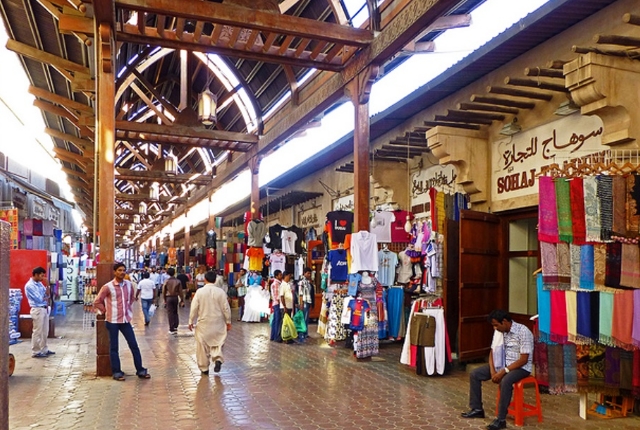 7. Dubai Aquarium:
Dubai Aquarium is the top tourist attraction of this city which consists of more than 140 species of sea life inside the vast suspended tank having bluish water. You can find this aquarium at the entry point of Dubai mall as it is situated on the ground floor of this mall.
In this mall, you can also walk through the aquarium tunnels after entering the Underwater Zoo.
Apart from watching aquatic life in aquarium you can freely perform many adventure activities so as to have much closer look of sea life. Activities like shark diving and cage snorkeling are very famous among tourists for its adventurous remark.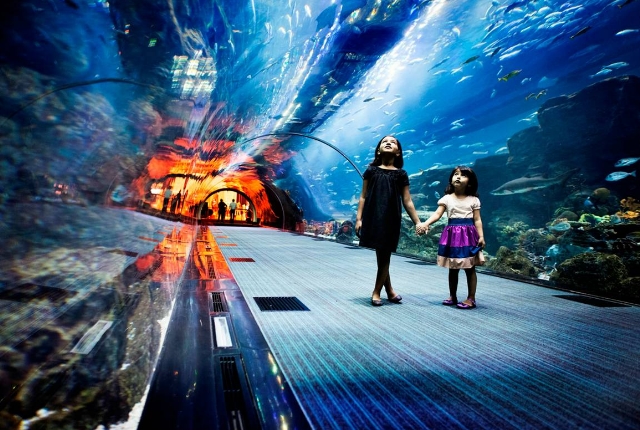 8. Dubai Mall:
Dubai mall is the premier mall of this city which in an entrance point of Dubai aquarium and Burj Khalifa too. In this mall, you can easily entertain yourself with Cineplex, gaming zone an ice skating rink. Here you can also enjoy an endless shopping experience along with entertainment on special event like fashion shows and live music. You can also enjoy ultimate shopping in annual Dubai Shopping festival which helps every year in the month of January and February.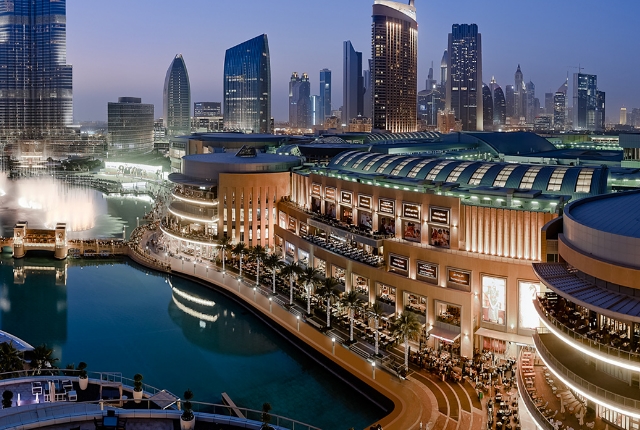 9. Jumeirah Mosque:
Jumeihrah mosque is a wonderful mosque of Dubai city which is very large in size and gives perfect definition of Islamic architecture. The designing architecture and stonework of this mosque is very attractive and refreshing which looks more attractive and eye-catching during evening time in presence of lights.