Located further away from the hustle and bustle of bigger cities like Dubai and Abu Dhabi, Fujairah offers a relaxing escape for tourists as well as residents of the United Arab Emirates. Nestled amidst the Hajar Mountains and lined by a fine stretch of sea, it offers the perfect meeting place of the mountains and the ocean. Perfect for swimming, snorkeling and scuba diving, Fujairah is an ideal place to relax and rejuvenate.
Here's A Guide To 10 Amazing Places That You Can Discover During Your Trip To Fujairah:
1. Fujairah Fort
In order to protect its heritage sites, the emirate of Fujairah has restored many of its historic buildings. The Fujairah Fort is one of the foremost sites that have been renovated. It is the oldest fort in the country and was built in 1670 atop a hill.
Located at the edge of date gardens, the Fujairah Fort served as the home of the erstwhile ruling family.
Made with mud bricks, the fort was damaged during the 20th century. However, it was renovated later and now stands as the only stone building along the coast of Fujairah. The fort is open for public viewing and comprises of three major sections. It has several halls, one square and two round towers. You can also find a few old Arabic town houses in its vicinity and the area is a treasure trove of history that allows you to get a glimpse of an old town.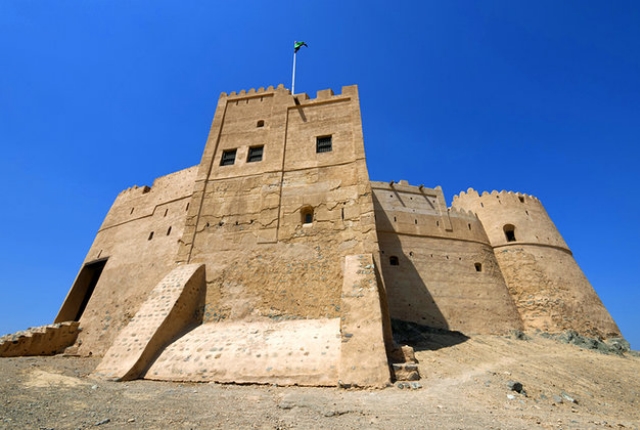 2. Al Bidyah Mosque
Al Bidyah Mosque in Fujairah is another great historic site. The oldest mosque in the United Arab Emirates is located in the northern part of the city and is an example of a great engineering accomplishment of its time. Made with mud bricks and stone, it was named after the town that once flourished around it.
The mosque has a prayer hall with arches, domed ceilings and ventilator openings.
A central pillar divides the interior of the mosque into four areas of equal dimension. The area around Al Bidyah Mosque is an excavation site and archaeologists have unearthed a massive tomb, pottery and different artifacts which date back to 1000 BC.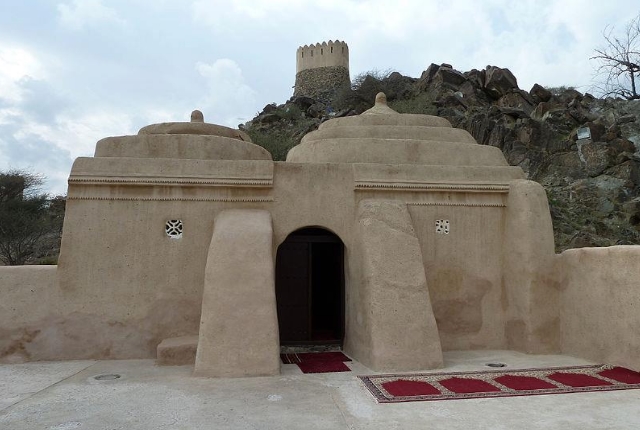 3. Fujairah Museum
Part of the emirate's heritage village, Fujairah Museum must feature in a traveler's list of go to places. It has a fine collection of artifacts, some of which are more than 2000 years old and have been discovered during excavations.
Several artifacts from the Bronze Age was unearthed in Bithnah and Qidfa, which now lie within the secure confines of the museum.
Different types of weapons, hand painted pottery, vessels made with soap stone and a wide variety of coins can be seen at the museum. Apart from these, a 2200 year old bowl made from ostrich egg is one of the best attractions of the museum. Its exhibits displaying tit-bits of Bedouin lifestyle, showcasing jewelry, tools, vessels and weapons used by traditional Emiratis is another section that will surely fascinate you.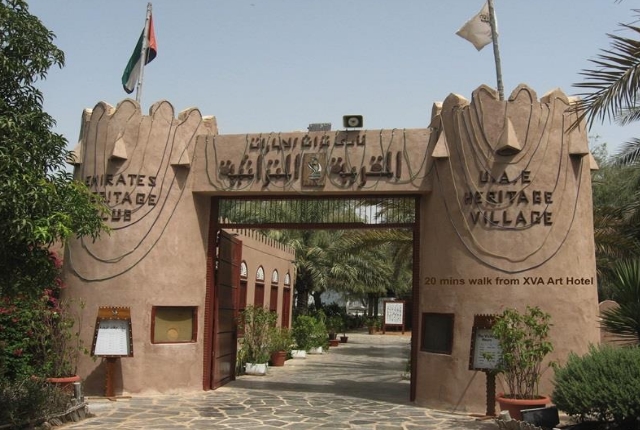 4. Bithnah Fort
As you pass through the Bithnah village, driving along the Masafi road, the Bithnah Fort is bound to catch your gaze.
It is a military fort and acted as a watch point across the Hajar Mountains.
This 18th century structure stands testimony to the emirate's military might and played a vital role in the country's defence strategy.
5. Al Hayl Castle
Al Hayl Castle is another great historic attraction of Fujairah. Built around 1830, this 250 year old castle played a major role in defending the country from foreign threat.
Headquarters of the then ruling family, it was used as a surveillance and patrolling post.
Opt for a guided tour of the area to explore a few excavation sites around the castle.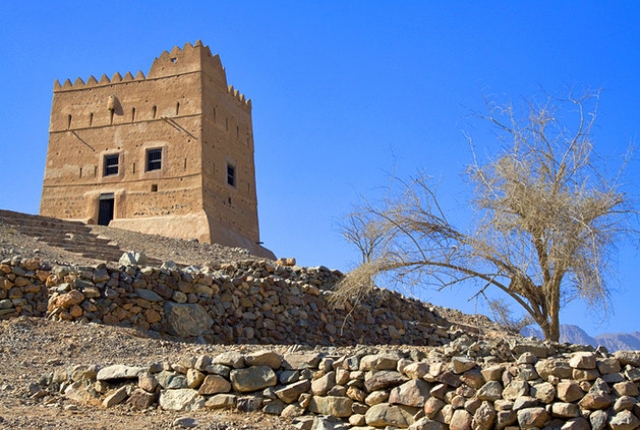 6. Sheikh Zayed Mosque
Sheikh Zayed Mosque, Fujairah is the second largest mosque in the United Arab Emirates after the Sheikh Zayed Grand Mosque in Abu Dhabi.
It has a huge prayer hall that can accommodate 32,000 worshippers at the same time.
The modern mosque is an amazing place and covers the size of almost 3 football grounds. The white marble façade with six minarets of 100 meter height make it an outstanding visual treat.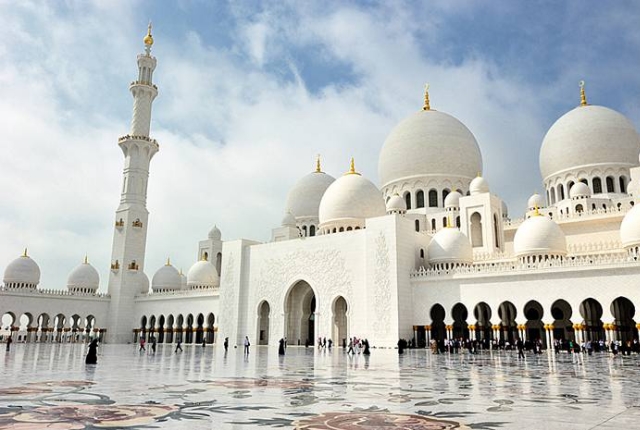 7. Hajar Mountain
As you enter Fujairah, the majestic Hajar Mountains stare at you, as you immerse in its beauty and grandeur.
Not only is the place a treat to your eyes, offering spectacular sceneries, it is also the perfect place for adventure lovers.
It has some of the best hiking trails and organized tours can take you to mesmerizing places along its slopes and valleys. Away from the pristine beaches of Fujairah, this is a rugged terrain that poses a different kind of challenge.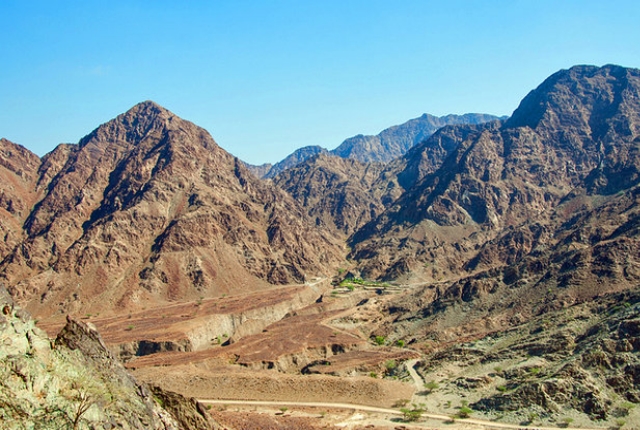 8. Wadis of Fujairah
A wadi essentially refers to a dry riverbed. It can also be called a valley oasis and the Hajar Mountain region is known for plenty of wadis.
Wadi Mai, Wadi Saham and Wadi Siji are some of the preferred destinations for travelers.
These have stunning mountainous roads and you can enjoy a session of wadi-bashing in a four wheel drive or simply walk on foot to explore its rugged terrain. Waterfalls are also common in this region.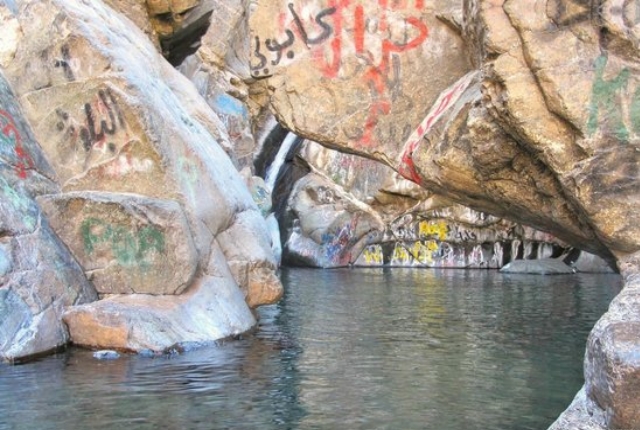 9. Ain Al Madhab
Ain Al Madhab can be best described as a weekend retreat. It is renowned for its hot water springs that produce warm sulphuric water.
Located at the foothills of the Hajar Mountains, the area is just outside the city and can be easily reached by road.
The water from the springs are pumped into swimming pools which offer separate bathing areas for men and women. It is a perfect place for families, complete with a park and an outdoor theater which often hosts traditional song and dance shows during festivals.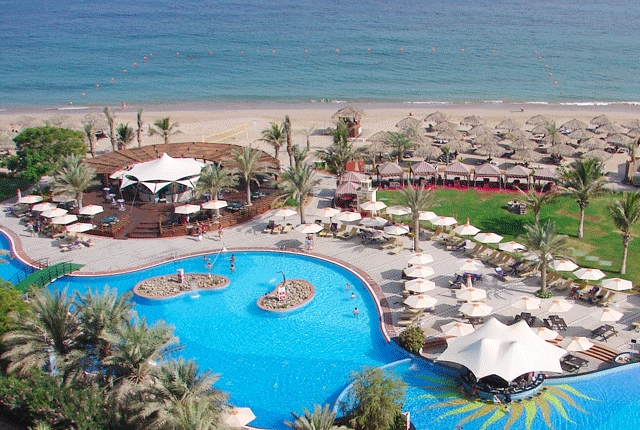 10. Beaches of Fujairah
Fujairah is known for its breathtaking beaches. While you have plenty of opportunity to sun bathe and swim, you can also enjoy scuba diving or snorkeling at one of the beaches.
Bordering the Gulf of Oman, the beaches here have many resorts and excellent facilities like sunshades and loungers.
Hungry travelers may also dig into a traditional Arabic menu at one of the restaurants along the beaches. You can also spend your time strolling around the beach or with a cup of coffee from an adjoining cafe.