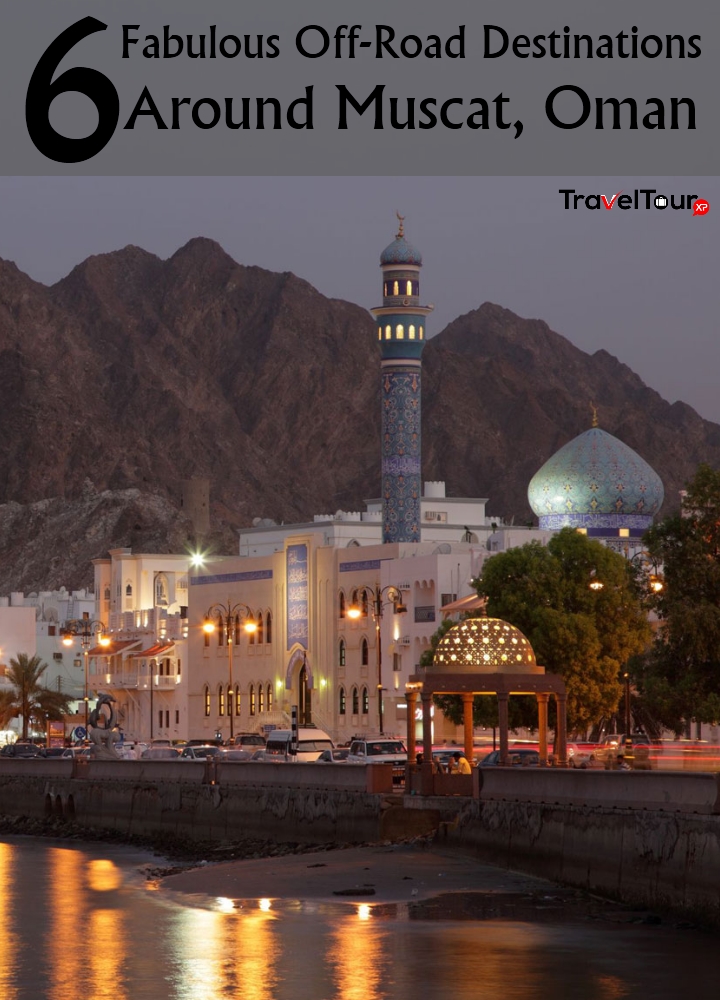 Living in the capital city of Muscat in the northern coast of Oman, gives you instant access to adventure travel and a great off-road experience, what with all the wadis (mountain valleys) that surround the port city. Much of this northern region is made up of the blue Persian gulf waters, rugged mountains and date palms. The region is well-connected with smooth highways and clearly-marked destinations. Off-road travelling in Oman requires a sturdy four-wheel drive to scale rocky and sandy terrain. Some of these places are great camp sites for star-gazing and barbecue. For avid trekkers, there are plenty of breath-taking trails along mountains, but be sure to find and follow the yellow, white, and red flags marked along all trekking trails in Oman. The wadis in Oman have many natural water pools, so also make sure you carry your swim-wear.
Here Are 6 Fabulous Off-road Destinations Near Muscat, Oman:
1. Wadi Shab
Situated approximately 153 kms away from the port city of Muscat in Oman, this picturesque wadi is heavenly in it's beauty. The place is nicely ensconced in the mountains, off the Muscat-Sharqiya highway near Tiwi village, a little ahead of the Bimmah sinkhole. A parking area at the entrance allows you to leave your vehicle in a safe spot. From here you may take a boat across the river if the water rises or you may swim across safely if shallow. From the other side of the river, hike all the way to the caves and waterfall. The hiking path is mostly to the right of the river. On this trail, you will come across lush palm groves, a somewhat difficult rocky terrain, and crystal blue pools, some of which you may have to wade through. So, make sure that you are dressed in appropriate clothing. If you're really keen on reaching the hidden cave, which lies on the other side of huge boulders, you will have to swim across a narrow slit in the rocks through a pool. The entire trek up to the caves and waterfall takes about 1 hour one way.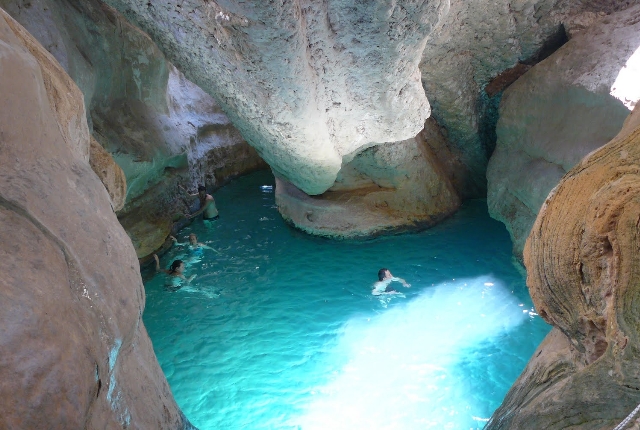 2. Bimmah Sinkhole
This sinkhole lies in the Al-Sharqiya region, approximately 126 kms from Muscat city. This natural formation, a favourite stop-over for visitors to Wadi Shab, is located in the fenced and easily accessible Hawiyat Najm Park. The area has basic toilets and palm tree shades for picnickers. In addition, there are stairs provided by the authorities to make sure getting down to the pool is not difficult. There are two versions to how the sinkhole came into being. One is that a meteor fell in this place creating a depression, but another more plausible version is that it emerged naturally due to rock erosion, bringing forth sea water. Either way, the water in the sinkhole looks lovely with shades of emerald and turquoise. You can take a dip in its crystal clear warm water and get a natural foot spa with little fish nibbling on your skin, or just have a quiet picnic with a barbecue going by the pool.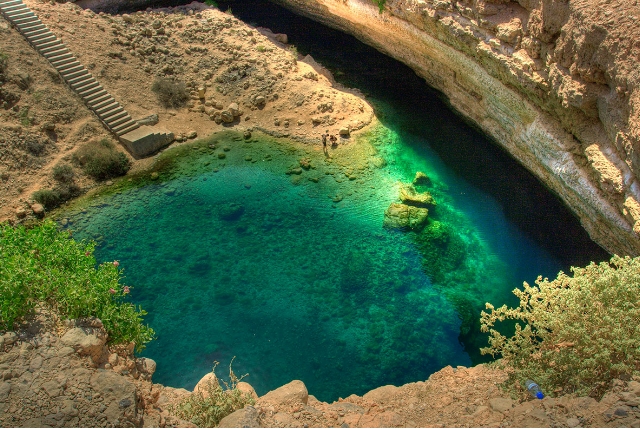 3. Jabal Shams
If being high up in the mountains gives you an adrenaline rush, you must visit Jabal Shams or 'Mountain of the Sun', in the Al Hajar mountain range of Oman. Jabal Shams is the highest peak in Oman, located 243 kms from Muscat city. The highest point, the North Summit, is situated at 3009 meters above sea level. The Al Nakhr canyon in this mountain range is termed as The Grand Canyon of the Middle East, and aptly so. Gradient patterns in the rocks and various shades of brown and grey give it a surreal feel. Driving up the mountain to Jabal Shams makes for an interesting and adventurous off-road experience and it attracts campers and hikers alike. It is best done in a four-wheel drive during winter.
The weather at the peak is cooler by a remarkable 15 degrees than in the lower regions of Oman. It's not surprising then, to find hordes of tourists in resorts here, especially during the winter months.
There are a few hiking trails for those who seek to explore the mountains on foot, the easiest route being the one that begins at Al Khitaym village. This trail takes you on a breathtaking, downward slope along the edge of Al Nakhr Canyon. Along the way, you might be lucky to meet a few local dwellers and their livestock. Some even sell a few hand-crafted items and local produce to tourists. At the end of a 2 hour hike you will reach the village of Al Sab. Apart from this straightforward trail, there are some other difficult hiking trails such as the Jabal Shams Summit Hike, which is what hardcore trekkers might opt for. Unless you're geared for a 10 hour trek with camping out, this route is not advisable for the average tourist. Camping can be done at various spots near Al Khitaym village, although finding a vacant spot will be difficult in peak season. Rest assured, the village and the majestic canyon views will leave you spellbound.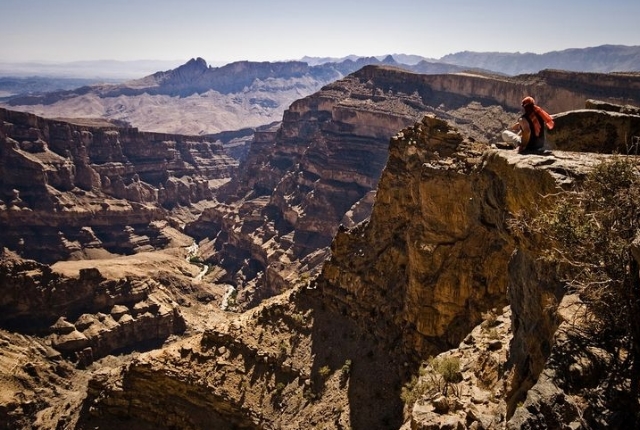 4. Jabal Akhdar And Wadi Bani Habib 
If archeology suits your temperament and fuels your quest for history and people, the abandoned houses of Wadi Bani Habib are sure to give you some food for thought. Part of this village, located in the western Hajar mountains in Jabal Akhdar, is long-forgotten and now open to tourists mulling through the empty stone and mud settlement. To reach the ruins you have to first go to Jabal Akhdar, which is approximately 164 kms from Muscat. Trekkers can start their journey from The Al Jabal Al Akhdar Hotel starting at Al Aqur village and walk all the way upto to Sayq. The region is well-known for its pink Damask roses and essence derived from them. You can hike down to visit the distillery at Sayq village, near Wadi Bani Habib and also the abandoned village. A local guide might be useful to show you the correct way to the ruins as there are several houses both inhabited and abandoned in Jabal Akhdar region. Some of the houses seem distinctly lived-in as is evident in wall paintings and decorations, even wall niches that may have held pots and pans and items of daily use at one time.
If you're interested in ancient structural studies and house-building, this is the perfect spot to do some quick sketches, for there's much to know in how timber, mud and stones were combined to fortify these houses.
You'll be surprised to note that some of the falaj (irrigation) canals still carry water. As legend goes, there was a natural shift towards city living and this is the main reason for the village to be abandoned. The rest of Jabal Akhdar is a place you can explore at a leisurely pace. True to its name, Jabal Akhdar or 'Green Mountain', is a lush green region in the Al Hajar mountain range and gives you enough sight-seeing opportunities in itself. It is situated 2,300 meters above sea level. Just like Jabal Shams, this region is cool throughout the year and also receives rain in the form of precipitation. No wonder then that one finds a variety of fruits such as apricots, figs and pomegranates here. Visitors marvel at the blue-green mountains, rose gardens and the abundant terrace orchards of Jabal Akhdar.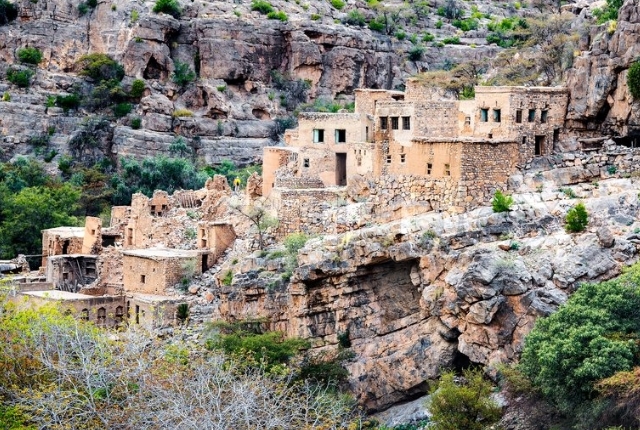 5. Balad Sayt
If a trip to a verdant oasis in the middle of the desert excites you, then Balad Sayt is a must-visit for you. This tiny village is situated between the Al Dakhiliyah and Al Batinah regions and is accessible from two sides; one is a turn at Wadi Bani Awf on the Nakhal–Al Rustaq road and a second approach begins from the turn at Al Hamra. From Muscat city, it takes around 1.5 hours to get to Al Rustaq/Al Hamra via the Nakhal fort road. Give or take another 1.5 hours to get to the village of Balad Sayt. To approach the village, a four-wheel drive is essential as the climb is rocky and steep. The highlight of this adventurous off-road trip lies in being greeted by a rustic, green village in the middle of date palms and grey-brown jagged mountains. The village offers a variety of experiences with its Aflaj irrigation system that carries water through man-made canals, terrace farming, and rocky canyons. You could do this trip during the day, as an addition to a trip to Nakhal fort which falls on the way to Al Rustaq.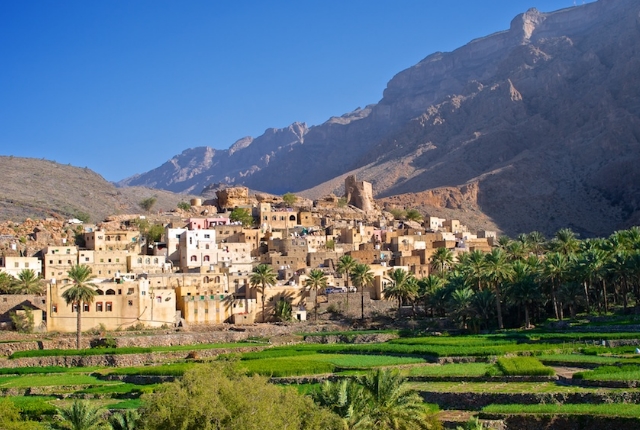 6. Misfat Al Abriyyin
This is a quaint farming village located in the foothills of Al-Dakhiliyah region near Al-Hamra, 206 kms from Muscat. The village is lush with terrace farms which consist of bananas, apricots, pomegranate, and other seasonal fruits, besides Aflaj irrigation and date palm groves. The houses are made of stone and mud and are sturdy with pretty outdoor areas and walkways. It's a sight to behold in the dull brown of the desert. The village is well-marked as a tourist spot and you will find printed information about the place, its history and nearby viewing points. There is also a guest house called The Misfat Old House which offers rest to travellers who like to bunk overnight and explore nearby spots during the day. Simply walking through the lovely alleys and farms of this village gives you an insight into the lifestyle of rural folk.