The Middle East is typically known for its vast deserts, arid landscapes, oil fields and of late, its many striking infrastructural developments. But, did you know, it is a minefield of natural wonders too? Whether it is the Socotra Island in Yemen or the Bu Tinah Island of Abu Dhabi, each personify nature's wonders and are sure to captivate your imagination.
If Not, Here Is Your Guide To 7 Natural Wonders Of The Middle East.
1. Socotra Island, Yemen
Socotra Island in Yemen looks like a land of fairytales. It certainly feels like a place from another planet with its amazing collection of one-of-a-kind flora and fauna. It is home to sandy beaches, high mountains and limestone caves.
The island is a part of 4 islands situated 340 km away from Yemen's mainland, in the Indian Ocean.
The area has been geographically isolated and is teeming with 700 rare species of plants and wildlife and the most amazing part is almost one-third of it is found nowhere on the earth's surface. It has been declared a World Heritage Site by UNESCO and is best known for the Desert Rose, a tree that looks like a blooming elephant foot and the flying saucer shaped Dragon's Blood Tree. The locals also make use of its red, blood coloured resin to make dyes and medicine. If you wish to visit this magic land, don't expect to find luxury resorts or hotels in its vicinity. Try riding a camel or take help from the locals to explore this natural beauty.
Visit Website: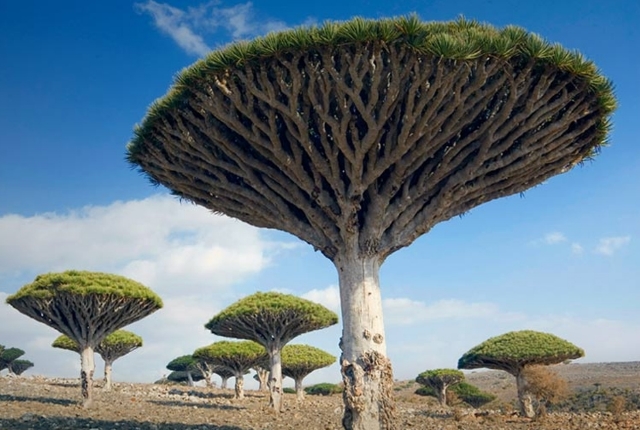 2. Jabal Qarah Caves, Saudi Arabia
In the eastern province of Hofuf, Saudi Arabia lies a series of sandstone and limestone caves which are popularly known as the Jabal Qarah caves.
Situated at an elevation of 225 meters above sea level, Jabal Qarah is a flat-topped hill that has been subjected to years of wind and water erosion.
It is the effort of these natural forces that carved out fascinating caves and landscapes in the region. Although, most of the caves in the country are difficult to explore, some of the caves have walkways and iron railings to facilitate visitors. The steep walled caves remain cool in the summer months and become warm during the winter. The cracks and crevices inside the caves allow sunlight to seep in and creates myriad hues that fascinate travelers.
Visit Website: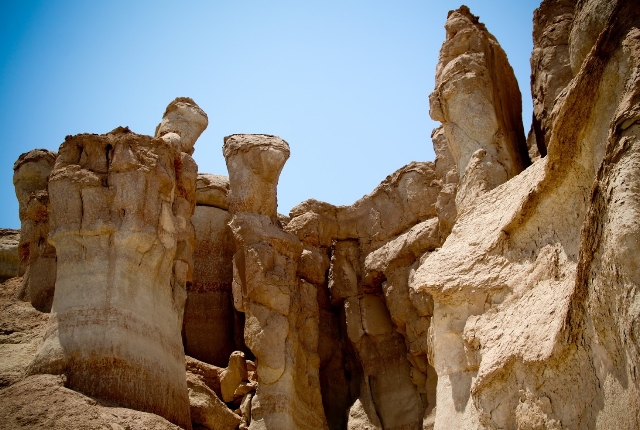 3. Dead Sea, Jordan And Israel
The Dead Sea is another of the Middle East's natural wonders that attract thousands to its waters. It is a salt lake bordered by Jordan in its east and guarded by Israel and the West Bank on the west. With salinity levels of 33.7%, its water does not support life and hence, the name Dead Sea. But, its mineral rich water is known for its curative properties and numerous wellness spas and resorts have come up on its shores. Moreover, people love this place because you can simply float on the water without any support. The mild climate of the region and oxygen rich air adds to the therapeutic properties of the Dead Sea.
Lying 1388 feet below sea level, it is the lowest land elevation on earth
Visit Website: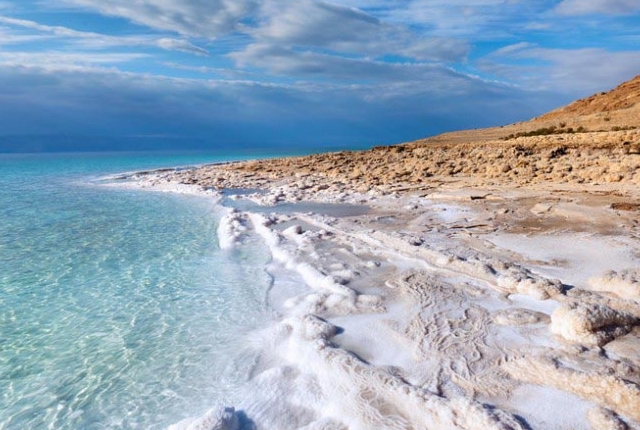 4. The Kaluts, Iran
The Kaluts of Iran would remind you of a lost world. Sticking out from the vast desert or Dash-e Lut, as the Iranians refer to it, these look like a series of towers, walls and forts standing on the arid landscape.
Stretching over 120 miles north and south, Kaluts are simply stuff from science fictions and you have to see it to believe how awesome a natural landscape can be.
It is the hottest and lowest area of Iran with temperatures as high as 65 degree Celsius and these formations are a result of extreme wind, water and soil erosion over millions of years.
Visit Website: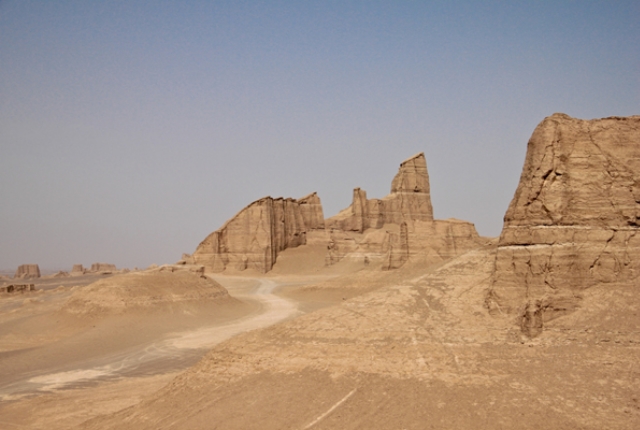 5. Bu Tinah Island, Abu Dhabi
Located within the Marawah Marine Biosphere Reserve, Bu Tinah Island in Abu Dhabi consists of a collection of coral reefs and shoals. Marked as an ecologically preserved site by the UNESCO, it is off-limits for visitors. It is one of the finest natural wonders of the region and is home to the endangered Hawksbill Turtle, different species of dolphins, flamingos and a huge group of threatened marine mammals known as dugongs. It is an undisturbed paradise with distinctive natural habitats consisting of mangroves, seagrass beds and shallow waters. The coral reefs render important information in climate change research and is quickly fading in other parts of the world. As a result, this small collection of coral reefs is kept away from human disturbance.
Visit Website: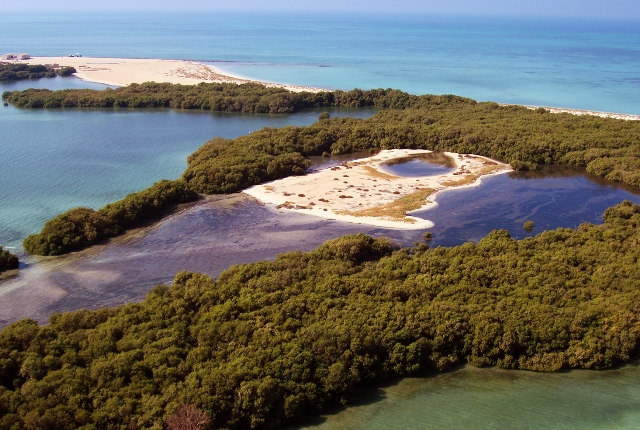 6. Jeita Grotto, Lebanon
One of Lebanon's most famous tourist destinations, Jeita Grotto is worth a visit.
It consists of two interconnected limestone caves stretching nearly 9 kilometers and has the largest stalactite in the world, measuring 27 feet.
A 6230 meter long river flows through the lower cave and the action of water on limestone has resulted in the formation of huge cathedral-like vaults. Each vault is stacked with beautiful rock formations, limestone curtains, amazing stalagmites and stalactites. The mesmerizing colours, shapes and formations in the cave attract thousands to its corridors. It was discovered in 1836 and was inhabited during the prehistoric era. Located in the Nahr al-Kalb valley, north or Beirut, the place can be reached by boats. Several walkways and a tunnel has also been added to facilitate visitors to the Jeita Grotto. However, limited access is granted to prevent damage.
Visit Website: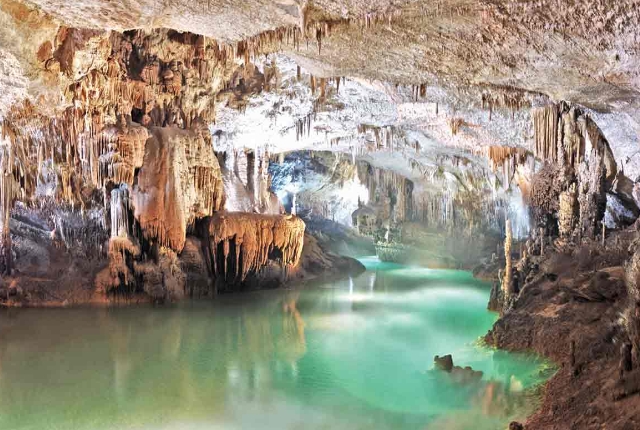 7. Rub' al Khali, Arabian Peninsula
Rub' al Khali or the Empty Quarter is a vast stretch of arid desert.
One of the world's largest sand deserts, it stretches over 225,000 square miles and spreads over one-fifth of the Arabian Peninsula.
It is an area of harsh extremes and covers substantial portions of Saudi Arabia, some parts of Yemen, Oman and the United Arab Emirates. It is famous for its red-orange sand dunes, which are often as high as 800 feet. However, extreme temperature and weather conditions make this area uninhabitable and is home to very few animals. Rub' al Khali however, is extremely oil-rich and is one of those sandy areas that have been explored by scientists recently.
Visit Website: