Maldives is undoubtedly one of the most beautiful beach destinations in the world due to which it attracts millions of visitors every year including many families from around the globe. It is a great place for families to relax and unwind in the picturesque surroundings. As a result, numerous amazing family-friendly resorts have come up around the islands that offer incomparable service for kids and families, making their vacations truly memorable.
Here Are The Top 10 Family-friendly Resorts In Maldives To Make Your Trip A Breeze:
1. Kanuhura Resort And Spa
This is an excellent choice in resorts of families in Maldives as it offers a plethora of amenities and activites for kids and families along with numerous types of accommodation and eating options to choose all visitors.
The Kanuhura resorts hosts various activities including tennis, yoga classes, scuba diving, beach volley ball and many others; so there is always something to do for people of all ages.
It also houses a hip nightclub for the grown-ups, along with outdoor sports and spa facilities that we usually find in 5-star resorts. You can take your pick for the 5 in-house restaurants along with a delightful ice cream bar located right on its private beach. For the younger kids, there are numerous activities available including sand-filled playground, pirate games, kiddies' pool and a lot more.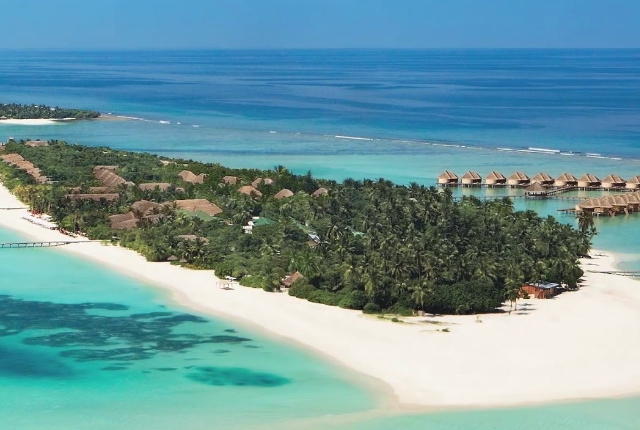 2. Atmosphere Kanifushi
Another worthy contender when it comes to the best family resorts in Maldives is Atmosphere Kanifushi. It is home to the largest detached villas in the island and requires a 30 minute seaplane ride from Male Airport to reach.
It offers extensive amenities for families such as scuba dividing, sunset cruises and a variety of cultural experiences.
It also offers yoga classes, complete spa services, volleyball facilities and jogging trails. Kids of all ages can find something or the other to do here. It is the perfect place for families to have a memorable vacation without any stress thanks to their well-tailored packages.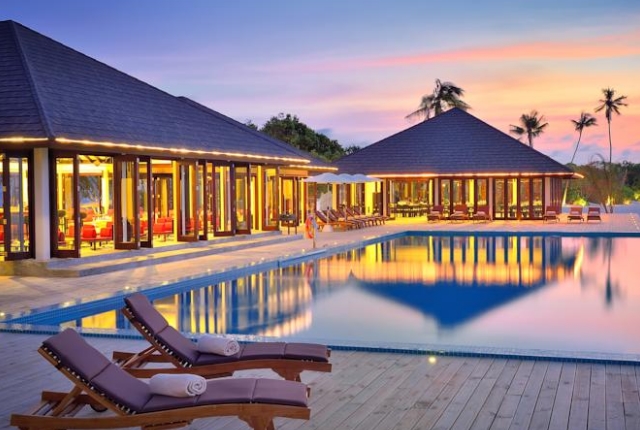 3. Shangri-La's Villingili Spa & Resort
Being once of the most gorgeous resorts in the islands, it features beautiful villas with Indian and Middle-eastern touch built on top of the Maldives' water. A variety of accommodation options are available here from ocean perched villas to tree top huts, each of them offering a perfectly unique experience. The resort offers a unique 'cool zone' for kids aged between 4 and 12 featuring Jungle Club for meeting reptiles and animals, along with numerous games, crafts and fitness activities. Baby sitting services are also available for times when parents want to time for themselves.
Shangri-La's Villingili Spa & Resort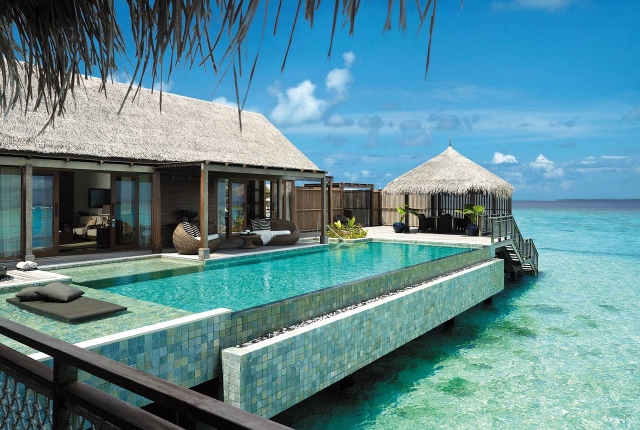 4. Four Seasons Resort at Landaa Giraavaru
Another wonderful family hotel in Maldives, the Four Seasons located in Landaa Giraavaru is renowned for its high quality service and family-friendly amenities. It is located on an exciting remote island and features 100 luxurious villas in jungle-like setting.
It features a massive 50 meter swimming pool, a full-service spa, 8 restaurants and 3 bars.
The resort also offers boat cruises for its guests, along with private/shared cruises along the island and scuba diving opportunities. Since it is located near Baa Atoll Biosphere reserve, you will find the best diving experience here. You can also indulge in water sports such as jet skiing and wake boarding. The resort also operates a Marine Discovery Center which is a great learning experience for kids of all ages.
Four Seasons Resort at Landaa Giraavaru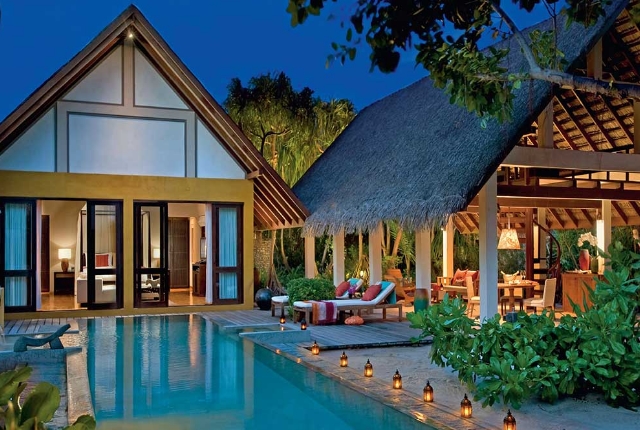 5. Sun Siyam Iru Fushi Resort
This is a huge family resort offering the best natural splendor in Maldives. It is perfect for water loving families as it houses shallow pools for kids, a lap pool, water sports center and a 5-star diving centre. The accommodations open out into the white beach and clear water of the island and offers activities like kids' club, spa services and 11 different restaurants offers cuisines from around the world.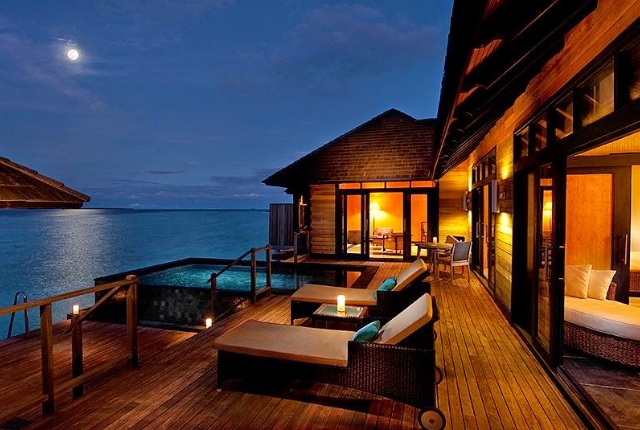 6. Four Seasons (Kudaa Huraa)
If you are staying at the four seasons located in Kudaa Huraa when you are visiting Maldives with your kids, you just need to show up without any baby essentials and they will take care of your family. This resort offers such exemplary services for families that you don't need to carry any nappies, baby food, sterilizers as you will find everything here. The resort also features activities for kids such as a turtle tank, fish feeding and scavenger hunts. The all-you-can-eat lobster meals offers here are quite popular.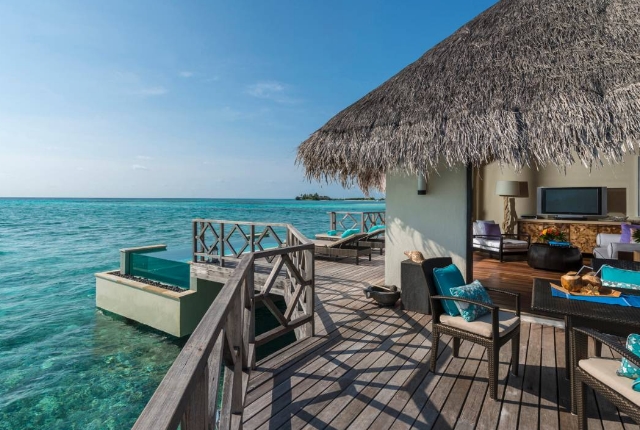 7. Anantara Dhigu
This resort belongs to a famous luxury Thai chain offering exquisite services at affordable prices. It is build over 3 connecting islands and features a kids' club built on a traditional Maldivian boat called Dhoni. It offers exciting kid-friendly activities such as open air movie nights, glass bottom Kayaking and other water-sports.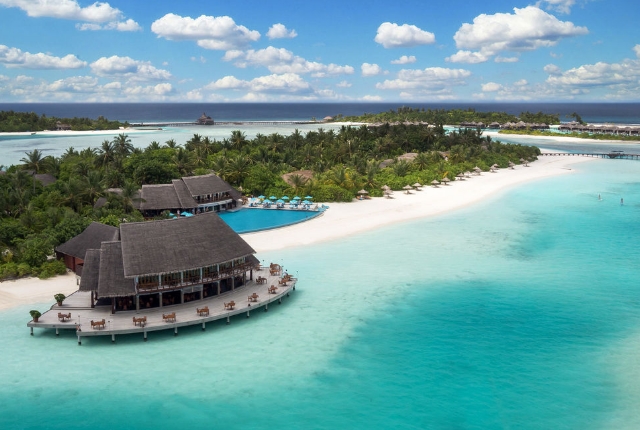 8. Bandos Island Spa & Resort
This resort has also gained the reputation of one of the most kid-friendly resorts in the country and rightly so. It houses a huge sports complex offering squash, badminton and tennis courts. There is also a well-equipped gym for older kids and a TV room for kids to watch cartoon channels of play board games or table tennis. The Kokko Club offers supervises activities for kids for free along with baby sitting services. Families can also indulge in water sports like windsurfing, water skiing, catamaran sailing, banana boats, canoeing and fun tubes.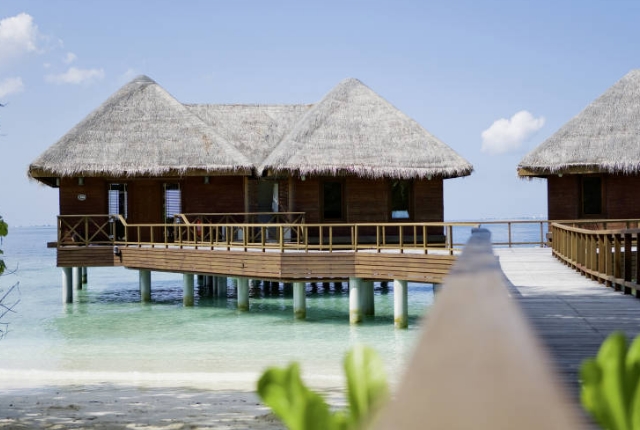 9. The One & Only Resort
This is one resort that is considered a teenager paradise as it offers numerous programs especially designed for teenagers such as rock climbing, football tournaments, movie nights, golf simulation, PADI diving bubblemaker as well as smoothie bar. Teenagers can meet new friends and spend time with each other when here. It also offers an excellent spa and great diving facilities. It even features personalized 'packing up' services where they pack your clothes and belongings while you are out enjoying yourself at the beach.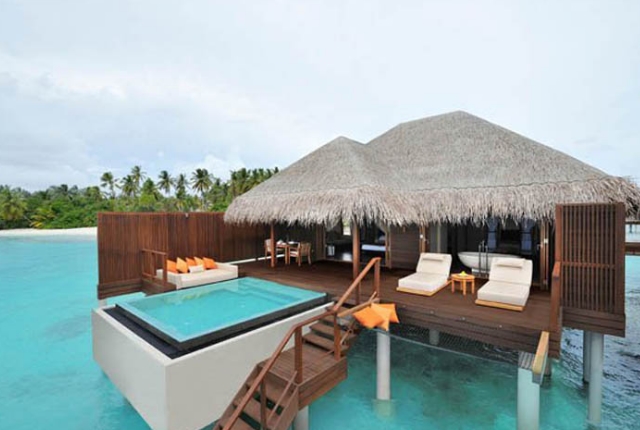 10. Meeru Island Spa & Resort
This is one of the largest resorts in the country which gives kids plenty of opportunities to meet other kids and enjoy themselves with the various activities offered here. The resort is divided into 3 varied zones with distinct ambiances, but west side towards the atoll is most popular with families. Here you can find various restaurants, coffee shops, a bar and kid's pool with water polo matches. It also houses a game room for children who like to spend their time indoors. Baby sitting services are also provided for young kids.