Dubai's iconic landmark, the Burj Al Arab is one of the finest hotels in the world. Known for its extravagance, opulence and lavishness, the Burj Al Arab is not just a seven star property, it is the very epitome of luxury. Its sail shaped structure has now become the face of modern Dubai and people from all over the world associate it with Dubai's growth and success. Located on a reclaimed island near Jumeirah Beach, the hotel is connected to the mainland via a narrow causeway. The hotel is renowned for its extraordinary service. It is designed to treat its guests in ultimate luxury and offer the finest facilities throughout their stay.
Here Are Some Attractive Things About Burj Al Arab
1. Top-Class Facility For The Guests
A hotel is known by its service and the Burj Al Arab certainly does not disappoint. It begins with an unforgettable welcome. The hotel's fleet of Rolls Royce is ready to pick up guests from the airport and drop them at their desired locations. Guests also have a choice to arrive in style, riding a helicopter.
The hotel has a helipad at the 28th level and guests can take a mesmerizing 15 minute tour of the city as they arrive from the airport to the hotel.
Personal butlers, chauffeur driven cars and a concierge service that is ready to meet every demand are some of the other perks of living in a world-class hotel like the Burj Al Arab.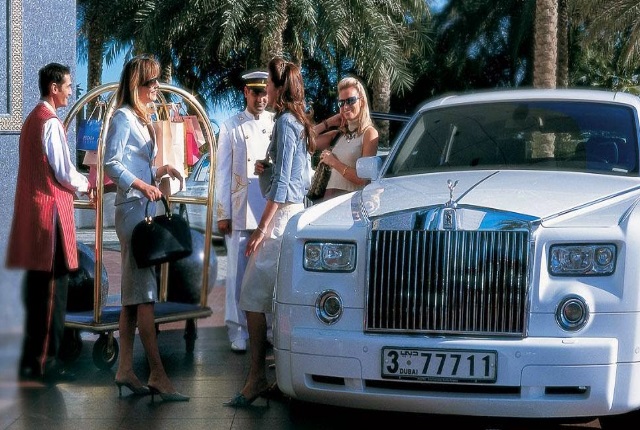 2. VIP Services To Pamper Guests
Looking for absolute pampering? Look no further than the Burj Al Arab. The concierge desk is ready to design once in a lifetime opportunities that will make the trip memorable.Whether you are looking for a private car, a special beach party or a date night, the team will travel the extra mile to make arrangements according to your whims and fancies. Apart from these, look forward to personal butler services, special check-in facilities and a reception desk at every floor.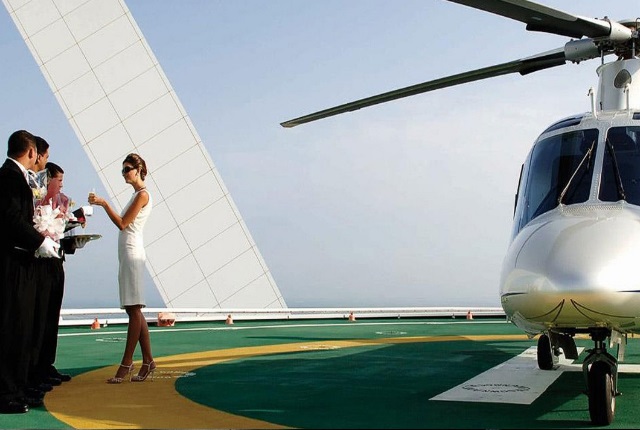 3. Accommodation At Burj Al Arab
Guests can choose one of the luxury duplex suites at the hotel to enjoy extravagant living. Apart from these, there are deluxe one bedroom suites, panoramic one-bedroom suites, deluxe two-bedroom suites, club one bedroom suites, diplomatic three-bedroom suites, presidential two-bedroom suites and royal two-bedroom suites. Guests staying in these rooms can enjoy personal butler services, in-suite breakfast, private bar and a host of modern amenities including complimentary Wifi, widescreen televisions, an iMac and a media hub.
Remote controlled curtains and lights make living in a Burj Al Arab suite a true pleasure.
4. Activities At The Hotel
At the Burj Al Arab there can never be a dull moment. It offers plenty of activities for adults as well as children. Whether you are planning a sightseeing tour or just wish to stay indoors, the hotel does not disappoint you.
It has four swimming pools, a private beach, nine top class restaurants and unlimited access to Wild Wadi Waterpark.
The entire family can enjoy a fun-filled day at the waterpark while enjoying exciting rides. For fitness enthusiasts, the hotel has a gym, aerobic facilities and resistance training equipment.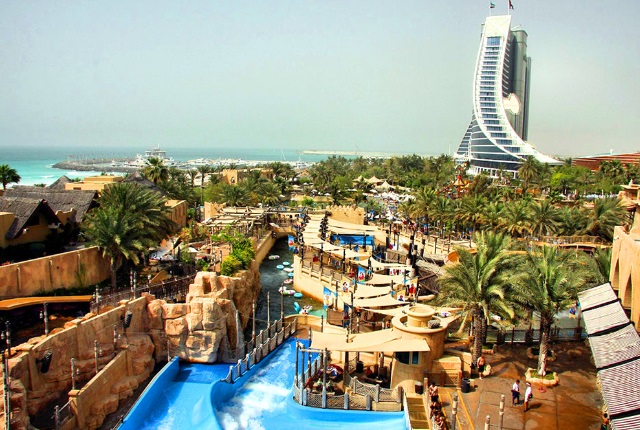 5. The Relaxing Spa
If you are in a mood to relax and rejuvenate, nothing can beat a spa session. The treatments are designed to pamper and separate recreational areas for men and women perfectly complement the treatments at the spa.
At the spa, you can expect a range of facials starting from rare platinum, gold and caviar facials to various anti-ageing treatments.
The body massages too are perfectly designed to calm your soul. Guests can choose from aromatherapy, Thai, Balinese or hot stone massages among other body massages. A Jacuzzi, indoor infinity pools, plunge pools, steam and sauna rooms are some of the other attractions at the spa.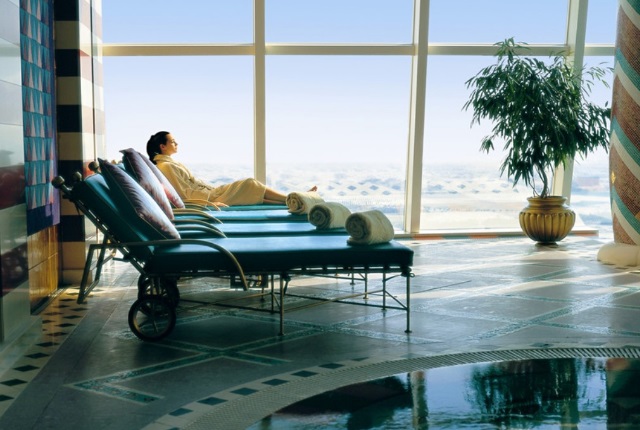 6. Award Winning Restaurants
A hotel is always known for its restaurants and the Burj Al Arab can boast of nine fantastic restaurants within its premises. Guests can expect exceptional dining opportunities at one of the hotel's cafes, restaurants or the bar. If you are in a mood for morning coffee or evening tea, the relaxed environment of Sahn Eddar is ideal. And if you wish to sample Far Eastern cuisine, Junsui certainly fits the bill. Apart from these, guests can also try delicious dishes at Al Muntaha, Al Mahara or Al Iwan, all examples of Burj Al Arab's signature style.
Finally, to enjoy a few drinks at 200 metres above sea level, a visit to the Skyview Bar is must.
7. Celebrating Memorable Moments
Burj Al Arab aspires to make every celebration memorable. Be it your wedding, anniversary, birthday or a gala dinner, it has all the ingredients to turn your special day into a magical event. Its team of professional event organizers make use of latest technology, lighting, sound and stage equipment to provide the best services. Its full range of audio-visual equipment helps to reproduce your vision on stage. Big businesses also choose the hotel for perfect corporate events and meetings.
Its exclusive banquets as well as outdoor venues are perfect for dream weddings. Guests planning a wedding at the venue are offered the services of a wedding consultant who ensure every detail is looked after. Everything from choosing the perfect cake to arranging flowers for the big day becomes easy with your wedding consultant. Besides, the bride and groom can opt to arrive in style either in a Rolls Royce or a helicopter that lands at the hotel's helipad.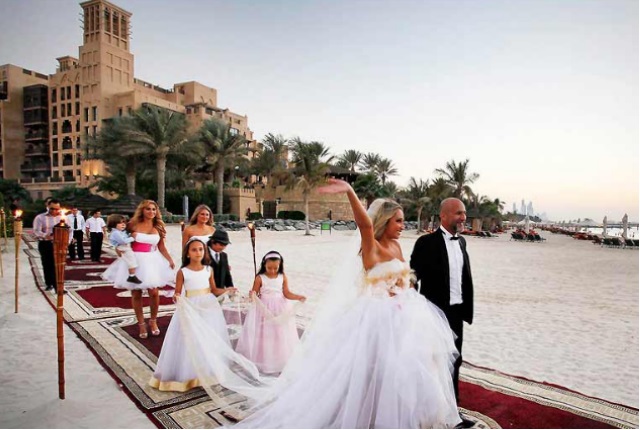 8. Exclusive Kids' Club
At the 18th floor of Burj Al Arab is the kids' club that caters to children aged between 1 and 12 years. At the behest of professional caregivers, children enjoy in spacious playrooms, have the option to play with soft toys, board games, computer games or watch their favourite cartoons and movies on a large plasma screen television.
Children also enjoy various creative activities at the club. Healthy and nutritious food is also served to kids at the club.
On the whole, this is the ideal place where kids can have fun while their parents enjoy some time in ultimate luxury.