A vacation in the United Arab Emirates can spoil you with accommodation choices in some of the finest hotels of the world. The middle-eastern country is home to astounding hotels known for its hospitality, service and world class amenities. It has a range of properties that are ideal for a family holiday. Whether you are looking to enjoy adventure sports or just relax and rejuvenate, these properties will certainly make your holidays memorable.
Let's Take A Look At 5 Wonderful Hotels In The United Arab Emirates:
1. Burj Al Arab
Looking for a truly luxurious holiday experience? Do not miss a chance to stay at the opulent Burj Al Arab. One of Dubai's best known hotels, it is renowned for its extravagance and lavishness. It not only brings its guest in a helicopter, but also offers the option of arriving in a Rolls Royce, just like royalty. The hotel is a great place to relax and rejuvenate. You can either spend a leisurely day on its private beach or head to the spa for a pampering treatment. It also has numerous award winning restaurants to satisfy your taste buds.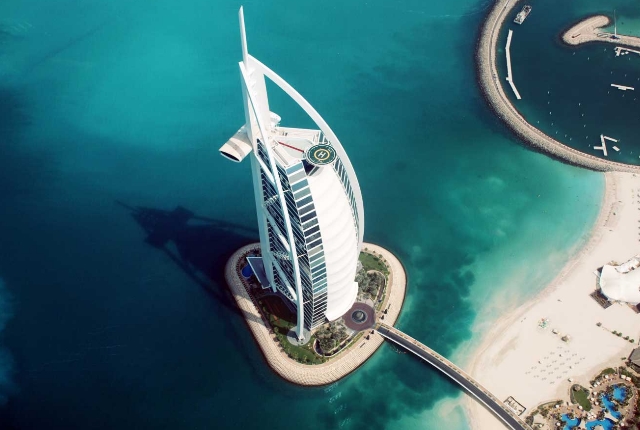 2. Yas Viceroy
Yas Viceroy in Abu Dhabi is an exquisite hotel in the capital city of United Arab Emirates. Half built on land and half on the sea, it overlooks the Marina and offers the perfect setting for a leisure or business trip.
It is one of the world's most stunning hotels and it has left no stone unturned to make it the perfect modern and contemporary hotel.
The hotel is also famous for visitors to Abu Dhabi and features on their sightseeing list. Its incredible design features a LED shell that constantly changes colour. It looks like the throw of a fishing net and is visible from miles around the property. As far as accommodation is concerned, it provides 499 well-appointed rooms and suites with awesome interior. The food and beverage facilities at Yas Viceroy is also remarkable.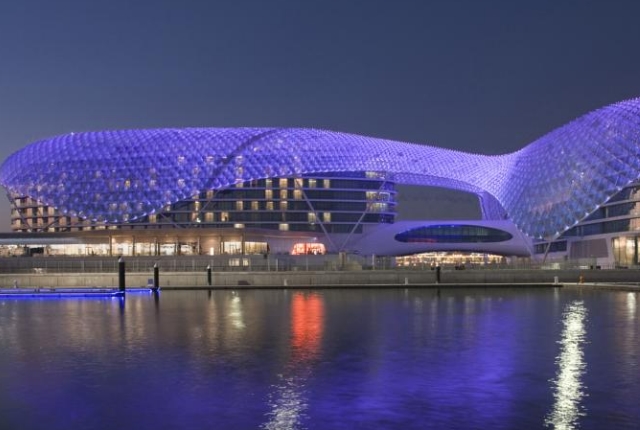 3. Emirates Palace
Emirates Palace, Abu Dhabi personifies lavishness at its best. It is a seven star property and is no less than a palace. A specially designed pillow menu, on-call butler services and opulent rooms are some of the features that attract guests. Apart from these, the hotel has a 1.3 kilometer stretch of private beach made with specially imported white sand. The water park at Emirates Palace is another great place that is regularly frequented by tourists from all over the world.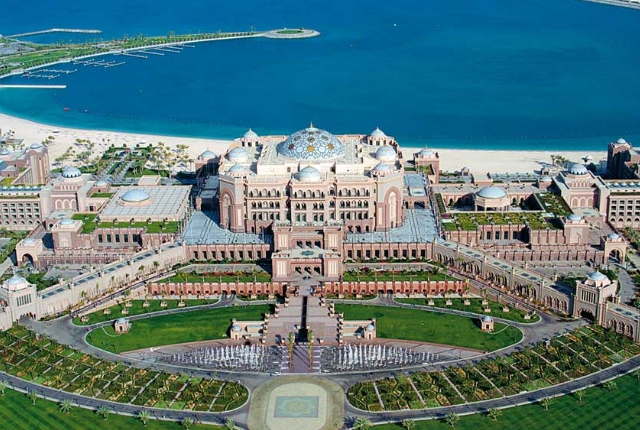 4. Danat Al Ain Resort
Danat Al Ain Resort can be best described as a family friendly destination. Its flower gardens, attractive pools and sleek rooms create a contemporary atmosphere, ideal for children as well as adults.
It is close to the Jebel Hafeet Mountains and guests can choose rooms with views of the mighty ranges.
Equipped with all kinds of modern amenities, this hotel redefines hospitality. There are also plenty of dining options and you can choose from local to Indian, Eastern, Italian, Mediterranean and English cuisines. It also features swimming pools, tennis courts, squash courts, sauna facility, gym and fitness area along with a rejuvenating spa.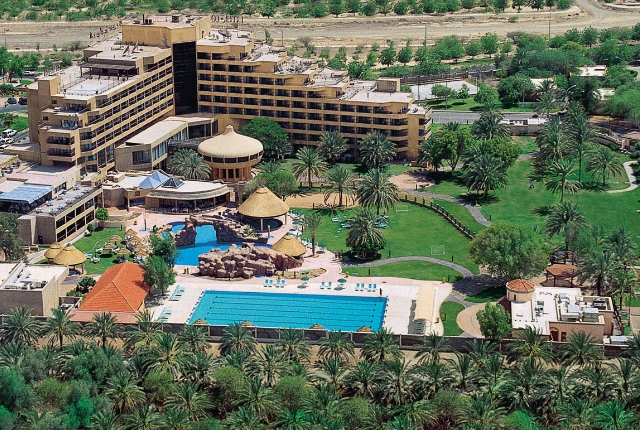 5. Kempinski Hotel Ajman
If you wish to retreat from the hustle and bustle of busy cities like Abu Dhabi and Dubai, Kempinski Hotel Ajman can be your best bet. Located on a quiet beach with palm trees and soft white sand, it is the perfect place to relax.
The spectacular hotel is built on the sea front, offering amazing views of the Arabian Gulf.
The rooms are delicately designed in Arabic style and have bright colour schemes that add vibrance. Its lush landscaped garden, furnished terrace or balcony are some of the other features of this property that will attract you. Besides, the hotel offers opportunities to indulge in a wide range of water sports including windsurfing, snorkeling, canoeing and scuba diving among others. It can also arrange private limousine transfers, if you are willing to enjoy the experience.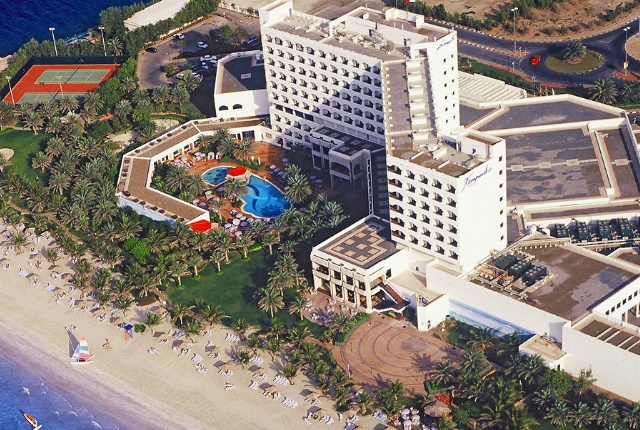 6. The Cove Rotana Resort Ras Al Khaimah
The Cove Rotana Resort in Ras Al Khaimah is the perfect blend of traditional Arabian culture and charm. Situated on the beach front, it has 600 meters of private beach dedicated specially to its guests.
The rooms are well furnished in traditional Arabic style and provide free Wi-Fi all over the resort's property.
Guests can also choose rooms with a terrace or balcony facing the sea. Lagoon, garden and swimming pool view rooms are also on offer at The Cove Rotana. The hotel also boasts of two world class restaurants where you can enjoy different types of International buffets. Here you can also taste a few Mediterranean delicacies.
And if you are simply relaxing at the beach, expect a few snacks and drinks on the beach and pool side bar.
Guests can also enjoy different types of water sports, go for fishing trips, play golf or spend some time at the world-class fitness center and gym. The little ones can also enjoy a great time at the Kids' Club at The Cove Rotana.
Visit The Cove Rotana Resort Ras Al Khaimah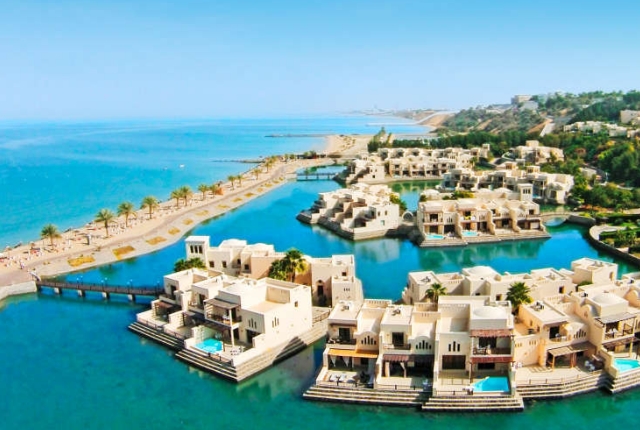 7. Bab Al Shams Desert Resort and Spa
Located amidst the desert, Bab Al Shams is the perfect place to enjoy the beauty of the vast Arabian Desert. It is one of the finest luxury hotels with a rustic, traditional look. Comprising of several low rising buildings made with mock sandstone, it has several secret corridors and stairwells. Most of the rooms have direct access to the sandy desert and you can enjoy different types of desert excursions. In order to keep you entertained and relaxed, it also has a spa, four restaurants and a swimming pool.
Visit Bab Al Shams Desert Resort and Spa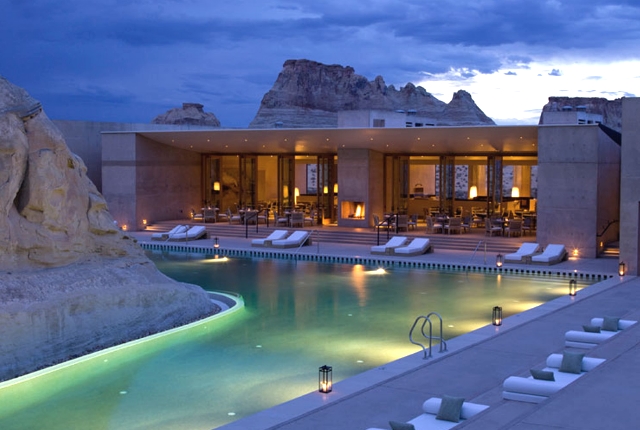 8. Banyan Tree Al Wadi
Swathed in natural beauty, Banyan Tree Al Wadi is a beautiful resort in Ras Al Khaimah. On one side, you come face to face with the desert greenery and on the other you have the majestic Al Hajar Mountains in its full glory.
It is the perfect place to relax and rejuvenate amidst nature.
Not only does it have spacious rooms opening into a private garden where you can relax peacefully, it also arranges recreational activities like falconry shows, nature walks or even a wildlife safari where you can spot a few oryx and gazelles. The hotel has been designed as an oasis in the desert and lives up to your expectation when it comes to first class service and hospitality.