Once a quaint fishing town, the modern Dubai is a far shadow of its not so glamorous past. Its sun, sand and surf is world famous now and features high up on a traveler's list of must watch places. The cosmopolitan city of Dubai is home to expatriates from around the world and tourists from around the globe flock this coastal town to enjoy memorable vacations. If you too are planning a short trip to Dubai, here are the top 10 things that must feature in your itinerary.
1. Visit Burj Khalifa
The world's tallest building, Burj Khalifa, is an engineering feat that has to be seen. Designed like a needle-shaped spacecraft, it soars high above the city skyline and looks awesome at any time of the day.
Tourists can enjoy stunning 360 degree views of the city from its observation decks at the 124th and 148th floor.
However, if you are looking to save a few bucks, make your bookings well in advance to avoid rush hour rates.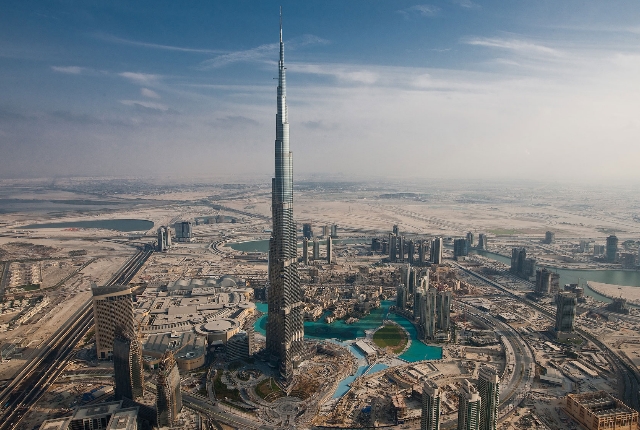 2. Dubai Mall and Musical Fountain
A city like Dubai is teeming with high-end shopping destinations but, nothing matches the Dubai Mall. It not only hosts some of the top international brands, it is also a full-fledged family destination.
To begin with, the massive floor to roof aquarium and underwater zoo is a must-watch for every visitor.
It not only has several species of exotic fishes, it is also home to sharks and crocodiles. While children can have a blast at Kidzania, the entire family can enjoy at Sega World, the mall's theme park. An ice skating rink and Ski Dubai are some of the other attractions that must not be skipped at Dubai Mall.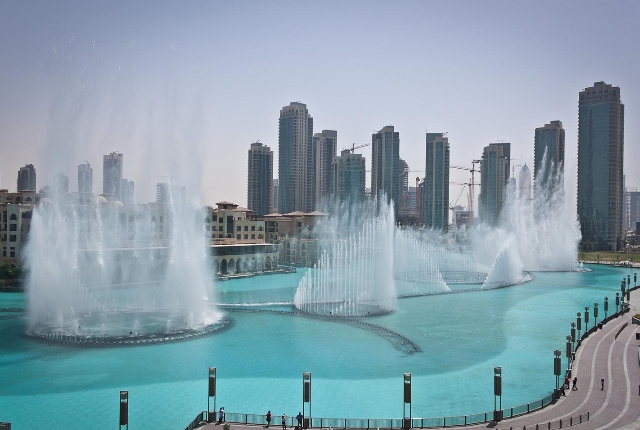 The musical fountain is the greatest attraction for tourists from all over the world. Located just outside the mall, shows can be enjoyed at 20 minute intervals, starting in the evening. The many eating joints close to the fountain offer optimum views and you can enjoy some great treats while enjoying the show.
3. Burj Al Arab
The iconic sail shaped hotel dominates every tourist's imagination.
This hotel personifies luxury living and dining.
While many enjoy taking a few selfies from the beach facing it, some can taste its lavishness at one of the many restaurants inside the Burj Al Arab.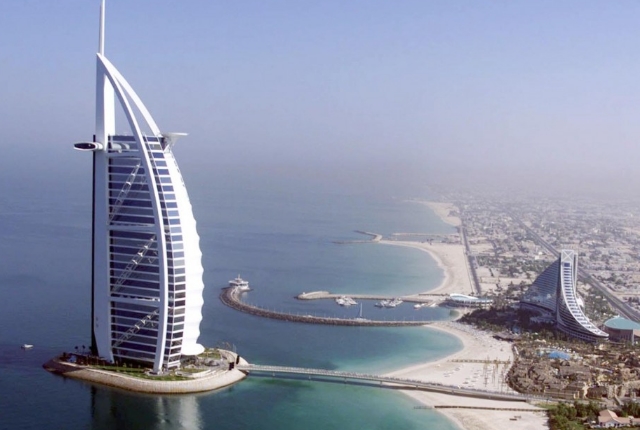 4. Visit to Al Fahidi Historic District
If you are keen to delve deep into Dubai's past, a visit to Al Fahidi Historic District will certainly mesmerize you.
This heritage area consists of museums, art galleries, exhibition areas, courtyards and various cafes for refreshment.
As you walk past the narrow bylanes of this area, sand colored buildings flanked by wind towers remind you of an era gone-by. The Dubai Creek is nearby and if you wish to take in some fresh air, relax on a bench and enjoy the setting sun.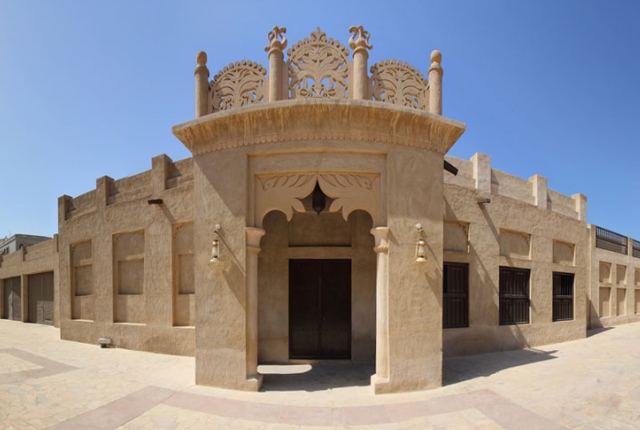 5. Desert Safari
Tour operators will take you on full-day excursion across deserts around the city.
Enjoy the vastness of the desert landscape from the comforts of a 4X4 vehicle as you continue your journey through the sand dunes.
Riding a camel, taking photographs in traditional attire, getting a henna tattoo and relishing a mouthwatering barbeque dinner are some of the other things you can expect from your desert safari.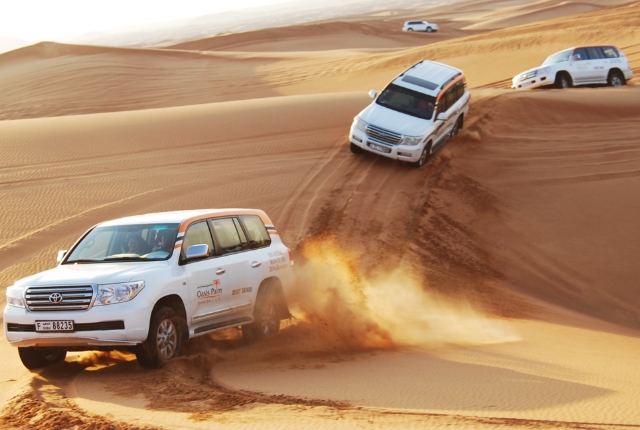 6. Exploring The Beaches
Dubai has numerous beaches and beach parks that make ideal getaways. Have fun in the sun and sand with the entire family.
Some of the notable beaches include the Kite Beach at Jumeirah and the beach in front of the iconic Burj Al Arab hotel.
Apart from these, you can visit beach parks like Al Mamzar and Jumeirah Beach Park.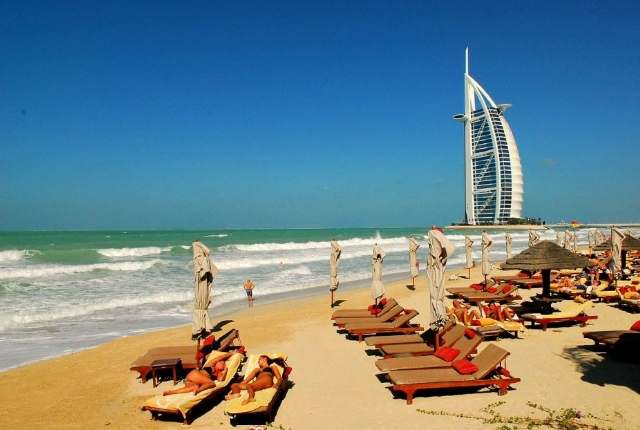 7. Touring the Palm Islands
A stunning body of superhuman work, the Palm Islands hold a position of pride.
A group of manmade islands, it is a palm tree shaped project just off the coast of Dubai.
With numerous resorts, hotels and a stunning view of the open sea, this is one place you must not miss.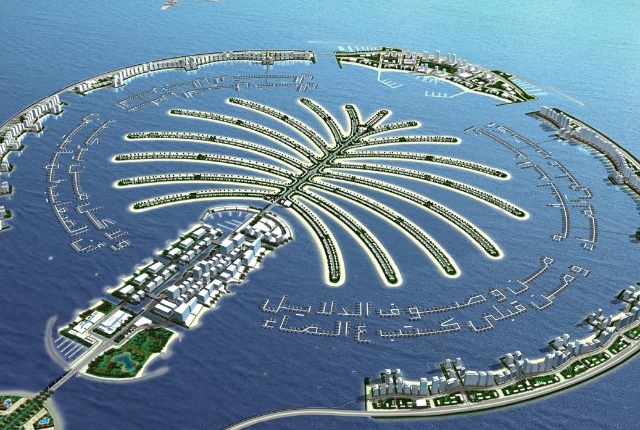 8. Gold Souk
The Gold Souk is one of the most visited places of old Dubai. The souk or market has hundreds of jewellery shops selling different varieties of ornaments made with precious metal and stones.
Its collection of gold and diamond jewellery features something for every customer.
Just off the gold souq, there are numerous traders selling local items including clothes, shoes, perfumes, spices and dry fruits which can be bought at reasonable rates.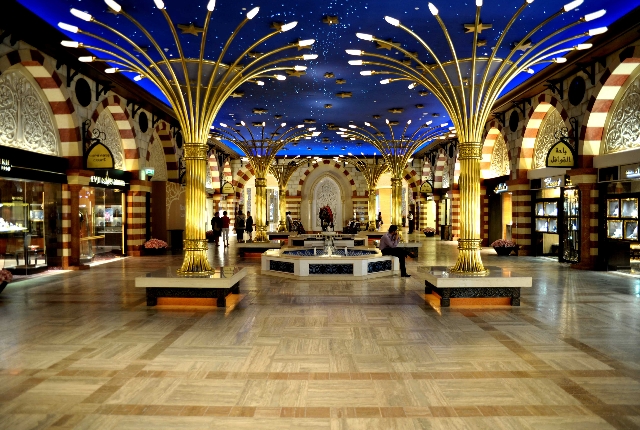 9. Look For Bargain Shopping
Bur Dubai and the Karama market can be your preferred destination for some cheap goods.
These old markets have everything from designer bags, shoes, watches and sunglasses to great souvenirs and keepsakes.
Also, don't be surprised if you find a few knock-offs of your favourite brand. But, bargaining is the secret to getting the best out of this place.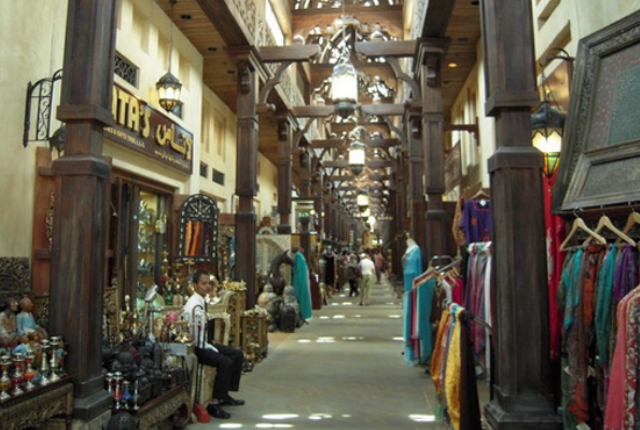 10. Enjoy Great Food
Local Arabic cuisine can be a great attraction. Apart from it, you can try out numerous restaurants offering Lebanese, African, Indian, Pakistani, Mediterranean or International cuisine. The barbeque items are a must try when you are in Dubai.