The Galapagos Islands are world famous as a volcanic archipelago in the Pacific Ocean present in the province of Ecuador, and they are situated approximately 973  kilometers off the west sea coast of the South America. Galapagos Islands are one of the most prominent destinations for exploring the unique and rare wildlife. It comprises 13 big islands and six small islands. The isolated terrain areas of these Islands shelter a vast variety of animal and plant species that inspired Charles Darwin to derive the theory of evolution. So, let's have a look at some incredible tourist attractions that you must not miss visiting when planning trip to Galapagos.
Find Below Twelve Fabulous Tourist Destinations To Explore When Visiting Galapagos Islands:
1. San Cristobal Island
San Cristobal Island, also popular as Chatham Island, is known for comprising Puerto Baquerizo Moreno, the capital city of the Galapagos province. San Cristobal Island is also one of the oldest geological destinations and one of the largest islands in the archipelago of Galapagos.
Watch the amazing volcanic sights that include Kicker Rock rising out of the ocean.
Have a great time watching giant tortoises, frigate birds, sea lions, marine iguanas, dolphins, red and blue footed boobies, and swallow-tailed gulls. El Junco lake is another fabulous destination that you can visit to view beautiful endemic birds when visiting San Cristobal Island. Also, this island is an excellent destination to practice Galapagos surfing.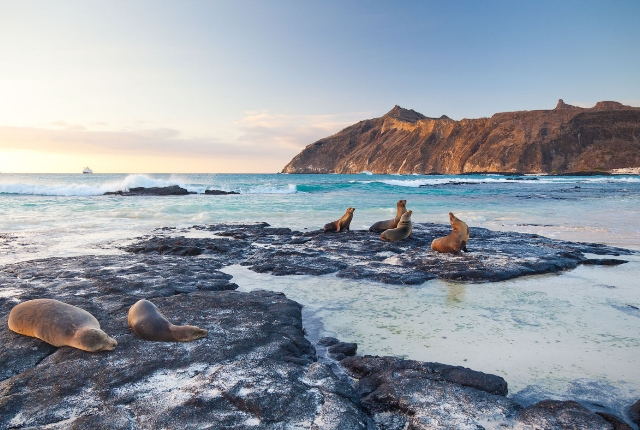 2. Santiago Island
Santiago Island comprises some amazing tourist destinations, such as James Bay that offers you a great opportunity to watch Galapagos hawks and Darwin's Finches. The shores of this beautiful island let your visit excellent spots to explore unique bird life in Galapagos.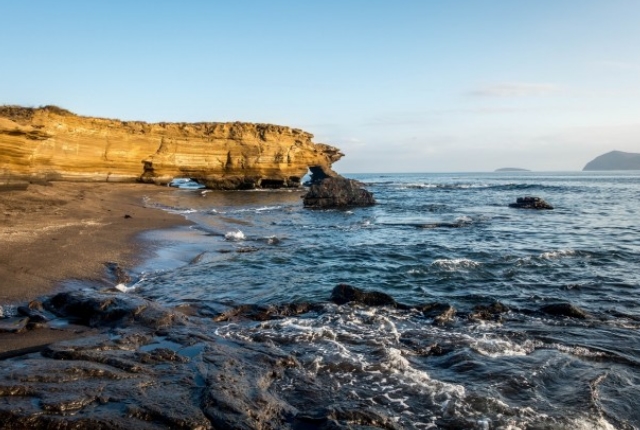 3. Sombrero Chino
Sombrero Chino is an outcome of a recent volcanic activity, which has developed this volcanic cone, and this island is situated to the southern tip of the Santiago Island. It is lesser than a quarter of one square kilometer in size and derived its name from its appearance that resembles a 'Chinese hat'. You can find aquamarine colors blended with basaltic blacks surrounding this fabulous volcanic cone. Watch interesting natural features, such as volcano, wonderful penguins, shark reef, and sea lions.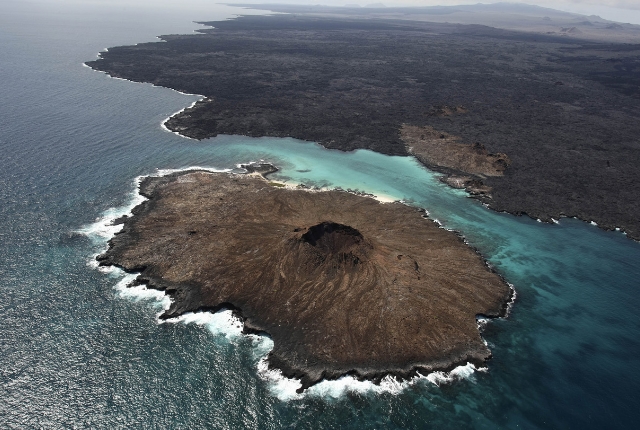 4. Santa Cruz Island
Santa Cruz Island is the second biggest island situated in the archipelago of Galapagos. Puerto Ayora is the prominent city in this island. This attractive island is abode of Charles Darwin Research Stations and the Galapagos National Park.
You can visit a giant tortoise breeding program that is organized to maintain giant tortoises of Galapagos.
Don't miss the opportunity to visit an exquisite site popular as Academy Bay when visiting Santa Cruz island. Explore phenomenal lava tunnels. Watch the unique bird life and marvelous flora at Pit Craters, which is famous destination for its bird life and flora.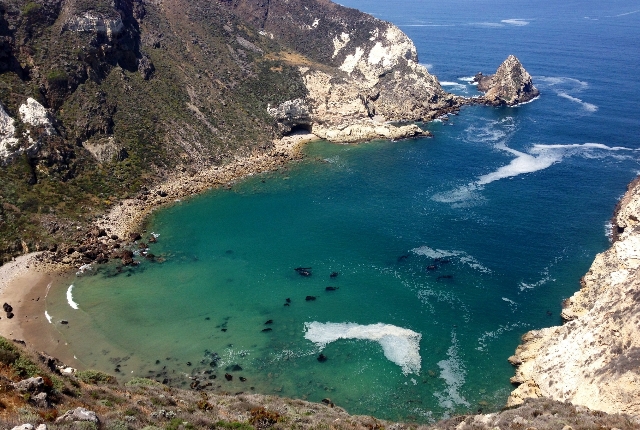 5. Isabela Island
Isabela Island is one of the biggest islands in the archipelago of Galapagos, and it's popular for the Equator Line that crosses this island. One of the worth-seeing destinations on this island is Urbina Bay which is situated at the foothills of Darwin volcano and Alcedo Volcano.
This island features a dark volcanic sand beach and you can watch an impressive flow of lava out of the volcanic eruptions.
Discover lean marine skeletons that tell you that this was ocean before and now an island. Visit small brackish lagoons and watch amazing site of lagoon birds and Galapagos Flamingos. Also, by visiting Punta Moreno in the north of this island you can have a great opportunity to have spectacular view of Sierra Negra, Alcedo, and Cerro Azul volcanoes.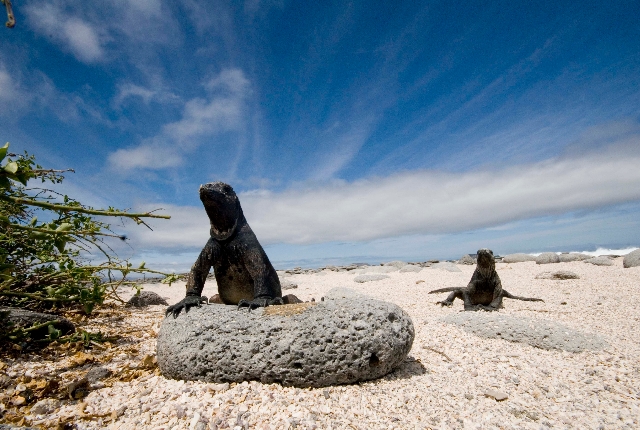 6. Fernandina Island
Fernandina Island is popular as one of the youngest islands on the earth, and it is the third largest island in the Galapagos. Enjoy hiking on the black lava rocks here. Watch hundreds of marine iguanas, flightless Galapagos cormorants, sea lions, pelicans, penguins, and mangrove forests.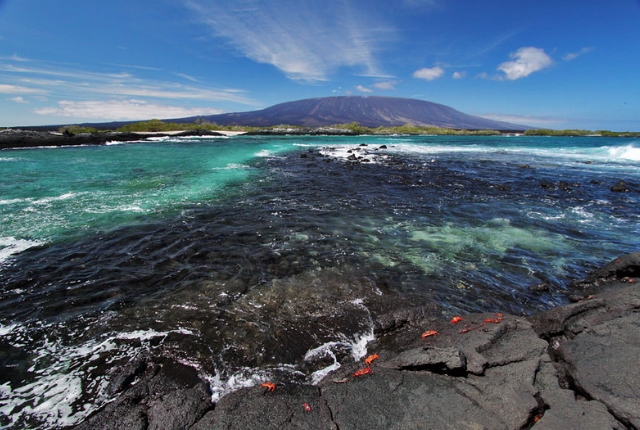 7. Espanola Island
Espanola Island is world famous for its enchanting, spectacular Galapagos attractions. You can visit its exquisite coral white sand beach by cruising to the Gardner bay. Have a pleasant view of the turquoise waters of the ocean.
You can find adorable mockingbirds all around and lots of sea lions.
Also, Espanola Island is a fantastic destination for snorkeling and swimming in the clear waters. You can also explore the nearby islets. On the west of this fabulous island, you can find Punta Suarez where you can walk on the lava rocks along the trail which is about 1670 meters. You can observe nests of beautiful blue footed boobies, Nazca boobies, endemic Galapanos Albatrosses and colonies of endemic marine iguanas here.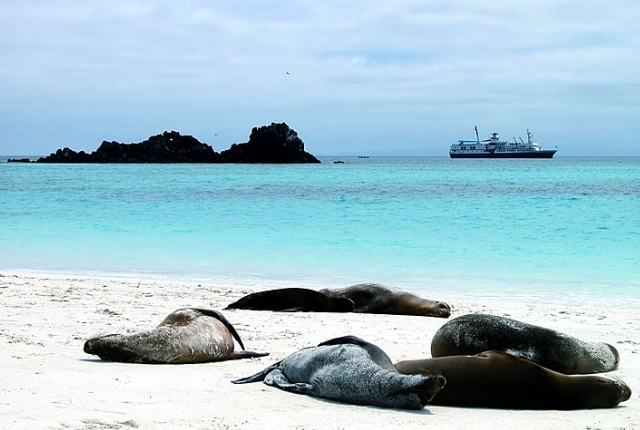 8. Floreana Island
This beautiful island of Floreana in Galapagos is known for Post Office Bay that allows you to visit popular wooden barrel. Whalers had set up a postal service in 18th century here. Also, discover coral formations at Champion and Devil's Crown and enjoy the thrill of snorkeling. At La Loberia islet, you can watch colonies of sea lions and big parasitic cones over the landscape.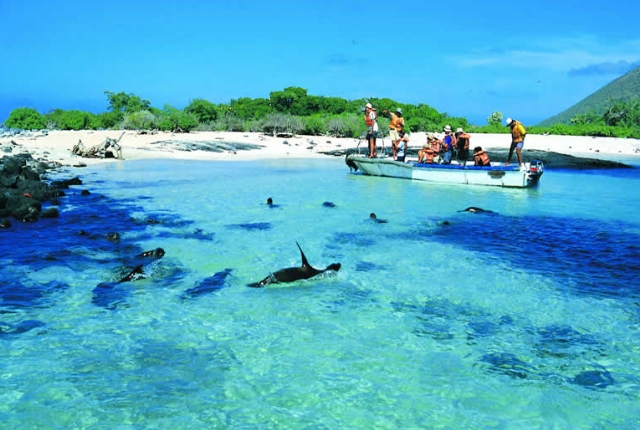 9. Baltra Island
Baltra is one of the smallest islands in Galapagos. This island has the main airport, where you can land in this province from the mainland Ecuador. In the north of this exquisite island, you can explore Mosquera, an amazing sandy bank and abode of sea lions' colonies.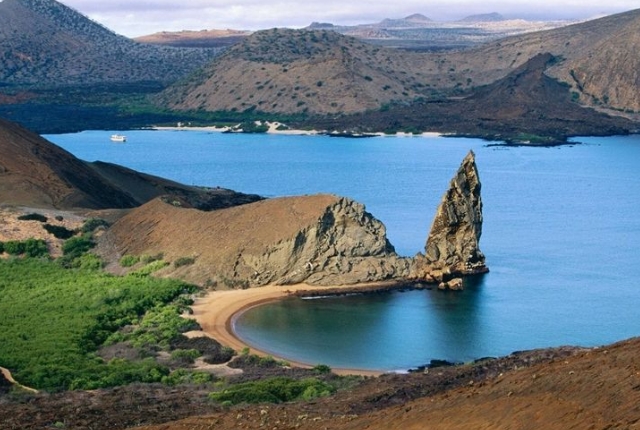 10. North Seymour
North Seymour is situated at the north of Baltra Island in Galapagos, and it is flat shaped due to uplifting phenomenon that occurred ages before. Some of the prominent tourist attractions on this exotic island are endemic Palo Santo trees, unique swallowed tailed gulls, beautiful blue footed boobies, and amazing Galapagos Frigatebirds. Here you can watch the spectacular site of sea lions surfing on the surface of the ocean.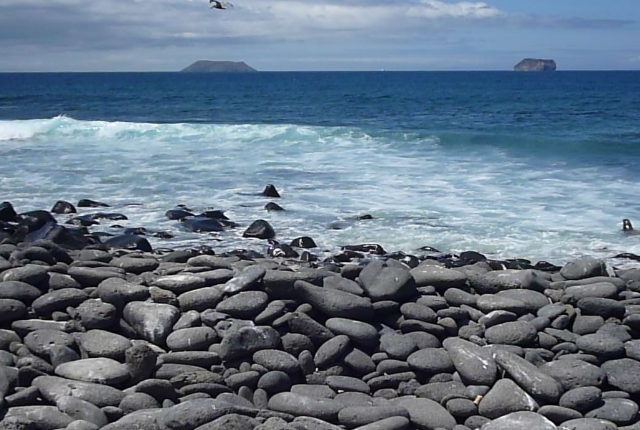 11. Rabida Island
Rabida Island in Galapagos is world famous for its red sand beaches and amazing saltwater lagoon that are popular for being the house of beautiful flamingos and Galapagos sea lions.
Don't miss watching exquisite flamingos on this island as you walk over the red sand of the stunning maroon sandy beach.
Rabida Island offers you a great site for enjoying snorkeling. Also, Rabida Islands gains the fame of being a birdwatcher's delight as it has several rarest bird species, such as nine rare varieties of finches, Galapagos hawks, brown pelicans, and large-billed flycatchers. Carry a camera to click photos of these rare birds.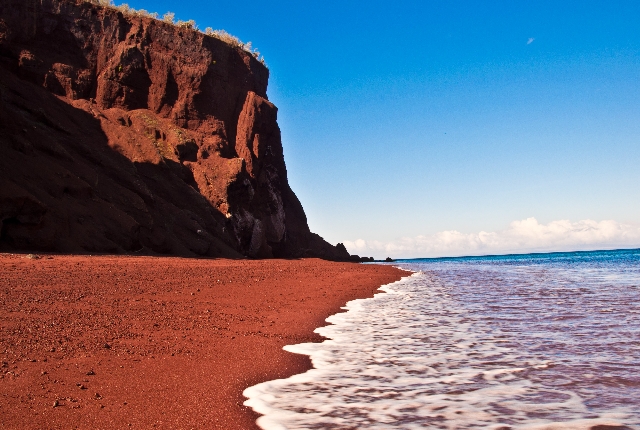 12. Genovesa Island
Among most islands of Galapagos, Genovesa Island is famous for housing a wide variety of birds that include red footed boobies, doves, Darwin finches, frigatebirds, lava gulls, storm petrels, and many other attractive birds. Don't miss observing the wonderful, rare birdlife of this region. Also, this island is a great site for snorkeling along the sides of cliffs. Prince Philip's Steps is fantastic site for bird watching.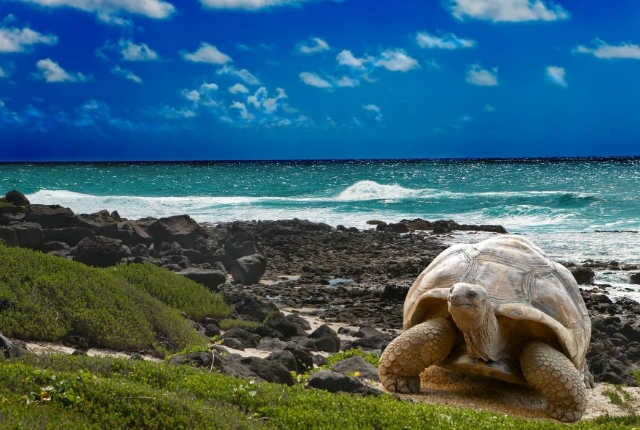 Now that you know these twelve amazing tourist destinations in Galapagos Islands, make it a point to visit each and every destination when spending vacations in Galapagos.