The Cooks Islands is an archipelago nation comprising of 15 fabulous islands that are located between the French Polynesia and exotic Samoa in the South Pacific Ocean. This archipelago nation tends to have great connections with the New Zealand. Beautiful pleasant beaches full of palm trees, volcanic peaks, coral structures, and panoramic lagoons make Cook Islands an exotic tourist destination. Aitutaki and Rarotonga are some of the most prominent tourist hot spots. Rarotonga, popular for comprising the capital of Cook Islands i.e. Avarua, is the largest of the 15 islands. So, let's have a look at some amazing tourist magnets in Cook Islands that you must visit.
Find Below 12 Outstanding Tourist Attractions In Cook Islands That You Must Not Miss:
1. Aroa Marine Reserve
Make sure you go for snorkeling in incredibly clear waters of Aroa Marine Reserve to explore unique, beautiful marine life. This tourist spot is excellent for enjoying snorkeling activity. Discover rare species of fishes, such as Moorish idols, Emperor angelfish, big fishes, parrot fish, tropical fishes, and wrasse. The lagoon is safe for enjoying water activities with your kids. Also, enjoy the thrill of kayaking. Relax and watch beautiful sunset scenario by visiting this exquisite beach in the evening.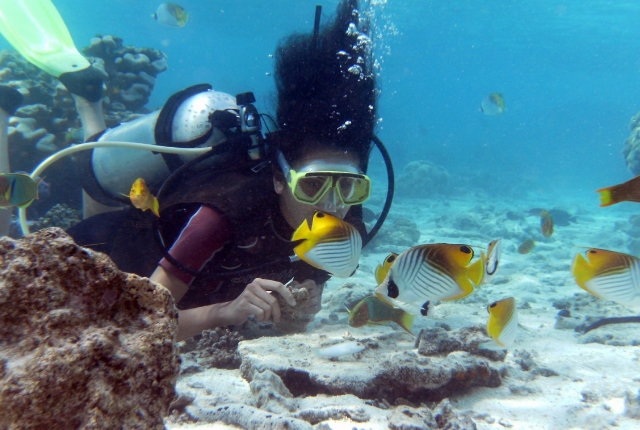 2. Avarua
Avarua is famous as the capital of Cook Islands, and you can find it at the top of the Rarotonga in the map. Listen to the pleasant Maori hymns when you plan to pay a visit to amazing Cook Islands Christian Church here that was build in 1853 from coral.
Discover fragrant colognes and perfumes at the Perfume Factory in the south of this capital city.
Popular figures, such as the first prime minister of Cook Islands, are buried in the graveyard here. Explore some amazing rare books on Pacific and have a glance at the unique history and culture of Cook Islands at the Cook Islands Library and Museum Society. Shop fruits, flowers, clothes, vegetables, and crafts at Punanga Nui Outdoor Market, which you can find on the waterfront of Avarua.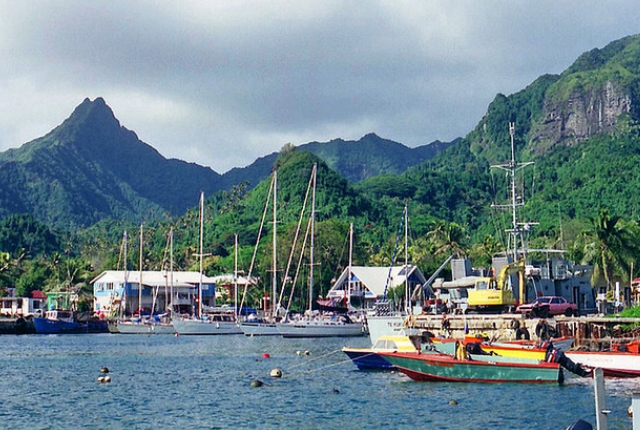 3. Aitutaki lagoon
One of the prominent tourist attractions in Cook Islands is the panoramic Aitutaki lagoon, which comprises clear, turquoise waters. You will find that 21 (motus) islets are present on the outer region of the lagoon and you can explore them via cruises. Also, enjoy the thrill of kayaking as you explore these islets. Maina, a small island present at the lower side of this beautiful lagoon, offers you fantastic opportunities to enjoy snorkeling . Don't miss exploring an exquisite sandbar popular as 'Honeymoon Island' when you are near this lagoon.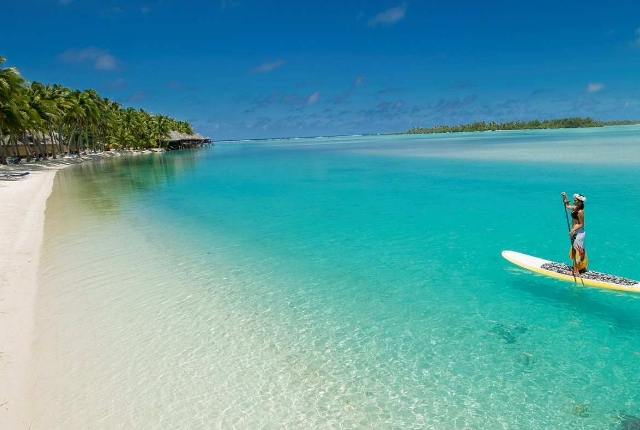 4. Tapuaetai – One Foot Island
Tapuaetai, also widely famous as One Foot island, is one of the most beautiful, exotic Aitutaki's motus that attracts lots of tourists. You can find plenty of curved coconut palms here that make this islet appear exquisite tropical fantasy. If you are fond of spending time at beach, don't miss basking on the fabulous white sands of this lovely beach. Enjoy  the thrill of snorkeling and wading in the pleasant waters here.
5. Muri Beach
Muri Beach is one of the most famous beautiful destinations that you can explore on the Cook Islands, and you can find it in the lower side of the Rarotonga. Don't miss snorkeling here to explore exotic coral and a wide variety of unique species of rare tropical fishes. Watch four offshore islets uniquely shining on the horizon making it more fascinating site for the travelers. Eat delicious food in the nearby restaurants after enjoy a great time at Muri Beach.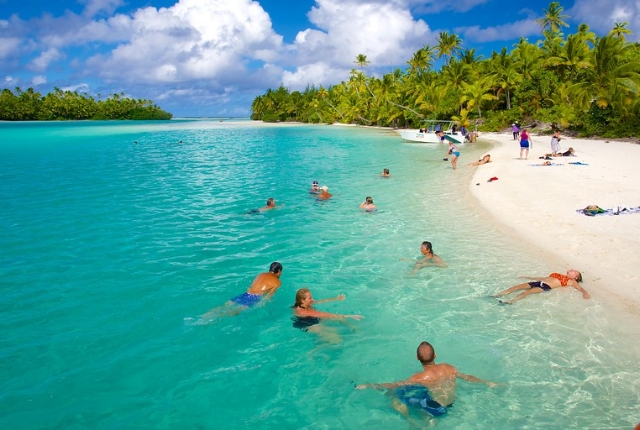 6. Maungapu
Maungapu is situated at 124 meters high and it's the tallest point that you can explore when in Aitutaki. Reach the top in a short half an hour hiking tour and watch spectacular views of the fabulous green landscape and picturesque lagoon. Carry a camera to click incredible photos and lot of water as you walk through the path to reach the top.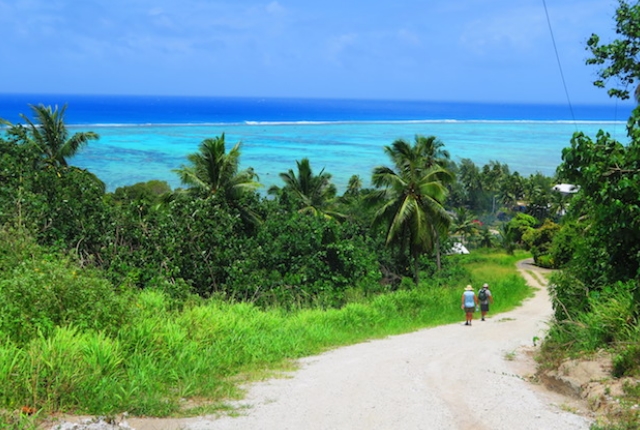 7. Cross Island Walk – The Needle
If you love hiking, don't miss to explore Rarotonga's lush green landscape by going for hiking expedition at the cross island walk. This beautiful trail begins from the north coast to the amazing Te Rua Manga rock and then leads to Wigmore' Falls downwards. Climbing  'The Needle', an extremely steep rock, should  be tried only if you are an expert climber. You can enjoy hiking through the dense green forest and reach down to the other end of the island, you get an excellent opportunity to watch beautiful coastal views, amazing forest scenarios, waterfalls, and incredible cascades.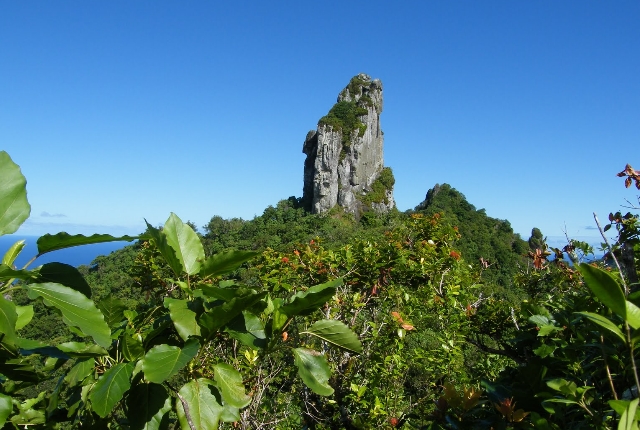 8. Titikaveka Beach
Discover fabulous Titikaveka Beach and amazing lagoon in Rarotonga's southwest area. This beach is one of the best exotic beaches in the Cook Islands to enjoy water activities , such as swimming in clear waters and spotting colorful, beautiful fishes as you go for snorkeling.
Explore a vast a variety of aquatic plants and animals here surrounding several coral heads.
You will find the lagoon full of beautiful blue starfishes. Also, go for thrilling water activity of kayaking. Most important, don't miss visiting the Cook Islands Christian Church situated in the small locality in the vicinity. Its specialty is that it is created out of the coral stone and it dates back to 1841.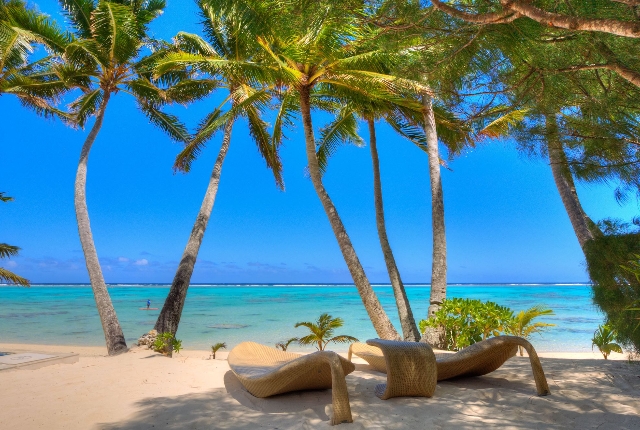 9. Arutanga
Arutanga is the prominent destination that you can explore when in Aitutaki. You can find here plenty of mango trees and beautiful hibiscus plantations, a peaceful harbor, and some unique craft stores. Visit the oldest yet amazing Christian Church here that was constructed in 1828. Carved wooden features that are full of beautiful colors and tinted glass windows are some of the fascinating aspects that you can find here.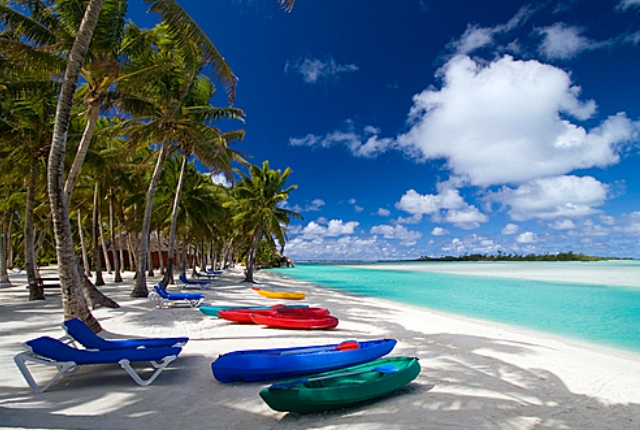 10. Arorangi
Arorangi, famous as the first religious village that you can find in Rarotonga, is a beautiful small village for you to explore in the west of this exquisite island. Here you can find Cook Island Christian Church built in 1849. Watch a unique monument to Papeiha, popular as the Rarotonga's first missionary. Don't miss basking on the fabulous sand of this exotic tourist spot and view sun sinking into the gigantic sea in the evening.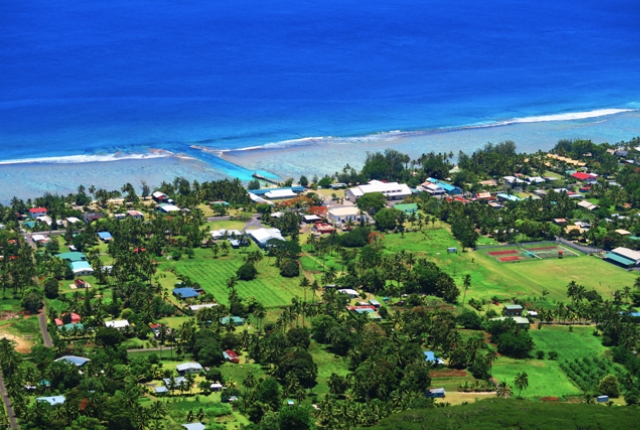 11. Avana Harbor
Avana Harbor is located at the north of Muri. It is quite famous for being the mooring area for the yachts. By visiting the Avana Harbor, you can watch historical monument in Ngatangiia memorizing the voyage and historical plaque. Avoid swimming here to prevent any damages to the area's historical significance.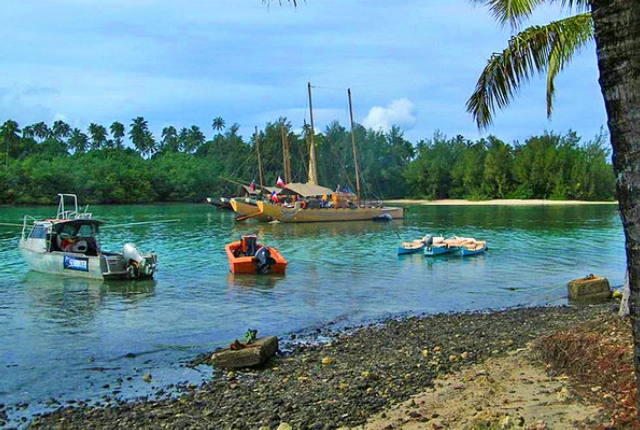 12. Cook Islands Cultural Village
Last, but not the least, pay a visit to the Cook Islands Cultural Village that comprises about five acres of beautiful tropical green gardens. Here you can watch inhabitants performing activities, such as fishing, coconut husking, cooking delicacies, skillful carving, adept weaving, dancing, and unique, rare Maori bush medicine. Enjoy going for the  fun Culture Village Tour to discover more about life in the island.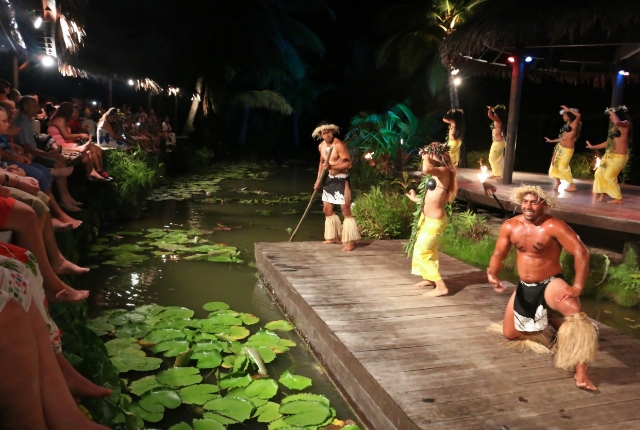 Now that you know these 12 amazing tourist magnets to explore when in Cook Islands, make no delay in planning your next vacations on these exotic islands.