How about a different dining experience for a change? The restaurants you are about to see here will offer you a unique dining experience that can never be seen or heard of anywhere else in the world. In addition to offering world class meals and service, these restaurants have one thing in common that make them stand apart from even the classiest of restaurants out there; they are located underwater! Surprised? Well, take a look at 5 underwater restaurants and bars you definitely need to dine in!
1. Ithaa Undersea Restaurant, Maldives:
Located on the private and extremely secluded Conrad Hotel Rangali Island, the Ithaa Undersea Restaurant aka 'Mother of Pearl' (in the local language Dhivehi) happens to be the first ever undersea restaurant in the world.
The restaurant is located 5 meters below the water surface and features a glass dome like structure for its roof which allows you to enjoy panoramic views of the stunning coral gardens surrounding it.
Contemporary European cuisine is served in the restaurant with guests having the option to choose between a light lunch and an elaborate six course dinner comprising lobster, caviar and champagne risotto among many other delicacies.
Visit Ithaa Undersea Restaurant, Maldives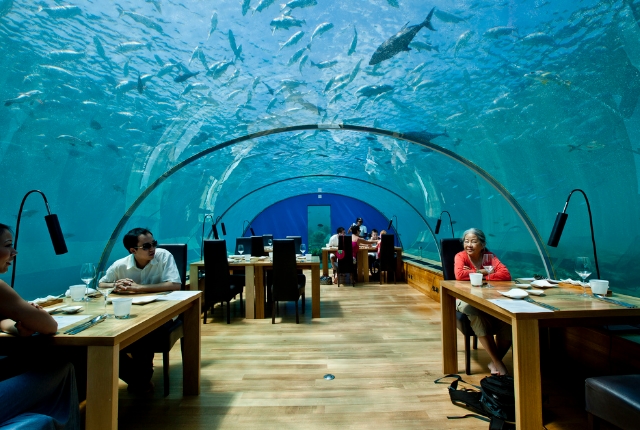 2. Subsix, Maldives:
Located at the Nivama Per Aquum Resort in the Indian Ocean, Subsix is a club cum restaurant that is a hit with party goers. Located 20 feet below the water surface and nearly 500 meters out in the ocean, the club offers a range of dining options to choose from, including champagne breakfasts, wedding dinners, themed evenings, wine tastings,  subaquatic lunches and even club nights.
The dishes served are fresh out of the surrounding ocean and include delicacies like lobster medallion, crab, cous cour, pomelo garden and Wayugu beef tenderloin.
Couple that with fresh juices, a night of partying with international DJs belting out world class music and floor to ceiling windows that let you have sweeping views of the illuminated ocean floor, and you have an underwater oasis you will never want to leave.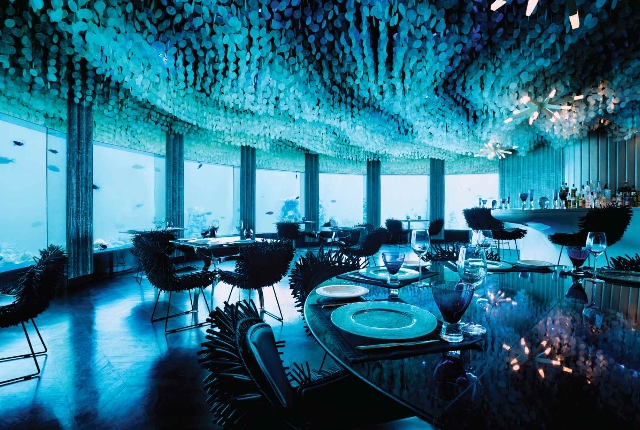 3. Cargo Hold Restaurant, South Africa:
As a tribute to the ghost lore that is famous all over Durban's coast, the Cargo Hold Restaurant is set inside the stern of a Phantom Ship. Staying true to the region's history and culture, the restaurant's ambiance will spellbind you for sure. If dining on delicacies like mussels, honey ginger panko prawns and freshly shucked oysters inside a faux sunken ship is not enough to enthrall you, take a look outside the window to see humongous sharks probably swimming around and eyeing you for dinner!
Visit Cargo Hold Restaurant, South Africa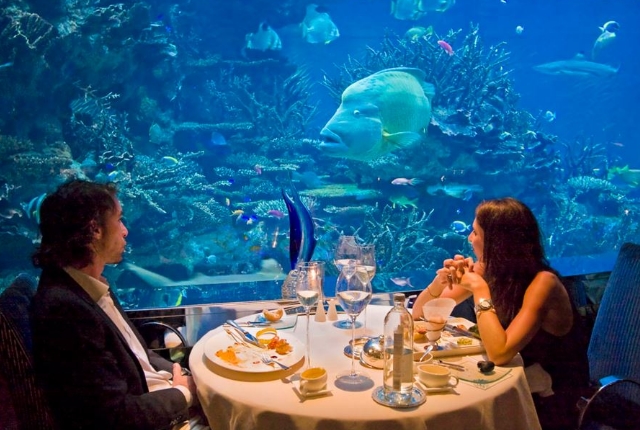 4. The Al Mahara, Dubai:
Ok, this may not strictly be an underwater restaurant. However, it does feature a floor to ceiling aquarium that lets you enjoy beautiful views of the marine life as you dine in the best seafood restaurant in all of Dubai. Translating to 'The Oyster Shell' in the local language Arabic, the Al Mahara is located within the Jumeirah Burj Al Arab and serves delicacies like Wagyu Beef, Tsarkaya oysters, and short rib in angostura and orange syrup.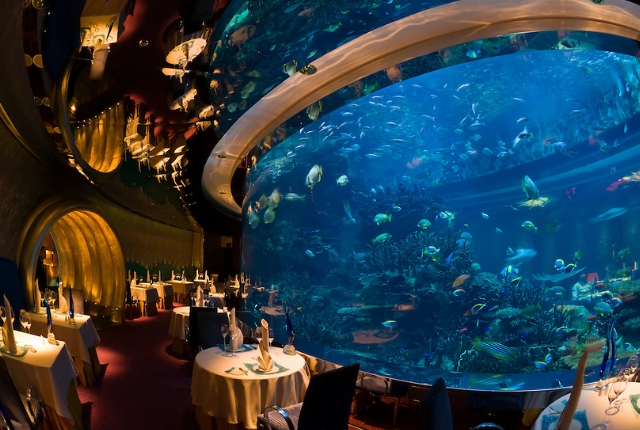 5. Poseidon Undersea Resort, Fiji:
Although still in the construction phase, this fully underwater resort will definitely boast of a restaurant you will die to dine in. Plans are underway to construct a fine dining underwater restaurant that would allow guests to feast on a gourmet menu while catching glimpses of the breathtaking underwater life. Apart from this, the resort is also set to feature a 5000 acre lagoon dedicated for diving and snorkeling.
Visit Poseidon Undersea Resort, Fiji