Dubai is fast becoming the culinary capital of Middle East with its breathtaking restaurants, high quality and elegant food and amazing décor. The city serves as a multi-cultural melting pot with people from all over the world living here as well as visiting the city for their vacation. So whether you are looking for a swanky French extravagance or some road-side budget snacks, you can find it all here. Even world-renowned Chefs such as Pierre Gagnaire, Gordon Ramsay, Nobu Matsuhisa and Richard Sandoval have set up their joints here. With such as wide array of options available, it can sometimes become quite difficult to choose the perfect restaurant for your needs.
So Here Is A List Of The Top 10 Restaurants In Dubai With Amazing Décor And Lip-smacking Cuisine To Help You Make The Decision
1. Al Mahara
Located inside the world-renowned Burj Al Arab hotel, Al Mahara will rouse all your senses from the moment you walk in. Whether it the ceiling to floor aquarium, plush seating or the amazingly flavorsome dishes, you will be blown away by the service offered here.
They specialize in fresh seafood delicacies and the guests are guided to pair these dishes with the perfect wine procured from around the world.
You can find a number of innovative chef's creations here such as foie gras ravioli and poached oysters along with meat specialities such as Wagyu beef. The restaurant offers set menus with prices starting at 230 US dollars per person.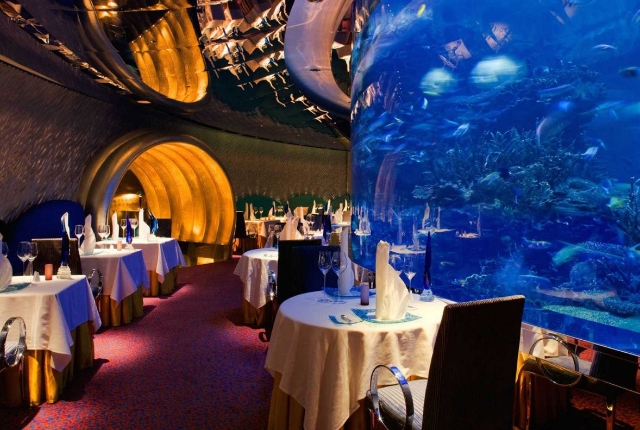 2. Verre
An establishment of the renowned chef Gordon Ramsay, Verre has been serving innovative dishes inspired from his TV show Kitchen Nightmares. Customers have the option to choose from a 3 or 5 course set menu or even indulge in all 9 courses right at the chef's table. Its signature dish 'Braised Bavarian Pork Belly' is a delight for meat lovers.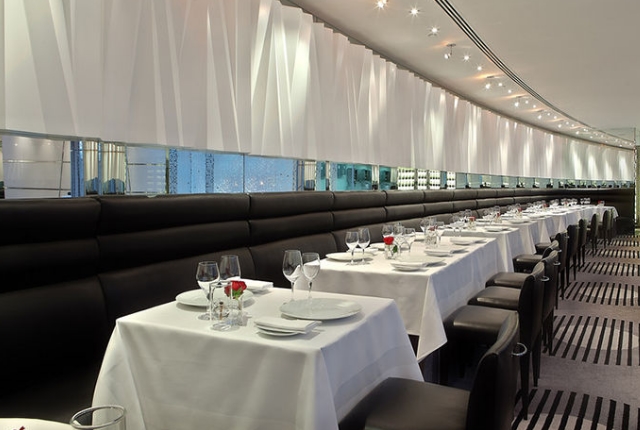 3. Pierchic
Located on a beautifully adorned pier right on the Arabian Gulf, Pierchic offers authentic European fare along with one of the best seafood options in Dubai.
Infact, it has earned the award of Dubai's Best Seafood joint by Time Out two years in a row.
It is the perfect place for a romantic date as it is situated away from the hustle and bustle of the Dubai city and offers amazing views of the Arabian Gulf.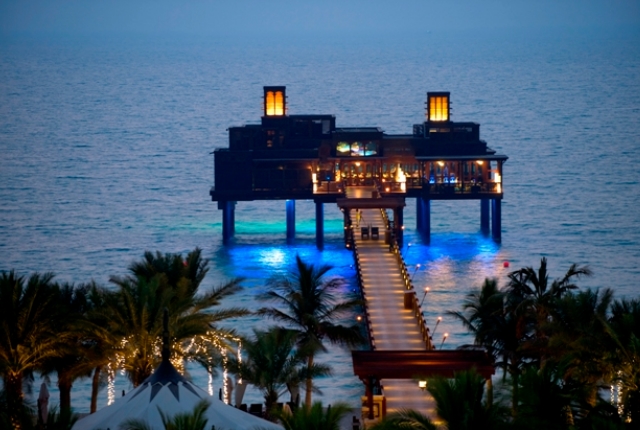 4. Asado
Located right at the base of Burj Khalifa and offering amazing views of the world's tallest tower, Asado is an Argentinean Steakhouse that offers an assortment of best cuts of steaks from around the world.
The restaurant also offers goat and seafood dishes along with delicious side orders such as garlic fries served Jenga-style.
The chef is more than happy to serve any steak exactly as per the customer's specifications and serves it with a variety of sauces as sides.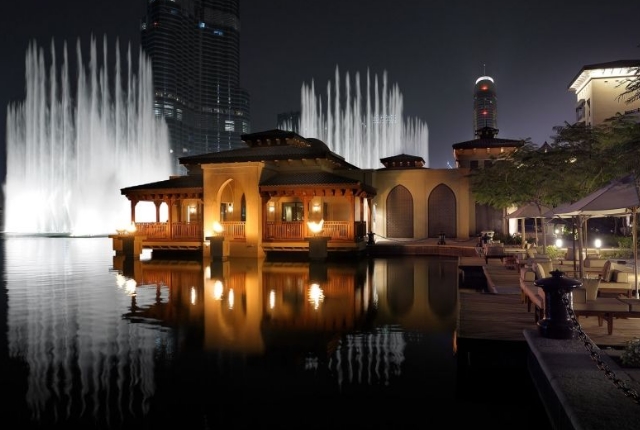 5. AT.MOSPHERE
The Guinness World Record holder for being the highest restaurant in the world, AT.MOSPHERE is housed on the 122nd level of Burj Khalifa, the tallest building in the world.
Even though the views from the restaurant is enough of an experience in itself, the restaurant run by Michelin-Star Chef Jitin Joshi makes the entire experience even more memorable for the customers.
People are welcome to enjoy cocktails and divulge in the exquisite set menus including exotic dishes such as seared langoustine and veal tartar while enjoying the mind-boggling views.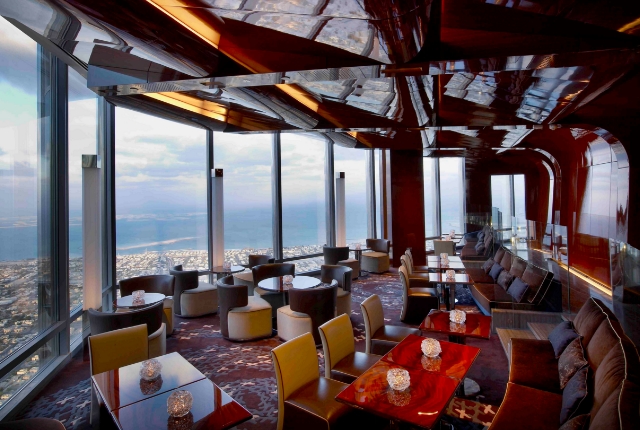 6. La Petite Maison
This restaurant has deservedly gained the reputation of being the most popular restaurant in the city of Dubai, primarily due to its exquisite French cuisine blended with a touch of Italian flavors.
Here you can find 'un-fussy' dishes where best ingredients sourced from around the world are transformed into amazingly flavorful dishes that are sure to delight any connoisseur.
Foie gras and sea bream, razor clams with herb crust are few examples of the enchanting dishes offered here.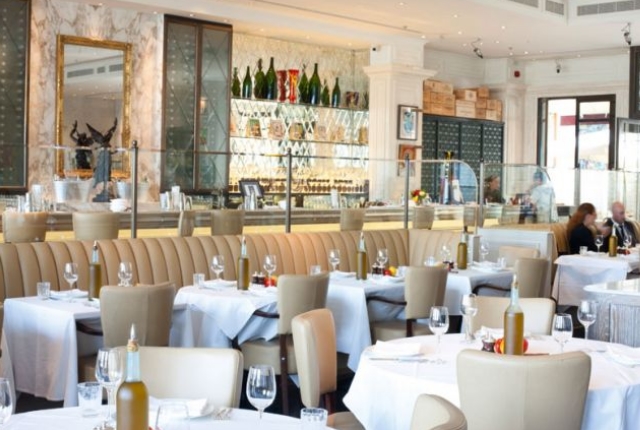 7. Al Iwan
Situated within the only 7-star hotel in the world Burj Al Arab, Al Iwan offers authentic Arabic fare along with pristine views of the Arabian Gulf. It is a fine-dining restaurant with a romantic ambience and scrumptious dishes including Baba Ganoush, Vine leaves and Arabic mixed grill. You can find set menus beginning at 150 US dollars per person here.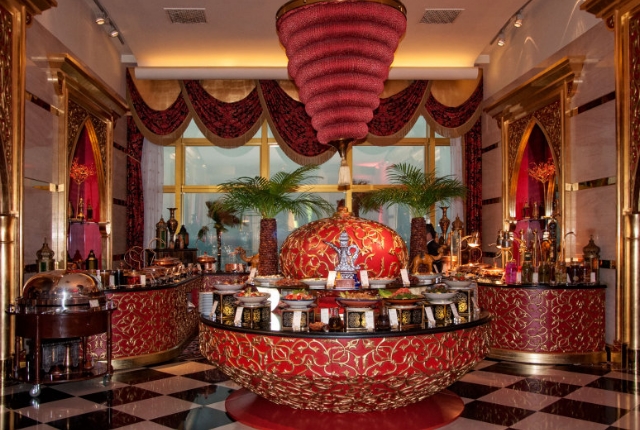 8. Indego by Vineet
Though Dubai is home to numerous Indian restaurants, but none of them even come close to this mastermind of India's only Michelin star chef, Vineet Bhatia. The restaurant offers traditional Indian flavors with a contemporary texture and look.
Dishes such as Tandoori monkfish and spice-crusted sea bass are few examples of the kind of twist given to more famous Indian dishes.
It also offers signature desserts such as chocolate filled samosas and rose petal sandwiches served along with mint and roasted pistachio ice cream, red-currant jelly and steamed yogurt.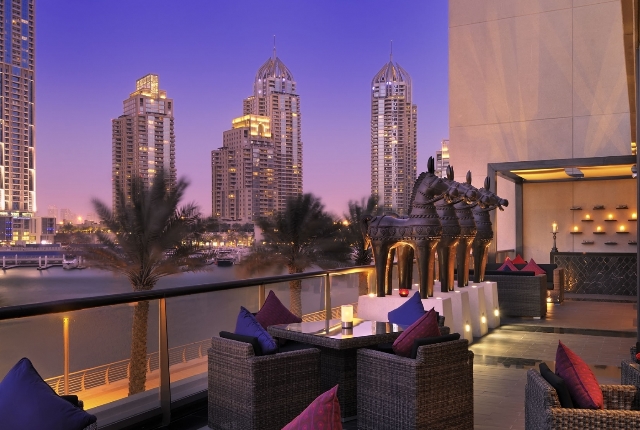 9. Eauzone Restaurant
Nestled inside the Royal Mirage Hotel surrounded on all sides by Palm trees, Eauzone restaurant offer a unique fine-dining experience with shaded wooden decks and platform floating inside a pool, where diners get ultimate privacy to enjoy their dinner. The restaurant offers Asian fusion cuisine with exotic dishes such as seared boneless quail and sashimi.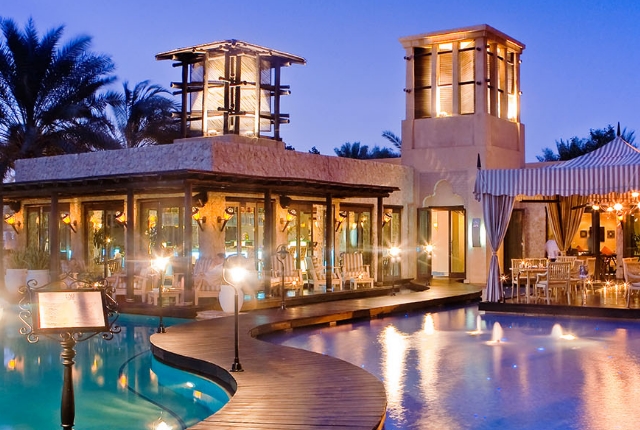 10. Majilis Al Bahar
Sitting on the private island beach of the Burj Al Arab, Majilis Al Bahar offers another unique experience to its customers with essentially no décor, but tables placed on the sand and offered an intricate menu featuring Middle Eastern and Mediterranean cuisines. It is located in the ideal position to enjoy the sunset and watch as the city lights of Dubai come to full bloom, making it one of the most romantic restaurants in the city.