At the same time when people like to visit with their mates, there are others who like to visit with families. Every place serves a purpose, therefore not every place is meant for families. When it comes to families, a large number of people prefer some peaceful or less crowded places and what can be a place better than the famous garden when it comes to Japan. Although, Japan is comprised mostly of islands but instead of beaches, it is famous for its gardens. Perhaps that is what makes it unique and beautiful.
A garden is meant not only for the house but also for public can be best understood one you visit Japan. Its historic cities like Kyoto has well adorned itself with beautiful embellished gardens and is no less than a heaven. Japan has multitude of gardens in variety of styles preserved from Edo period and preserving the Japanese art from more than 1000 years ago. The garden are there in all over japan but if you are looking for multiple at the same place then you got to visit Kyoto. just read on to know about the top family destinations or gardens of japan.
Here Are The 9 Best Family Desiantions Of Japan:
1. Kenrokuen
Kenrokuen garden is one of the most beautiful and biggest garden in all over japan. Covering an area of about 11.4 hectares, this garden is located in the central part of Kanagawa and just next to Kanagawa castle. This garden has been maintained in best shape from ancient times. Form its size and beauty, it is regarded as the most beautiful garden among the feudal lords. Inside the garden is dotted with large artificial pools, hills and houses. On coming here, you will be able to feel, tranquility, antiquity, spaciousness and magnificent view. While the garden is equally beautified with flowers and trees, such as cherry blossom, and plum which enhances the beauty in summer and autumn season with their colorful leaves.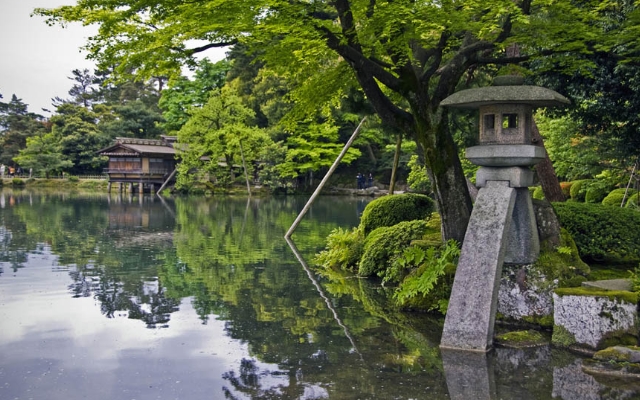 2. Kairaku-En (Mito)
Kairaku-En garden is famous in all over japan for its spacious plum trees and also known as the one among the three finest landscape garden of japan. Located in Mito, which is the capital of Ibaraki prefecture, it is at just one hour distance from Tokyo by limited express train. Although the garden suffered great damage due to earthquake in the year 2012, but once again, it is fully repaired and reopened for its visitors. Although, you can visit it anytime but its beauty is on cloud 9 from late February till March with its plum trees and plum festival.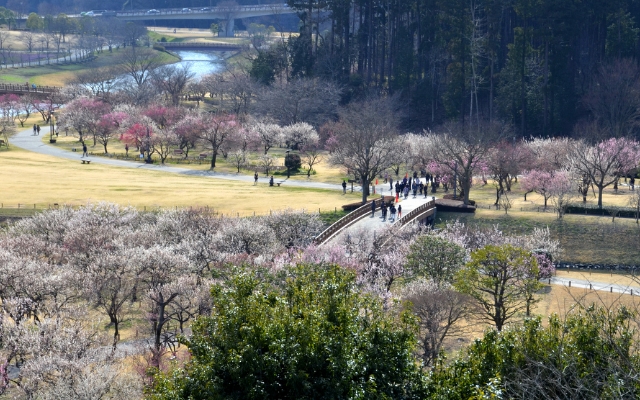 3. Koraku-En
One of Okoyama's main attraction, Koraku-En is famous as a beautiful landscape garden. Along with Kenrokuen and Kairaku, Korakuen is another best landscape garden of japan. Constructed in the 17h century, this garden was primarily for the feudal lords. In 1934, the garden suffered great damage due to flood, but it was restored once again. Inside the garden, you will come across steam, large ponds, hills and walking paths. Its spacious lawns are no less. What adds to its beauty are tea and rice fields, groves of plum, maple and cherry trees, crane aviary and archery range. When you visit here, you can also visit Okoyama's castle situated nearby.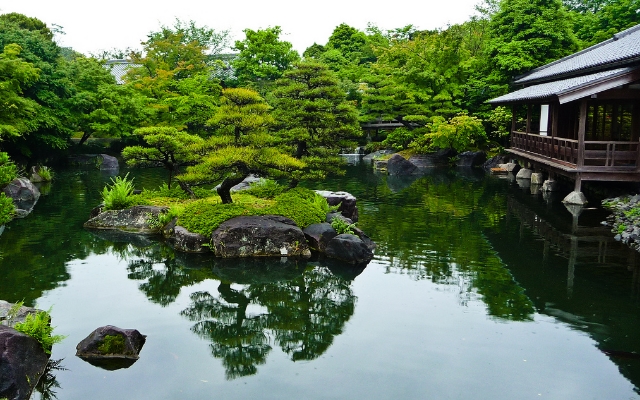 4. Kokedera Or The Moss Temple's Garden
In japan, Kokedera refers to moss. Also known as Saihoji, this temple has become one of Kyoto's UNESCO world heritage sites. Although it doesn't come among the three largest garden of japan, but it is beautiful enough to get entry only through reservation by mail. Around the temple is the garden having 150 different varieties of moss. Visitors can walk through the garden and experience the Japanese garden design well. Kokedera before becoming a temple in the Nara period was Prince Shotuku's villa. On visiting this garden, you can take part in various religious activities. In true sense, this garden is symbolic to serenity and tranquility.
5. Ritsurin Koen
Ritsurin Koen or Ritsurin garden is basically a landscape garden in the Tonakatsu city of japan. Considered as one of the best garden in japan, Ritsurin Koen surely deserves a place alongside the three most beautiful gardens of japan. The garden has spacious hills, ponds, beautiful pavilions and historic trees. From south to north of the garden, you can experience arts from Japanese to western style. What adds up to the beauty is the Mt. Shiun in the background. Not only can you feast your eyes with its beauty but also take delight in a number of facilities like shops and museum.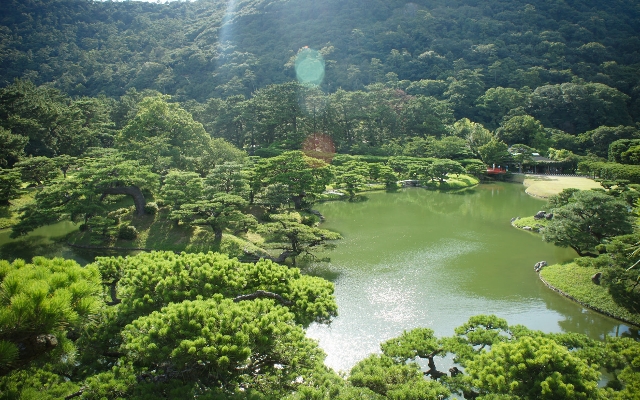 6. Rikugien Garden, Tokyo, Japan
Although, most of the Japanese gardens are located in the historic Kyoto but Rikugien garden is located in Tokyo, the capital of japan. It is often considered as Tokyo's most beautiful landscape garden. Rikugien literally means "6 poem garden" and give a picture of 88 scenes from the famous poems. The garden was one of Edo's strolling garden and features large pond which is surrounded by forested areas connected by numerous trails and manmade hills. The garden is spacious and it can take more than an hour to walk the entire garden.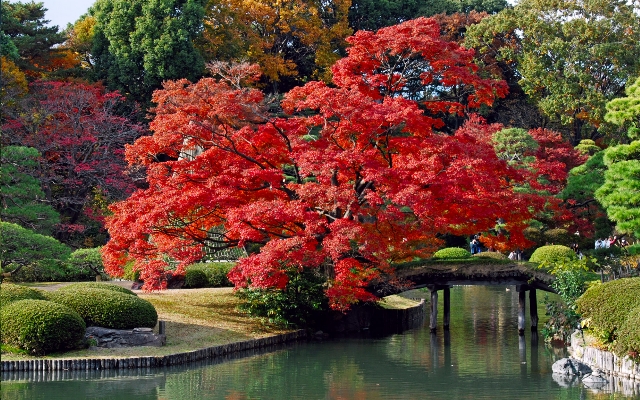 7. Ryooan-Ji's Famous Rock Garden
Ryooan-ji temple located in Kyoto is the spot of Japan's most famous rock garden attracting more than hundreds of visitors every year. Long time ago in the Heian period, the garden was an aristocrat's villa but was converted to a Zen temple in the 15th century and now belongs to the Myoshinji school of Rinzai sect involved in Zen Buddhism. The garden consists of plots of pebbles and moss and also surrounded by earthen walls. An interesting point about this garden is that one of the rock here is always hidden from the vantage point. It is best to visit the garden in the early morning as the crowd is smaller at this time.
8. Sankeien Garden
Sankeien garden is another Japanese style garden located in southern Yokohama exhibiting numerous historic buildings from across japan. Inside the garden, you will find small rivers, ponds, strolling trails and flowers. Although located in Yokohama, but this garden will make you feel like Kyoto. Here, you will find arts depicting tea houses, and elegant daimyo residences.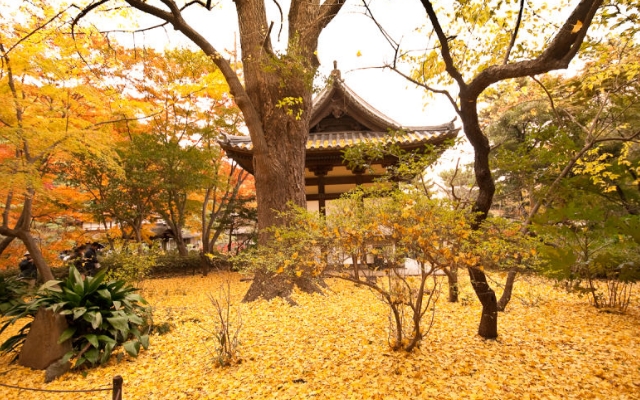 9. Byodoin Garden
Byodoin garden is the garden surrounding Byodoin temple. The Byodoin temple is another striking example of ancient Buddhist pure land architecture. Together with the Byodoin garden, it represents Japanese pure land paradise. Inside the temple, you will find the most spectacular phoenix hall which you can also find on the back of the yen coin. Although the temple caught fire many time but the phoenix hall never got destroyed thus becoming one of the few original structure of the ancient Heian period. Only when you visit this garden, you can actually come across the pure Japanese art preserved from ancient time and the beauty which is no less than heaven.