Graced by ancient ruins, scenic views, amazing cities, magnificent mountains, and incredible archaeological and historical sites, Cambodia is one of the tourist favourite destinations in the world that you simply can't afford to miss exploring it. This Southeast Asian country is surrounded by the Gulf of Thailand, Vietnam, Laos, and Thailand and it is well-known for being home to several enchanting coastal destinations. Spellbinding beaches adorn the coastline of Cambodia. So, if you are planning to visit Cambodia for beach holidays, having a list of scenic coasts will help make your trip to this beautiful country more interesting and more enjoyable. Read on to learn all about fascinating beaches on this Southeast Asian land.
Find Below Eight Most Stunning Beaches In Cambodia:
1. Koh Thmei Beach
In the vicinity of Sihanoukville coast in Cambodia, you can find Koh Thmei island which is known for its beautiful beaches. Even though this island is small, you simply can't miss exploring its enchanting beaches. If you are a birder, then Koh Thmei beaches are an ideal destination for you to spot lovely species of birds and dolphins out in the fascinating Gulf. Do not miss snorkelling here.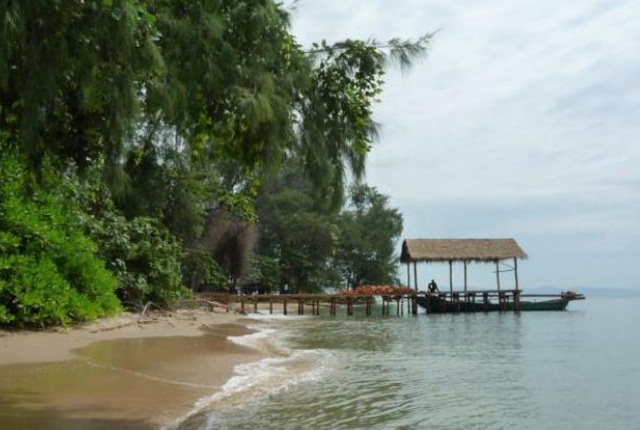 2. Coral Beach
Make sure you explore pristine, eye-catching Coral beach that likes on the spectacular island of Koh Ta Kiev at shore of Southwest Cambodia. Koh Ta Kiev island is home to several beaches, however, Coral beach is well-known for its spellbinding beauty. Unwind at this pleasant, tropical beach. You can enjoy the thrill of cliff diving, fun of snorkelling, and spearfishing over here.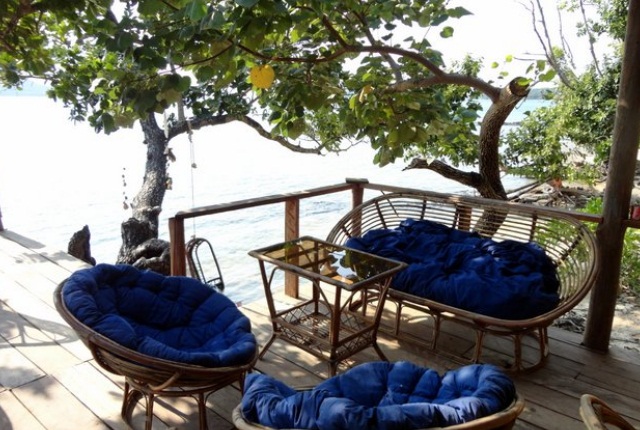 3. Victory Beach
Plan to visit Sihanoukville, which is popular for being one of the most popular tourist destination in Cambodia, that points the amazing Gulf of Thailand. Sihanoukville is known for being home to many worth-seeing beaches, and Victory Beach is one of the best beach destinations among them that you should not miss exploring. Adorned by fine white sand and pleasant palm trees, Victory Beach in Cambodia is a great beach destination for you to spend a relaxing time. It is a safe and inviting beach destination for families to unwind in the nature.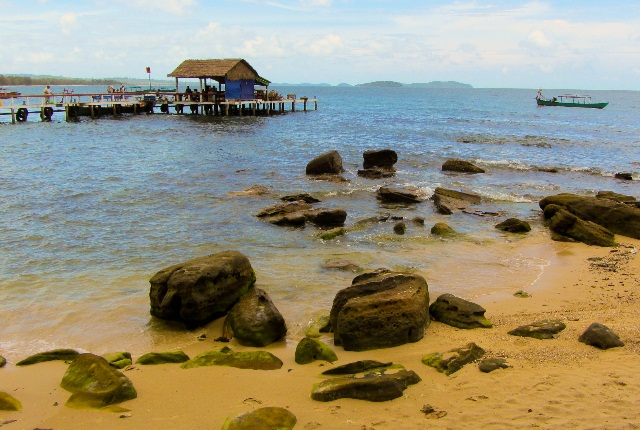 4. Koh Pos Beach
Off the shore of incredible Sihanoukville, you can find Koh Pos, which means snake island, in Cambodia. Do not miss exploring scenic Koh Pos beaches here. You can find a small bridge known as Techho Morakat Bridge that will take you to Koh Pos and various beautiful beaches. Enjoy exploring spectacular, rocky Koh Pos beaches. Have a great time relishing fresh seafood as you go for a waterfront dining experience. Gaze at the stunning natural views of the pleasant water and sand at the shore. A short walk from here will lead you to an amazing jungle which is known for being home to various animals, ranging from monkey to pythons.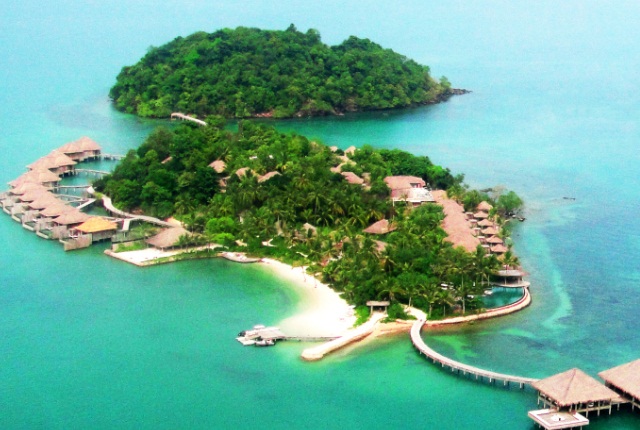 5. Lazy Beach
A short boat trip from Sihanoukville shore will take you to Koh Rong Samloem island which is popular for its fabulous Lazy Beach. White sandy coast, enchanting blue waters, and beachside villas are sure you charm you. Having a stroll from the beach leads you to a lush green forest. It is one of the wonderful beaches in Cambodia to spend relaxing time as it is not crowded beach. Lazy Beach is quite famous for enjoy snorkelling, so enjoy the fun of snorkelling and eating scrumptious cuisines over here.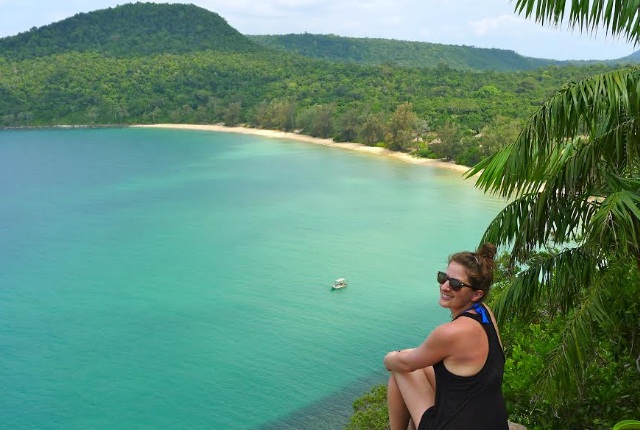 6. Otres Beach
Enjoy exploring peaceful, pleasant Otres Beach when holidaying in Cambodia. Admire the spectacular shoreline of mesmerizing Otres Beach. You can enjoy a plethora of activities, such as windsurfing, kayaking, swimming, and many other water sports, at this worth-visiting beach in Cambodia. Make sure you visit Otres Market on Saturday nights to enjoy delicious food and listen to pleasant, live music till the wee hours.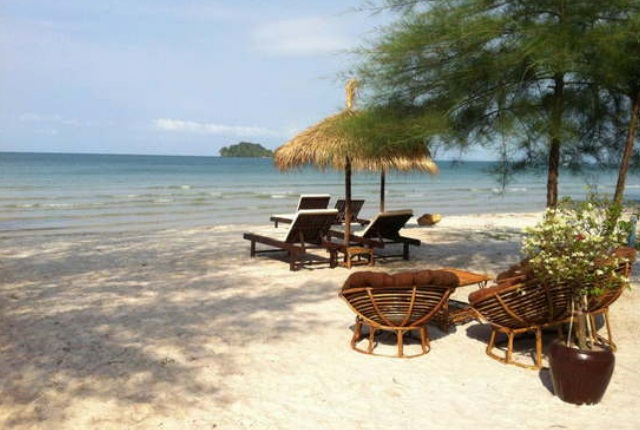 7. Koh Thonsay Beach
Take time out of your busy travel schedule and plan to visit Koh Thonsay island, which is known as Rabbid Island, to explore its incredibly, charming beach. A 20-minutes ride from Kep will lead you to this island beach. You can find Koh Thonsay beach along the coast of Cambodia. It is a great place to spend a peaceful time away from the hustle and bustle of the city. You can find here a few local fishing huts and restaurants for visitors. Do not miss enjoy the fun of snorkelling and hiking inland when exploring this fascinating beach.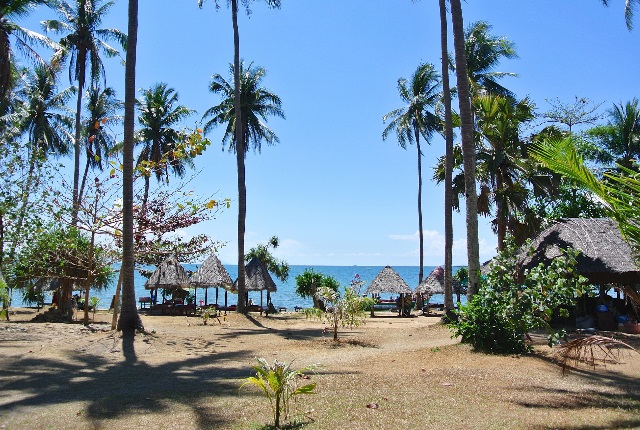 8. Sok San Beach
Have fun exploring stunning Sok San Beach, which you can find on Koh Rong island when vacationing in Cambodia. This pristine beach is also popular as Long Beach which stretches about 7 km. Enjoy the fun of water activities, such as snorkelling, over here. Watch stunning site of sunset in the evening.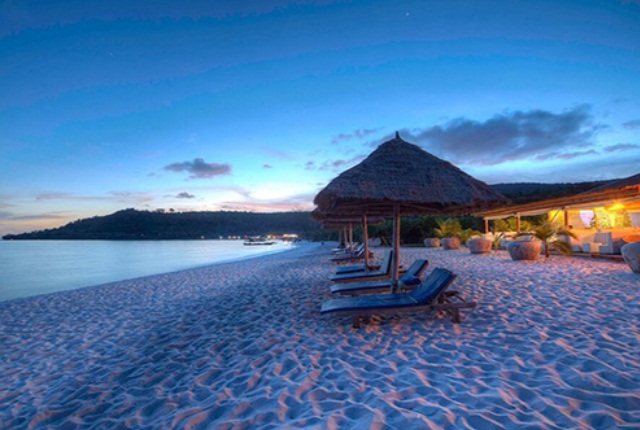 Now that you know these eight stunning beaches in Cambodia, make sure you enjoy exploring them during your sabbatical in this Southeast Asian country.