No doubt the Vietnamese cuisines are so delicious to watch and even delicious to eat that you won't mind spending a thousand bucks on one single cuisine. I may not like its place or hotels but the cuisine here is something that I can never share with anybody even if I have plenty of one item. This is no exaggeration but if you don't believe so then you may try ordering Vietnamese food in your country. I am sure you would like it but one thing that you must not forget is the real taste comes from the country where it originated from. Therefore, whenever you happen to be in Vietnam, do check out the following Vietnamese foods.
8 Famous Vietnamese Cuisines You Must Try Out
1. Goi Cuon
One of the most famous dish of Vietnam is composed of Goi Cuon – decorated and mouth-watering spring rolls that are placed with mishmash of varieties of minced pork, crab, green coriander and shrimp. There are places in Vietnam where it is served together with a bowl filled with mint or lettuce. In the southern part of Vietnam, you may find Goi Cuon with barbecued strips of pork that is further enfolded with star fruit and green bananas and finally dipped in rich peanut sauce whose every bit is delicious like hell. This may appear as junk food to you but people all over in Vietnam love it. Perhaps that is the reason, it is the most served cuisine of Vietnam.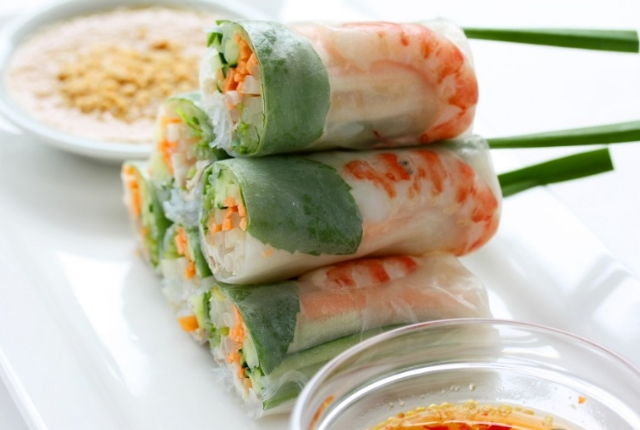 2. Banh Mi Or Vietnamese Sandwich
Banh Mi actually is sandwich that is filled with a range of fillings including freshly made omelette, pate and greens. The dish is so much served in Vietnam that foreigners actually try to imitate it in their home town as a result, today this dish has been served in other nations as well. The cuisine when ready appears very colorful and delectable.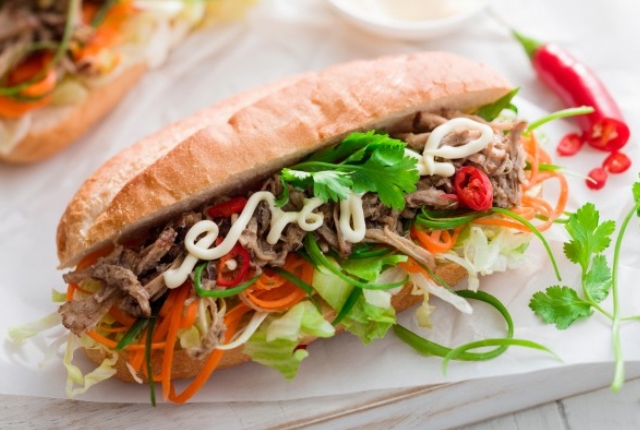 3. Banh Xeo
Banh Xeo also refer to sizzling pancakes containing pork, shrimp, egg and bean sprouts. The pancake after being filled with the ingredients is fried and then covered in rice paper and greens. Vietnamese actually prefer to dip the pancake in sauce before eating. Do check it out as it is very much popular in the whole of Vietnam. Also, don't worry because it can be bought cheap.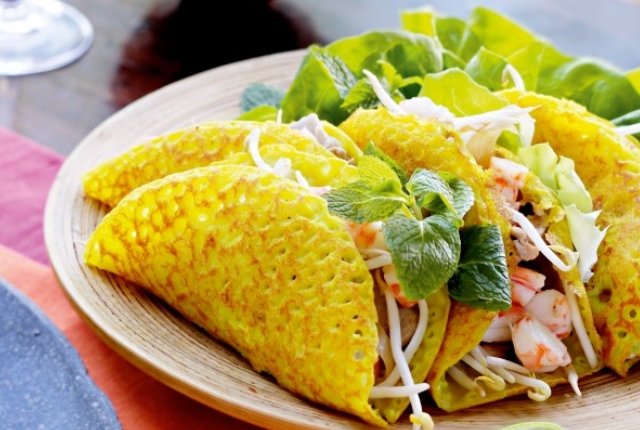 4. Cao Lau
The dish might look simple to look at but so delicious that you won't mind licking your fingers in a famous hotel. The dish is the innovation of the central Vietnam. Cao Lau is mainly a bowl full of mouthwatering thick rice flour, pork rind croutons, bean sprouts and a light soup that is flavored with star anise and mint. To render it some more flavor and make it look exotic, the dish is further topped with thin slices of pork and crispy rice paper. You may eat the dish like this only or have it served with grilled rice flour crackers.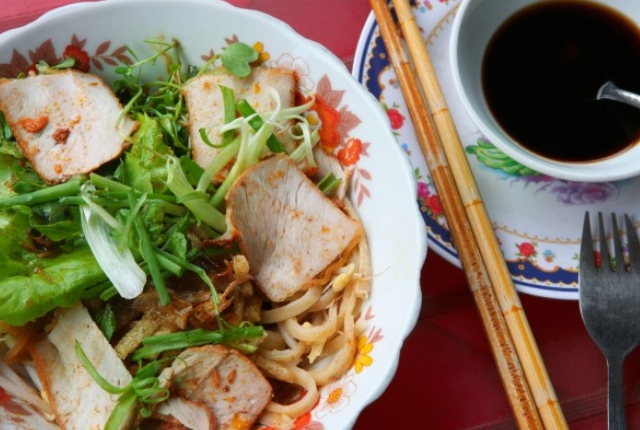 5. Bun Cha
The specialty of Bun Cha is that you can find it at every food stall and street corners in the entire city. It is basically a small hamburger in the form of pork patties that is roasted in open charcoal brazier and done on top of a bed made from cold rice noodles. With mixed contents and slightly sweetish taste, the Vietnamese people love to have it every now and then. Whenever you be in Vietnam, do try out this cuisine. I am sure you will love it like hell.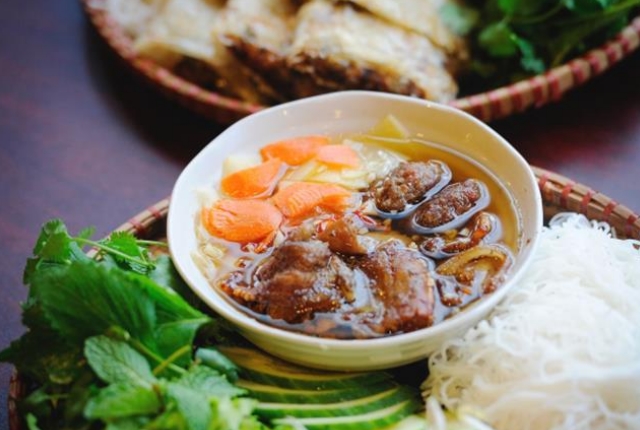 6. Nom Hua Chuoi
To those who are more in love with vegetarian food, this can make the best Vietnamese cuisine. Cuisines with Vietnamese names are hard to guess but don't worry because you may call it banana flower salad. The dish is completely free of meat and comprise of chilli and lime as its main flavor. There is given a final punch of fresh shredded vegetables.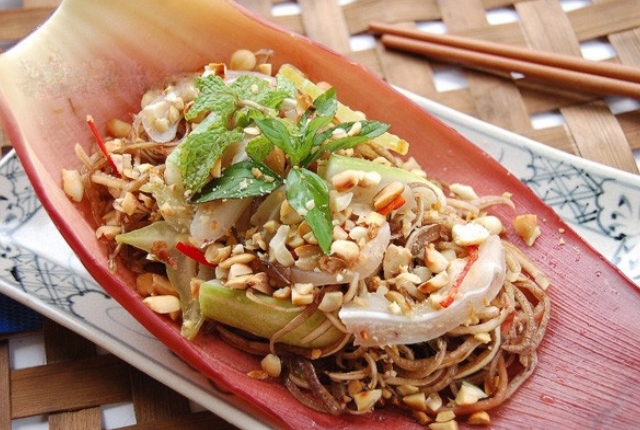 7. Pho
You may also call it the most liked and the famous staple food of Vietnam. Pho also pronounced as "fur", is actually a noodle soup that can be eaten at any time but Vietnamese mostly prefer it during breakfast. An ideal bowl of Pho consists of chicken or either light beef that is flavored with coriander and ginger. On top of these are also added, flat and broad rice noodles, pork or beef or silvers of chicken. As noodle based dishes are widely famous in the whole of Asia, the same dish you will also find in other Asian countries like japan and china.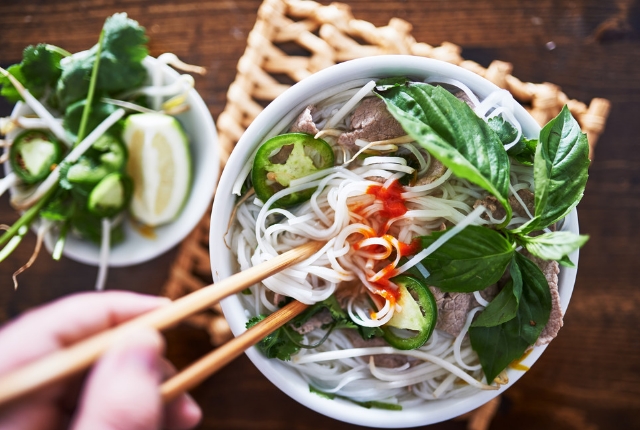 8. Mi Quang
The first thing I would like to share about this dish is this is hell delicious and affordable at the same time. What you would notice is that the ingredients may vary according to the region but wherever you be, you will definitely find a bowl consisting of meat noodles flavored with fresh sprig leaves, mint, quail eggs, peanuts, and shrimp. There may be included other ingredients as well but they may vary as already said.