Millions of tourists visit the beautiful country of Jordan from around the world, not just to discover the hidden city of Petra and float in the Dead Sea, but also to explore its delectable cuisine. The nation boasts a number of Traditional dishes that are renowned throughout the world, from the flavorsome meat and rice dish 'Mansaf' to the lip-smacking sweet called 'Kanafeh'. So when visit Jordan, eat to your hearts' content and rest assured, you will remember the taste for the rest of your lives.
Here Are The Top 10 Dishes That You Must Try When Visiting Jordan
Mansaf
The very first dish that tops the list of foods you must try in Jordan is Mansaf, the national dish of Jordan. It is primarily a lamb dish that is cooked along with rice, almonds, spices and a broth made from dried, fermented yogurt. The final result is a lip-smacking dish that is served in a huge platter and placed in the middle of the table. The way you eat mansaf is also quite interesting in itself. It is not served on individual plates; instead you need to use your bread as your silverware and scoop up chunks of lamb along with heaps of rice. This communal dining style was actually planned to bring people closer together with their family and friends.
Maqluba
Literally meaning 'Upside Down', Muqluba is a dish comprising of layers of rice, meat and fried vegetables cooked in a pot and then transferred over to a platter. The end products is a bright heap of eggplants, tomatoes, potatoes and cauliflower with a layer of lamb or chicken hiding underneath. It is another communal dining dish and is usually shared by a group of 3-4 people.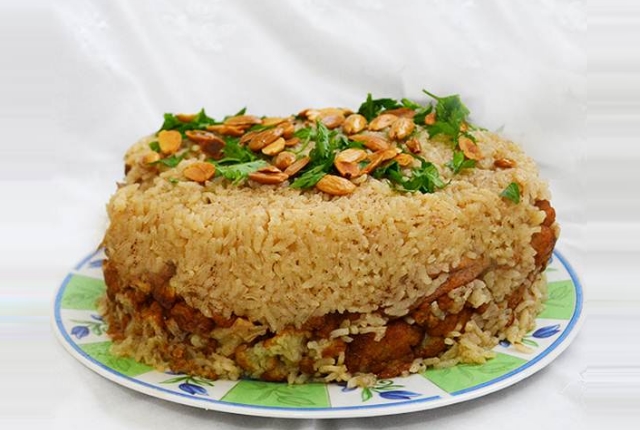 Hummus
This is one of the most common middle-eastern foods eaten all over the world. To make hummus, chick peas are boiled and blended to a smooth paste and mixed with olive oil, garlic, lemon juice and tahini paste to prepare the perfect accompaniment to any meal.
Kibbeh
This is a Jordanian appetizer in the shape of an American football and contains minced meat coated with a larger of crushed bulgur and fried.
Zarb
Zarb is another favorite and popular Jordanian dish, not just for its taste but also the process with which it is made. Vegetables and meat and cooked under the ground in a large pit covered with sand. Once ready, you get smoky and tender meat with well-cooked vegetables. Often termed as Bedouin Barbeque, it is usually enjoyed under the stars in the deserts of Wadi Rum.
Fatyer Jenbeh
These are traditional Jordanian pastries that comprise of salty cheese stuffed inside fluffy golden dough that just melt in the mouth and provide a burst of flavor. You can easily find these cheese pastries wherever you go in Jordan, whether in pastry shops, cafeterias or street stands. You can eat them as a snack or with your cup of tea.
Moutabel
Moutabel is a fragrant side-dish made with pureed, roasted eggplant mixed with garlic. Roasted eggplants are mixed with chive, mint, peppers, yogurt, tahini and garlic to prepare this classic Jordanian dish.
Foul (Ful Maddamis)
Another one of the classic Jordian dish comprises of cooked fava beans crushed and served with a mix of different toppings including olive oil, parsley, lemon juice, sumac, chili pepper, garlic and many more. It is a hearty dish that is usually eaten with Arabic bread.
Kanafeh
This is the most delightful sticky and sweet Arabic dessert that is extremely popular with both locals as well as tourists. It is made with layers of phylo dough and topped with a mixture of ricotta cheese and mozzarella with sweet cream butter drizzled on top. It is wonderfully delicious and rich, making it the perfect end to a perfect Jordanian meal.
Harissa
This is another wonderful Arabic sweet which is made with semolina flour topped with butter, honey, almonds and yogurt. It tastes just like a gooey, dense and heavenly cake. Though it is quite sweet but the use of honey prevents it from becoming sickeningly sugary.