Costa Rica is a beach lover's paradise and has some of the most life affirming beach destinations in the world. The nearly 300 idyllic beaches of this Central American nation are spread along the Pacific and Caribbean coastline. The  beaches of this country are famous for their natural beauty and for their adrenaline inducing water sports. So, embark on a captivating journey to discover some of the truly surreal beaches of this tropical paradise.
Here Are 6 Sublime Beaches In Costa Rica:
1. Espadilla Beach
Espadilla Beach, which is the ultimate word in beach perfection, is one of two free public beaches in the lush Manuel Antonio National Park. The sublime dark sands of this beach, stretch for more than a mile along the rugged coastline. The thick foliage which skirts the edge of Espadilla Beach, further enhances its overall beauty. The powdery sands of the beach are ideal for sunbathing. The warm, ruffled blue waters, of Espadilla Beach are perfect for swimming and surfing. The beach offers many amenities including dedicated parking spaces and restaurants which serve local cuisine.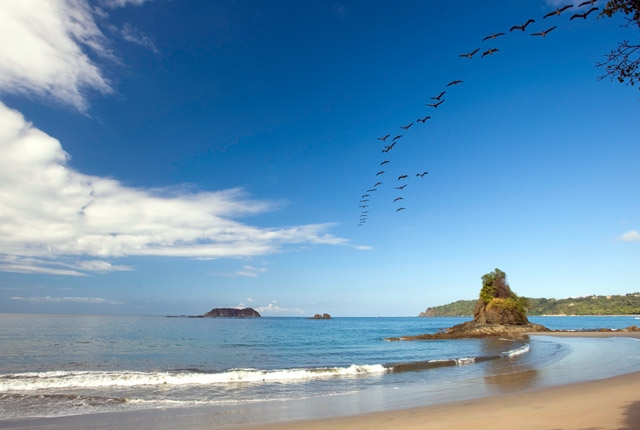 2. Playa Conchal 
This idyllic beach is located in Northern Guanacaste province. Instead of powdery white sands, the Playa Conchal is a wonderful expanse of small crushed shells. The multitude of pretty shells which can be found on this beach makes it a veritable haven for beach combers. The clear blue waters of this beach range from a deep Prussian blue color to a soft cerulean shade. The warm waters of this beach beckon adrenaline junkies to enjoy a spot of swimming, paddle boarding, kayaking or snorkeling. A string of affordable bars, restaurants and hotels abut Playa Conchal beach.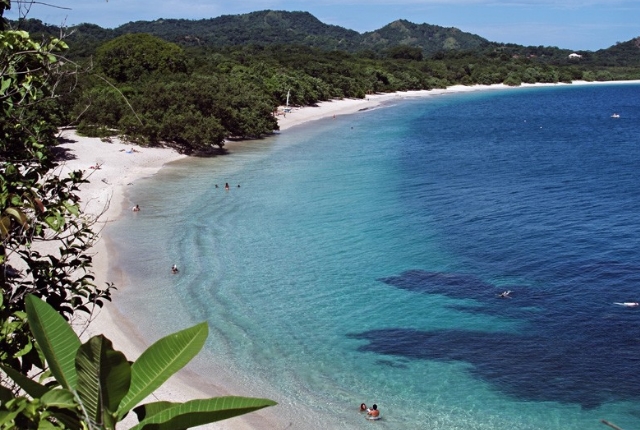 3. Playa Carmen
Playa Carmen is one of the smaller beaches of the coastal town of Santa Teresa (which is located in the southern tip of the stunning Nicoya peninsula). Unlike the other touristy beaches of Costa Rica, Playa Carmen is a relatively quiet beach. Playa Carmen is primarily a surfing beach. Surfers from across the globe arrive on this beach to tame the massive waves. Besides surfing, horseback riding and sunbathing are equally popular activities on Playa Carmen. Visitors can stay at the numerous resort hotels which are located close to the beach.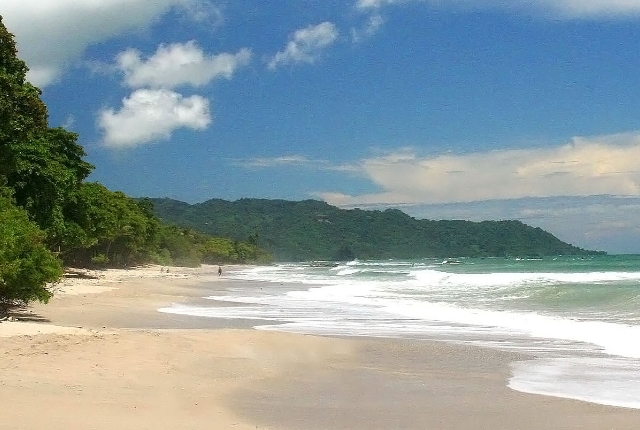 4. Playa Avellana
Playa Avellana or Avellanas Beach, is a largely secluded beach which is situated close to the bustling coastal town of Tamarindo. Playa Avellana's claim to fame is its monster waves which crash with unbridled power onto the shoreline. These rollers are the perfect playground for professional surfers. The sun drenched, soft powdery sands of this beach offers many tranquil spots for sunbathing. Horseback riding along the sandy shores is yet another popular pastime on Playa Avellana Beach. Tourists visiting this beach between June and November can observe sea turtles returning to the sea after depositing their precious eggs in the sands of Playa Avellana. After enjoying an exhilarating day on the beach visitors can head to 'Lola Beach Bar' to grab a large slice of delicious pizza and a cocktail.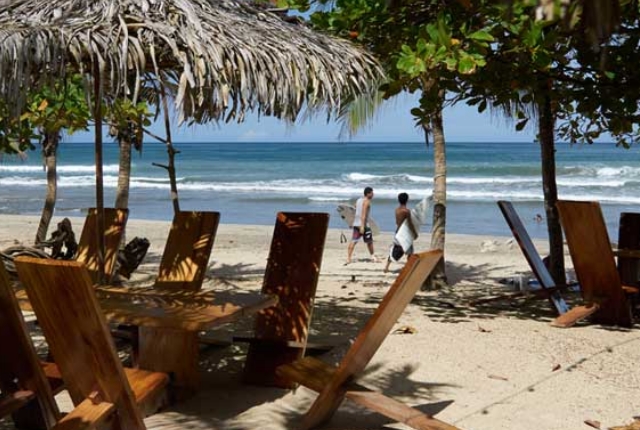 5. Playa Hermosa
Hermosa Beach is yet another popular beach on the west coast of Costa Rica. The beach is located in the vibrant Guanacaste province. The stunning beach is bordered by Playa Panama and Playa Del Coco. This horse shoe shaped, two kilometer long, sandy beach is popular not just for the numerous water sports one can enjoy here but also for its stunning locale. The beach is edged by lush tropical forests and jagged volcanic rock. Popular water sports on Playa Hermosa Beach include jet skiing, kite surfing, swimming, kayaking and scuba diving.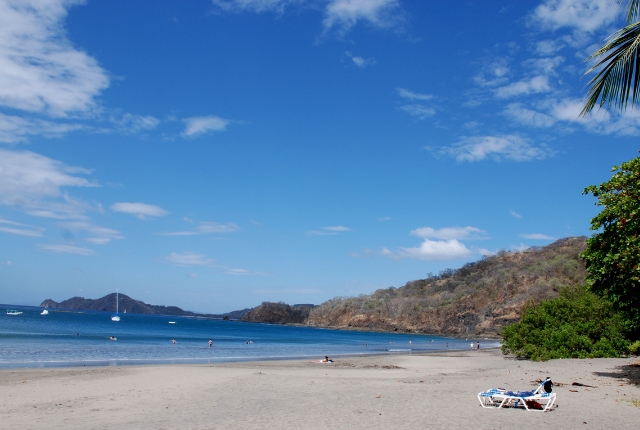 6. Playa Arco
The secluded Playa Arco is a beach haven for those who want to escape the hustle and bustle of the city. This stunning beach is located in the southern coast of Costa Rica. The only way to access this hidden, semi circular strip of paradise is on foot. There are towering cliffs on one side of this sandy beach. The crystal clear waters of the beach are perfect for swimming.