Playa Del Carmen is a stunning coastal resort town in Mexico. With its swaying palm fringed beaches, brilliant coral reefs and the turquoise blue sea, Playa del Carmen can easily compete with some of the trendiest coastal towns in the world. This town is also famed for its world class restaurants and for its awesome bars. Playa del Carmen is home to numerous uber luxe resort style hotels. To discover the best resorts in this place, read on.
Here Are 5 Awesome Resorts In Playa Del Carmen:
1. The Opulent, Playacar Palace
The opulent Playacar Palace is an all inclusive resort style hotel. The famous Nuestra Senora del Carmen church, and the bustling town center are located close by. The 201 stately suites of this hotel are oases of splendor. Some of the in room-amenities which guests can enjoy include double whirlpool tubs, complimentary internet facility, fully stocked mini bar and individually controlled air-conditioning (to name a few amenities). 'Café Del Mar', 'Mo-Mo-No-Ha-Na' and 'Terraza' are the three in-house restaurants which serve everything from Pan-Asian inspired cuisine to mouth watering Italian fare. This hotel also boasts of a business center, fitness center, solarium, spa and outdoor pool.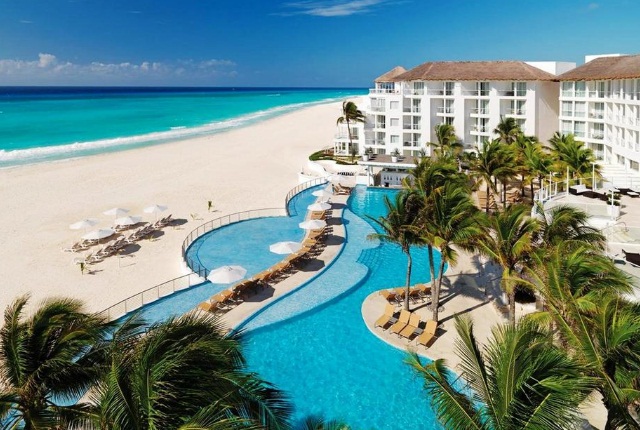 2. The Upscale, Mahekal Beach Resort
This upscale Beach Resort comprises of 74 Palapa style bungalows is wedged between the dense Riviera Maya Jungle and the stunning Playa Del Carmen beach. The guest accommodations which are categorized as Garden View, Tree House, Penthouse, Ocean View and Beach House are decorated in colorful bohemian style. The guestrooms feature all the latest mod cons. Guests can enjoy a sumptuous meal at 'Cocina', 'Las Olas Restaurant and Bar' or at 'Fuego Restaurante y Cantina'. 'Bolis Bar' and 'Itzi' serve refreshing cocktails and tasty light bites. The Revive Spa which is set amidst lush tropical gardens offers a range of holistic spa treatments. Additionally, this resort has fitness center, large outdoor pool and beautifully landscaped gardens.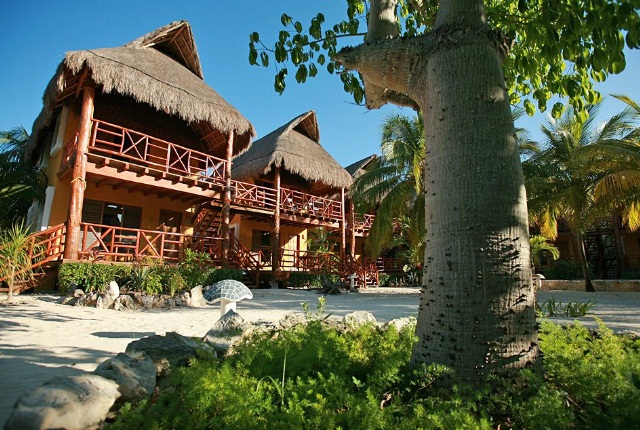 3. The Luxurious, The Royal Playa Del Carmen
This Royal Playa del Carmen is an adults only, all inclusive spa and resort style hotel. Xplor Adventure Park and Playacar Beach are located just a short drive from this hotel. The 513 suites allow guests to enjoy epic views of the ocean. The guestrooms feature all the latest amenities. The Royal Playa del Carmen has 9 brilliant restaurants and 7 bars. SpaZul the Mayan inspired in-house spa offers a range of relaxing and rejuvenating spa treatments. This hotel also has a fitness center, Olympic style swimming pool, sauna, Jacuzzi, terrace and garden.
Visit The Royal Playa Del Carmen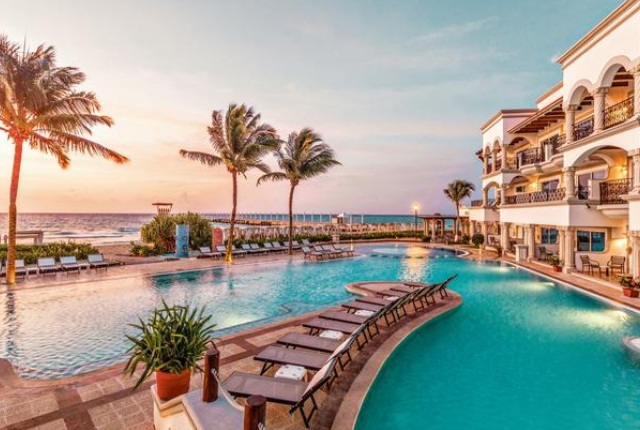 4. The Stunning, Grand Hyatt Playa Del Carmen Resort
Grand Hyatt Playa Del Carmen is located on Playa Marmitas Beach. The high end stores and restaurants of Las Quinta Avenida are within walking distance of the hotel. Cancun International Airport is 55.5 kilometers away.The 314 spacious guest rooms are a stunning mélange of natural elements, textures, artwork and light. The guestrooms either face the ethereal blue waters of the Mexican Caribbean Sea or provide views of a carefully preserved mangrove forest. 'El Paseo', 'La Cocina' and 'The Grill at 1 26', are the three in house restaurants serves everything from authentic Mexican fare, to juicy steaks and fresh seafood. Guests can head to 'Cenote Spa' to enjoy a range of therapeutic treatments. The hotel also boasts of a fitness center, Jacuzzi, sauna, outdoor pool and sun terrace.
Visit Grand Hyatt Playa Del Carmen Resort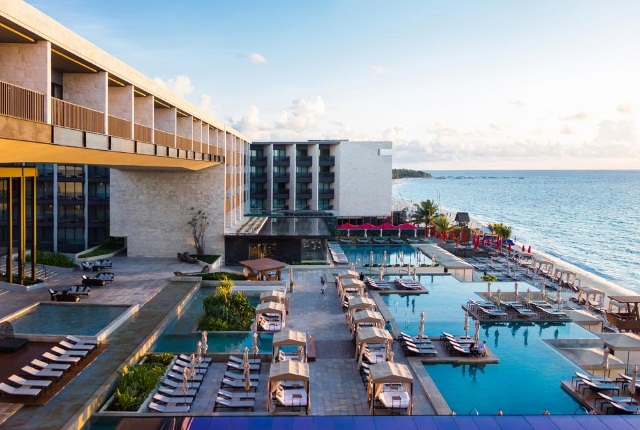 5. The Gorgeous, Fairmont Mayakoba Resort
Fairmont Mayakoba Resort, an AAA five diamond award winning resort is a series of low rise buildings which lie nestled deep within 240 acres of lush tropical forest. The 401 stunning guestrooms are decorated in casual style. The hotel has four world class restaurants i.e. 'La Laguna', 'El Puerto', 'Brisas' and 'Lobby Lounge'. The Willow Stream Spa offers guests an unforgettable spa experience through its various holistic treatments. Additionally, this hotel also has a spa, fitness center, hammam, outdoor pool, garden, sun terrace and private beach area.
Visit Fairmont Mayakoba Resort