Tenerife is an ideal island in Europe for beachcombers to spend a leisure vacation. It is popular as the biggest Canary Island and boasts some of the Europe's best beaches. After a long hectic year, visiting Tenerife and exploring its amazing beaches helps you relax and return to work with a refreshed mind. Also, you can enjoy a plethora of water sports and boating excustions on this charming island. So, if you are planning a beach vacation in Tenerife, having a list of some of the most enchanting beaches in Tenerife at hand can make your trip to this European island more enjoyable. Here are some of the top picks.
Find Below 12 Spectacular Beaches In Tenerife That You Should Explore:
1. Playa de Benijo
Plan to visit Playa de Benijo beach which offers your stunning sunset views. You can find this eye-catching beach located on the northeast of Tenerife at the base of Anaga Mountains. Generally, Playa de Benijo is covered with fine sand throughout the year. Water here is crystal clear. You can enjoy the fun of surfing when visiting this beach.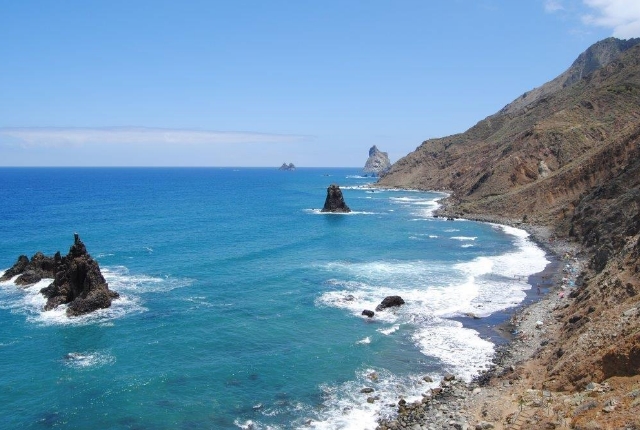 2. Playa de la Vistas
Playa de la Vistas is widely popular for gaining the Blue Flag award. This 805 m long beach is situated in Los Cristianos in the south of Tenerife. Soft, golden sand of this beach and serene waters of this stunning beach attract lots of visitors to explore it. Kids can plan in the sand and sea. This beautiful beach in Tenerife is safe for enjoying the thrill of swimming. Do not miss going for long sunny walks through clean water of the sea any time of the year.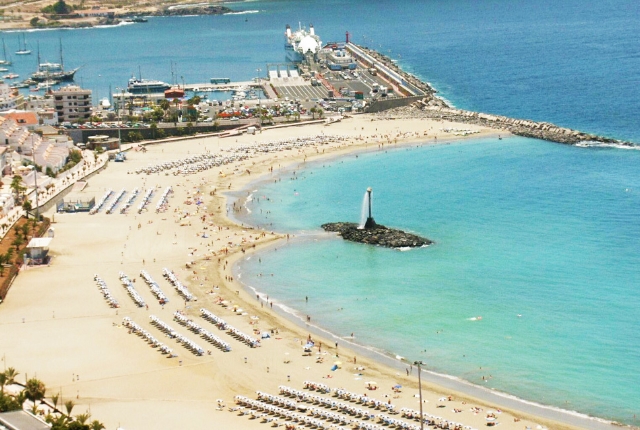 3. Playa Jardin
Do not miss visiting Jardin beach, which is popular as the 'garden beach' and this sandy stretch lives up to its wonderful name. You can find this beach being adorned by enchanting flora that includes eye-catching palm trees and cacti. Sand at Playa Jardin is soft dark colored and the beach reflects some reminiscence of UK. You can find here fascinating botanical gardens that were developed by Cesar Manrique, a well-known artist. Gaze at the scenic greenery of this beach that extends from San Felipe Castle to Punta Brava. Ocean waves here are gigantic and you can enjoy here water sport of surfing and paddling to the fullest.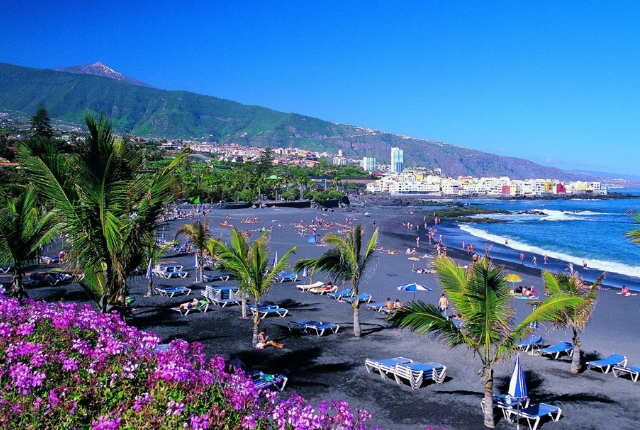 4. Playa Bollullo
Explore Playa Bollullo, a natural beautiful beach adorned by black volcanic sand. You would enjoy a stroll at this beach as you walk through the spectacular banana plantation here. Walking through this plantation offers you protection from intense sunlight in hot weather condition. Find the real taste of tropical paradise here. You can go for surfing and canoeing in the waters of the sea here.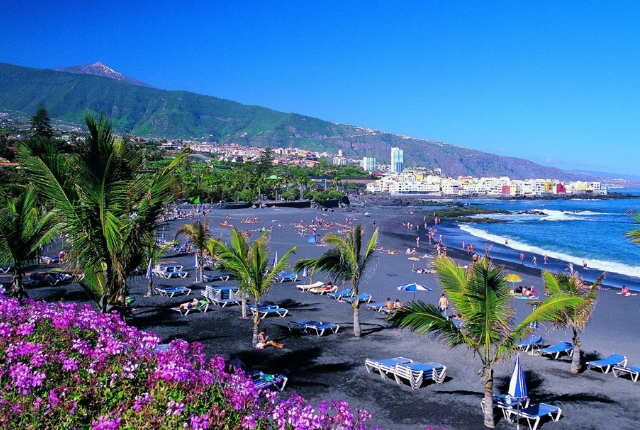 5. Playa de Fanabe
If you are a water sports enthusiast and want to enjoy the thrill of various water sports, then make sure you visit Playa de Fanabe. You can find here every type of water sport to enjoy. If you want to spend a leisure time close by to the beach, you can hit this beach to unwind. You can find here amazing glass water bottom boats that can take you for interesting boating excursions. Explore incredible marine life as you travel on the water of this beach via these boats. Learn more about unique life under the water.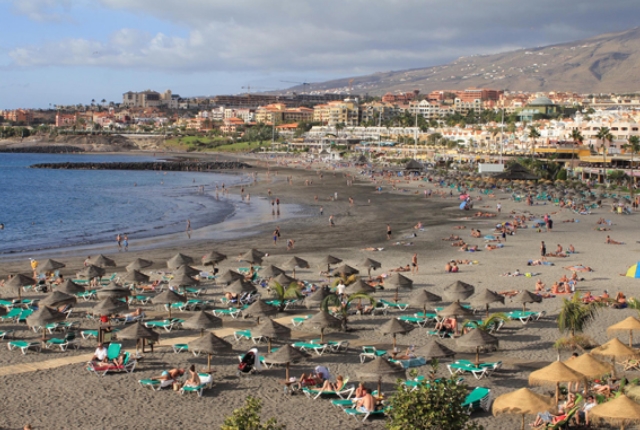 6. Playa el Médano
Take time out to visit the longest coastal stretch on the south of Tenerife by visiting Playa el Medano. This attractive sandy stretch extends from Plaza de El Medano to Montano Rojo. Explore El Medano, which is a charming town near Playa Tejita beaches. Do not miss the thrill of kite surfing and windsurfing here.
7. La Tejita Beach
Spend a day at La Tejita, which is well-known as one of the biggest beach on Tenerife Island. Clean and crystal clear waters of this beach adorn it. Relax in the pleasant weather on this beach.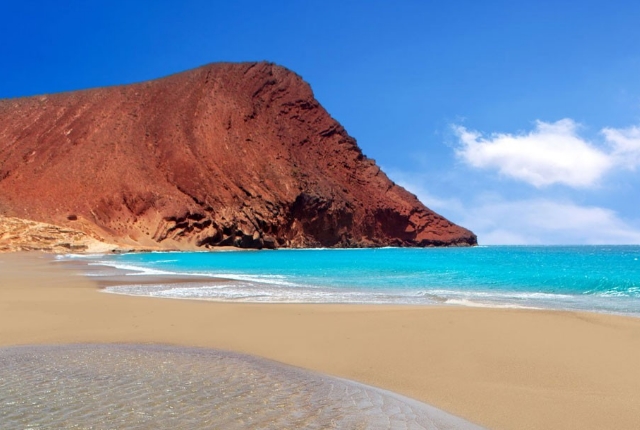 8. Playa de Las Americas
Explore long, coastal stretch of Playa de Las Americas that attract various tourists and locals to relax in its enchanting environment. Water here is calm and you can find several amazing beach sports and water sports here to enjoy. Make sure you enjoy playing volleyball, go for whale and dolphin watching excursion, and have fun of boat excursion. Have fun of surf-boarding, deep-sea diving, and snorkeling when visiting this fascinating beach in Tenerife.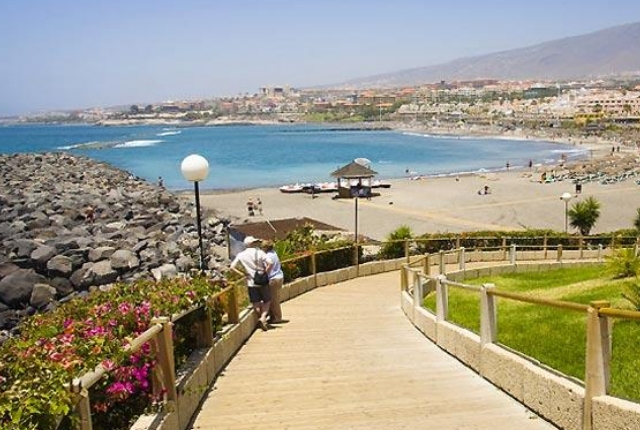 9. Playa de la Arena
Go for exploring Playa de la Arena, which is also popular as Arena Beach in Tenerife. You can find this enchanting small, calm beach on the west coast of the island. It is adorned by volcanic black sands. Arena beach is famous for gaining the Blue Flag status. Even though the sea levels in the clean waters here are quite deep, you can find lifeguards around all the time. Do not miss the fun of playing water sports when exploring the beach. Enjoy eating various refreshments that are available in the restaurants and cafes close by.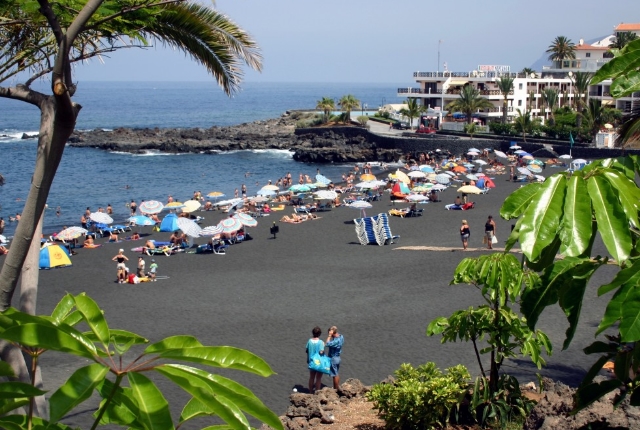 10. Playa de las Teresitas
Include a visit to Playa de las Teresitas, which is a fascinating man-made beach adorned with palms on the golden sandy stretch of this beach. You can find a number of fish restaurants in San Andres, a local charming fishing village present in the vicinity of this beach. It takes just 10 minutes drive from Santa Cruz de Tenerife, which is well-known as the capital of Tenerife. Taste and enjoy delicious food here. Relax in the golden sand here. Water of this fascinating beach is of clear greenish, coral color. Do not miss enjoying the fun of swimming.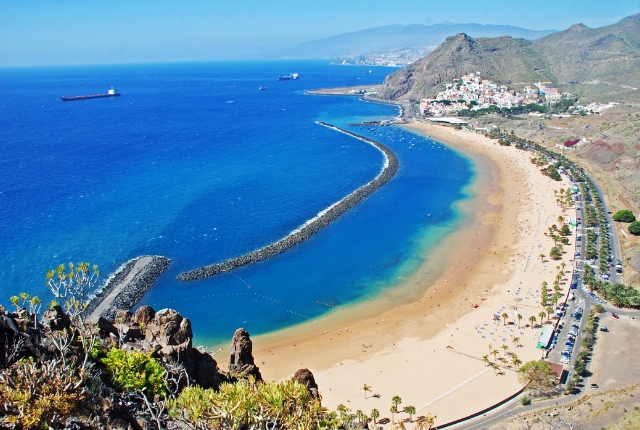 11. Playa el Duque
Make sure you pay a visit to Playa el Duque, which is also well-known as The Duke beach. It is also popular for being an upmarket beach resort adorned with elegant palm shade umbrellas that safeguard you from the strong rays of the sun. You can find this eye-catching beach at the western end of the Costa Adeje.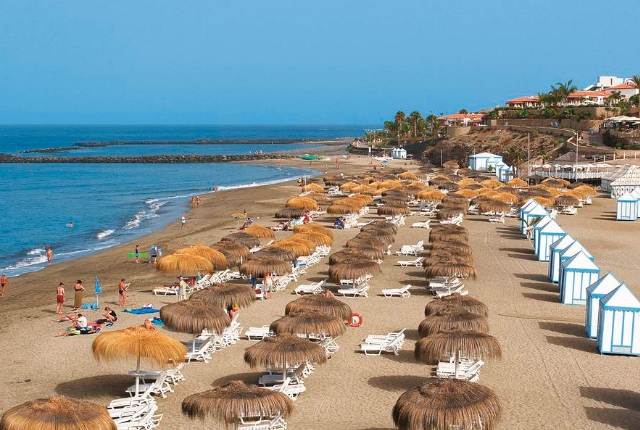 12. La Caleta
Another fascinating beach in Tenerife is La Caleta beach, which is well-known as a seaside jewel of the island. Spend relaxing time at this idyllic beach. It is one of the beast places on the island to unwind from the bustling city life.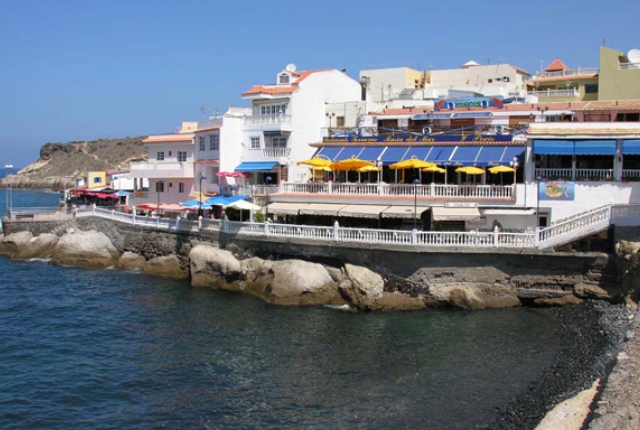 Now that you know these 12 amazing beaches in Tenerife, make sure you explore them during your excursion on this enchanting island.