Geysers are hot water springs, from which a jet a like ejection of water and steam. This is a hydro-geological phenomenon, as the effect of emission of geothermal energy. Generally, these geysers appear near active volcanic areas. Though there are more than 1000 geysers active around the world. Their eruptions are interrupted by either the earthquakes taking place around them, deposition of various minerals, which may cut the contact of this water with the hot rock beneath; or even worst and most dreaded, human intervention in the functioning of the nature.
1. Fly Geyser – Nevada, USA
This is a natural geyser, but has come into existence due to human interference. It happened so, that while digging a well some minerals melted and this coincided with the eruption of the geyser as some mistake happened on the part of the well drillers. This formed a travertine, i.e., mineral spring. This spring continues to deposit minerals and grow in height. This hot spring has brilliant colors as a result of deposition of thermophiles. Thermophiles are the bacteria which have the ability to survive at high temperatures, which are generally hazardous for other bacteria. However, this is closed for public; but there are chances that this may open soon for the public. Till then there are other geysers in Yellowstone National Park which you can enjoy.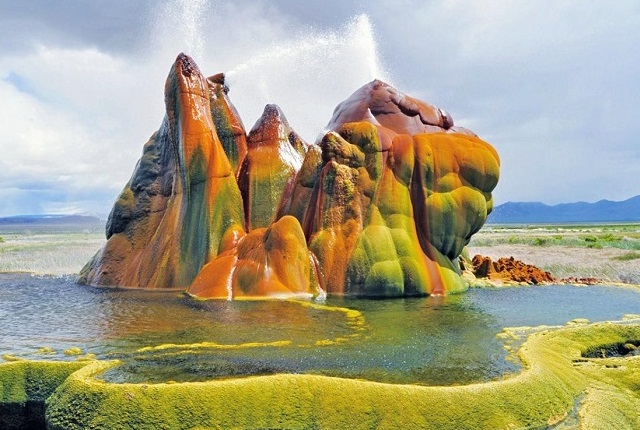 2. Dallol
Dallol, situated in Ethiopia is an active volcano in Danakil Depression . It has last erupted in 2004. Though this place is below sea level is devoid of water. There are deposits of salts formed by ocean cutting inside and when water dried out in summers formed a Gulf. The salt present in this area is mined for over centuries. There countless vents releasing the steam and acidic liquid. They have formed deposits of iron oxide, sulfur and various salts, which give the color to the landscape. Dallol has recorded the highest average temperature throughout the year.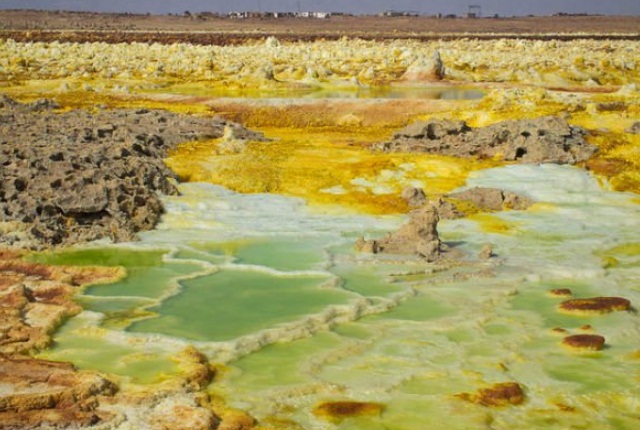 3. Pamukkale
Pamukkale in Turkish means 'cotton castle'. It got its name because of the deposits made by huge amount of mineral content and made picaresque terraces of lime stone, giving it an appearance of castle, has been declared as World Heritage site by UNESCO. The city of Hierapolis was built on top of these springs. It is said that Greeks and Romans came here to have bath. Even today people do take a bath in these natural spas formed on the natural terraces of mineral deposits. The water is believed to be sacred. The relics of Greek baths, temples and other monuments are the proof of civilization, which settled at such a beautiful location.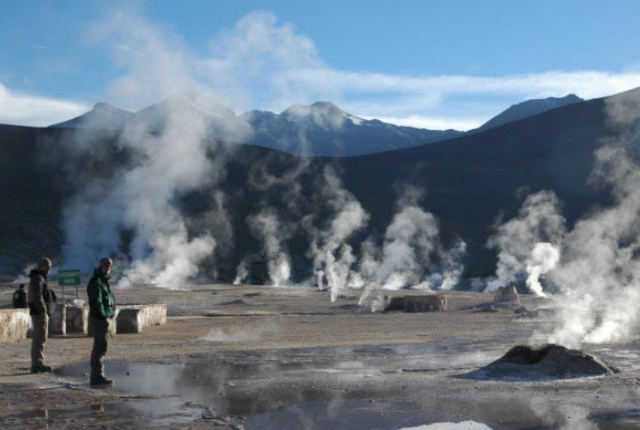 4. Huanglong
Huanlong Valley is surrounded by snow covered mountains and glaciers. The hot springs have deposited calcium carbonate in the valley giving it an appearance of a yellow dragon snaking through the pristine forests, mountains and glaciers. The most ideal time to visit these springs is during September and October. This is the time, when the assorted colors of the ponds are clearly visible. Huanlong is declared as World Heritage Site.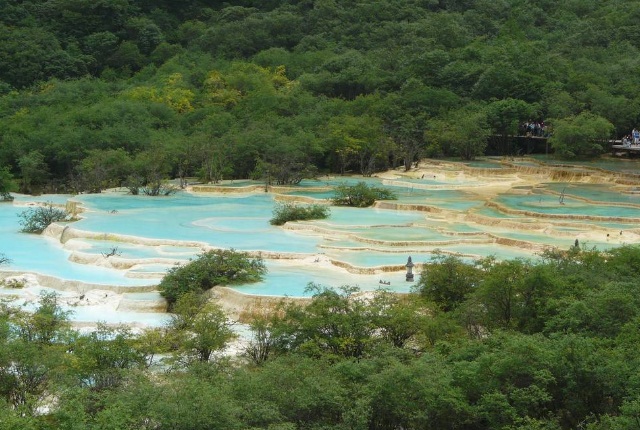 5. Jigokudani Monkey Park
This is a hot spring Monkey park, situated in Japan. In Japanese 'Jigokudani' means "Hell's Valley". Boiling water spring enclosed by snow clad mountains. This park offers its visitors a unique experience to witness the wild monkeys have themselves relaxed in their very own natural spa. This keeps them warm from the extreme cold in this area. It is very entertaining to see the monkeys interact.