Pleasant weather, beautiful beaches, incredible museums, fantastic art and culture, attractive theme parks, and several other attractions in Florida welcome lots of tourists every year to enjoy their vacations. And, when you are tired of having fun in the theme parks and visiting various attractions, spend a leisure time at swimming holes can help you relax and get refreshed. Plenty of enchanting swimming holes are some of the best attractions in Florida that you simply can't miss enjoy exploring them. So, if you plan to explore some amazing swimming holes in Florida then having a list of some of the best watering holes in this sunshine state in US can prove helpful. Scroll down to discover all about it.
Find Below Nine Best Swimming Holes In Florida To Explore:
1. Wakulla Springs, Florida
Make sure you pay a visit to the world's deepest and biggest fresh water spring called Wakulla Springs. Visiting this watering hole in the months of summer offers you a truly refreshing experience. Lots of tourists visit this enchanting swimming hole in Tallahassee in Florida. Besides this, you can find here ample of facilities, such as picnic areas, huge grass areas, restrooms, and many others. Visit the observation tower here at 22 feet high.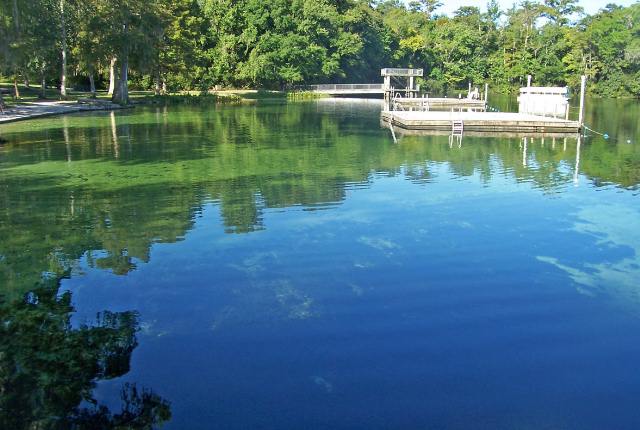 2. Fanning Springs, Florida
Plan a trip to the Fanning Springs watering hole to explore its magical crystal clear water. A boat along the fabulous Suwannee River can take you to it if you prefer boat ride. Stroll along the boardwalk, spend a leisure time, enjoy playing the game of volleyball, and have fun in its fascinating waters. Since the area of swimming hole has wildlife in its surroundings, you can enjoy exploring incredible wildlife after having fun in water. Spot deer, woodpeckers, owls, and hawks over here. You may be even lucky to get a glimpse of manatees.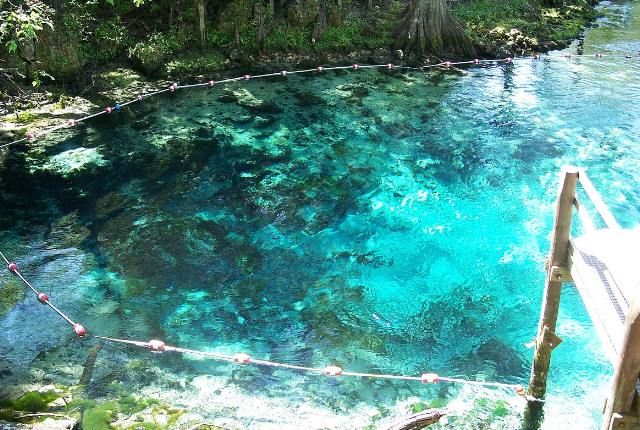 3. Wekiwa Springs, Florida
Are you interested in watching wildlife while exploring enchanting swimming holes? If yes, then you should not miss visiting Wekiwa Springs when vacationing in Florida. You simply can't miss watching enchanting green scenery here. This watering hole is an outstanding swimming getaway. The pool is around five feet deep and 105 in diameter. You can find a swimmer's lift over here. Enjoy exploring various wonderful hiking trails and go for canoeing over here. Also, you can enjoy playing volleyball over here.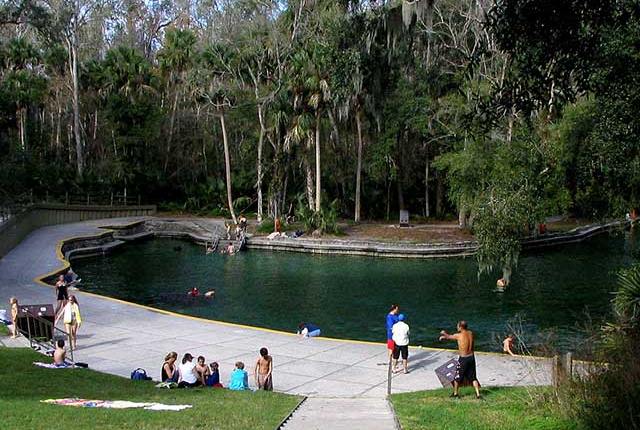 4. Ichetucknee Spring
Plan to visit Ichetucknee Springs to enjoy a refreshing dip in the magical water and spotting the wildlife in the beautiful scenery. You can find here two swimming areas over here. One is Ichetucknee Spring and the other is Blue Hole Spring. Blue Hole Spring is suitable only for expert swimmers as it is quite deep and experiences current. Make sure you go for tubing down the river at the first. You can float in the water for two hours and enjoy watching the river banks slip, gazing at the spectacular scenes, and spotting the wildlife.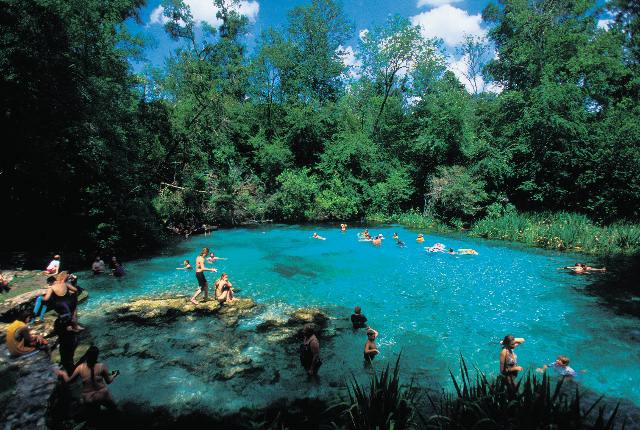 Also Read:
5 Best Beach Resorts In Florida
5 Must See Scary Haunted Attractions Of Florida
Top 8 Kid Friendly Theme Parks In Florida
10 Amazing Places To Visit In Florida
5. Silver Glen Springs, Florida
An eye-catching area in Ocala National Forests is widely popular for its spectacular greenery and sparking blue water. The watering hole here is enchanting, full of crystal clear water, and free from boat crowd, thus an ideal destination to enjoy the thrill of swimming in the woods and relaxing. Pine, oak, and cedar trees adorn its surroundings. If you love spotting the fishes in water, get your mask and go for snorkelling.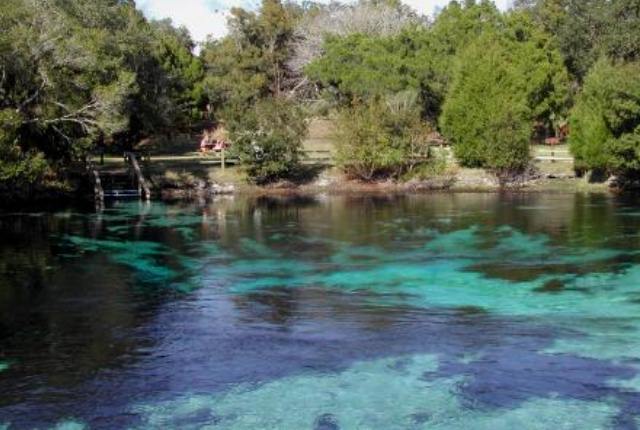 6. De Leon Springs, Florida
Being named after a well-known Spanish explorer called Ponce De Leon, De Leon Springs is an amazing, well-maintained 30 feet deep watering hole that attracts lots of tourists worldwide to explore it. Spend time exploring this fabulous watering hole which has several facilities to access it, including a swimmer's life. Make sure you do not forget visiting 600-years-old cypress tree present in its vicinity.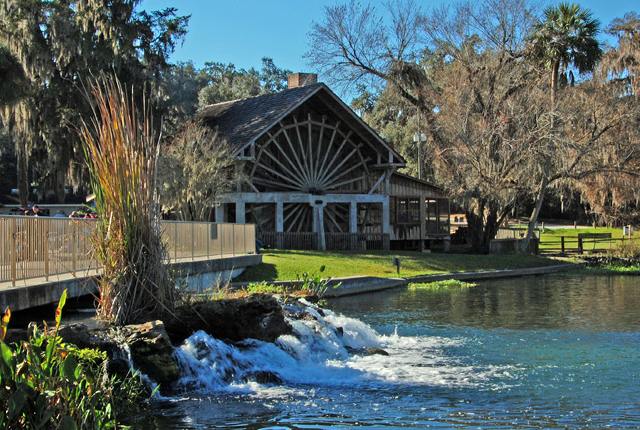 7. Madison Blue Spring, Florida
If you are looking for an idyllic spot to spend a relaxing time when vacationing in Florida, then make sure you visit Madison Blue Spring. Surrounding pine trees reflect clearly in the crystal-clear waters of this spellbinding swimming hole, which is about 25 feet deep and 82 feet wide. It's never overcrowded over here as a limited number of people are allowed to park so it's pleasant and less crowded spot.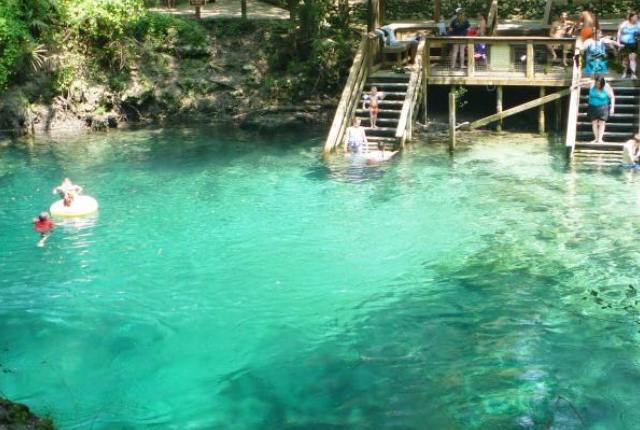 8. Ginnie Springs, Florida
Widely popular as one of the clearest springs present in Florida, Ginnie Springs is an attractive watering hole that you can find in Santa Fe River. You can find here well-maintained area with stairs that provide your easy access to its enchanting waters and sundecks to relax at its shores. If you are a water sports enthusiast, then you should not miss the fun of scuba diving over here. Explore the underwater area, and enjoy spotting turtles, bass, catfish, and mullet over here. Also, you can enjoy the fun of tubing.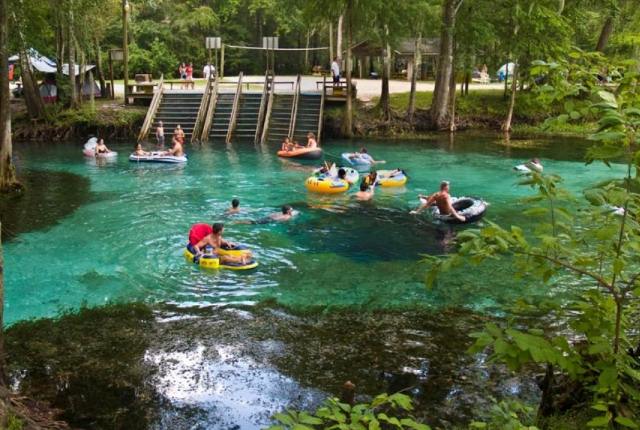 9. Alexander Spring, Florida
Enjoy exploring the big watering hole well-known as Alexander Spring when in Florida. It is also popular as a tropical lagoon. Super clear water is peculiarity of this watering hole. Don't miss spotting the fishes, going for canoeing and fishing, and enjoying the thrill of swimming in fascinating water here.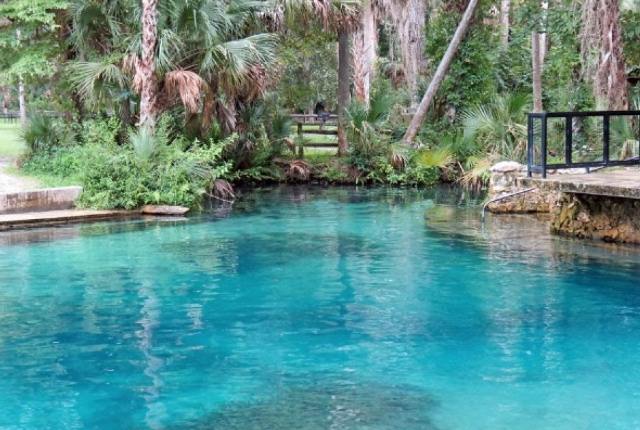 Now that you know these nine fascinating swimming holes in Florida, make sure you visit each one of them during your excursion in Florida.