Do you want to chill out in Arizona in the coming vacations by exploring various enchanting swimming holes in the state? If so, then that's a wonderful idea to enjoy your holidays and get refreshed. Arizona is a popular sunny, fascinating southwestern state in USA and home to the outstanding Sonoran Desert, amazing Red Rock State Park, and incredible The Grand Canyon. Phoenix is well-known as the capital of the state. Besides these, you can find several fascinating swimming holes in Arizona to cool off and spend a pleasant time during your sabbatical. So, if you are looking for a list of best swimming holes in Arizona, look no further. Read on to learn all about it.
Find Below 10 Amazing Swimming Holes In Arizona To Explore:
1. Romero Pools
Discover a popular, wonderful local swimming hole called Romero Pools deep in the fabulous wooded region of marvelous Santa Catalina Mountains located in Tucson. Water here is quite clear and it remains cool throughout the year. So, enjoy the fun of swimming in the clear waters here. If you are fond of hiking, then do not miss this opportunity to enjoy hiking over here to explore some small remote areas. Capture some marvellous views of mountains over here in your camera.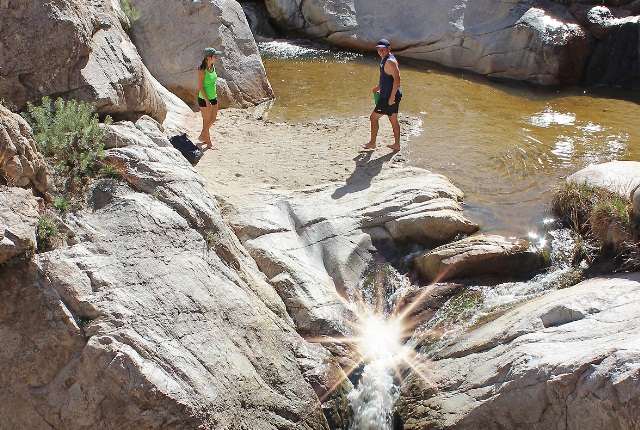 2. Grasshopper Point
You simply can't afford to miss visiting Grasshopper Point swimming hole, which is famous as a natural swimming hole, that you can find a couple of miles to the south of Encinoso Picnic Area. It is enchanting place to wade in water to chill out. Also, you can have an adventure thrill as you can find here 15 to 25 feet cliff as a natural jumping platform to leap in the fascinating water.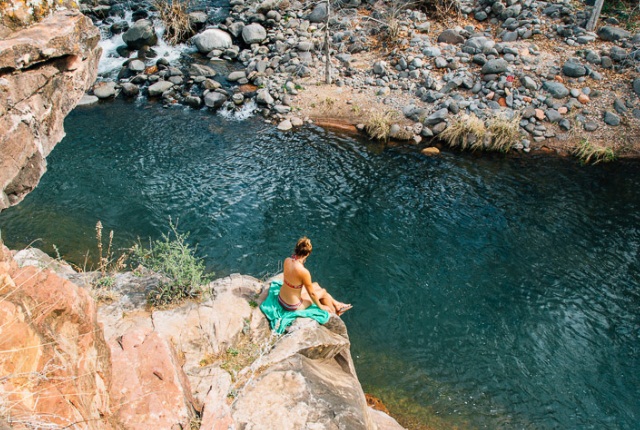 3. Bull Pen, AZ
One of the best swimming holes in Arizona is Bull Pen, which you can find about 15 miles from Camp Verde's east side. This classic watering hole is shallow pebbly area serving a perfect fun water destination for kids to enjoy. Also, you can find deeper water for bigger kids and adults to explore. If you are adventurous and try jumping from a height, you can find jumping points at a height up to 25 feet. Water movement here is slow so it let you enjoy easy and safe swimming and pleasant relaxing.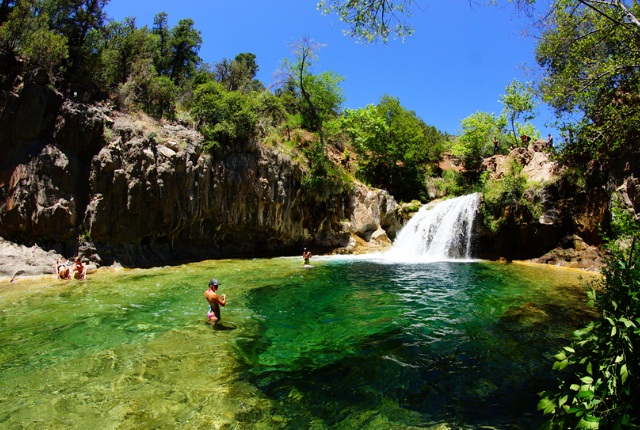 4. Seven Falls
If you are fond of hiking, then a visit to Seven Falls in Arizona can serve as a double treat to you. A four mile hiking excursion can get you to this pleasant Seven Falls located in the Bear Canyon area of Tucson. This is one of the most famous watering hole to enjoy swimming, particularly in the spring, fall, and after the rains. Gaze at the stunning natural views here while dipping your toes in the water.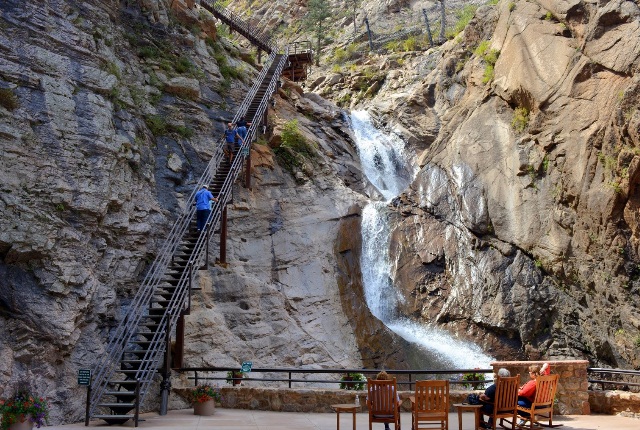 5. Wet Beaver Creek
Don't miss spending a relaxing time in the enchanting riparian area by visiting Wet Beaver Creek, a refreshing swimming hole in Arizona. Water here is clear, crisp, pleasant, and refreshing. Wet Beaver Creek is also well-known as the hidden gem in the vicinity of Beaver Creek Campgroud. Birds chirping on the tress, wonderful wilderness, clear brook, tree shades, sun above you, and pleasant waters below you are sure to delight you.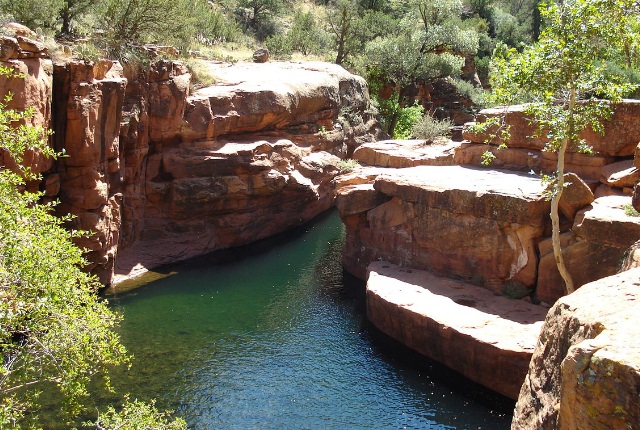 6. Fossil Creek
Make sure you explore enchanting Fossil Creek, a fascinating swimming hole that you can find a few miles out of the capital Phoenix when holidaying in Arizona. Enjoy splashing in the wonderful waters of the watering hole. You can find here beautiful cooling off spots and beautiful waterfalls to have fun. Hikers can enjoy a short hike to amazing Fossil Creek Bridge here.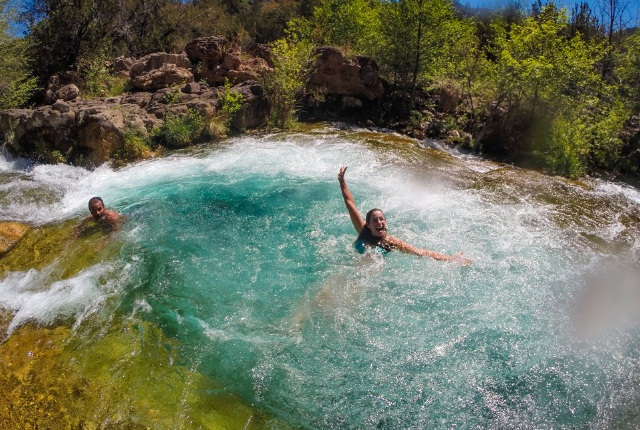 7. Havasu Falls
Your trip to Arizona would be incomplete without visiting Havasu Falls, which is known for being listed as America's best swimming hole by popular Life Magazine. Havasu Falls is the largest in Arizona and the most famous natural pool that you can't afford to miss explore. Most water areas of this amazing watering holes are five feet deep, thus serving you a safe depth for jumping and swimming. Hike through the stunning scenery that adorn it for 10 miles to get over here. Water here is about 72 degrees Fahrenheit.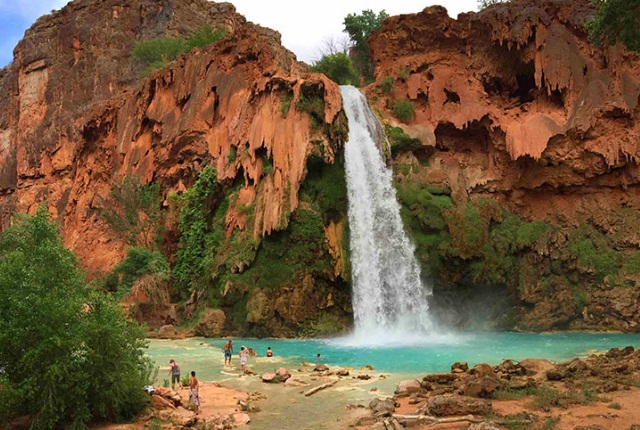 8. Mooney Falls, Supai
Mooney Falls is a breath-taking swimming hole in Arizona which is known for its 200 feet height offering a high diving stunt. You can find that an orangey-red rock and canyon of horseshoe shape offers a picturesque enclave for the enchanting water that flows below.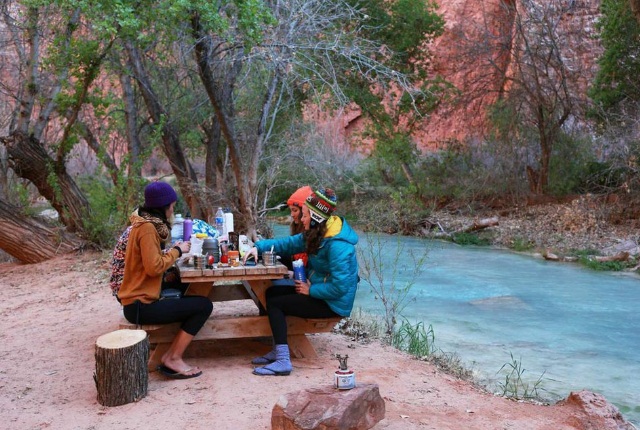 9. Slide Rock
Plan to explore Slide Rock, which is one of the best natural swimming holes that you can find in Slide Rock State Park in Sedona. You can find here rock formations that resemble a waterslide. If you love to wade in water, then Slide Rock is a perfect destination to get refreshed wading in water under the sun.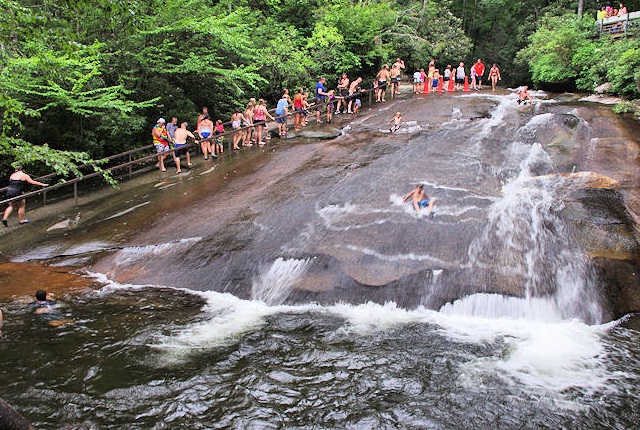 10. Water Wheel Falls
A two-mile trek will take you to the Water Wheel Falls in Payson where you can enjoy a wonderful time in its magical waters. Not only you will find here amazing falls but also you will be pleased with the stunning scenery and beautiful pools present over here.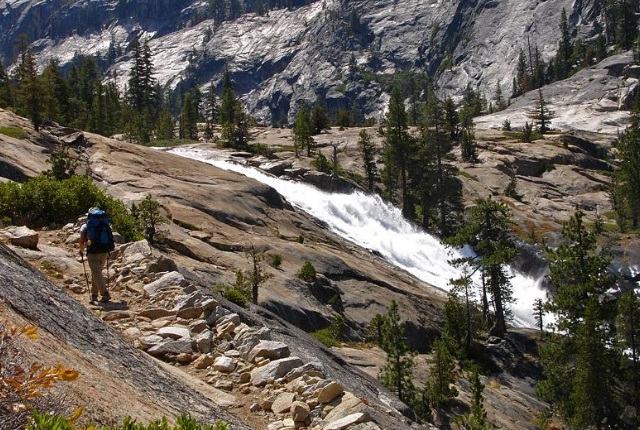 Now that you know these 10 best swimming holes in Arizona, make sure you visit each one of them when holidaying in Arizona.