If you are planning to spend this summer vacation discovering some amazing natural wonders of the world then visiting a beautiful waterfall can turn out to be a great idea. From small to big in size or long to short in height every waterfall has it's own charm. The experience of being the witness of such an incredible view of water falling with such a force can surely give you goose-bumps while the splitting voice on the other hand, adds an fun quotient to it. There are myriad water fall around to blow your mind so choosing which one to go for can be a tricky part. But you don't need fret over as we are here to present the top 8 beautiful waterfalls in the world, just read on.
Here Are 8 Most Beautiful Waterfalls In The World:
1. Victoria Falls (Zimbabwe):
Topping the list with very true deserving Victoria Falls, that spans 1.7 km in width and 108 m in height. Situated in the border of Zimbabwe and Zambia, Victoria falls has the average flow of five hundred million cubic meters per minute. This strong water flow makes Victoria falls easily visible from 50 km away. No wonder this waterfall comes under the seven natural wonders of the world and has declared Heritage site by UNESCO.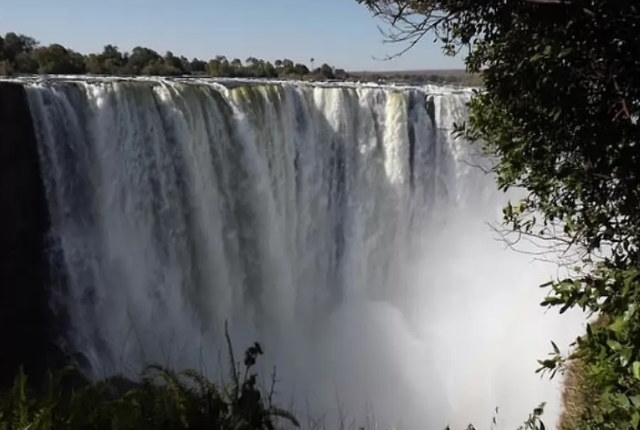 2. Niagara Falls (United States):
Next comes on the list, the most popular waterfall in the world, Niagara Falls. With the height of 167 feet this waterfall stands as the border of U.S and Canada. Niagara falls is made of three waterfalls Horseshoe falls, Bridal-veil falls and American Falls. The biggest one is the Horseshoe Falls that comes under Canadian Side. Almost, 267811 liters of water falls from Niagara every second, which has helped U.S and Canada to build three hydro-electric power stations jointly. The stunning illumination at night adds an extra edge to the beauty of Niagara falls and can be another reason to pay a visit.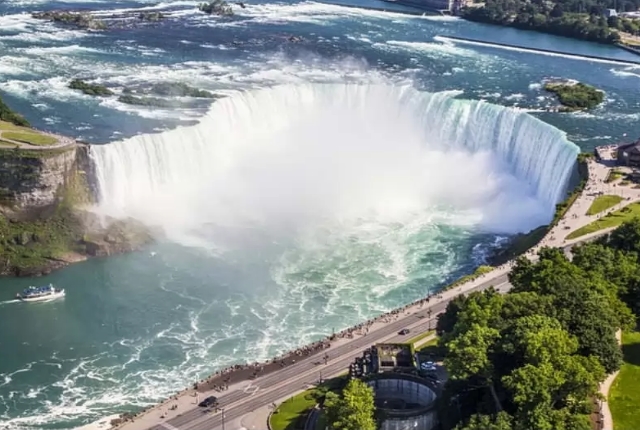 3. Iguazu Falls (Argentina/Brazil):
Located on the border of Brazil and Argentina Iguazu Falls, is actually consists of 275 cascades and waterfalls of different heights. This incredible waterfall formed in the river iguazu and has the height of 269 feet. While, on the other side, almost 450000 cubic feet of water falls down form it every second and can make you awestruck. Iguazu waterfall is considered as the world Heritage by UNESCO.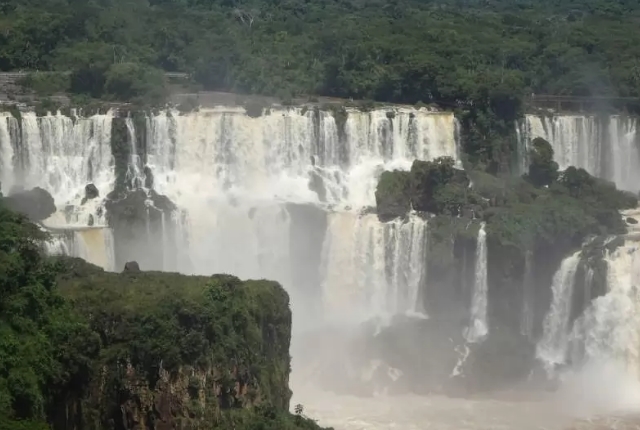 4. Angel Falls (Venezuela):
With the height of 3212 ft (979m), this waterfall constantly flows down from Tabletop Mountain in Canaima National Park, is the tallest waterfall in the world. This waterfall found by U.S aviator Jimmie Angel and so it is named after him. Angel waterfalls is also comes under UNESCO's heritage site.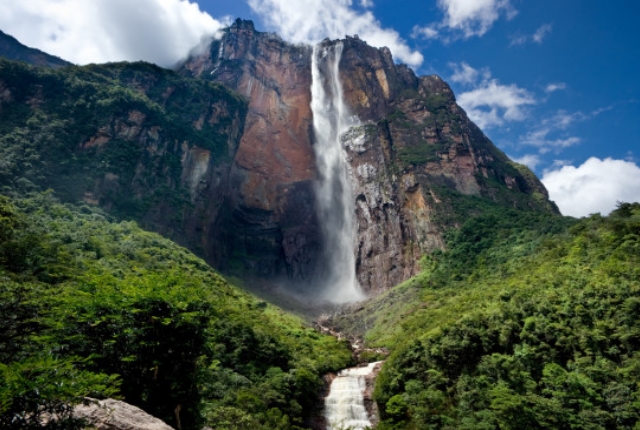 5. Kaieteur Falls (Guyana):
Located in Guyana this waterfall is also known as one of the tallest single drop cascades. It spans 370ft in width and 741ft in height midst the rainforest in Guyana. Kaieteur Falls also attracts people who like wildlife and adventure as well.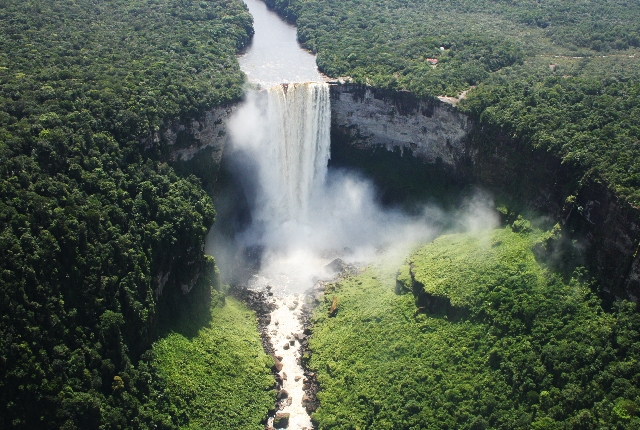 6. Yosemite Falls (United States):
With the height of 2425 feet, Yosemite waterfalls is considered as the highest waterfall in North America. It is situated at Yosemite National Park in California and can be seen from different view-points. As originated from melting snow, Yosemite waterfall stops flowing and gets absolutely frozen during winter. So if you want to be fortunate to see it's grandeur flowing, spring is the best time for visit.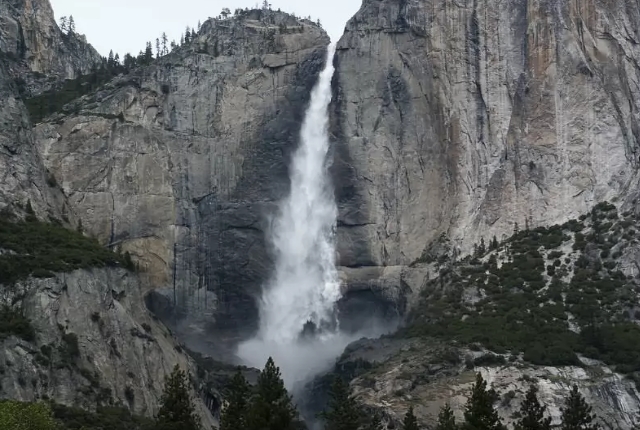 7. Plitvice Falls (Croatia):
Located in Plitvice Lakes National Park, Croatia, this waterfall is one of the most popular tourist destinations in the world. Though Plitvice water is not high but it has formed countless small and tall cascades which has enhanced the beauty of the site. Due to different types of minerals in the water their color varies from green to blue, from clear to turquoise. Along with this, plitvice nurtures the thick forest and the lush greenery of the surrounding which definitely makes the place even more attractive. Plitvice waterfalls also fall under the heritage site category of Europe by UNESCO.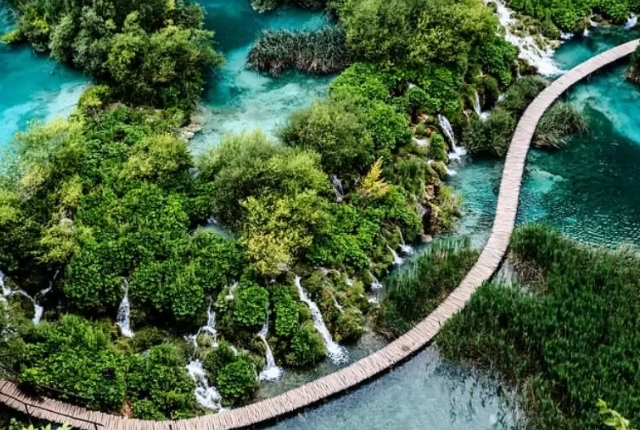 8. Sutherland Falls (New Zealand):
Started off from the lake quill, Sutherland falls is one of the most well known waterfalls in New Zealand. Plunging from the height of 1902 feet (580m) ,Sutherland falls is also one of the tallest ones in the world. This waterfall has three parts and this only enhanced the beauty of the landscape and gives Sutherland falls a stand out look. As you need to cross Milford track to land up in Sutherland falls so at times it becomes a little difficult. However you can also opt for flight to reach up.