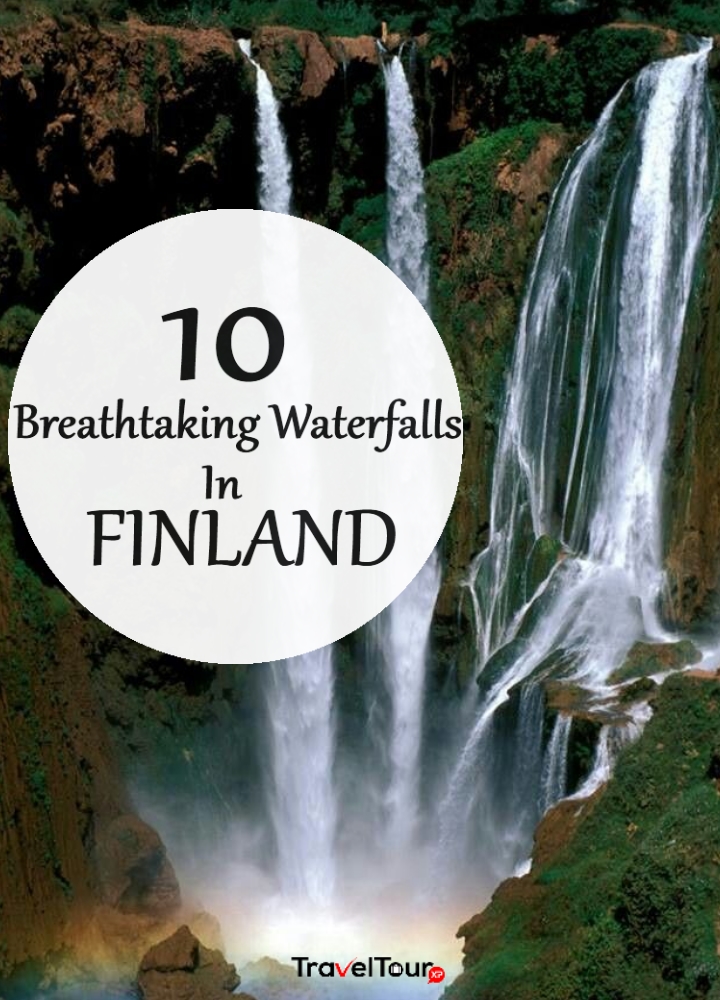 Adorned by several enchanting waterfalls, Finland is a world-famous European country that attracts lots of tourists worldwide to explore it and gaze at the incredible site of water falling from heights. Besides outstanding museums, amazing ski resorts, fascinating national parks, sea fortresses of the 18th century, and enchanting Northern Lights, Finnish waterfalls are unavoidable attractions here. In fact, Finnish waterfalls are some of the best attractions of this European nation. So, if you are looking forward to visiting some popular waterfalls in Finland, you need to have a list of breathtaking waterfalls here. Here are some of the top picks that will help you visit some magnificent Finnish waterfalls.
Find Below Ten Spellbinding Waterfalls In Finland:
1. Pihtsuskongas Falls
Do not miss viewing the stunning Pihtsusköngäs waterfall, which is famous as the largest waterfall in the country, in Enontekiö municipality when vacationing in Finland. This spectacular 17 meters high waterfall is also well-known as the 'Niagara of Finland' as well as'King of Finnish waterfalls'. Gaze as the waterfalls into a deep canon from a hard rock edge. You can find this fall in Pihtsusjoki River's crystal clear waters and it's located about a couple of km south of Pihtsisjarvi Lake. To watch this breathtaking waterfall, you need to walk about 40 km. You can also view a beautiful rainbow below the fall if you visit it on a sunny day.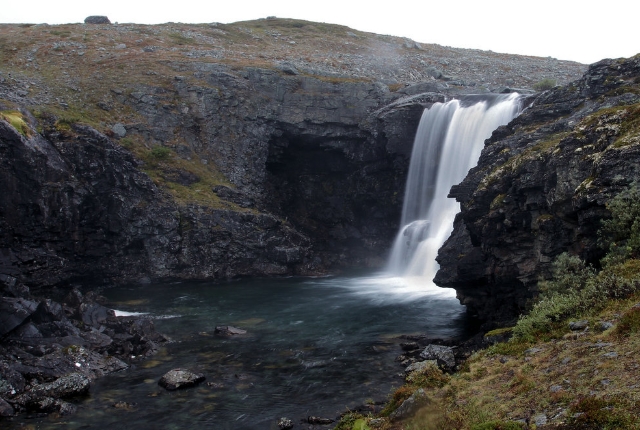 2. Fiellu Waterfall
Plan to visit 26 m high amazing Fiellu Waterfall when in Finland. You can find this impressive waterfall in Northern Lapland. Fiellu Waterfall is the biggest fall in the Kevo Strict Nature Reserve. It's a two-stepped fall that drops its water into the fabulous River Fiellogeađgejohka, from where the waterfalls into gigantic Kevo Canyon. You need hike for about 30 km along the Kevo Trail in the massive canyon of the country. Gaze at the spectacular fall and its enormous surroundings when you visit it.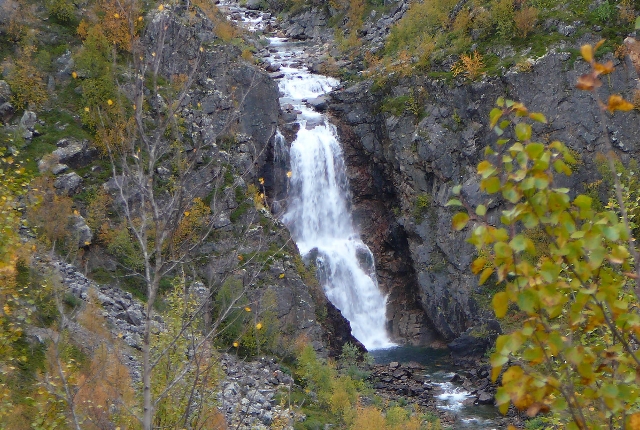 3. Jyrava Waterfall
Visit Jyrävä falls, which is also well-known as the queen of Kuusamo's waterfalls. This 9 m high falls is located in Oulanka National Park and ranks as one of the Finnish elite waterfalls. Spend a relaxing time in the vicinity of this fall listening to the roar of the falling water and watching forest scenery in the vicinity. Approach Jyrävä falls via Karhunkierros Hiking Trail if you want to hear the thundering sound of this incredible waterfall.
4. Ravadas Falls
Take time out of your busy travel schedule to visit Ravadas Falls, which are spectacular waterfalls adorning the Northern Lapland, when in Finland. You can find these falls in Lemmenjoki National Park. Watch stunning site of water of the falls flowing into the Ravadasjoki River that forms several cascades. Go for a boat trip in the upper area of the Lemmejoki River. You are sure to enjoy this thrilling experience of watch the falls via scenic river trip amid the mountain scenery of the incredible park.
5. Kitsiputous Falls
Make sure you visit Kitsiputous Falls, which is popular as the 'tears of Malla' and most probably the highest series of falls that you can find in this country and the most beautiful Finnish waterfall. It located in the Malla Strict Nature Reserve. The waterfall falls in several steps on Malla Fell's southern slope and it is about 100m high. The waterfalls freely as well as in cascades.
6. Putaankongas Waterfall
Visit Putaanköngäs falls, which is one of the most spectacular Finnish waterfalls that you must not miss to visit. You can find this fascinating water in the Oulanka National Park. The unique shape and geology of this fall set it apart from the rest of the falls. It is only one of this kind of waterfall in the country. This 10 m high waterfall possess a good amount of water that makes it one of the brightest attractions in the Oulanka forests. The water flow of Putaanköngäs falls is indeed a sight to behold.
7. Hepokongas Waterfall
Hepoköngäs waterfall is one of the famous falls that you can find in Puolanka when enjoying your vacations in Finland. It is known for its ribbon-like resemblance. Hepoköngäs waterfall is a natural waterfall of about 18 m in height and the only highest waterfall which you can find in the Kainuu region. You simply can't afford to miss visiting this spectacular fall. The breathtaking height and enchanting surroundings of this fall make it one of the prominent tourist attractions in Finland. You can also access this are via lookout platforms and wonderful, well-maintained trails.
8. Kiutakongas Falls
You simply can't afford to miss visiting Kiutaköngäs waterfalls when touring through Finland. You can find this mesmerizing falls in the Oulanka National Park. Kiutaköngäs waterfall is one of the biggest free falls that you can find in Finland. It is well-known as one of the best waterfalls of the nation. It is believed to be the biggest free rapid in Finland having total drop height of 14 metres that is divided along 325 metres. Not just enormous quantity of water adorns this breathtaking falls but also spectacular red dolomite cliff enhances its appearance. Picturesque River and outstanding rugged forest offer you enchanting environment that is sure to please you.
9. Kullaoja Waterfall
One of the most beautiful small-scale waterfalls you can find in Finland is Kullaoja Waterfall. Even though it is small in height and has less quantity of water than other popular falls, it features an impressive site of the flowing water that you are sure to admire. It is situated in the vicinity of lake and surrounded by steep cliffs of a valley. Watch caves and panoramic views when you visit this amazing waterfall. Watch rocks here that are partially covered by green moss imparting it the appearance of falls in the pristine green forests.
10. Komulanköngas Waterfall
Do not miss visiting Komulanköngäs Waterfall, which is also well-known as the so-called segmented waterfall. You can find this exquisite 6 m fall in Hyrynsalmi, and it's popular for its peculiar geology. Syväjoki River is branched in two different stream beds and each stream bed creates its own fall. Also, Komulanköngäs Waterfall has great historical and cultural value. You can find an 1888 constructed old Norse mill, which is still in functioning state, on the top of the northern fall. You are sure to admire this enchanting waterfall and its beautiful surroundings.

Now that you know these ten breathtaking waterfalls in Finland, make sure you visit each one of them during your excursion in this enchanting European country.