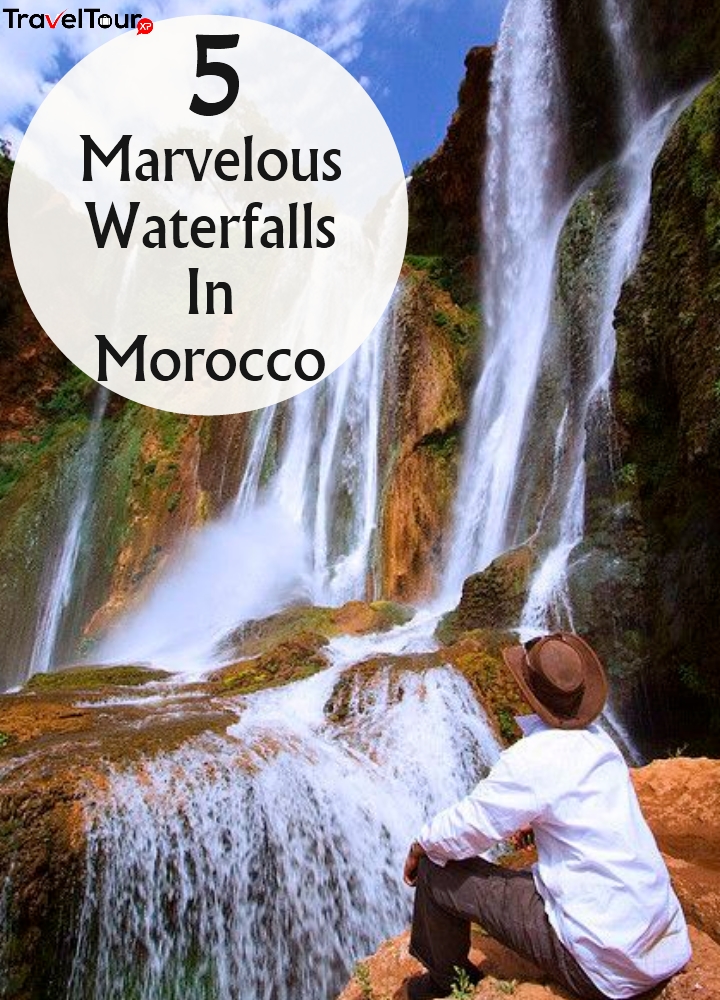 Morocco, a world famous North African nation, is home to some spectacular waterfalls that you simply can't miss to visit when vacationing here. Besides bustling markets, deserts, and beaches, waterfalls are prominent tourist attractions in Morocco and marvelous specialty of Morocco as they adorn the land which is often dry and hot. You can find incredible waterfalls flowing through marvelous mountains and a few tucked away in unexpected destinations. Some waterfalls have pools that offer you wonderful opportunities to enjoy swimming. So, you need to a list of magical waterfalls in Morocco in your hand when planning an excursion in this fabulous country. Here are some top picks that help you learn more about waterfalls in Morocco.
Find Below Five Magnificent Waterfalls In Morocco That You Simply Can't Miss To Explore.
1. Ouzoud Falls
The most popular waterfall in Morocco is splendid Ouzoud Falls, which you can find in the Middle Atlas Mountains in the Azilal province. Plan to visit this spectacular falls during your trip to Marrakech. View this marvelous 100 m high falls by standing at the top of craggy, reddish-brown rocks here. Gaze at the plunging cascades of the falls, which spans around the wild cliffs.
Look down at the fascinating river below, and you will get to see shimmering rainbows and small boats moving over the river.
If you plan to hike at the bottom of Ouzoud falls, then you will get an opportunity to pass through plenty of olive trees, orchards, groves, pomegranate trees, and various species of mosses. A Barbary macaque may approach you expecting some food from you. You can also go for an enjoyable boat trip when exploring the falls at the bottom.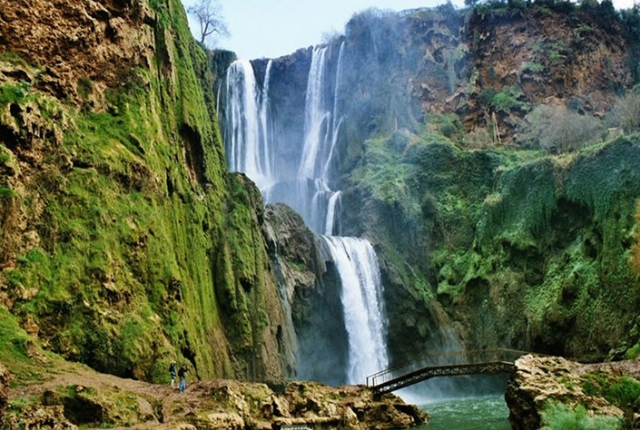 2. Akchour Waterfalls
Make sure you visit amazing Akchour Waterfalls that you can find in the Rif Valley in the vicinity of the charming town of Chefchaouen. Enjoy swimming in the enchanting fall and pool here. Spend a day in Chefchaouen and enjoy hiking to the Akchour to watch spellbinding series of waterfalls that end in the arch of red rock stone. You can find pinkish rocks, olive trees, and wonderful hibiscus flowers while hiking here. Click photos of this mesmerizing falls and its stunning cascades. Water here cascades from 30 m high in the rocks and ends up in the pool at the base. Enjoy swimming in the pools to your heart's content.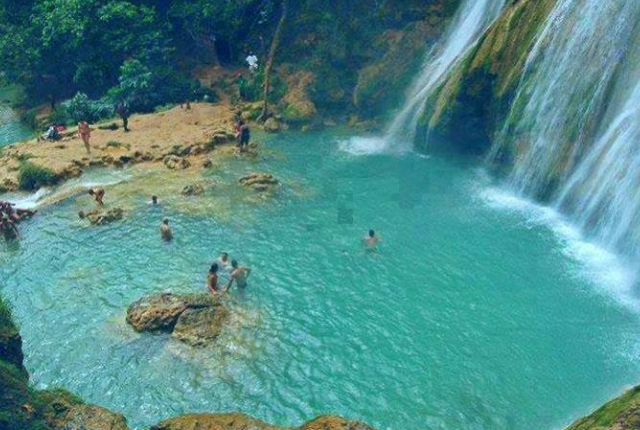 3. Paradise Valley Waterfalls
Even though Paradise Valley waterfalls are small, they look impressively beautiful and stunning that you simply can't afford to miss exploring these falls and marvelous pools. Watch clear water flowing over the rugged rocks as water splashes into shiny, splendid, green-blue pools. Climb picturesque valley to find a tranquil location to spend wonderful time in this paradise of this falls. Get into the sparkling waters of the pool to enjoy a pleasant dip, bask on smooth rocks under the sun, and enjoy standing in the waters of small falls for a pleasant natural shower.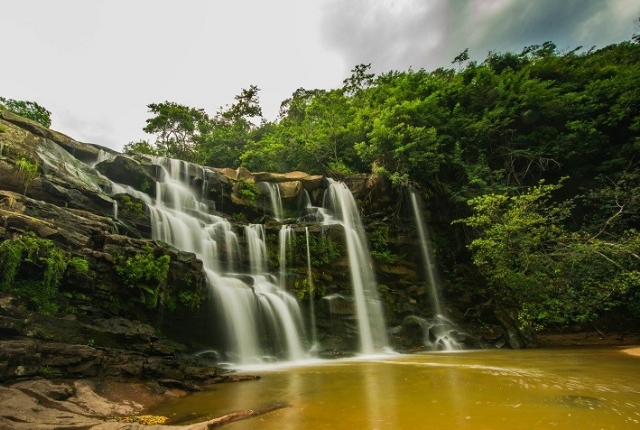 4. Ourika Valley Waterfalls
Nestled in the base of Atlas Mountains, Ourika Valley waterfalls is indeed eye-catching attraction for visitors. There are total seven falls. You can find beautiful falls at Setti Fatma, scenic hiking trails, and several restaurants along the river to have a good time. As you climb up, you will find plenty of waterfalls whose size increases the higher you move. As you watch the falls, you will find that each of the seven waterfalls gets increasingly beautiful then previous. Do not miss dipping your toes in the chilly pools. Enjoy swimming in the wonderful waters of the larger pools.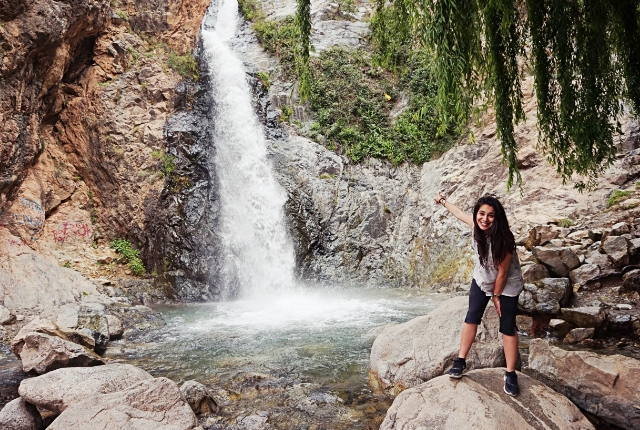 5. Oum Rabia Waterfall
Do not miss visit spectacular Oum Rabia waterfall that you can find in Khenifra province in amazing Morocco. Watch shiny water falling with force on brown-red rocks and flowing into gigantic, brown water Oum Rabia River, Morocco's one of the largest river. Watch traditional wooden homes, scenic greenery, and pleasant olive trees as you hike in the valley in the vicinity of this fall. Gaze at the rocky landscapes surrounding this outstanding Oum Rabia falls. Enjoy trailing your toes in the cool water of the falls as you try get near it.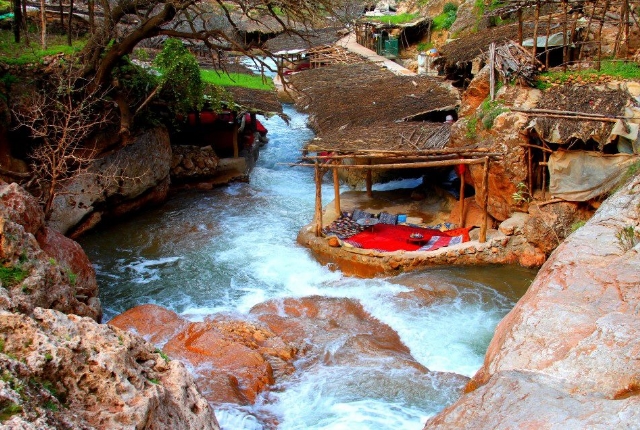 Now that you know these five enchanting waterfalls in Morocco, make sure you enjoy visiting each one of them during your excursion in this North African country.