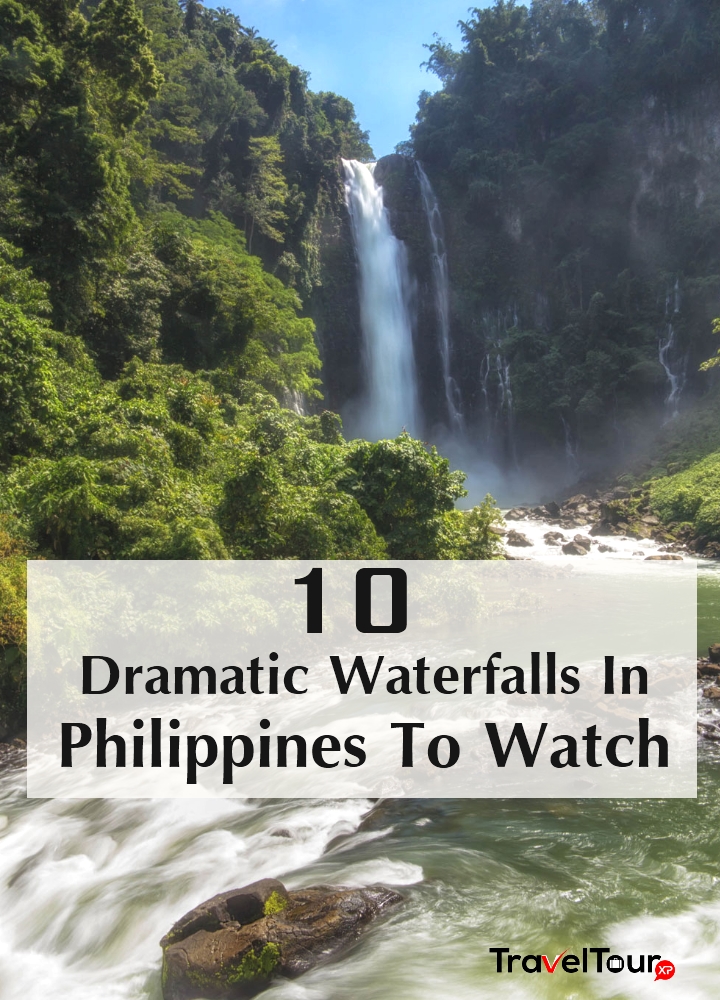 Graced by enchanting waterfalls, Philippines is one of the most popular tourist destinations on the globe. This Southeast Asian country of Philippines not only attracts tourists to explore its gorgeous islands, amazing cities, incredible church, and waterfront promenade, but also draws lots of its visitors to pay a visit to some scenic waterfalls that enhance the charm of Philippines. So, if you have plans to explore the enchanting land of Philippines soon, you need to have a list of dramatic waterfalls that you must visit. Read on to learn about from popular waterfalls in this beautiful Southeast Asian country.
Find Below Top Ten Most Scenic Waterfalls In Philippines That You Must Not Miss Visiting:
1. Seven Falls, Lake Sebu
Make sure you visit Seven Falls, which are well-known for being 7 interconnected waterfalls flowing in a single area in Lake Sebu in South Cotabato. You can access the first five of these falls by foot. Begin your walk to Hikong Alo, which is popular for being the widest among all falls. Move down about 774 steps trail to the other fall i.e Immeasurable Falls, which is famous 21 m high Hikong Bente. If you are good at trekking you can follow the track and explore the 3rd, 4th, and 5th fall too. Do not miss going for a zipline ride at Hikong Alo where you fly from 180 m to the Immeasurable Falls.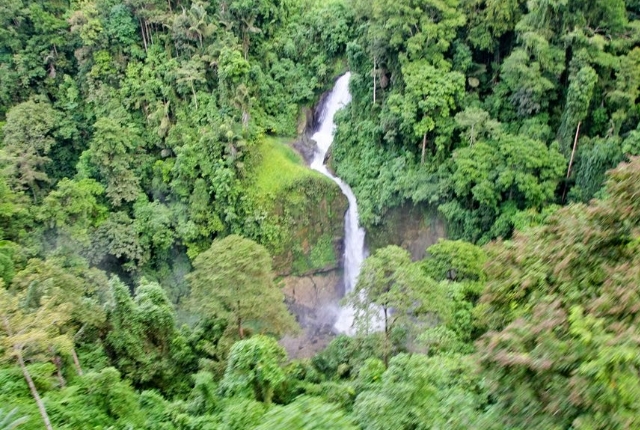 2. Asik-Asik Falls, Alamada
Plan to visit Asik-Asik Falls that you can find in Alamada municipality in the North Cotabato. The specialty of this fascinating fall is water springs from a magnificent rocky mountain which is adorned by flowering vines. Gaze at the tallest 25 m high cascade here. The small cascades are about five meters. Beautifully tucked in forest gorge, the entire waterfall covers about 130 m.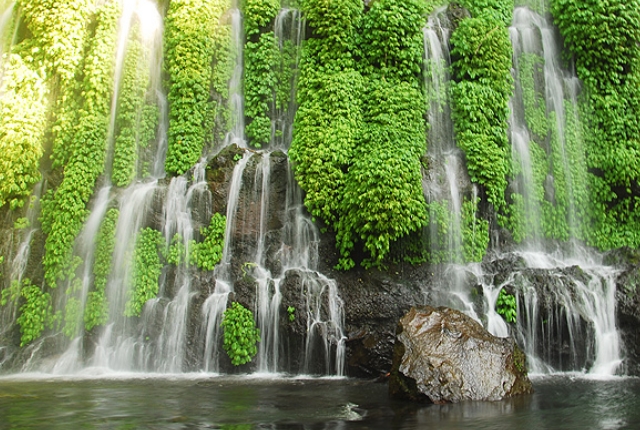 3. Dodiongan Falls, Iligan
Dodiongan Falls is a fascinating sight to behold. At the first glance, this waterfall appears like a pair of archangel wings that is about to spread the wings. This breathtaking waterfall is about 20m high and it is known for generating heavy current. Having a close-up look, you will discover that the water glides via an angled rock wall, with a projecting rock in the middle dividing the cascade. Gaze at a couple of thin streams of water.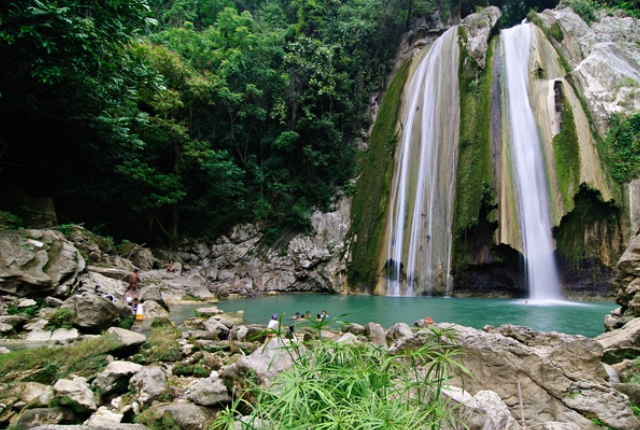 4. Tinuy-An Falls, Bislig
Gaze at enchanting Tinuy-an Falls that appears like white curtains as the water falls into its basins. This dramatic waterfall is popular as the Niagara Falls of the Philippines. Its wall spans over 95 m so it is also well-known as the widest waterfall in Philipines. You will find that this 55 m tall Tinuy-an Falls comprises three tiers, and the second tier is popular for being the tallest and comprises the largest pool. Enjoy raft riding to explore the falls and feel the magical water. If you visit it in the morning, then you might observe a rainbow shining across the wall.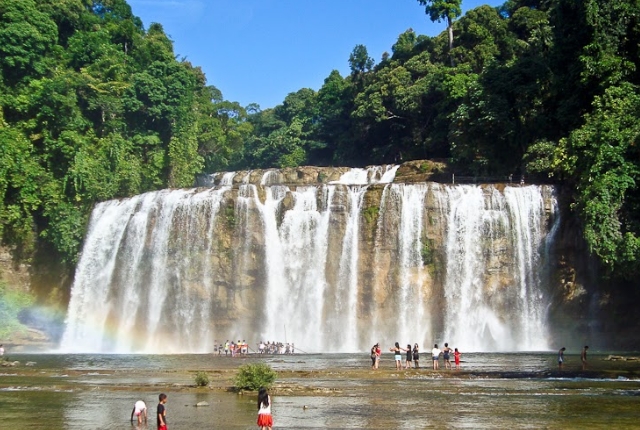 5. Maria Cristina Falls, Iligan
Another breathtaking waterfall in Philippines is Maria Cristina Falls, which is popular as the second highest falls in this Southeast Asian country. It is situated in the National Power Corporation nature park. You can watch several cascades that split into two as the water runs through a big rock at its edge. This raging water is electricity source for the fabulous Iligan City. A hydroelectric plant taps this waterfall's cascades and you can watch stunning view of the falls. Do not miss clicking the photos of this spectacular waterfall when visiting it.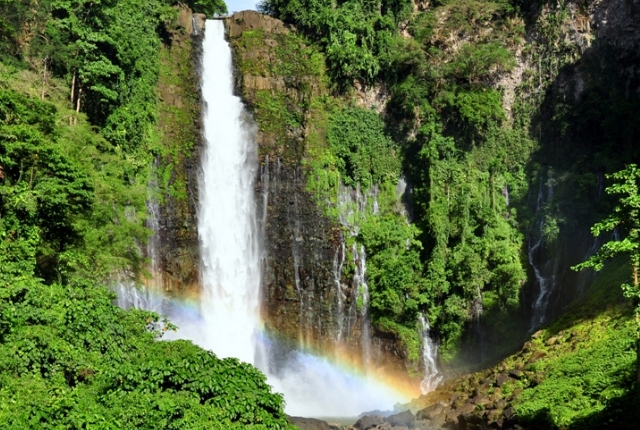 6. Katibawasan Falls, Camiguin
Do not miss visiting incredible Katibawasan Falls when in Philippines. You can find it at the base of Mt. Timpoong. Not only clear, spectacular cascades adorn this fall but also beautiful orchids, trees, ferns, and boulders present in the vicinity of its green pool makes it a sight to behold. Make sure you go for a refreshing dip in the cold waters of this waterfall. It is a perfect picnic spot to visit. Do not miss hiking and trekking here.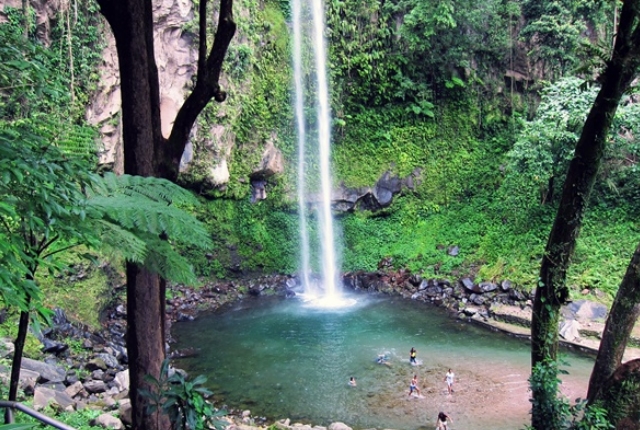 7. Tumalog Falls, Oslob
Enjoy playing the cold waters of spellbinding Tumalog Falls that you can find in Cebu. The fine cold water strands cascade from stone formations that resemble umbrella. Get under one of the cascades and enjoy the shower of naturally flowing water like rain. This waterfall is also well-known as Mag-Ambak Falls. Do no miss visiting famous whale shark watching site in its vicinity when you visit this stunning waterfall in Philippines.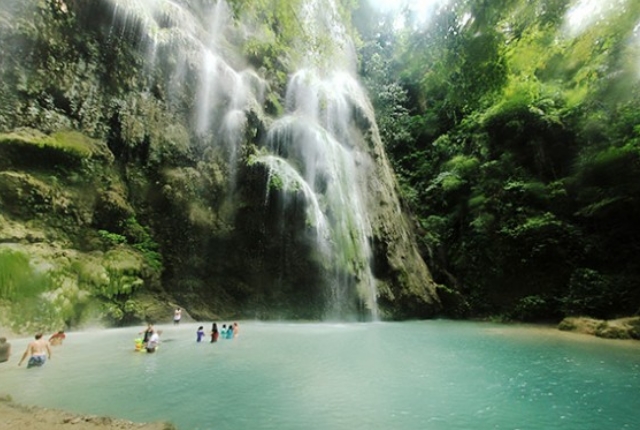 8. Cambugahay Falls, Lazi
Make sure you do not miss viewing spellbinding Cambugahay Falls in Lazi when vacationing in Philippines. This grand, tall fall comprises amazing series of cascades, with some cascades of about two meters high. Clear, calm, and warm water of the fall create an idyllic environment for the visitors to spend a pleasant time at this enchanting waterfall, which form the biggest and deepest pool. You can enjoy climbing to the top for exploring the shallow waters. Plan to visit Cambugahay Falls in the months of summer, as the water here turns aqua green during this time.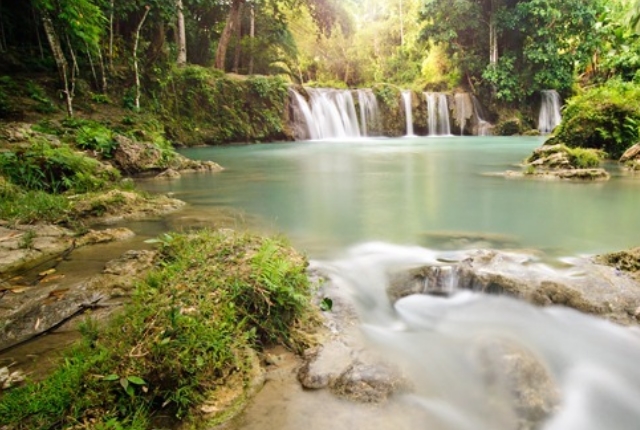 9. Buruwisan Falls
If you are longing to enjoy the thrill of rappelling on an outstanding waterfall, then make sure you visit Buruwisan Falls when holidaying in fascinating Philippines. This 55 m high Buruwisan Falls is an ideal destination to enjoy water rappelling to the fullest. You can grab on to the long vines that grow on the walls if you want to seek a safer alternative. Do not miss going for a refreshing dip in the emerald green pool. Watch lush green scenery which is adorned by ferns and moss in the vicinity. You can also enjoy the fun of camping over here.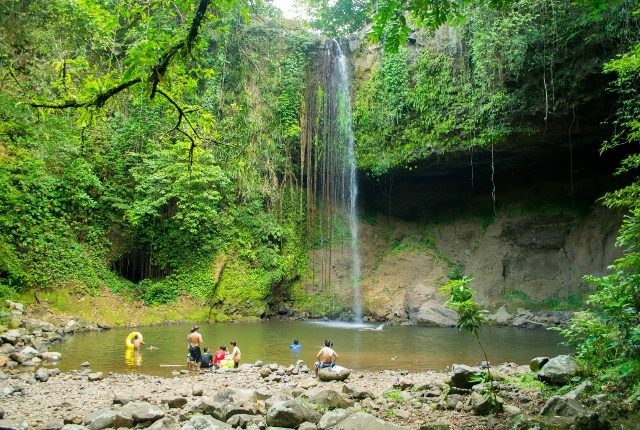 10. Cat-Umantad Falls, Candijay
Another spectacular waterfall that you simply can't afford to miss viewing when spending your vacations in Philippines is Cat-Umantad Falls, a fascinating natural wonder. This three-tier waterfall is about 45 m high. The topmost layer comprises thick waters that fall over a deep edge and cliff. The second cascade is wider and flows out to a ground towards a stream. The third cascade is the smallest. The entire waterfall is indeed a sight to behold. Do not miss the fun of swimming in the enchanting basins here. Also, you can have fun of camping in the charming area across the stream.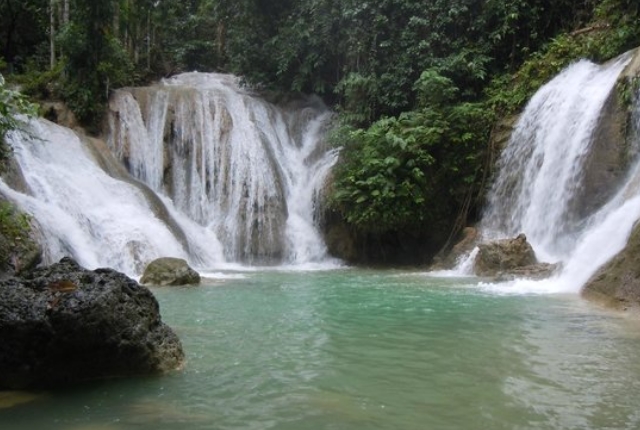 Now that you know these ten incredible waterfalls in Philippines, make sure you visit each one of them when vacationing in this Southeast Asian country.