Singapore, a small city state is known for its luxury extravagance, beautiful buildings, fast and convenient public transportation system and of course, some wonderful hotels and fine dining restaurants. It is a major tourist hub and is considered a futuristic city that has made major forays into the tourism industry. Singapore's history, its old ethnic quarters and varied family friendly attractions have attracted numerous tourists over the years. If you are also planning a trip to Singapore, start booking and here is a list of 10 wonderful places to visit in the city.
Here Are The 10 Wonderful Places To Visit In Singapore:
1. Marina Bay Sands
One of the finest examples of Singapore's cosmopolitan nature, Marina Sands Bay is a true reflection of its extravagance, opulence and lavishness. The complex is a landmark structure and consists of a luxury hotel, a mall with famous luxury brands and a number of high-end boutiques.
The Marina Bay Sands skypark is a vantage point that offers unbelievable views of the city.
The viewing deck also has an infinity pool but it is exclusively accessible to the hotel's guests. And if you are looking to enjoy with some food, grab a snack or coffee from the rooftop restaurant and take in unforgettable views of the innovative double helix bridge, the Gardens by the Bay and also the Singapore Port.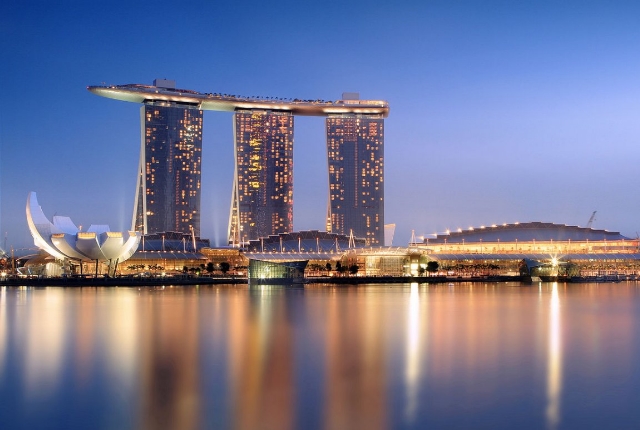 2. The Merlion
A mythical symbol of Singapore, the Merlion has become synonymous with the city.
It is a 70 tonne water spouting statue that has become a must visit place for every tourist.
Offering great views and fantastic photo opportunities, the Merlion is a focal point of Singapore. The terraced seating area around the statue is a great place to sit and relax as you enjoy lovely views of the water.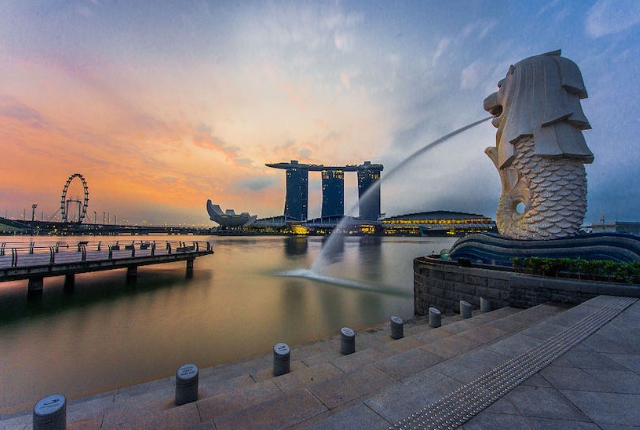 3. Gardens By The Bay
Located in Singapore's Bay Area, the Gardens are a major attraction of the city. Designed with a futuristic theme, the park is not only huge but is extremely beautiful.
One of the most famous areas at the park consist of the Supertree structures that create an impressive skywalk over the garden.
These are iconic clusters of futuristic trees that are designed to be environmentally sustainable. The Bay East Garden is perfect for enjoying the fresh greenery and the Cloud Forest Dome has the world's tallest indoor waterfall. With a variety of plant species on display, this place is going to amaze you.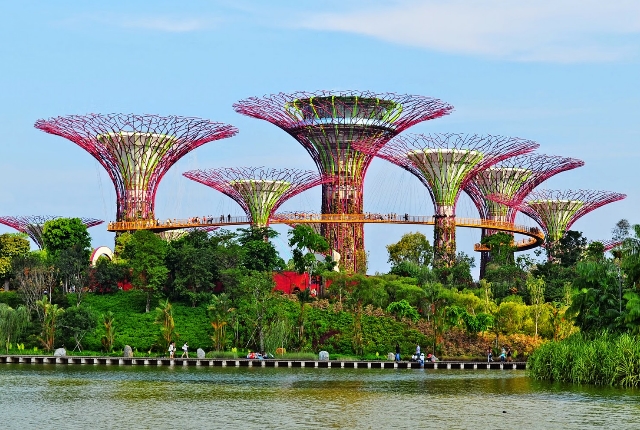 4. Singapore Zoo
Touted as the world's best rainforest zoo, Singapore Zoo is an extraordinary place. In many places, animals have been kept in their natural habitats and the entire facility is quite spacious, offering best treatment to the animals.
The white tigers, kangaroos, a komodo dragon, a big chimpanzee family and kangaroos are the most popular attractions here.
If you are looking to witness wildlife from close quarters, choose the Night Safari that allows visitors to take a River Safari through a giant panda forest and also visit the Jurong Bird Park.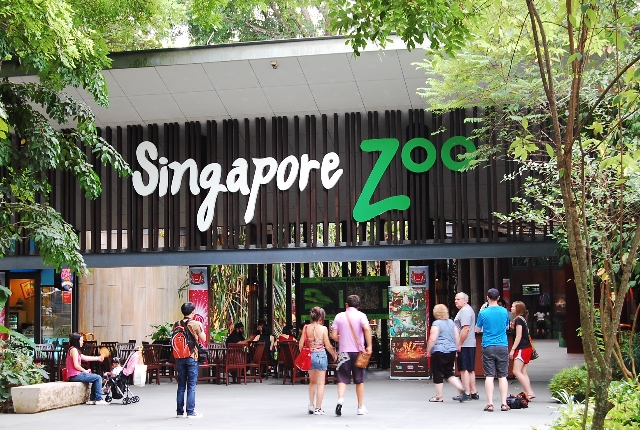 5. Singapore Flyer
A giant observation wheel, Singapore Flyer is the world's largest observation wheel and offers breathtaking views of the city.
A unique observation deck, built over a three story building, it is 165 meters high and has a diameter of 150 meters.
There are different types of packages that allow you to witness the glory of Singapore and you can choose between day and night flights. The package also includes access to a multimedia Journey of Dreams exhibit that informs tourists about Singaporean history and culture along with a report on how the Flyer was created.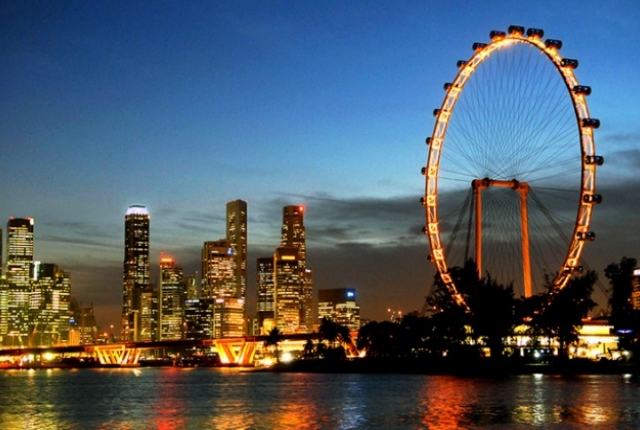 6. Universal Studios Singapore
A one-of-a-kind theme park in south-east Asia, Singapore's Universal Studios is the perfect place for family entertainment.
Zoned according to themes such as Hollywood, Lost World, New York, Ancient Egypt and Madagascar, there are more than 20 attractions at the park.
It has some of the biggest and the most exciting roller coasters in the world. Water parks, merry-go rounds and other rides are ideal for keeping kids busy.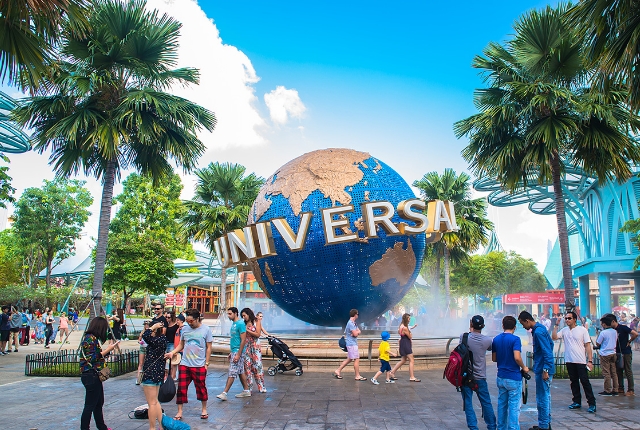 7. Chinatown
Chinatown is a little replica of China. A bustling neighborhood of Singapore, it is home to thousands of Chinese immigrants who helped to establish the city. It is a major shopping district with shops selling a varied range of souvenirs, trinkets and authentic Chinese products.
Tourists flock to this place to collect keepsakes. Besides, the lure of mouthwatering Chinese food at Chinatown is hard to ignore.
The area not only has plenty of restaurants, it also has vendors selling different types of authentic Chinese delicacies. The Chinatown Heritage Center is a great place to know more about Chinese history in Singapore. Buddha Tooth Relic Temple, Thian Hock Keng Temple and Eu Yan Sang Chinese Medical Hall are other areas of interest for the tourists.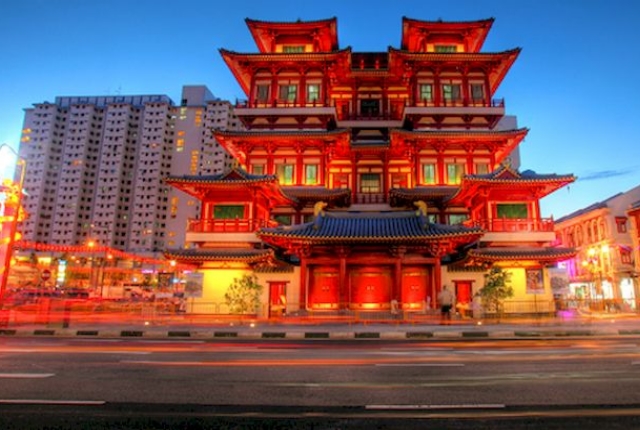 8. Little India
Singapore is known for its diversity. While there is a very strong Chinese community on one side, it also has a Little India, a neighbourhood dominated by migrant Indians. More than 200 years old, this vibrant neighbourhood his thriving with energy, excitement and colourful charm. It is a shopper's paradise and the famous Mustafa Center which is open 24 hours a day is always busy with tourists collecting knick-knacks. The food from the Indian restaurants here is also remarkable.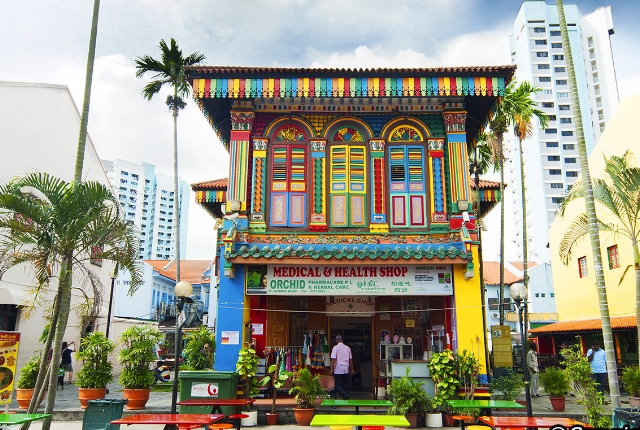 9. Changi Chapel and Museum
The Changi Chapel and Museum allows you to delve deeper into Singaporean history. It is a testament to the horrors of Japanese occupation during World War II. It has memoirs, paintings, drawings and letters depicting the tough conditions of civilians as well as soldiers in Changi prison.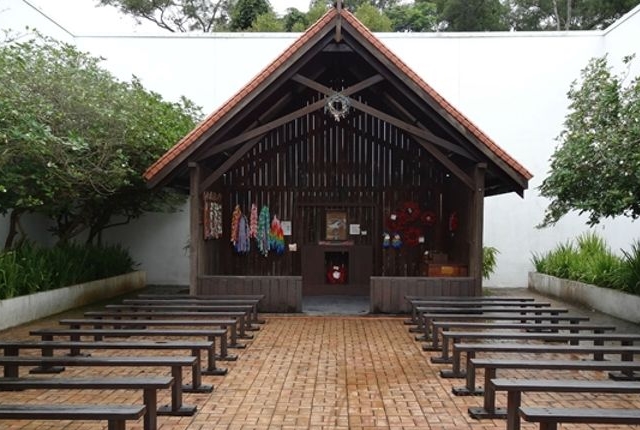 10. Raffles Hotel
A historic landmark of Singapore, Raffles Hotel is known for its great hospitality, service and celebrity guests. An old colonial building constructed in 1887, its classical architecture and beautiful tropical gardens keep its old world charm alive. It has hosted renowned literary luminaries such as Joseph Conrad and Rudyard Kipling. Famous movie stars Charlie Chaplin, Elizabeth Taylor, rockstar Michael Jackson, Queen Elizabeth II are some of the other known guests of this beautiful hotel. Over 40 designer boutiques and stores are also located at the Raffles Hotel and many consider it a major shopping destination for picking up branded products.