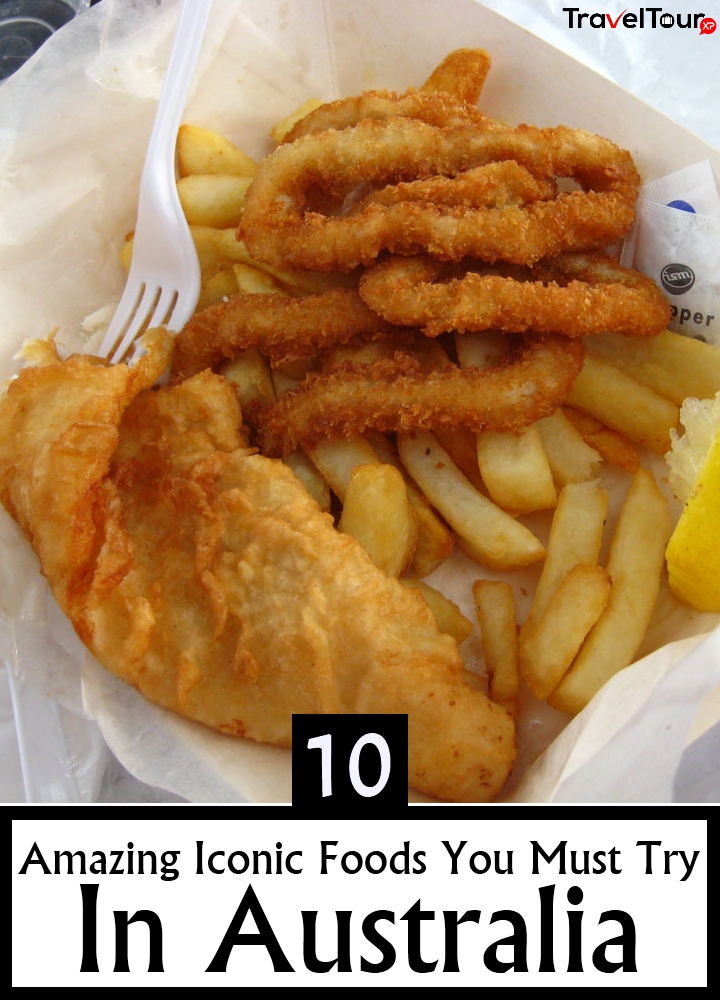 A tourist haven, Australia is teeming with millions of visitors throughout the year. And visitors are certainly interested in good food. The country therefore, has plenty of renowned restaurants, high street cafes and plenty of eateries serving mouthwatering delicacies. Australia is a place to sample incredible food and whether you attend a family function or a leisurely brunch, there are certain iconic foods that will always make its way to the table. Whether it is the light dessert Pavlova or the flaky meat pies, there is something for everyone.
Let's Find Out 10 Amazing Iconic Foods That You Must Try In Your Next Trip Down Under.
1. Pavlova
Without a doubt, the Pavlova is the numero uno food on the must-try list. It is an iconic food and has been named after the famous ballerina Anna Pavlova. The Pavlova is a meringue with an absolutely velvety center and topped with tangy passion fruit pulp. It is a beautiful dish decorated with whipped cream and different types of fresh fruits. It is generally served during the summer months and is a very light dessert that can be gobbled up even after a heavy meal. The Pavlova is such a hit that it has strongly cemented its place in modern Australian cuisine and royally rules the food world.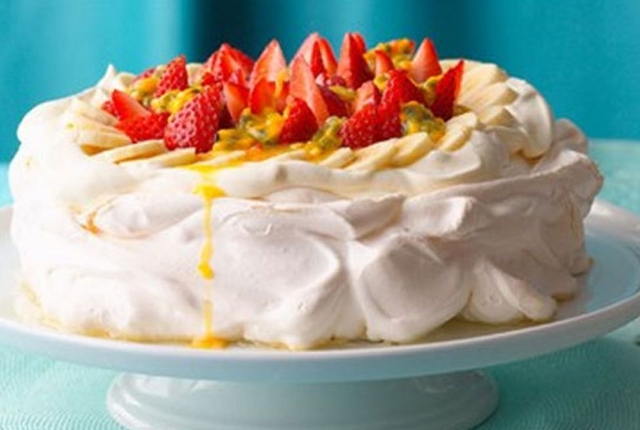 2. Anzac Biscuits
Another iconic food that is almost synonymous with Australian food is Anzac Biscuits. It is a biscuit with a bit of history. The biscuits made its way into mainstream Australian food during the First World War. Made with oats, honey, butter, coconut and flour, these biscuits were prepared to last longer on sea voyages. Soldiers often had to embark on long journeys across the sea and needed a lot of nutritional food to keep them energetic. The Anzac Biscuits, initially prepared by wives of soldiers, thus made its way into the food world and are still considered healthy snacking options. So, go grab a packet of Anzac Biscuits and take a bit of Australian history.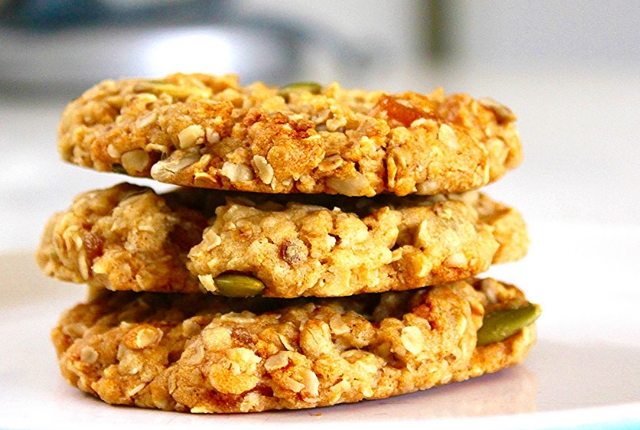 3. Lamingtons
A typical sponge cake covered in chocolate icing and rolled in desiccated coconut, Lamingtons are sometimes called the National cake. An ideal accompaniment with tea or coffee, Lamingtons are served by upmarket as well as local cafes and restaurants all over the country. It is said that in older times when people used to fret over food wastage, leftover cakes were used to make these wonderful delicacies. A new variety of Lamingtons have also made its way and it consists of cakes with a layer of cream or jam in the middle. It is more like cream cakes or biscuits that are quite popular.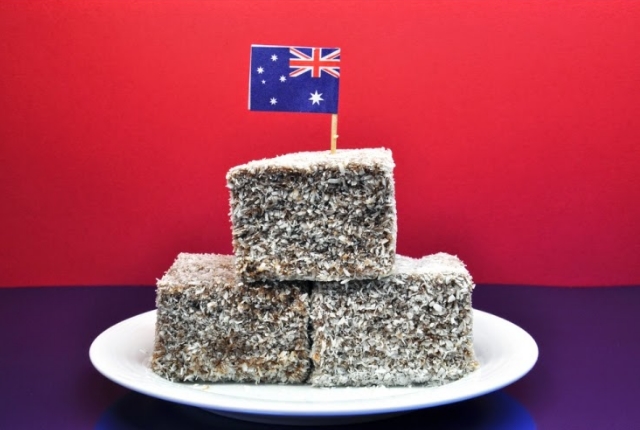 4. Fish n chips
Another famous Australian staple is the fish n chips. It is extremely popular and is savored on beach holidays. The country has no dearth of fresh seafood and therefore, you can choose any fish you like, batter fry them and serve it with a dash of salt and lemon juice. It is typically accompanied with potato chips and different types of dips, according to taste and preference. While some like the garlic sauce, others may simply have it with ketchup, mustard sauce or chilli sauce. Fresh salads are also perfect with a batch of hot fish n chips.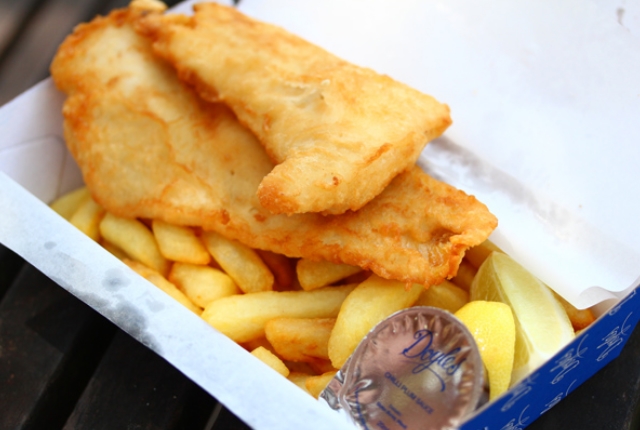 5. Barbecued Snags
Australians love to barbecue throughout the year. Their love for grilled and charred meat creates an awesome dish called Barbecued snags. It is a traditional staple foods made with beef or pork mince. Flavored with different types of spices and herbs, it is shaped like a sausage and barbecued. It is generally served with a tomato sauce or rolled between two slices of bread. Onion fries, chips and garlic sauce makes these barbecued sausages even more delicious. A favorite of barbecue parties, the snags can be tried anytime.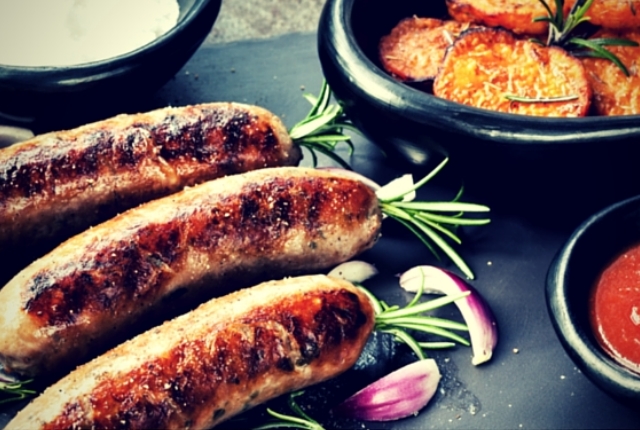 6. Prawn Starters
Just like its fish, Australian prawns are soft, succulent and extremely delicious. So, whether you simply roast a few tiger prawns and serve with a dip and a dash of lemon or make delightful prawn cocktails, all of it will be highly appreciated. In fact, prawn cocktails have made its way to other parts of the world as well and is a favorite for many. Served in small shot glasses and layered with mayonnaise and tomato dressing, it is a delightful dish and must be tried by everyone. Australians love to have prawns and it is one of their most iconic foods.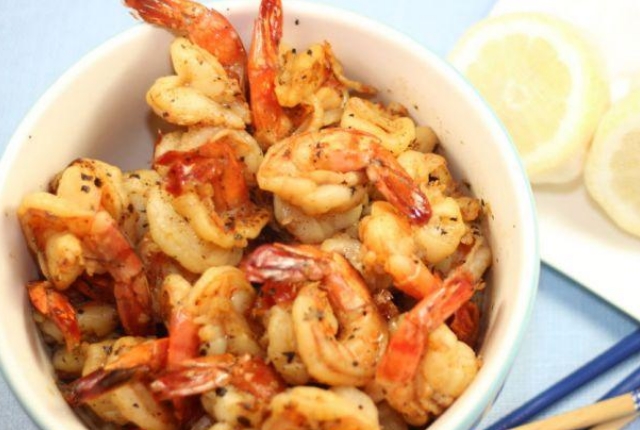 7. Sausage Rolls
A staple Australian lunch often consists of sausage rolls. These are simple pastries made with a sausage or meat filling. It is oven baked and served with tomato ketchup and salads. The dish has been largely adapted in recent times and includes a lot of innovation now. Besides, different eateries prepared varied versions of this all-time favorite and serve unique treats.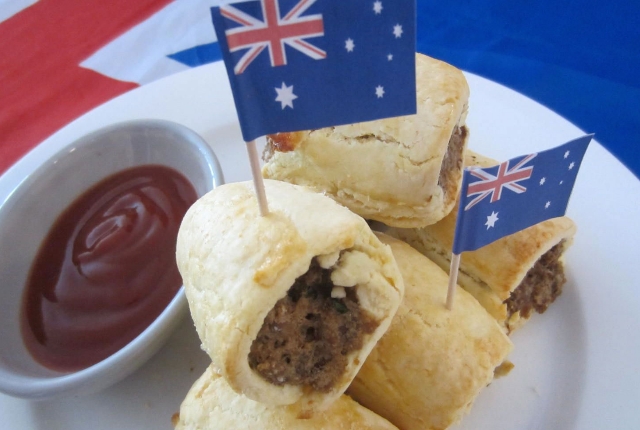 8. Meat Pies
Another famous Australian iconic food is the meat pie. Although, the dish did not originate in the country, it was initially sold in street carts by vendors. Now, it is a must-have dish for everyone in the country. It is prepared for picnics, family gatherings and house parties. Different gourmet restaurants have prepared varied versions of the meat pie and often serve it as a special dish. Gourmet bakeries have also started preparing this flaky pastry filled with a delectable meaty gravy.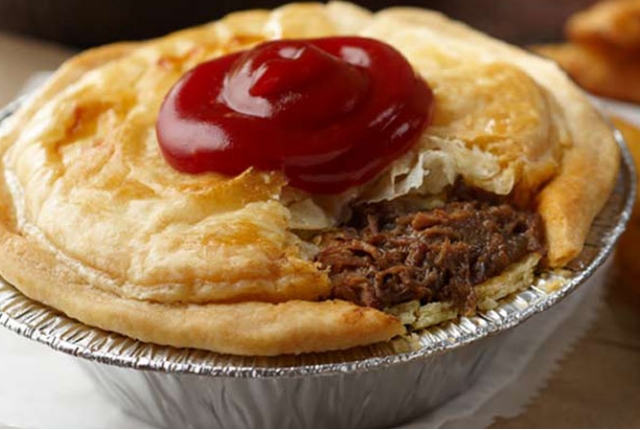 9. Kangaroo And Crocodile Meat
The national animal of Australia also makes delicious meat dishes. The low fat meat of kangaroos is often preferred by locals. It is used to prepare awesome grilled items and is a common ingredient for barbecue parties. The meat is flavored with garlic, rosemary, juniper and pepper. Fruity flavors from orange, red currant and plums are also used for preparing the kangaroo meat. Similarly, crocodile meat is also served as a delicacy in numerous upmarket restaurants.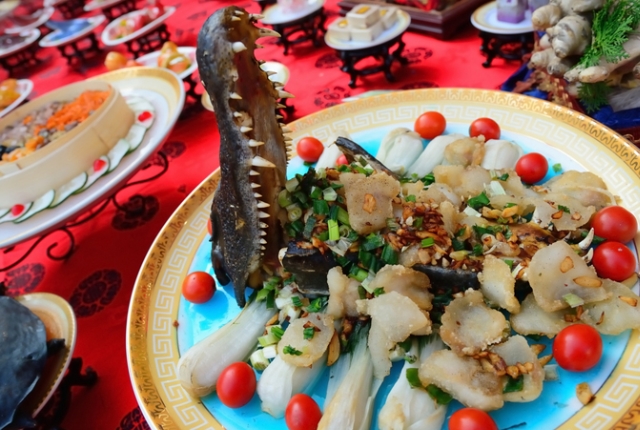 10. Vegemite
A tasty spread for breads and toasts, Vegemite is liked by everyone in Australia. It is a savory treat made with yeast extract. Introduced to the Australian culinary market in the 1920s, it is a household favorite now. Packed in attractive jars with a yellow label and lid, it is slight salty and sugary taste perfectly complement bread toasts.