Guyana is a beautiful country on the North Atlantic coast of the South America. It is full of dense, lush green rainforests and impressive wildlife. Culturally it is related to the Caribbean area. Georgetown is the capital of Guyana and it's widely popular for its British colonial architecture and spectacular St. George's Anglican Cathedral. English is the first language of this nation and cricket is its national sport. Amazing architecture, scenic landscapes, worth-visiting markets, unique animal life and tradition and culture attract lots of tourists worldwide to explore Guyana. So, let's have a look at some of the fabulous tourist destinations that you visit should when in Guyana.
Find Below Nine Interesting Tourist Spots In Guyana To Explore.
1. Iwokrama Rainforest
Iwokrama forest is well-known for being one of the four last untouched or pristine tropical forests on the earth. This dense forest stretching over one million acres is popular for being the homeland of the Makushi community of people that have been utilizing this forest for several generations. You get to see the footsteps of Makushi individuals here. Discover unique, rare flora and fauna here. Iwokrama forest gains the fame for being an extraordinary attraction for the bird-watchers, naturalists, scientists, adventurers, and for the individuals looking for exploring untouched forests. It is also widely popular as the 'Green heart of Guyana'.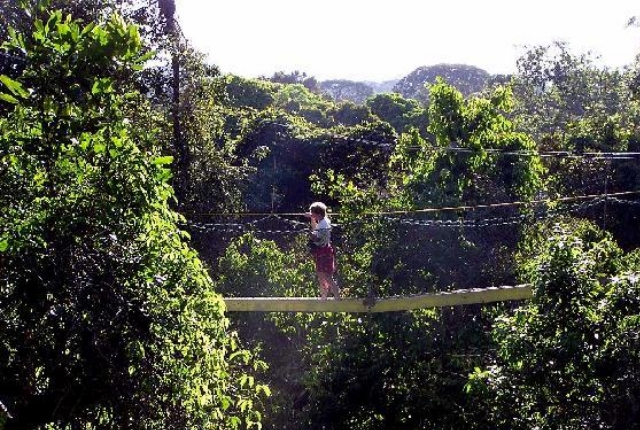 2. Kanuku Mountains
Kanuku mountains, whose name means 'forest' in Wapishana language, are regarded as one of the last untouched habitats in the Amazon by the Conservation International.
In these 3,000 feet stunning, tall mountains, you get the rare opportunity to watch 60% of bird species and 150 species of mammals present in the Guyana. Impressive
Harpy eagle, Giant otter, and Arapaima are some of the unique and endemic species of wildlife that you get to see in Kanuku mountains.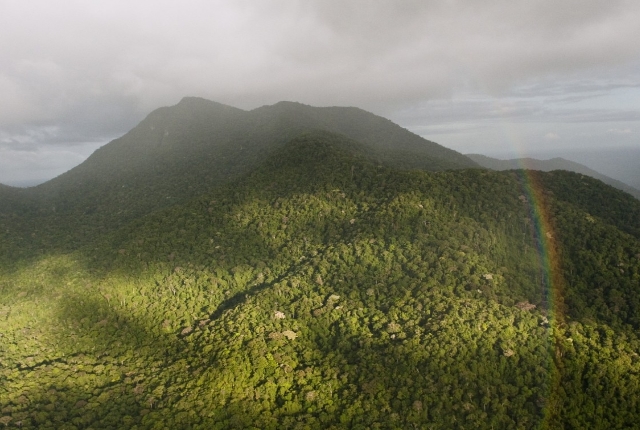 3. Shell Beach
Don't miss visiting the Shell Beach when in Guyana as it is the best place to explore and watch exquisite nature. Atlantic seacoast outlines this exquisite beach which is popular for housing a unique ecosystem. Don't miss rare opportunity to watch the planet's biggest reptile i.e. the leatherback turtle as this area is their nesting site.
These gigantic turtles weigh about 750 kgs and look amazing. You also get to watch Mangrove forests, savannahs, and swamp forests at this 90 miles long beach.
This is one of the few destinations in the world where you see beautiful nature, discover Amerindians, and prowling jaguars.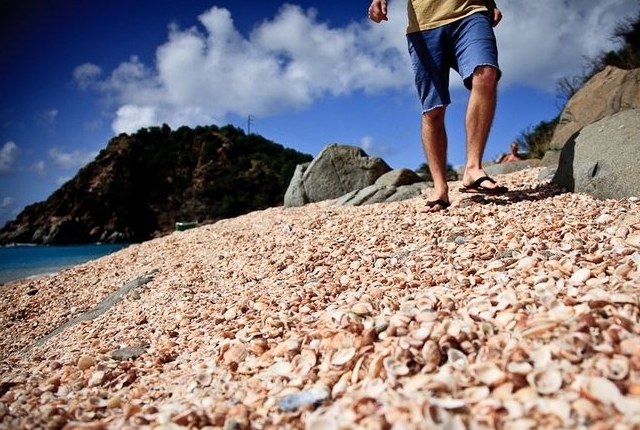 4. Georgetown
Watch impressive British colonial architecture at Georgetown, the capital of Guyana. You get to see old Dutch canals outlining the city roads, exquisite stilted wooden houses that date back to 19th century in the vicinity of the streets, and the tallest church St. George's Anglican Cathedral. Explore amazing markets, visit impressive museums, eat fascinating restaurants, shop at stylish and trendy stores in Stabroek Market, and watch ancient, historic monuments. The stunning lighthouse, fabuous Parliament Building, and awe-inspiring City Hall are other worth-seeing tourist spots in the Georgetown. See enchanting Demerara harbor Bridge, world's extensive floating bridge here.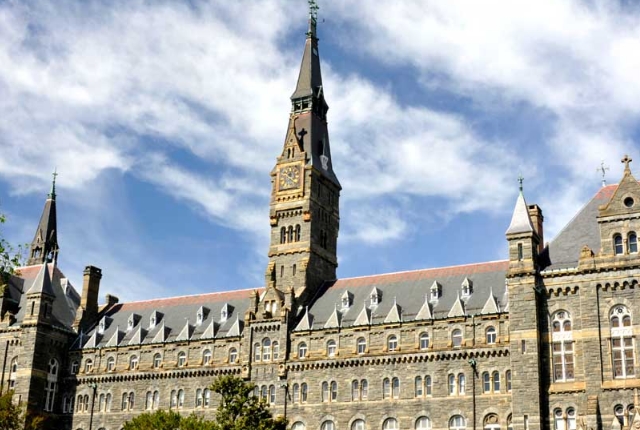 5. Surama Village
Do you want to explore the traditions and culture of Guyana? Make sure you visit the Surama village and watch the lifestyle of people of Macushi tribe. Get an impressive insight into the culture and tradition of Amerindian individuals. October to March is the best time to visit this fabulous village.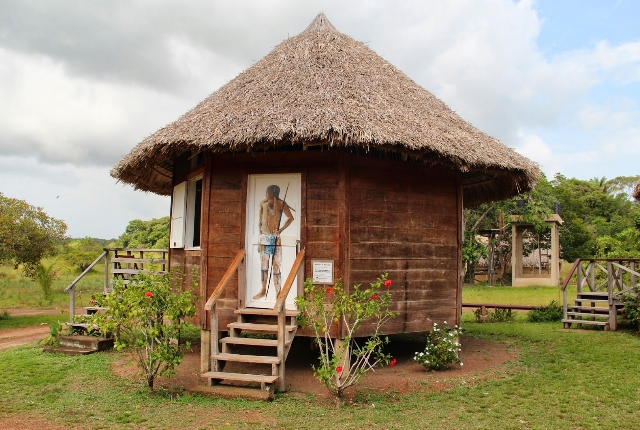 6. Kaieteur Falls
Don't miss to watch the most powerful, fabulous, and tallest waterfalls on the earth by visiting the Kaieteur Falls in the Kaieteur National Park in the Guyana. It is the biggest single-drop fall by volume on the earth. Watch stunning site that features the blend of height and force of water. Kaieteur Falls is about four times taller than the gigantic Niagara Falls.
This breathtaking waterfall is an impressive facet of long, coffee-colored Potaro River that flows about 140 miles.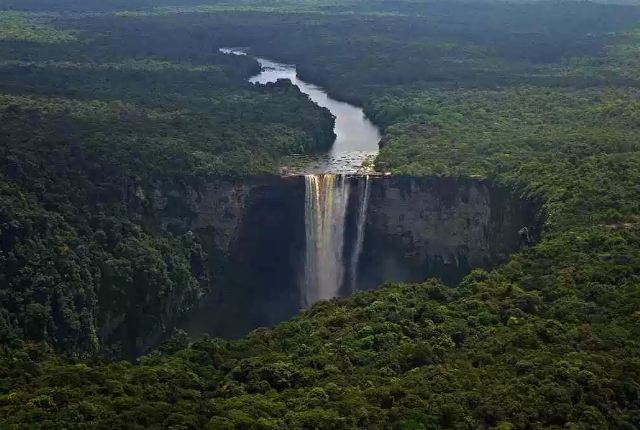 7. Mount Roraima
Watch incredible Mount Roraima which is the triple border point of Venezuela, Guyana, and Brazil. Its enchanting sheer-cliff top offers you impressive views. The table-top mountains of Mount Roraima are world famous as the oldest geological natural structures on this planet. This is an interesting destination for expert climbers and geology enthusiasts.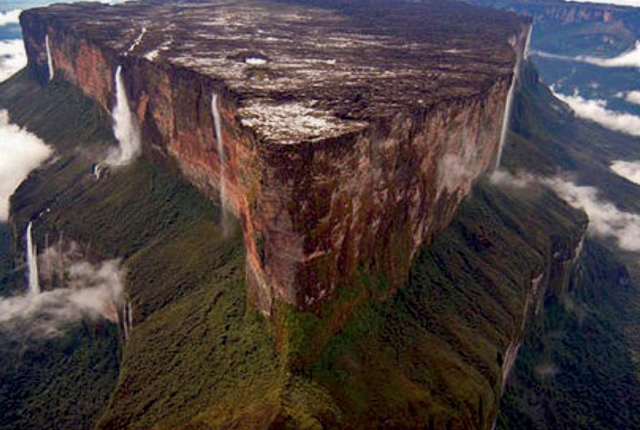 8. Orinduik Falls
Orinduik Falls is popular as one of the hidden jewels of Guyana. This enchanting waterfall cascades over the semi-precious jasper rocks to pleasant river flowing beneath it. Cascading effect and the rolling green hills in the vicinity makes Orinduik falls one of the breathtaking waterfalls of the Guyana. The awe-inspiring site of the Orinduik Fall, the natural Jacuzzi at its foot, and surrounding lush green rainforest will you awestruck.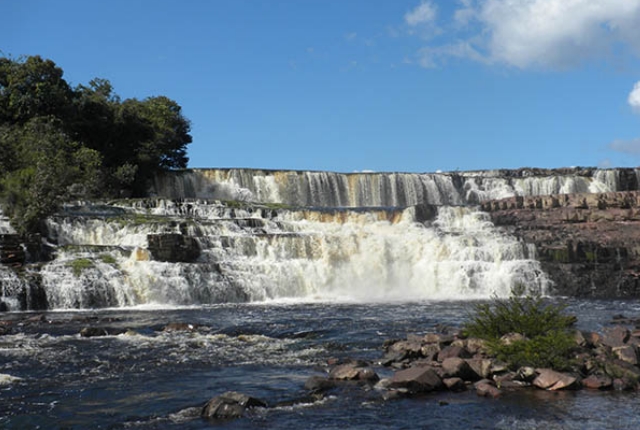 9. Turtle Mountain
Visiting the Turtle mountain in Guyana offers you some unique sites that may make you hold your breath. Watch impressive views from these mountains as far as you can view the forests. Some of the jaw-dropping moments here include the site of jaguar, enchanting eagle in full flight, and group of monkeys.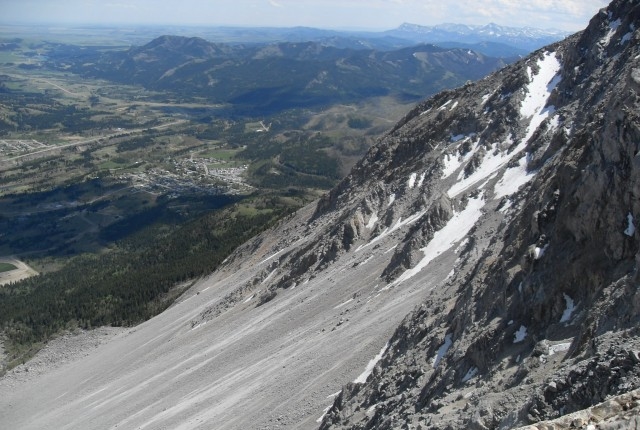 Now that you know these nine impressive tourist spots in Guyana, make sure you visit them when planning a trip to Guyana.