Summer is the time when the weather is very hot and the temperature is high. Spending time in a water park is an easy solution to the summer heat and the sweaty hot days. It reduces the suffering of the summer season by being near to water. If you live in Washington, you must visit the water parks of this place. The parks are unique and there are many fun filled attractions, rides, slides, rivers and pools to cool the body and get relief from the heat. The local people flock to the water parks as often as they can while those living outside plan holidays and vacations to see and enjoy in the parks. There are many water parks in Washington for summers and indoor water parks for cold season in the winters. We will suggest some water parks in the area.
Following Are The 9 Best Water Parks In Washington:
1. Yards Water Park:
Yards Water Park has a large green area with fun and exciting water features. Children can enjoy splashing in the pool. The sight of Anacostia River from the pool is amazing with a waterfall at the ending part. People enjoy picnics with food and drinks in the garden, lawns, and restaurant of this park. Events and festivals are organized in the park. It is a good place for recreation.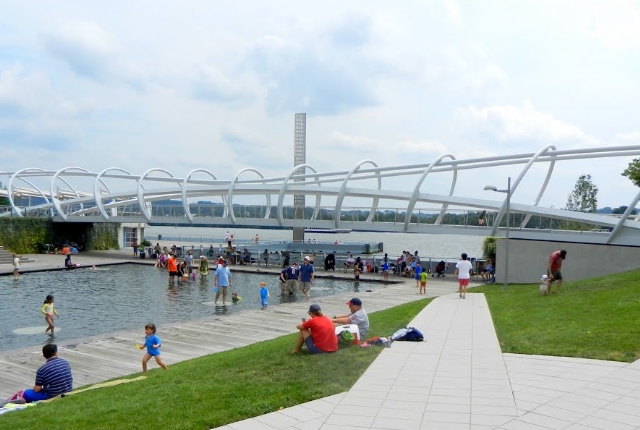 2. Wild Waves Water Park:
Wild Waves Water Park in Enchanted Village, Federal Way offers a lot of fun and adventure for people of all ages whether young or old. Water slides, wild splashes, bowl slides, river rides and rafting are some of the activities you can enjoy in this park. The mountain dew slide complex has twists and turns in tubes. The Riptide water ride can be enjoyed alone or with others. Enjoy splashing and swimming in the wave pool. The tree house of Hook's Lagoon has three storeys and it is good for swimming and splashing. Floating is enjoyable in the Konga Lazy River with splashing in the tubes of Konga slides. The activity pool has a jumping rock. Relax and soak in the Warming Tubs. Experience the thrill of Zooma Falls.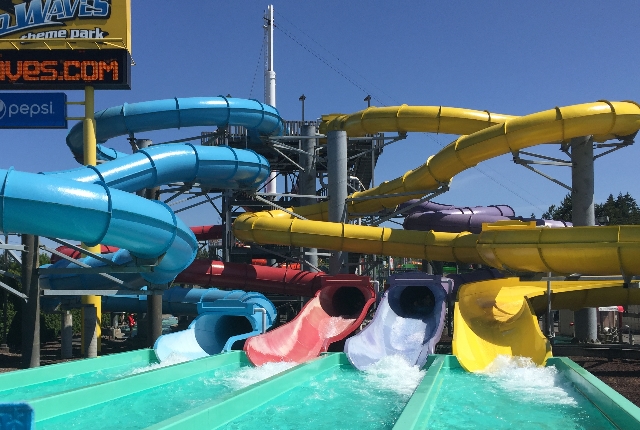 3. Henry Moses Aquatic Center:
Henry Moses Aquatic Center in Maple Valley Highway, Renton has colored water slides. Enjoy sliding in the blue and orange slides. The leisure pool, lazy river, water play structures, wave machine and island lagoon are the other attractions of this park. The park has both sunny and shady areas. Cafe and bathhouse are situated inside the park. Swimming accessories and lockers are available. People can enjoy snacks and drinks in the water park.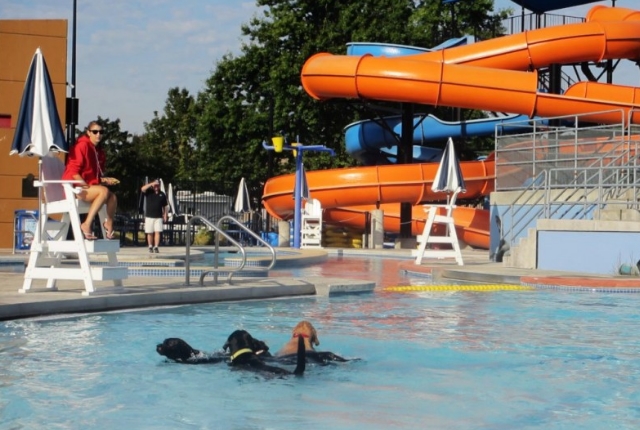 4. Southside Family Aquatic Facility:
Southside Family Aquatic Facility, Spokane has water slides, heated swimming pools, lazy river, zero-depth activity pools and many other attractions. There is a BBQ area. Take your family for a fun filled time in the picnic area. The deck space and grass space are very large. Geysers are there in the lazy river along with tumble buckets. There are special kiddie areas for children with interactive play structures. Kids can enjoy water cannons as well as water sprays. The playground of this water park has a climbing wall. Also, there is a basketball court for sports lovers.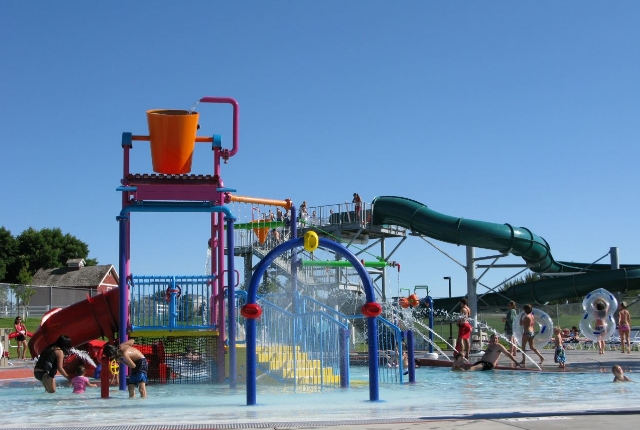 5. Pirate's Cove Water Park:
Pirate's Cove Water Park has pools and waterslides for children. The play area for kids is designed with a pirate theme. Children love to dig for sandboxes in this area. The beach has water jets. The dumping bucket is an exciting feature. Palm trees grow in the park. A big sized tot pool attracts the little ones. Enjoy eating lunch and drinking beverages in the park.
6. Splash Down Water Park:
Splash Down is a beautiful water park in the Spokane Valley in Washington. Play the game of Water Wars with water balloons kept at the battle stations. Launch and fire the water balloon at your opponent. Fastball is a game in which you have to rush down very fast past six stories finally splashing and landing in the catch trough. Enjoy blasting at a high velocity in the bowl ride of Cannon Bowl past four storeys landing in the water below. Spokane Falls have multiple loops and droops in the body slides with embankments on it. Enjoy water squirting in the Big Squirt with a water toy. Kid friendly pools and slides provide fun and entertainment to children.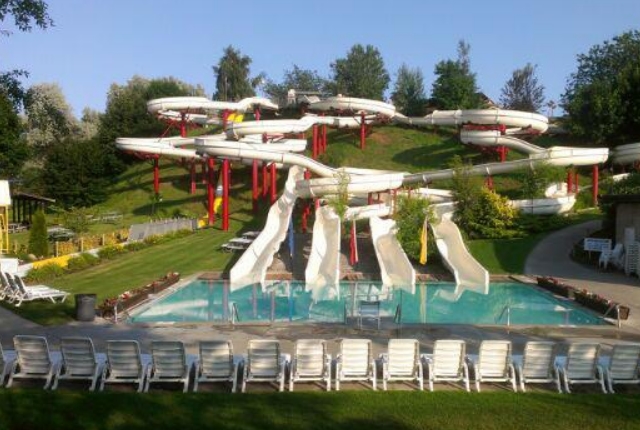 7. Birch Bay Watersides:
Birch Bay Waterslides situated in Blaine in Washington is a water park with a small size. It offers a lot of fun with very fast water slides, hot tubs and kid friendly attractions like the kiddie pool. There are an activity pool and eights slides in the park. It includes four main slides, ramp slide, and black slides. Enjoy the twists and turns of the slides splashing into the water below. Enjoy soaking in the hot tub.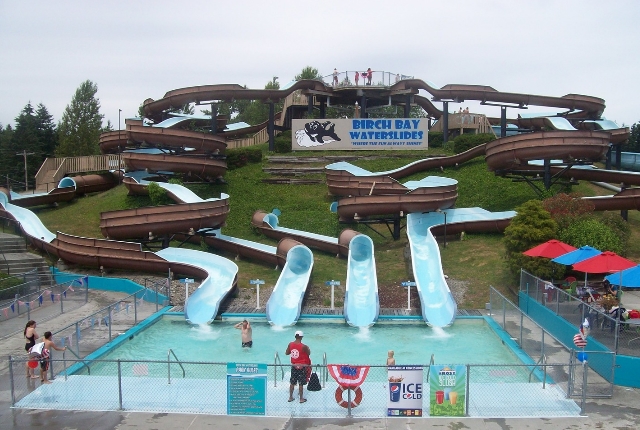 8 . Slidewaters, Chelan Water Park:
Slidewaters, Chelan Water Park in Washington has lots of rides and attractions for enjoying in the water. There are amazing views of the Lake Chelan as you enjoy floating on the Lazy River. The river has play features and tipping bucket. Thunder Rapids is a tube slide that offers a unique adventure. Riding in the tubes, sliding and swimming in the shallow pools is a great fun with catch pool situated below. Downhill Racer is a water slide with three lanes where you can enjoy racing with others. Bug-A-Boo is a straight and short water slide that is ideal for toddlers as well as their parents. Squirt Gun is for kids and youngsters and it has quick drop and turns. Purple Haze water slide has fun twists and turns finally landing in the water below. Tube Blaster tube slide is meant for all ages and it offers a unique experience.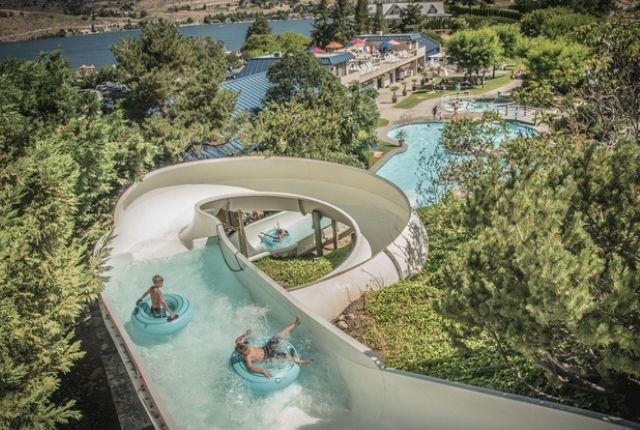 9. Surf 'n Slide Water Park:
Surf 'n Slide Water Park, Moses Lake is an outdoor aquatic center with activities and fun filled exciting features for the whole family. It is a good place for enjoying the vacations where you can do swimming and sliding. Do artificial surfing in the Flowrider. The Lazy River is three hundred feet long and people love to float on it. There is a big sized patio and deck on which you can do sun basking. Sand volleyball courts attract the sports lovers. There are kid friendly attractions like play structures, Children's Splash Pad, Children's Playground, kid water slides and baby octopus slide. Diving boards and Treasure Island water structure are the other features of this water park.