The land of the soviets, Russia is a truly incredible place. The biggest country in the world, it is a place that seems to have embraced a bit of all other parts of the world. Its rich culture, history, natural beauty and fascinating landscapes have attracted thousands of tourists. Plenty of affordable accommodation, easy transportation and the lure of fantastic cities makes it the perfect place to visit. It is a huge country and therefore make it very difficult for tourists to take a pick of their favourite travel destinations. So, we make the task easier and choose 10 most wonderful tourist attractions in Russia. It covers everything from its heritage buildings to the famous Kremlin, Lake Baikal and the truly overwhelming Trans-Siberian railway network.
1. Moscow Kremlin
If you are in Russia, you must make a trip to Kremlin. The walled enclosure not only has the nation's top government offices but also has four cathedrals that were built in the 15th and 16th century. Built by Italian rulers in the 14th century, it now serves as the official residence of Russia's president.
It consists of a triangular area, heavily fortified on three sides with towers and big walls.
Ivan, the Great Bell Tower is one of the most famous towers located in the area. It has a giant clock and a ruby star atop it. The Kremlin also has several museums. The 250 acre ground is a treasure house of the past, displaying royal armory and the Diamond Fund Exhibition which consists of a fine jewelry collection, including the famous 190 carat diamond given to Catherine the Great. The Cathedral of the Dormition, Cathedral Square and Terem Palace are other notable attractions within Kremlin Square.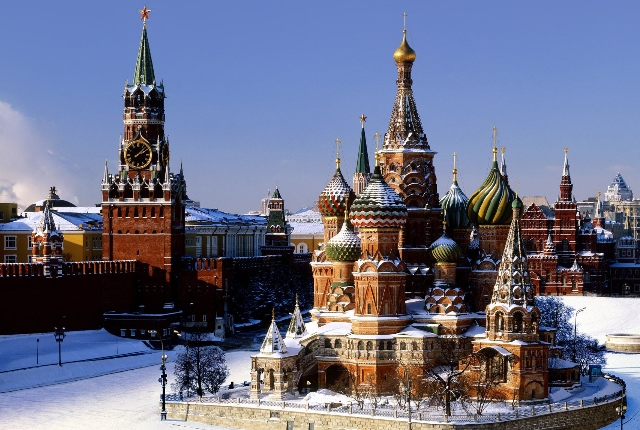 2. Saint Basil's Cathedral
Located at the heart of Moscow, Saint Basil's Cathedral was built between 1554 and 1561. It now features as one of the most visited tourist attractions of Russia and people love to marvel at its architectural brilliance. The structure's unique style and design is eye-catching and its interior has some rare artifacts that make a visit to this cathedral worthy. Resembling a bon-fire on full flame, the domes of this cathedral have been beautifully designed and it is a unique creation of the period when it was constructed.
3. Hermitage Museum
A museum totally dedicated to art and culture, Hermitage Museum in Saint Petersburg is one of the largest and oldest museums in the world. It boasts of the largest collection of paintings and has over 3 million art works and artifacts on display. The famous winter palace and theater have been combined to form the museum complex and it stands as a fascinating display of Russian culture. A tourist hotspot, this museum must feature in every traveler's must see list.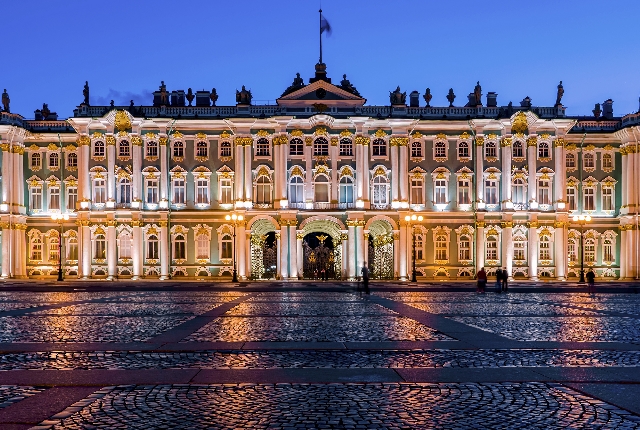 4. Lake Baikal
The oldest and deepest lake in the world, Lake Baikal is a truly mesmerizing place. Located along the Trans-Siberian railway network in Siberia, tourists can stop over at Lake Baikal before proceeding on their journey to other places. It is also a very popular vacation destination and as a result, resorts have sprung up around the 25 million year old lake. Surrounded by mountains on all sides, it is not only scenic and serene but provides the perfect opportunity to spend some time with nature.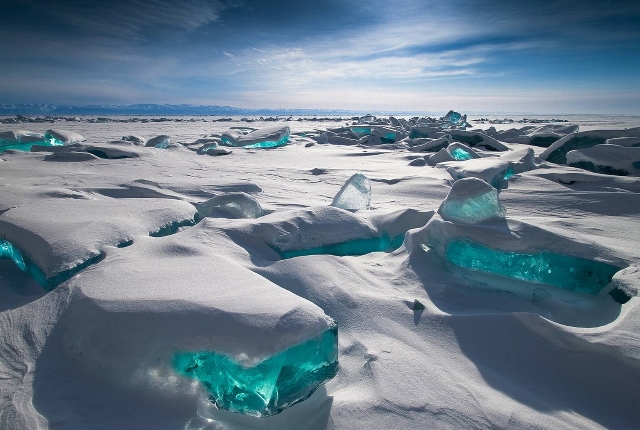 5. Kizhi Island
Situated on Lake Onega in Karelia, Kizhi Island is a fascinating open air museum with a number of historic buildings. The 120 feet high Church of the Transfiguration of Our Savior is one of the most famous structures on the island. Its 22 domes have fascinated visitors over time. Along with this, tourists can also spot a number of windmills, chapels, wooden houses and barns at Kizhi Island, other popular attractions here. Various folk ensembles and craft demonstrations can also be seen and these perfectly represent the peasant culture of the region.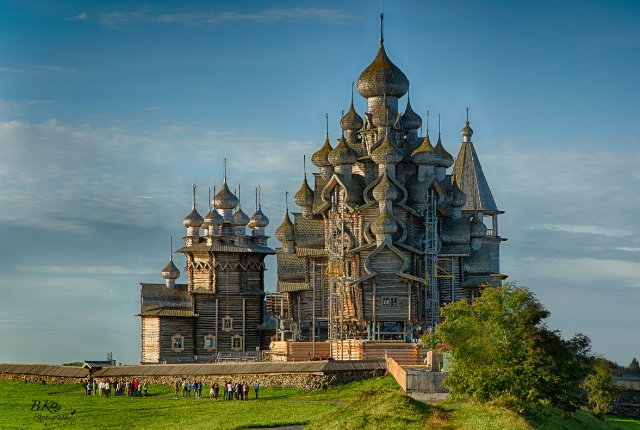 6. Mount Elbrus
Mount Elbrus holds a position of pride as one of the Seven Summits in the world. Located in the Caucasus Mountain range, it is one of the highest peaks at 5642 meters. Experienced as well as amateur climbers are attracted towards this mountain and visitors can take a cable car to move as high as 3800 meters on Mount Elbrus. Though formed from a volcano, it has not reported any recent eruptions and is considered a dormant volcano.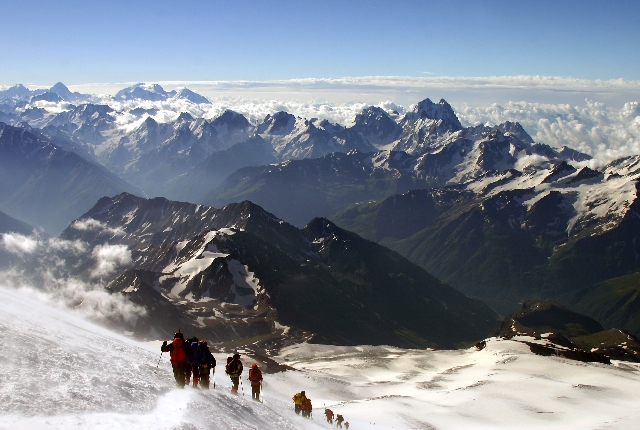 7. Valley of Geysers
Valley of Geysers is an active geothermal zone in Russia and as the name suggests, it is a valley with an abundance of geysers and hot springs. Located in Kamchatka Peninsula, it is a must visit place for all tourists. The second largest concentration of geysers in the world, it offers fascinating sights of smoke billowing from the hot water. Scientist Tatyana Ustinova discovered this place in 1941 and it is now a part of the Kronotsky Nature Reserve. The constant geothermal activity also attracts a lot of scientists to this place.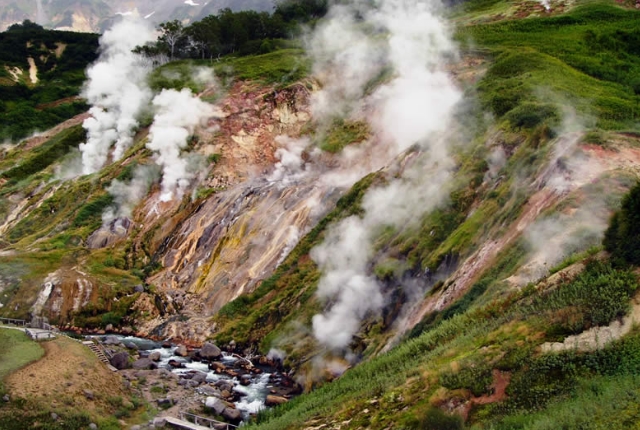 8. Trans-Siberian Railway
One of the longest railway networks in the world, the Trans-Siberian Railway starts from Moscow and extends till Vladivostok, a city near the Russian border of North Korea and China. It is a major attraction in Russia and tourists usually prefer the railway network for overnight travel to various Russian cities. Travelling through a picturesque road, the journey itself is quite memorable. It started operations in 1891 and features first, second and third class sleeper coaches. Some of the coaches also feature private bathroom and shower facilities.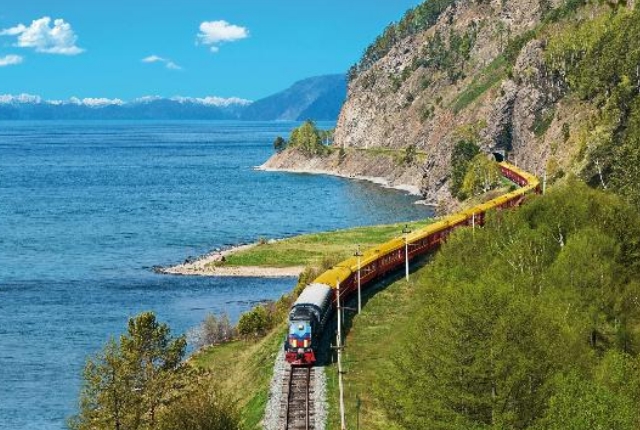 9. Suzdal
Among the finest cities of Russia's famed 'Golden Ring', Suzdal is an ancient city steeped in history. It is one of the best examples of Russia's past culture and history. Founded in 1024, Suzdal is more like an open air museum that will take visitors back to a previous era. The city has a marvelous display of its old architecture in the form of cathedrals, monasteries and kremlins with onion shaped domes. Its style, vibrance and old world charm is perfect for creating a nostalgic atmosphere that will surely fascinate travelers to this charming old city.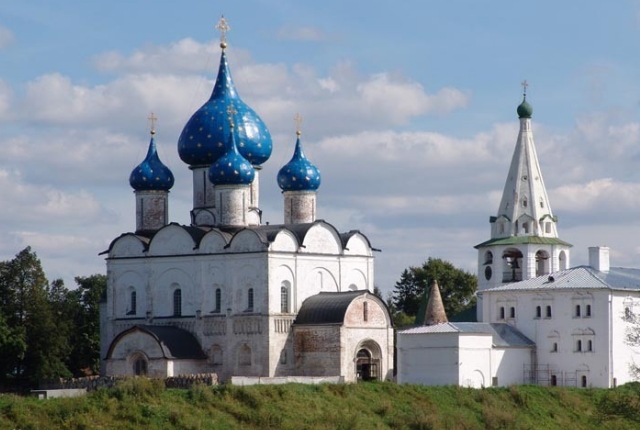 10. St Sophia Cathedral, Novgorod
The oldest church in Russia, St Sophia Cathedral is located within the Kremlin in Novgorod. Its five fabulous domes and collection of ancient religious artifacts have attracted a number of tourists to this famous place.