The history of Russia is as vast as the land itself. Russia though ranks 9th in terms of population but it is the largest country in the world that has its territory spread over two continents, Asia and Europe. The historic past is also very colorful and complex. The modern inhabitants of Russia are descendants of Slavic people. Everybody in the world has heard of Tsar of Russia. The Tsarist rule began from 16th century. It is also known that Russia was called USSR formerly when it was a Communist state. Later after many ups and downs modern Russia has come into being. There are several historic relics scattered around this vast country for history loving tourists. One can visit these while touring the country.
Here Are 5 Best Historic Attractions Of Russia
1. The Ancient City Of Derbent
Before medieval age parts Russia were visited by different Asian and European powers like Roman, Persian etc. This ancient city of Derbent with fortified walls around it was established by a particular Persian kingdom named Sasanian.
The walls that were erected in 6th century AD were spread up to east or western part of Caspian sea.
The walls and the ancient city of Derbent  still can be seen in present Dagestan of Russia. A favorite tourist destination for people who want to view old relics. One of the UNESCO world heritage sites of Russia.

2. The Church Of Ascension, Kolomenskoye
Kolomenskoye a suburb of Moscow has one of the greatest historic as well as general attractions for tourists in Russia. This church with its unique architecture was built in 16th century by Prince  Vasili III.
The purpose of building the church was the birth of Prince Ivan IV.
This Ivan IV later became the most powerful Tsar of Russia who was famous by the name of Ivan The Terrible. Tourists flock here to witness this spectacular structure. It is also another UNESCO world heritage site of Russia.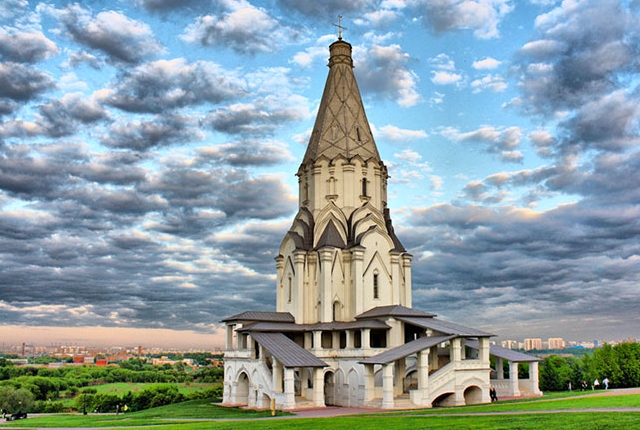 3. The Remains Of Castle Izborsk, Pskov
If you want to witness remains of  a medieval castle in Russia then you should visit Izborsk town and castle near city of Pskov, western Russia. Though the history of this place was much older but this castle of Izborsk was first built as a wooden structure in 10th century AD. Subsequently a stone structure followed it. The restored remnants people see today belong to 14th century AD. Izborsk saw its downfall in 16th century.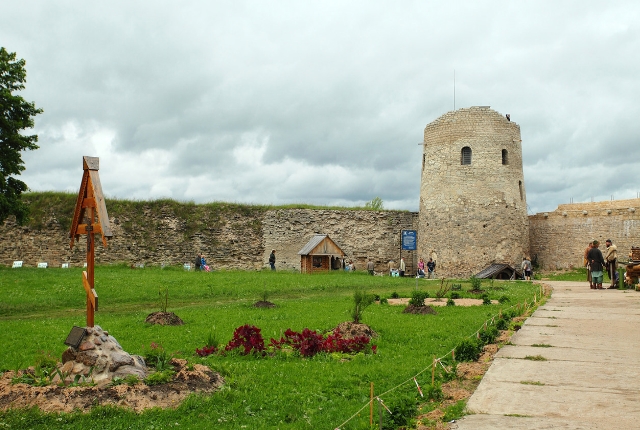 4. Mamayev Memorial Complex, Volgograd
Volgograd is previously called Stalingrad. Here the great battle of Stalingrad was fought between Former Russian army and Nazi Germany in which the troop of Hitler suffered a major loss. The body count from Russian side was also very high.
Later in between 1959 and 1967 a major memorial complex was built in memory of the event or the war here.
The main attraction of this complex is the massive 300 feet statue that is called Motherland calls. The statue is actually a woman who has one hand raised in air with a sword in it. There is a last resting place of more than 600 soldiers died in that battle. A sculpture of a giant hand holding a torch also catches the eye in this complex. It is said that the statue of Motherland Calls needs some immediate restoration work to prevent damage.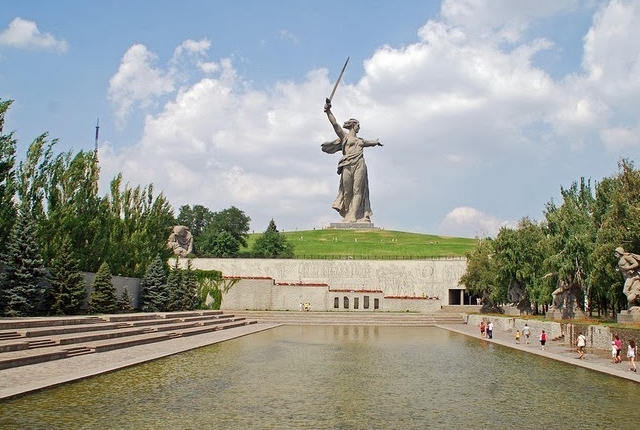 5. The Last Resting Place Of Lenin, Moscow
No tourist leaves Russia without visiting Moscow the capital of the country. This mausoleum of Lenin in Red Square is a must visit attraction.
The contribution of V I U Lenin in Russian Revolution of 1917 is famous and very much well known.
Lenin was a very important political figure at that time. His thinking and philosophy even inspire people today. The mausoleum in Red Square is the place where the body of this great leader is kept intact.