If a tourist has interest in places of historic value and at the same time if he or she has interest in Africa then such a tourist should not miss Algeria which has a very colorful historic past. Algeria is the largest country in north Africa and it is largest in Africa and Arab. It was a place which was visited by numerous tribes and powerful nations of ancient world notably the Romans. In middle age Islamic influence started to come into the country. There were French occupation in the country too. Now people of Algeria is a kind of mixed race that has influence of Islamic nations as well as Europe. This country is a member of UN and African Union. There are elements connected with colorful historic past in Algeria.
Here Are 5 Must Visit Historic Attractions Of Algeria:
1. The Ruins Of Djemila
These ruins of a Roman city is situated in north Algeria. The place was established in between 96 to 98 AD during the rule of emperor Nerva in Rome. The city was occupied till six century AD. It was a sprawling Roman city at that time. It suffered heavy devastation during Arab invasion. The city was subsequently abandoned in 8th century. Ruins of it can be seen in forms of arches, baths, temples, columns, Roman theater, residences etc. The ruins are so typically classical Roman that UNESCO has declared it one of the heritage sites of the world.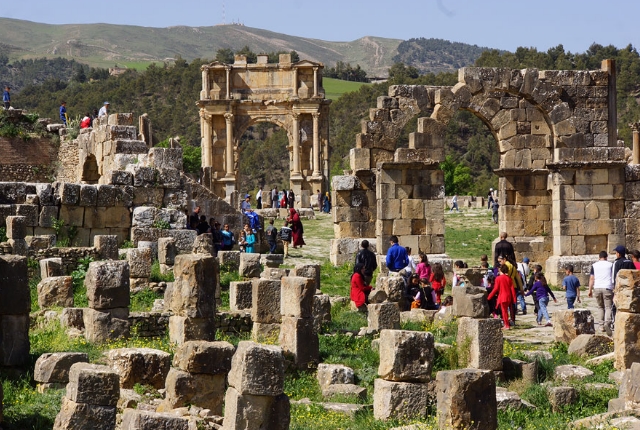 2. The Ruins Of Timgad
Again a Roman city in north Algeria that is also one of the UNESCO world heritage sites. The difference of this place is Timgad was primarily a military base in Algeria. It was established in first century AD during rule of emperor Trajan. Now the arch of Trajan is one of the spectacular ruins of the site. Besides there are ruins like residences, theater, baths, library and churches from later times.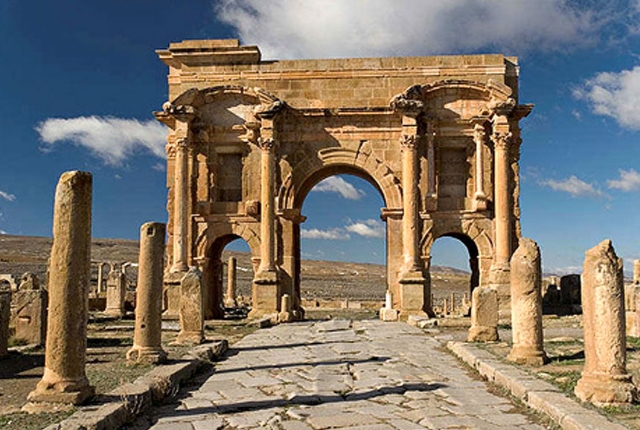 3. Tipasa Archeological Park
Another UNESCO world heritage site in Algeria that is called archeological park because it contains different types of ruins from Roman as well as other occupations mostly Mauritanians. Historians say that Tiapas is a site where multiple cultures converged in ancient time. It was a port before Roman rule. The ruins here can be dated back from 2nd century BC to 6th century AD. The notable ruins include ruins of residences, remains of columns of Roman time. There are some ruins that belong to Mauritanian rulers also. The site is situated in western Algeria.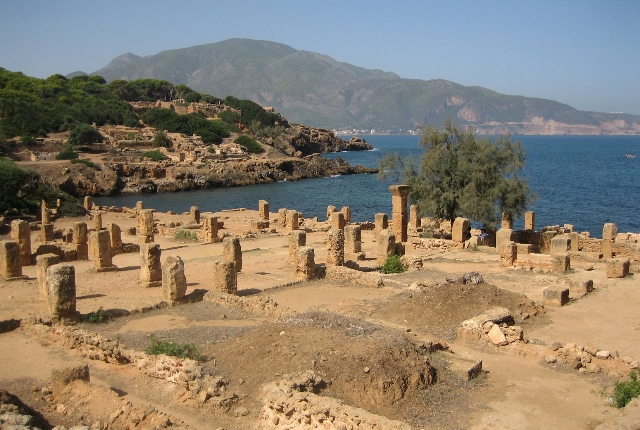 4. Mausoleum Of Royal Family Of Mauritania
If you are interested in historic relics that are non Roman in Algeria then after visiting Roman ruins of Tipas you can visit the tomb of royal family of Mauritania. It is located on a road between town of Cherchill and Algiers, capital of the country. It is a circular tomb built on a square base. This is last resting place of Berber king Juba 2 and queen Cleopatra Selene 2.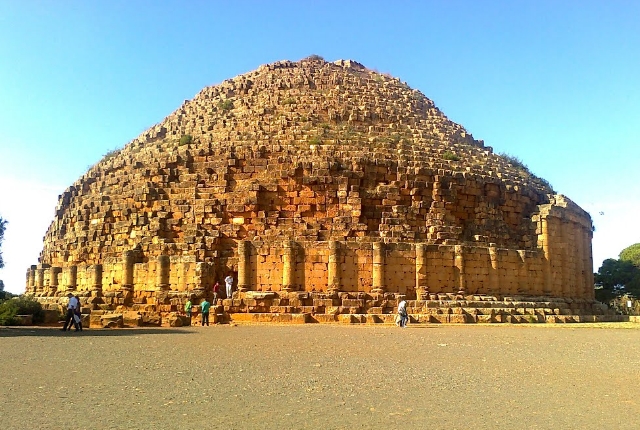 5. The Martyrs' Memorial of Algeria
An unique looking memorial that is formed by three separate bent elements meeting together at the top. These three elements represent three palm leaves each standing for a soldier. Erected in 1982 this 302 feet high memorial is dedicated to the memory of Algerian War of Independence. The freedom movement and war made it possible for the country to achieve freedom from France.