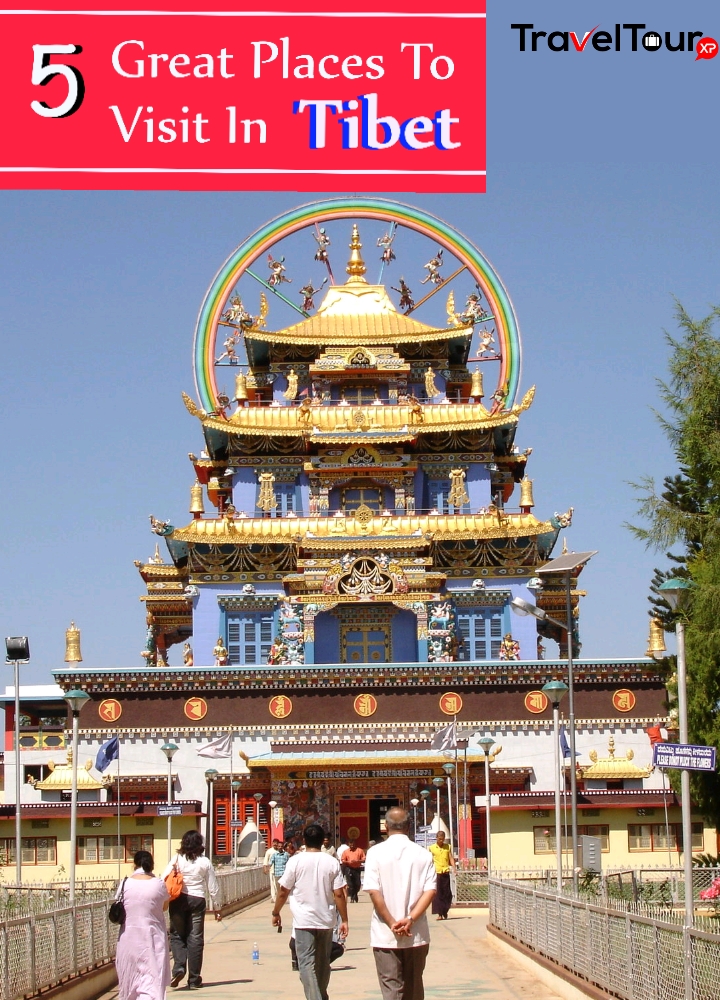 Tibet with snow capped mountains, valleys, lakes and unique culture is one of the most beautiful and exotic places in the world. Tibet was an independent imperial nation in past. After 7th century the country was divided into several tribes. These tribes later came under a central administration centered around Lhasa. But in early 1950s Tibet lost its sovereignty to China. It is now a province or region of China. But that does not barred it from visiting by tourists from all over the world in great number.
Few places have tourism treasures like Tibet. There are UNESCO world heritage sites here also.
5 Great Places To Visit In Tibet
1. Potala Palace, Lhasa
Lhasa is the main city of Tibet. Potala palace is perhaps the main attraction of this place. This palace was resident of Dalai Lama, the great religious leader of Buddhism. But history of this palace is quite old. It was first established in almost middle of 7th century by king Songtsan Gambo. But the palace  one sees today was constructed in 17th century on the ruins of that previous palace. This construction was mainly the work of fifth Dalai Lama. Now tourists are allowed to visit and take a tour of the place in 1 hour. The architectural style is typical Tibetan and it will amaze you. A UNESCO world heritge site of Tibet.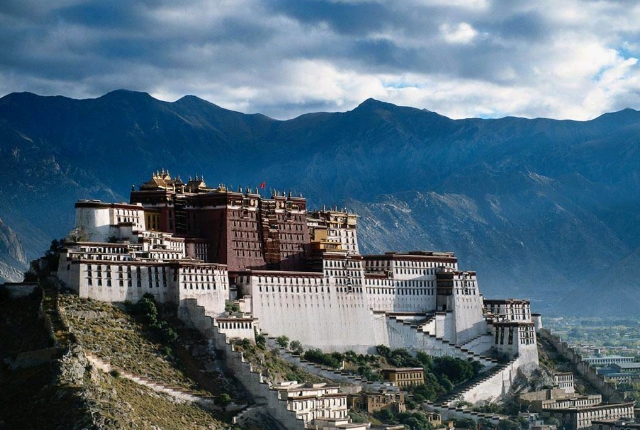 2. Lake Manasarovar, Burang County
Tibet has some really great lakes for tourists to visit. But none is as famous as Manasarovar. Apart from its position in more than 4500 meters altitude and heavenly beauty the mention of this lake is found in ancient Indian texts and religion. It is over 400 square kilometers. The deepest part is 70 meters. This sweet water lake has water that is pure and crystal clear. Pilgrims visit this place to bathe in the water of Manas. Others come here for legends and photography. The best time for visit is of course summer.

3. Mount Kailash
If you are visiting Tibet for religious purpose or if you like beauty of snow capped mountains then your tour will be unfinished if you do not visit mount Kailash in vicinity of Manasarovar. This mountain is nearly 7000 meters high and looks spectacular. Its significance is that it has given birth to great rivers including the Indus and Brahmaputra. The religious significance is immense too. Hindus believe that mount Kailash is the place where great god Lord Shiva resides.

4. Drepung Monastery, Lhasa
Drepung monastery is one of the revered places in Tibet. It was residence of Dalai Lama the religious leader of Buddhism prior to rebuild of Potalal palace. This monastery was established in 15th century and at that time it was the greatest in Tibet. Thousands of monks used to live here. The importance of Drepung is that it serves as one of the main places to study Buddhism, its religious views and philosophy. If you like historic places then you should not miss Drepung monastery while traveling Tibet.

5. Base Camp Of Everest
Who does not like Everest and its magnificence. If you do not dare to climb it still you can reach and relish its beauty from the base camp while traveling Tibet. It is the north face of Everest. Mountaineers who want to climb the mountain from this part attend this base camp. You can observe the preparations of the climbers from here also. The great peak looks ready to give you the best photographic option too.