Serene beaches, amazing wildlife, lip-smacking dishes and non-stop nightlife- if you find all these at once be sure you are in Phuket. Located on the Andaman Sea, Phuket is the largest island of Thailand and the most popular as well.
The good thing about Phuket is that there are plenty of things or activities you can do at any time of the day no matter either it's a sunny or rainy day. However, apart from playing on the beach, boating or partying at night, there are numerous exciting things Phuket offers you and that is unbelievable considering the size of the place. No doubt over 35000 of people around the world gather here each day.
So here we give you a compile list of 9 exciting things to do in Phuket and if you could just cover half of the activities you can make this trip way more exciting and memorable.
Here Are Top 9 Exciting Things To Do In Phuket:
1. Pay a visit to Phang Nga Bay:
Topping the list with very well deserving Phang Nga Bay, a must see place while you are in Phuket. The special fact of this bay that there are 40 small islands, made of sheer limestone, that jut out straight of the emerald green bay water. Apart from these, there are caves, lagoon and mangroves trees that add extra points to the scenic beauty of the place. James Bond Island and Koh Panyee are the most popular places in the bay. However, the wise way to explore this fantastic place is take a tourist guide so you don't miss worthy spots.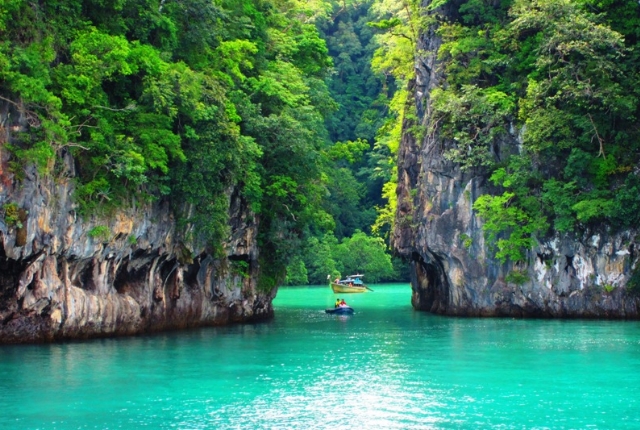 2. Shop Till You Drop At Phuket Town Weekend Night Market:
If you are a shopaholic then this is a must see place for you. Little distance from the Phuket Town this market is one of the best night markets in Phuket. From clothes to animals, from old curiosities to fruits and veggies this night market also known as Naka market has much more to offer than you can imagine. This unlikely place has such fantastic shops and restaurants that will amaze you. However, its better to come here at late afternoon, so you can check out the market well before it gets crowded.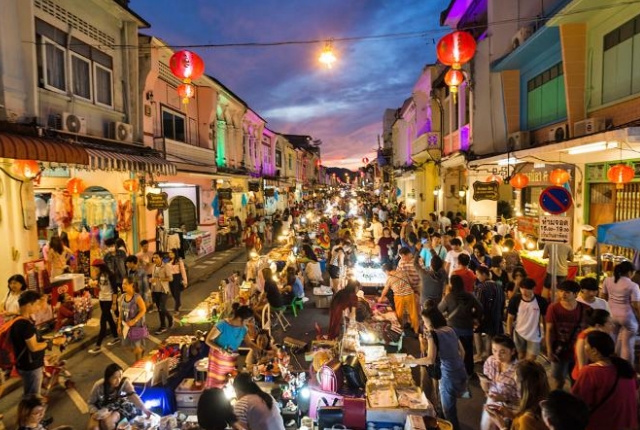 3. Take Thai Cooking Classes:
One of the most useful thing you can do while at Phuket is to take cooking classes. This is very much obvious that whatever Thai food you have in your country is pretty much different than the local ones in Phuket. Food here has the authentic taste and aroma that the Thai food in your country lacks. These cooking classes offer morning, afternoon or whole-day packages. Apart from cooking they also taught you about the ingredients and this definitely helps you in cooking at home when return from the trip.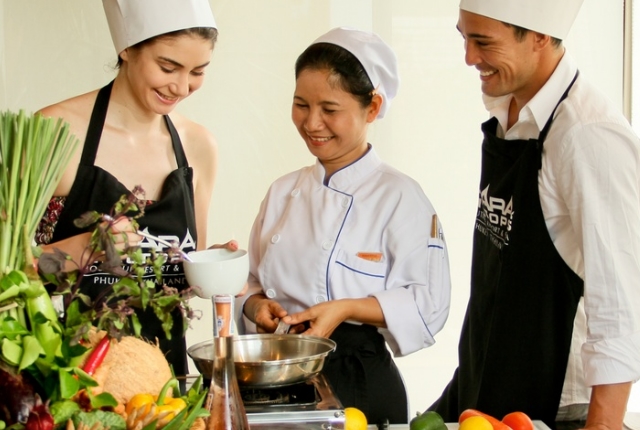 4. Take a short trip to Chalong Bay Rum Distillery
Chalong Bay Rum Distillery could turn out be a heaven for the rum drinkers and an exciting trip as well. The high end white rum prepared here is growing popular around the globe and you definitely going to like to be the witness for all behind the scene works. The whole production works is really exciting to see while the last part of the trip takes you to cocktail workshop where you can learn the way of making different cocktails, including Chalong Bay Rum itself.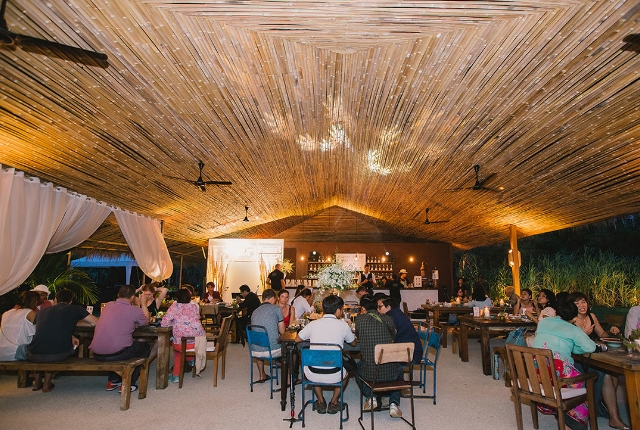 5. Spend Some Time At Phi Phi Island:
Phi Phi islands is definitely needs no introduction as it's the most popular island in Thailand. It became such famous after Leonardo D'caprio's movie "The Beach" filmed here. Hence many people around the globe visit Phuket just to see this place and no doubt the beauty of the place is marvelous. The islands are standing tall jutting down from the sea. You can go there easily by boat. It also has beach front jungle which appears beautiful and exciting. Though most of the place had been destroyed by tsunami during 2004, still it never cease to amaze people. The islands become crowded during night as these places are good for partying.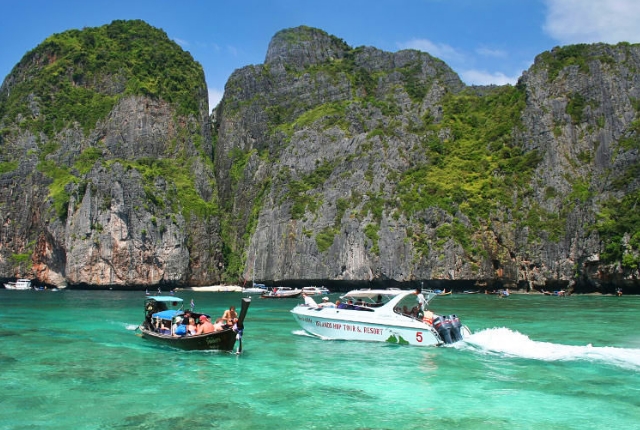 6. Have A Night Out At Soi Bangla Road:
While in Phuket you must experience a night out at Soi Bangla road at least for once. Thousands of people swarm here for it's wild nightlife. As the sun goes down the place becomes alive. There are countless bars, restaurants on the street; some of them are even open under the sky. You can stroll here and there easily. You may find many street entertainers there who try to get tourists into their ping pong shows, restaurants or clubs etc. while enjoying drinking, another interesting thing you can find here is the ladyboys boasting about their stuff.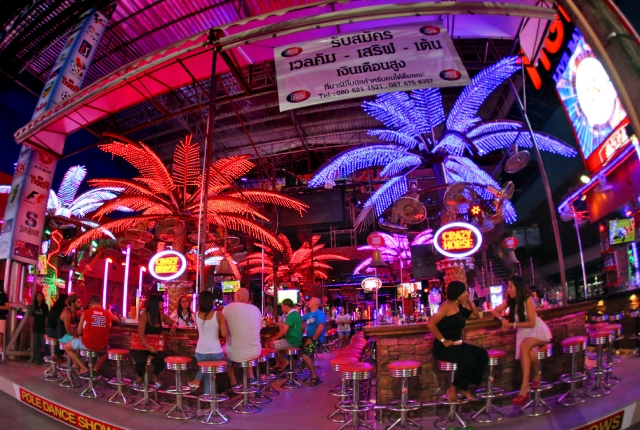 7. Enjoy Thai Boxing (Muay Thai):
It's the time to pump your adrenaline high by attending Muay Thai, which is a very popular sport here is and nowadays growing popular around the world. Hence you definitely shouldn't miss it while you are in Phuket. Saphan Hin Stadium in Phuket is the perfect place where you can enjoy this spectacular show. This place regularly held matches between well-trained martial art fighters. If you want to know about the skills and fitness of those fighters you can go to Patong Beach. Though a dangerous contact sport but courtesy and tradition are the main spirit of it and a perfect Muay Thai player is super disciplined both in body and soul.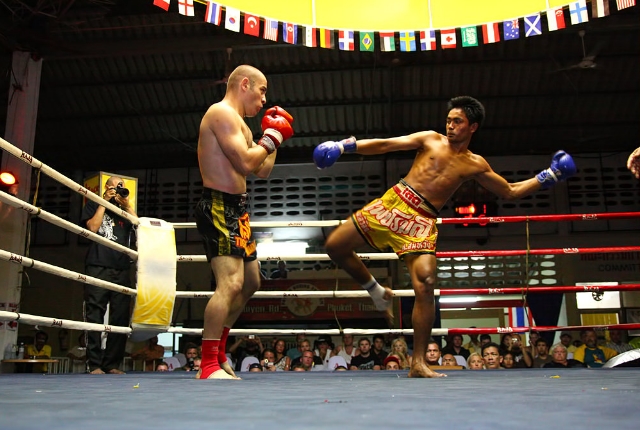 8. Watch The Simon Cabaret Show At Patong Beach:
This show is definitely an interesting spectacle to experience as 83 Simon Cabaret Show is one of the best transvestite nightclub show in all over Phuket. The show includes musical performances by world famous ladyboys. Its really hard to differentiate that they are ladyboys and their lovely figure even makes women envy.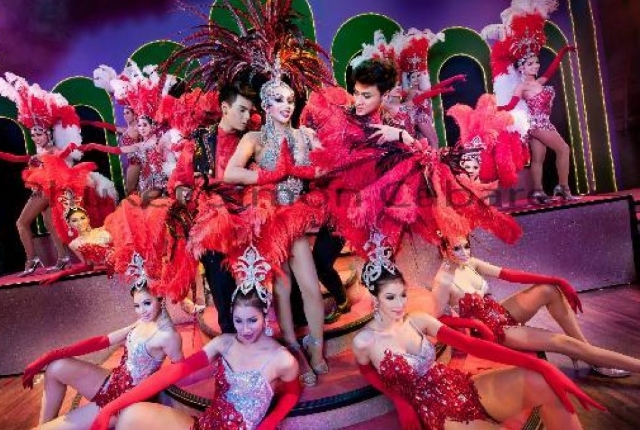 9. Have A Luxury Dinner At Mom Tri's Kitchen
Though not a pocket-friendly one, still one dinner at Mom Tri's kitchen is worthy to try. Especially couples who want to spend a romantic evening in a grand style then this is a perfect place for you. This place belongs to Thai Royal Family and it's location is amazing as it has a beautiful waterfront. It has a great collection of over 700 wines which you can pick by the bottle and 18 by the glass which satisfies your each taste-bud and fulfills the wine cravings.