Turkey can be best described as the culmination of the traditional and modern. It has stood at the crossroads of history and is witness to some of the finest Byzantine and Ottoman creations. Whether you are looking to spend a lazy day in a Turkish beach, explore its famous historic sites or wander around its misty mountains, the country's panoramic landscape is sure to capture your imagination.
Here's A List Of The Top 10 Tourist Attractions Of Turkey:
1. Hagia Sophia
Istanbul's top sightseeing destination, Hagia Sophia which is also known as Aya Sofya is known for its remarkable architecture.
Constructed in sixth century AD as a basilica by the Byzantine emperor Jusinian, it was later converted into a mosque by Turkish rulers.
It is now one of the best preserved ancient structures of Turkey and operates as a museum. It is one of the marvels of Roman engineering and its massive dome is 102 feet in diameter. Its minarets and cavernous frescoes on the interior walls will leave you amazed.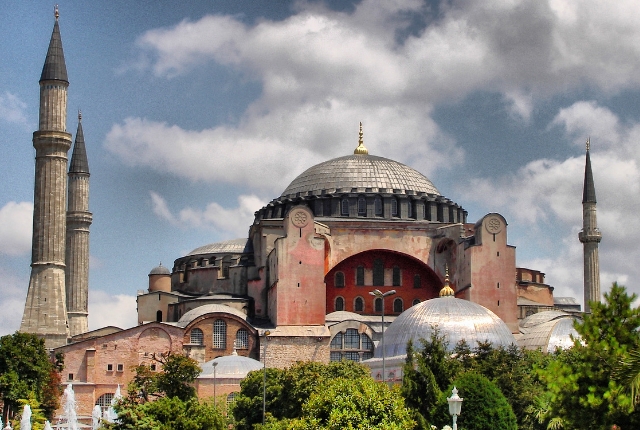 2. Aspendos
The Roman theatre of Aspendos will take you back to an era gone-by. It is a popular tourist destination constructed in 155AD and it was capable of seating 15000 people at a time. The theatre was constantly repaired and as a result, has survived over time. It also hosts a summer festival which is a top draw amongst tourists.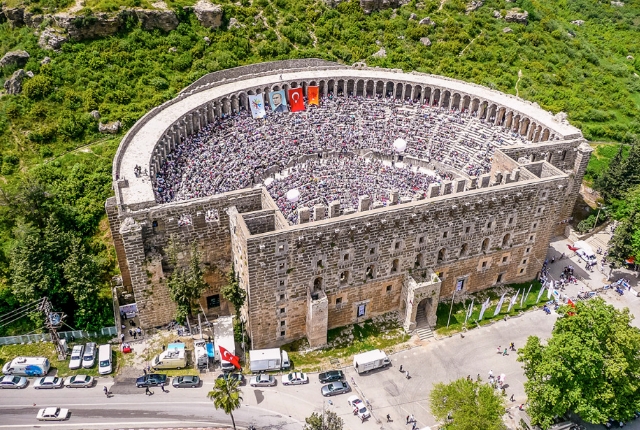 3. Ephesus
If you visit the Ephesus, you can surely get a glimpse of the golden age of the Roman era. The ruins of Ephesus have several monuments and marble-columned roads.
It was once renowned as the Temple of Artemis but, it was later destroyed.
It still has structures such as the Library of Celsus and the Great Theater and is open for public viewing.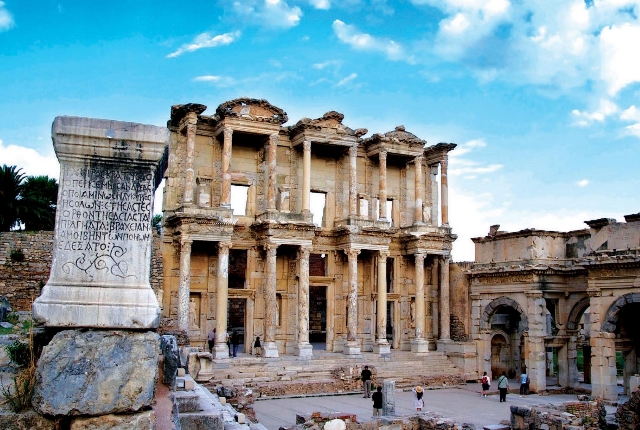 4. Blue Mosque
A major tourist attraction in Turkey, the Blue Mosque was built between 1609 and 1616 by Sultan Ahmed. An impressive structure, its minarets and domes have attracted thousands. The mosque's high ceiling is decorated with 20000 blue tiles, arranged in different patterns and it derives its name from this unique design.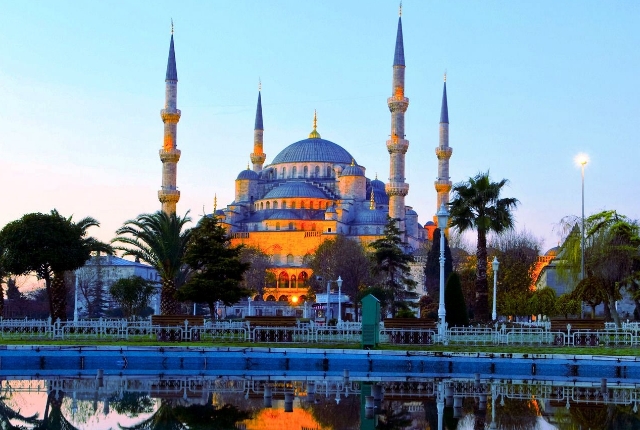 5. Pamukkale
In western Turkey lies a surreal place called Pamukkale. It is one of the best known natural wonders of the country and consists of travertine terraces. Travertine is a sedimentary rock formed by the deposition of minerals from hot water springs.
These look like snow fields amidst a green landscape and people have bathed in its waters for thousands of years.
The king of Pergamon built the city of Hierapolis on top of the hot springs and the ruins of this old Greek city can still be found around Pamukkale.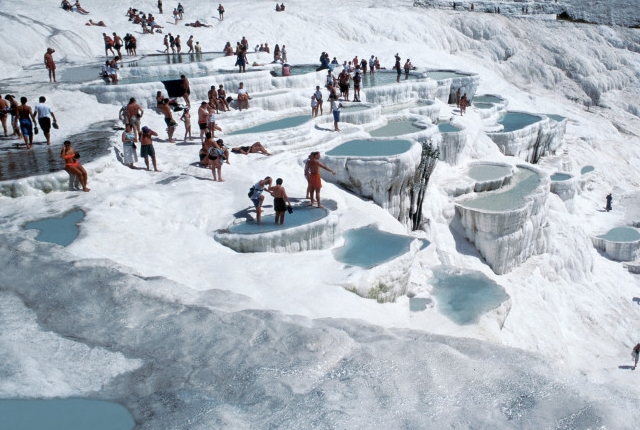 6. Mount Nemrut
An archaeological site, Mount Nemrut creates a creepy atmosphere atop a mountain in southeastern Turkey.
King Antiochus I Theos of Commagene built a tomb sanctuary on Mount Nemrut and decorated with several statues of himself, various Greek and Persian Gods, two eagles and lions.
Over time the heads have fallen from the body and lie scattered over the mountaintop. As the sun sets, it casts an eerie shadow on the statues, giving them an orange glow and the area looks quite mystical.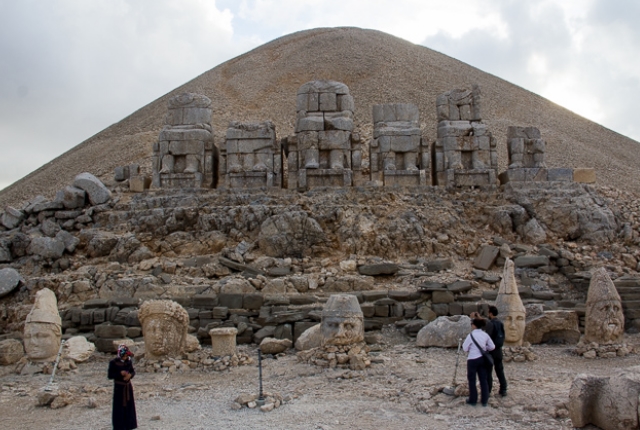 7. Cappadocia
The rock valley of Cappadocia is one of the most picturesque places of Turkey. Years of wind and water erosion has led to the creation of weirdly shaped hills and cliffs.
It is one of the most favoured tourist spots and has several hiking trails as well.
It is also home to the underground cities of Cappadocia. Kaymakl1, Derinkuyu, Urgup, Mazi and Ozkonak are some of the better known cities that you can explore in Cappadocia. It is also a great place to enjoy hot air balloon rides.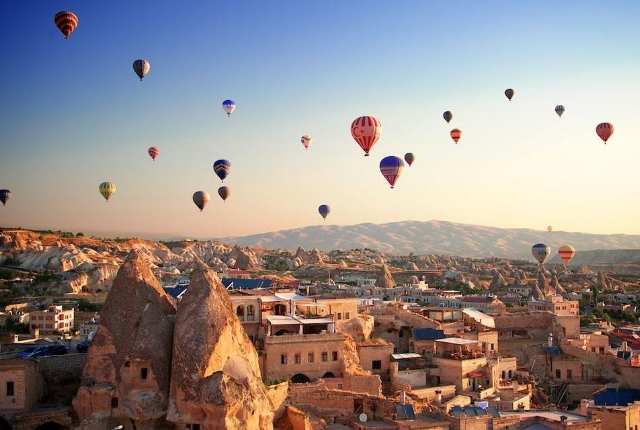 8. Bodrum Castle
The Bodrum Castle dates back to the medieval era and was built in the 15th century as the Casle of St. Peter. It is an attractive tourist destination and allows the traveler to explore ancient treasures. It now acts as museum and houses the wonderful Museum of Underwater Archaeology.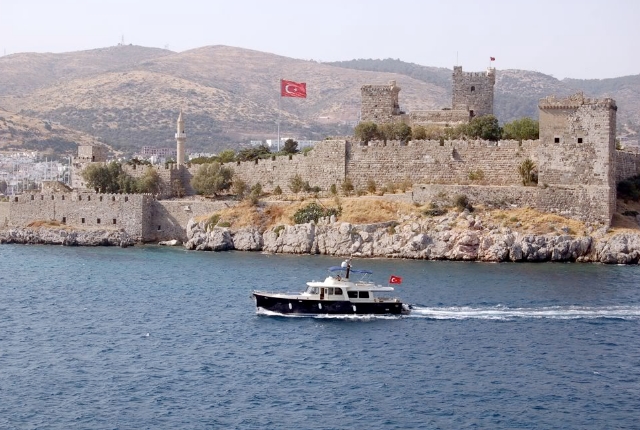 9. Patara Beach
Turkey is known for its pristine beaches. The Patara Beach is one of the longest stretches of sand along the Mediterranean Sea and has several ancient Roman and Lycian ruins. It is mostly barren and you can find swooping sand dunes as you stroll along the beach. If you are lucky enough, you might spot one or two loggerhead turtles, an endangered animal.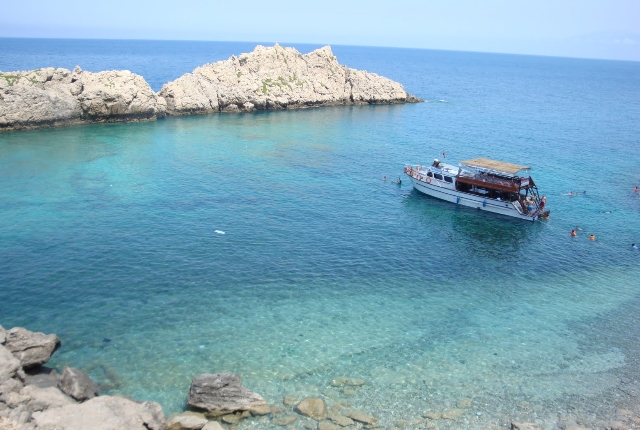 10. Troy
Did you ever wonder whether Homer's famed stories about Troy are real? Although there is no definite answer, you can still roam around the legendary town of Troy exploring its streets, homes and theaters. It will certainly let you believe in legends.