Laos is a worth-visiting nation located in the Southeast Asia. Naturally beautiful mountain terrain, Buddhist monasteries, fascinating markets with crafts and food stalls, Mekong River, impressive French colonial architecture, and stunning waterfalls attract lots of tourists worldwide to enjoy various fun activities in Laos. Vientiane in Laos is popular as its laid-back capital. And, if you are planning to spend your vacations in Laos, then have a look at some exciting things that you can enjoy here.
Here Are The 8 Fun-Filled Things To Do In Laos:
1. Cruise Along Mekong River
Enjoy the pleasant, relaxing experience of cruising along the Mekong River when in Laos. Mekong River is well-known for being the 12th longest river on this planet and the seventh longest river in the Asia. The approximate length of the river is about 4,350 km, and you may need a couple of days to explore it.
2. Elephant Riding
Are you fond of sitting on the back of an elephant to have a ride? Don't miss going for an elephant ride in Bolaven Plateau in Laos. This enchanting, spectacular plateau in Laos offers you an opportunity to click beautiful snaps of nature as you enjoy the elephant ride.
3. Explore Pak Ou Caves (Buddha Caves)
Don't miss visiting impressive Pak Ou Caves i.e. Buddha Caves when visiting Laos. You can find these exquisite caves in the vicinity of the Mekong River as these caves overlook the river. You can easily reach Pak Ou caves via speedboat from Luang Prabang. Discover the religious significance of the region as you can find Buddha statues everywhere here. Watch artistic statues of Buddha in different positions, such as teaching and meditation, at Pak Ou Caves.
4. View Sunset At Phu Si Hill
Hike to the Phu Si Hill when in Laos and watch the spectacular sunset view from this hill. You can also find a temple at the top of the Phu Si Hill.
5. Go To Plains Of Jar
Watch the spectacular site of the Plains of Jar in Laos where you can find rocks everywhere on the terrain that weigh about six tonnes each. You can find these plains in the Xieng Khouang in the vicitnity of the Phonsavan. Here you get a rare opportunity to explore about 400 different sites that may take your one full day.
6. Swim In Waterfalls
Swimming in the cool, relaxing waters of the pools of the Kuang Si waterfalls is an amazing experience that you must not miss when in Laos. You can find these beautiful waterfalls about 19 miles from the destination Luang Prabang. Reach these enchanting waterfalls in the morning and spend entire day here playing in the waters of this waterfall. Also, don't miss enjoy in the waters of hot springs in Bo Yai and Bo Nai.
7. Kayaking
A visit to the Nam Song River offers you an outstanding experience to enjoy kayaking in its fascinating waters. White water rafting in this exquisite river is an amazing experience that you must not miss when visiting Laos.
8. Have Gibbon Experience
Laos is one of the rare tourist destinations that offer you an opportunity to enjoy the Gibbon experience in its woods. In the Bokeo Nature Reserve, you also get to have a pleasant stay in a beautiful tree house. Enjoy exploring the region via zip-wire. Watch fabulous waterfalls and eye-catching landscapes, and wonderful wildlife in this nature reserve in Laos as you enjoy the Gibbon experience.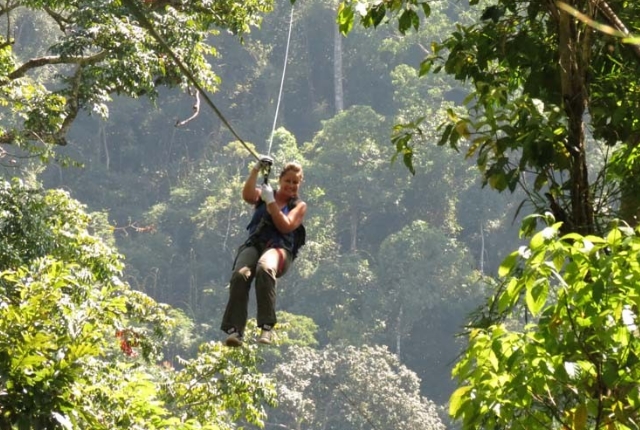 Now that you know these eight fun activities to enjoy when in Laos, make sure you participate and enjoy each one of them when spending your holidays in Laos.