Turkey has a delightful influence of Middle Eastern, Mediterranean and Asian cultures and architectures as you can witness in the numerous temples, mosques and churches present here. Even after all the modern development, the country continues to have a strong hold on its exotic appeal in the form of mesmerizing archeological sites, colorful souks, magnificent Islamic monuments and Roman mosaics. Besides this, there are numerous olive clad landscapes, sparkling lakes and rugged mountains as well. Though the coastline is quite development but there are numerous 5 star hotels around the stretches that are sure to delight visitors from around the world.
Here Are Top 6 Amazing Luxury Hotels In Turkey That Offer A Lot More Than Just Rooms To Its Guests:
1. Cornelia Diamond Spa And Golf Resort
The Cornelia Diamond spa and resort is situated in Belek and is more like a tiny kingdom in itself with immense emphasis on the environment and nature. The property houses giant garden facing family suites, lustrous Lake Houses and private villas along with a bar, restaurant and sea-water pool.
The Crassula spa is a playground of pools, Jacuzzis and a traditional hammam.
There is also a private Spa King suite available for hiring privately that contains a sauna, Turkish bath, garden and Asian massage. The resort also provides golf activities along with numerous entertainment options such as an amphitheatre, water sports and waterpark along with 9 in-house restaurants serving everything from exotic seafood to Turkish kebabs.
Cornelia Diamond Spa And Golf Resort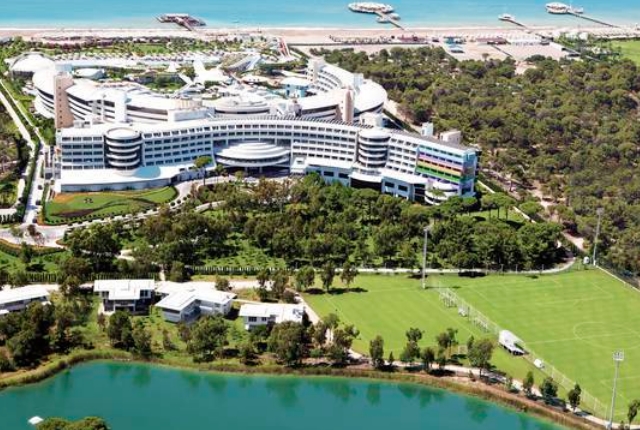 2. D-Resort Gocek
The Turquoise Coast in the quite village called Gocek was once a secret hangout for yatchies but is now renowned among vacationers with its serene blue waters, dazzling forest-clad mountains and talcum-powder like sand. The village is considered to be the perfect place for experiencing the exquisite Turkish Riviera as it offers a beautiful yatch-lined, bar clad marina and the D-resort located in the perfect position so visitors can savor in all splendor it has to offer. The hotel offers crisp-white rooms along with two bedroom apartments and Presidential Suites along with a spa, Japanese lounge and sea-front restaurant.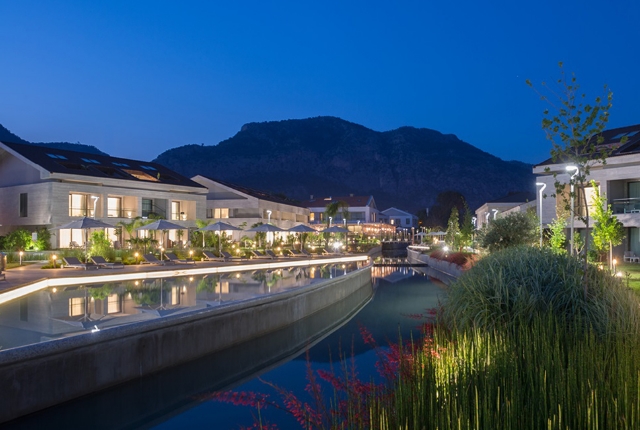 3. Ariana Sustainable Luxury Lodge
If you look down from top of the Uchisar valley, the out-of-this-world setting of Ariana lodge will give your goosebumps. It provides a unique perspective of the volcanic landscape of the region. Staying here will transfer you back to the acient Anatolian era while keeping all modern luxuries in hand.
The entire lodge is operated with eco-friendly principles and utilizes recycles materials, rainwater harvesting and numerous other energy-efficient practices.
The in-house restaurant 'The Plum' offers international cuisine made with fresh local ingredients and offers afternoon tea with a wide variety of pastries. As a bonus treat, guests who stay here for more than 2 nights are entitled to a free full-day tour of the picturesque Cappadocia.
Ariana Sustainable Luxury Lodge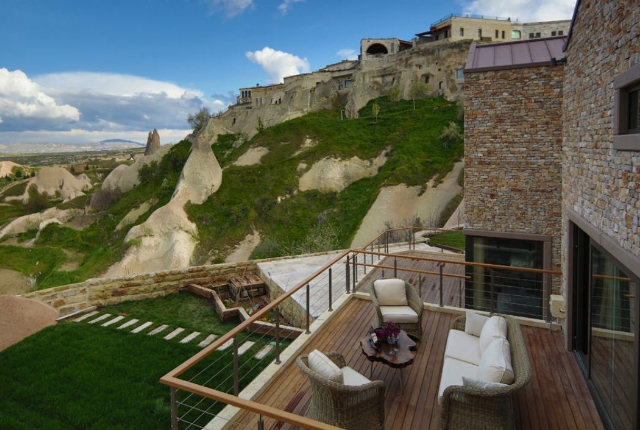 4. Argos In Cappadocia
Once a stop-point on the Silk Road as well as a monastery, this amazing hotel has been carved from volcanic stones created by volcanic eruptions from Mount Erciyes and is housed within a maze of underground tunnels and caves. It is located in an ancient village called Uchisar and contains rooms crafted from local stone and have Ottoman and Seljuk influence on the décor. Some suites even have their personal underground cave pools, which add a magnificent touch to the luxury. Guests can also enjoy a magnificent feast at argos in Cappadocia with fresh local ingredients along with drinks on a beautiful terrace overlooking Pigeon Valley.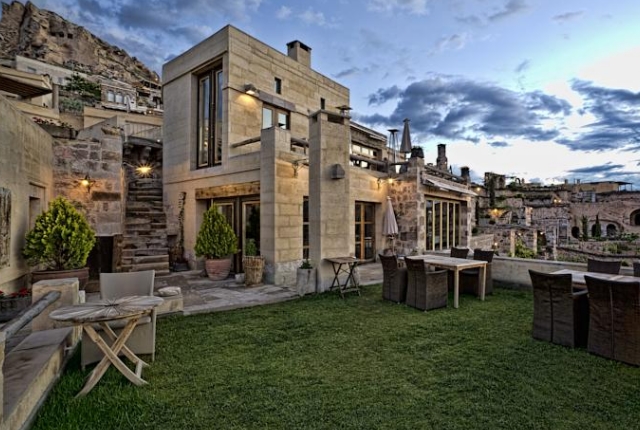 5. Nirvana Lagoon Villas & Spa
This is a service based resort located on the southern Mediterranean coast within pine forests of the region, this resorts brings a whole new meaning to the word 'VIP'. It is located close to all major attractions of the area including wild forests, stone age caves and water sports facilities.
This is a polished, family-friendly resort that focuses mainly on providing a privileged life to its guests.
You can find standard rooms, VIP suites and beautifully-adorned villas to VIP guests. It also offers huge sun-loungers, sun terraces, private beaches and Jacuzzis. But the main attraction is the colossal Aquapark housing 11 amazing water slides. You can also indulge your taste buds in one of the 9 beach-side restaurants or revitalize yourself in the Ottoman style Nirvana spa.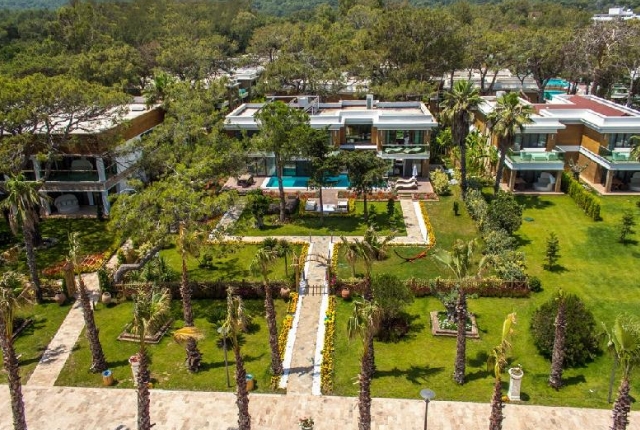 6. Four Seasons At Sultanahmet, Istanbul
The hotel comes with an amazing history as it was transformed from an age-old prison into the magnificent structure that stands today. Its rooftop terrace offers a 360 degree panoramic view of the Sea of Marmara, the Blue Mosque and all its minarets, and the mouth of Bosphorus. And the best part is that it is right next to the greatest monument of the city – Hagia Sophia and you can spend the whole day watching it, especially during sunset when the view is magnificent.
Various facilities are provided to the guests such as health club with Balinese massage and rooftop lounges.
At the Four Seasons, breakfast is served in a tent shaped glass room on the terrace whereas the in-house restaurant offer numerous Anatolian specialities made with fresh locally grown ingredients.
Four Seasons At Sultanahmet, Istanbul