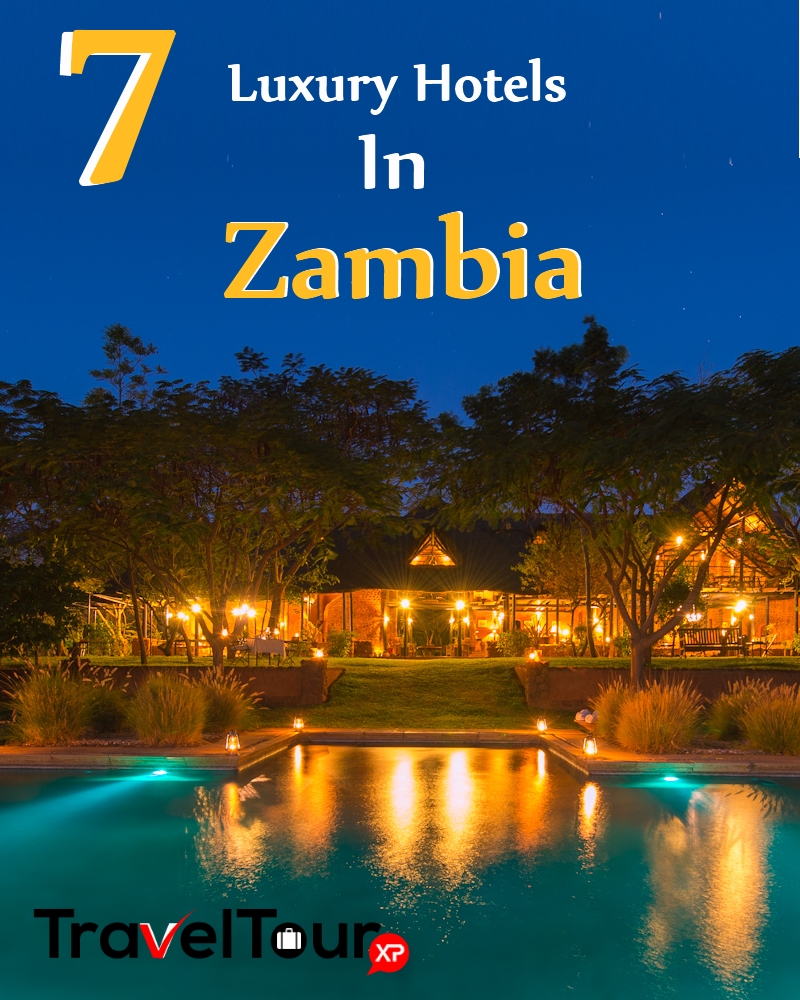 Zambia is a landlocked country in southern Africa. This country is famed for its exquisite natural beauty. Zambia abounds with rare wildlife. It is also home to some of the best national parks in the world. Tourists visiting this African nation can opt to stay in an up market city hotel or in the tranquil settings of a luxury lodge deep in the heart of a game reserve. Taj Pamodzi Hotel, Intercontinental Lusaka and Royal Livingstone Hotel are some of the best luxury hotel of this country. Read on to discover more about the stunning luxury accommodations of Zambia.
Here Are 7 Classic Luxury Hotels In Zambia
1. The Incredible, Taj Pamodzi Hotel
Enter an oasis of luxury and tranquility by staying at the incredible Taj Pamodzi Hotel. This classic luxury hotel occupies a prime locale in the capital city of Lusaka, right next to the famous Independence Stadium. Lusaka City Airport and Lusaka National Museum are located just a short drive from the hotel.
The 193 simple, yet stylishly decorated guest accommodations, feature modern comforts and warm, hospitable service.

Guests can dine or enjoy a tipple at 'Feast', 'Jacaranda Coffee Shop', 'Steaks and Grills' and 'Marula Bar' while soaking up the exotic beauty of the surrounding countryside. Some of the world class facilities offered by the hotel to its guests include sauna, fitness center, BBQ facilities, outdoor pool, and spa and wellness center.

Visit The Incredible, Taj Pamodzi Hotel

2. The Stunning, InterContinental Lusaka

The InterContinental Lusaka promises its guests an array of authentic and memorable experiences. This hotel is located in the heart of the bustling city of Lusaka. The central business district, major shopping arcades and the posh Lusaka Golf Club are just a short hop from InterContinental Lusaka.

The 224 stylish rooms and suites of the hotel feature laptop size safes, mini bar, ergonomic chairs and high speed internet access.

Guests can head to 'Safari Bar', or to 'Rhythms Cafe' to grab a quick bite. This hotel also has a world class business center. A sauna, hammam, fitness center and outdoor pool are some of the awesome facilities at this hotel.

Visit The Stunning, InterContinental Lusaka

3. The Charming, Royal Livingstone Hotel

The Iconic Royal Livingstone Hotel, a luxury 5 star hotel, is fashioned to transport you to the allure and romance of the late 19th century. This superb luxury hotel is located on the banks of the Zambezi River. The Mosi-oa-Tunya National Park and the Livingstone Museum are located within driving distance of the hotel.

Each of the 173 luxury rooms and suites, which are an amalgamation of Victorian elegance and African warmth, features a private veranda.

For light meals and refreshments guests can head to 'The Royal Livingstone Lounge'. 'The Travelers Bar' serves sophisticated drinks and high tea. 'The Royal Livingstone Dining Room' is famed for its all day fine dining experience. 'The Antara Spa' offers a range of holistic spa treatments which are designed to restore the delicate balance the body and the mind. A casino and an outdoor pool are some of the other facilities which are available at the hotel.

Visit The Charming, Royal Livingstone Hotel

4. The Awesome, Radisson Blu Hotel

Enhance your holiday experience in Zambia by staying at the awesome Radisson Blu Hotel. The Lusaka City Airport and Lusaka National Museum can be easily accessed from the hotel.

The 142 luxe rooms and suites of the hotel offer all the modern conveniences.

Guests can sample African fusion dishes and international classics at the elegant 'Chuma Grill Restaurant and Bar'. The 'Pool Bar' serves an array of exciting cocktails and light meals. This hotel also boasts of a relaxing spa, fitness center, sauna, sun terrace, Jacuzzi and outdoor pool.

Visit The Awesome, Radisson Blu Hotel

5. The Elegant, Best Western Plus Lusaka Grand Hotel

The Best Western Plus Lusaka Grand Hotel is ideal for business travelers and vacationers. This luxury hotel is located right in the heart of the crowded central business district. The Lusaka National Museum and Lusaka Golf course are some of the important tourist attractions which are located close to the hotel.

The 92 comfortable rooms of the hotel are kitted out with the latest amenities.

The 'Manna Restaurant' serves international cuisine while 'Mandarin Restaurant' serves authentic Chinese cuisine. 'Vodka Piano Bar' is the ideal place to relax and enjoy a glass of vodka. This hotel has an outdoor pool as well as a spa and wellness center.

Visit The Elegant, Best Western Plus Lusaka Grand Hotel

6. The Luxurious, David Livingstone Safari Lodge And Spa

This stunning hotel is located on the banks of the picturesque Zambezi River. The impressive Victoria Falls is situated just 5 kilometers from this hotel.

The 77 luxuriously decorated room of this lodge allows guests to enjoy the most spectacular views of the surrounding countryside.

'Kalai Restaurant', 'Gwembe Terrace' and 'Ujiji Bar' are the restaurants and bar at the hotel. Guests can head to the spa to enjoy an array of relaxing spa treatments. The hotel also has a fitness centre, outdoor pool and terrace.

Visit The Luxurious, David Livingstone Safari Lodge And Spa

7. The Tranquil, Lilayi Lodge Zambia

Lilayi Lodge is located in the heart of a 600 hectare private game reserve.

The deluxe chalets and family chalets of this luxury lodge are simply furnished without compromising on any of the modern amenities. The 'Lilayi Restaurant' promises guests a dining experience which they will remember for the rest of their lives. This hotel also boasts of an outdoor pool and a library.

Visit The Tranquil, Lilayi Lodge Zambia