An amazing tourist destination, Australia is home to beaches, mountains, deserts and a wide variety of flora and fauna. Its stunning landscape is enough to capture your imagination and there are plenty of things to do and see when you land in the country. Whether you wish to mingle with the bustling crowds in its teeming cities or want to explore its varied national parks, travelers will be spoilt for choice. The country has over 500 national parks and it is hard to decide which ones to see.
Let's Look At The Top 10 Fantastic National Parks In Australia:
1. Purnululu National Park
The sandstone rock formations at Purnululu National Park is a natural wonder that will leave you awestruck. Shaped like bee hives, the rocks have orange and black stripes on it. These are particularly evident on the Bungle Bungle Range running through Purnululu. Although, the park's terrain is known to be quite rugged, there is no dearth of visitors to this park. Its natural beauty attracts thousands and visitors can enjoy a 4 wheel drive through the park. A number of hiking trails are also marked and walking tours can be arranged. Besides, camping is quite popular here but, campers are advised to bring adequate food supplies.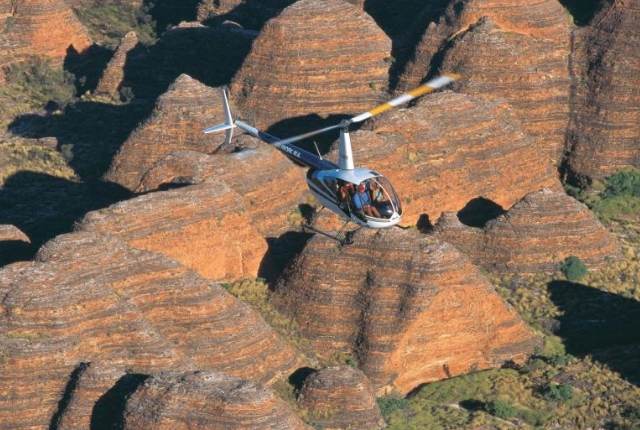 2. Kakadu National Park
For over 40,000 years, the region around Kakadu National Park has been home to the aborigines. As a result, there is an abundance of rock art around the park. It is a place where you can spot huge crocodiles and kangaroos along with other animal species like the flatback turtles, quolls, partridge pigeon and the comb-crested jacana. The park is the largest in Australia and the Alligator River is very famous among tourists. It also has a remarkable fauna cover consisting of Speargrass, Pandanus, Darwin Woollybutt and the Kapok Bush. Fishing and boating tours are also very common at Kakadu National Park. There are also a number of walking trails within the park.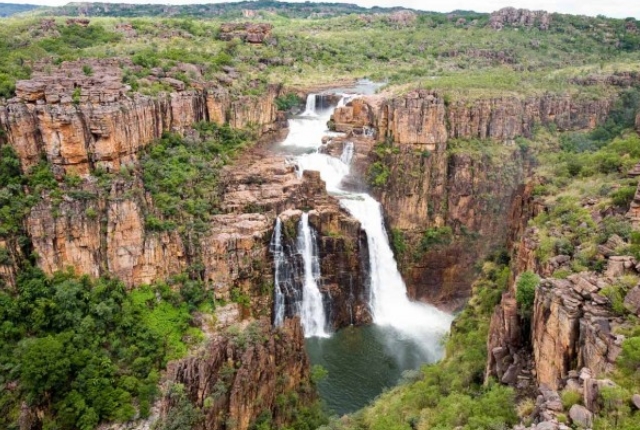 3. Port Campbell National Park
If the ocean attracts you, Port Campbell National Park is the best place to be. Its stunning rock formations, beautiful scenery and picturesque surroundings will amaze you. The limestone rocks bordering the ocean have been carved by wave actions to form interesting rock formations. Some of them like Loch and George, Twelve Apostles and London Bridge are most noteworthy. The Great Ocean Road is a wonderful place for a long drive and you can spot a wide variety of flora including orchids. Falcons can also be seen along the road.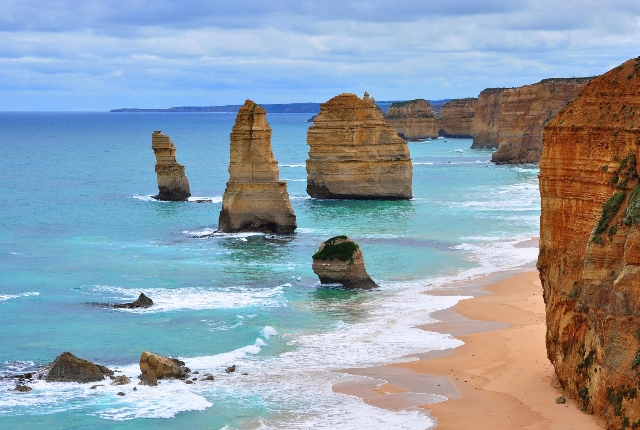 4. Cradle Mountain-Lake St Clair National Park
The island of Tasmania is home to the Cradle Mountain-Lake St Clair National Park. It is one of the most beautiful parks and has rainforests as well as alpine mountains. While Cradle Mountain borders the park to the north, the southern part is lined by Lake St. Clair. The fascinating mountains paint a pretty picture as you walk along the hiking trails. Hiking enthusiasts can also opt for the six day Overland Track that goes through the wonderful hilly roads and forests.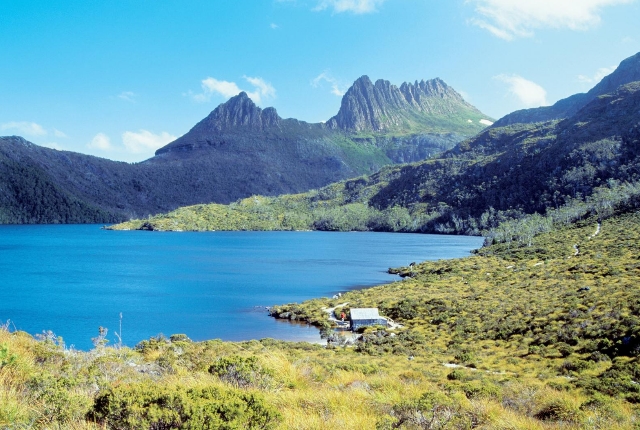 5. Nambung National Park
The Nambung National Park is a great place find exotic animals. It is home to over 175 species of animals ranging from red kangaroos to humpback whales. Apart from these, you can find other birds and animals in the park. The rock formations found within the park are simply extraordinary and some of them are as old as 3.6 billion years. The Pinnacles Desert lies close to the park and it is filled with short, fat and tall rocks formed from the yellow ocean sand. Kangaroo Point is another highlight of this park where you can take a walk along the beach.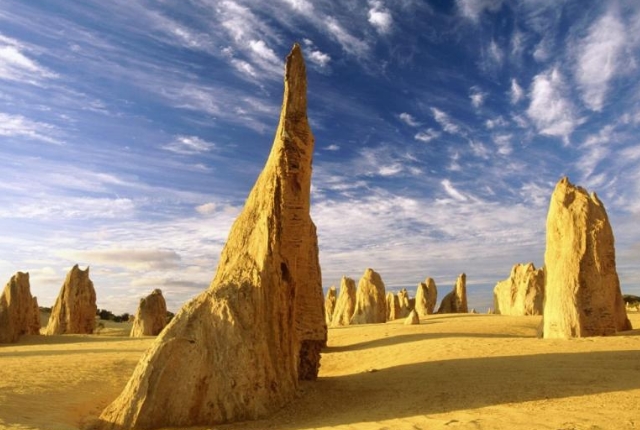 6. Uluru-Kata Tjuta National Park
The gigantic sandstone monoliths at Uluru-Kata Tjuta National Park are its best known feature. People from all over the world travel to this national park to witness the changing color of these rocks. The aborigines consider this place as a spiritual hub and tourists like to witness fabulous sunrise and sunsets at this awesome place.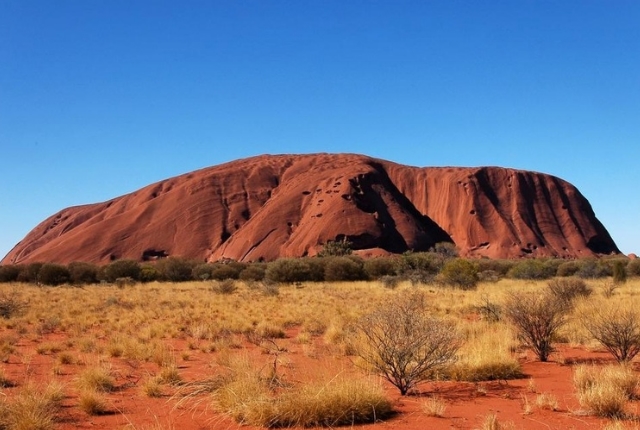 7. Great Sandy National Park
Queensland's Great Sandy National Park is a traveler's delight. It has beaches, wonderful mangrove forests and rain-fed green swamps. Fraser Island lies within the park and is a very famous spot in the park. It is home to dingoes, a protected specie of dog like animals. You can also find a number of exotic birds and different types of animals in the park. Rides on 4 wheel drives are quite common within Great Sandy National Park.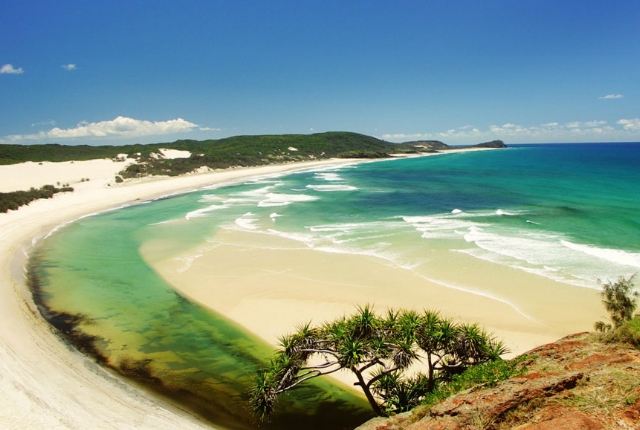 8. Freycinet National Park
One of the most fascinating places for birdwatchers, Freycinet National Park is one of the most stunning parks of Australia. Its pink and red granite mountains are simply amazing. And the dazzling blue waters of Wineglass Bay will leave you spellbound. The beach along the bay is one of the most popular beaches of Australia and is mostly filled with enthusiastic travelers from different parts of the world. The flora and fauna here is truly charming. Fishing, kayaking, swimming and beachcombing are some of the famous activities at Freycinet.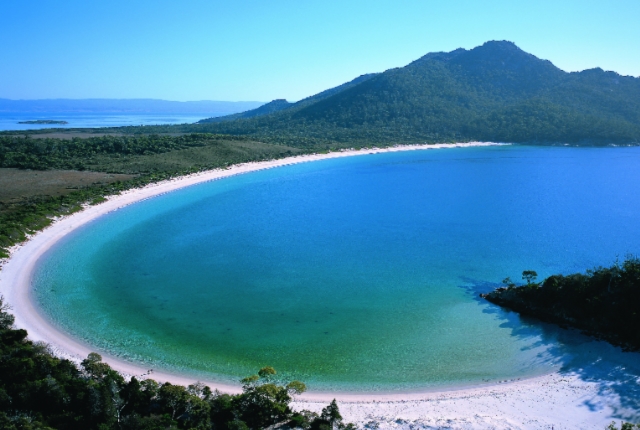 9. Kosciuszko National Park
Located in New South Wales, Kosciuszko National Park is one of the most scenic parks in Australia. Its picture perfect terrain is highlighted with snow covered mountains and serene glacial lakes. Named after the highest peak of Australia, Mount Kosciuszko, the park's rugged terrain is home to aborigines. It also has Australia's highest town, Cabramurra. And if you are looking for the endangered corroboree frog, Kosciuszko is the place to find them. Tourists can opt for horse riding or hiking tours during the summer season, while in the winter they can ski on the snow covered slopes.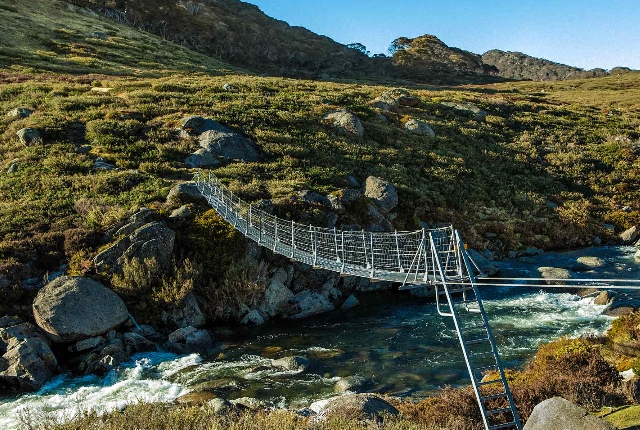 10. Daintree National Park
Some of the oldest rainforests in the world can be found at Daintree National Park. It is an exclusive habitat for exotic flora and fauna. Due to heavy rainfall, the forest always has a dense plant cover and visitors can enjoy the lush greenery at Daintree. If you happen to visit the park during the monsoon, you can find some fabulous box jellyfish, which is abundant during this time of the year.