In Wales, its eight different weather a day. Who would not get curious to check out such a place and believe me its just the beginning. Wales, a country in southwest but still a part of Great Britain is known for its natural beauty, rugged coastline, national parks, Celtic culture and their distinctive language. It is said that "Restoring Welsh in wales is nothing more than a revolution". Cardiff is the capital of Wales, is a very refined, coastal city with Medieval castles, Gothic interiors and a hot night life.
Here Are The 9 Must Visit Places In Wales:
1. Conwy
Conwy is a very ancient town whose special attraction is none other than the Conwy Castle, built in 1280s by King Edward I. The place is located in North Wales near the Snowdonia forests.
The dark-stoned fortress covers the whole aura of the city and gives it a medieval feel.
Castle's Great hall, the walls and towers of castle could be seen through bird eye view from Battlements. Other attractions in Conwy are Aberconwy House, Plas Mawr, smallest house in UK and St Mary's church built during the Byzantine empire.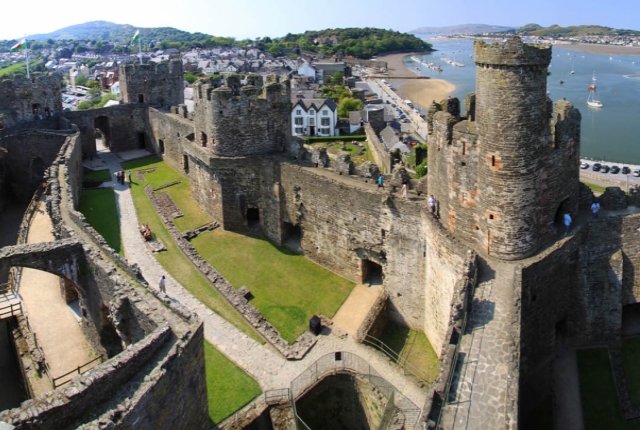 2. Snowdonia
Snowdonia is named after Snowdon, the mountain with the highest peak in Wales. Snowdonia National Park and its mountains are mesmerizing and the most important beauties of Snowdonia.
Hiking is a very popular activity along with Roman ruins to explore.
If you want to enjoy the beauty of the whole park and mountain, cog trains are available by the Ffestiniog Railway of wales.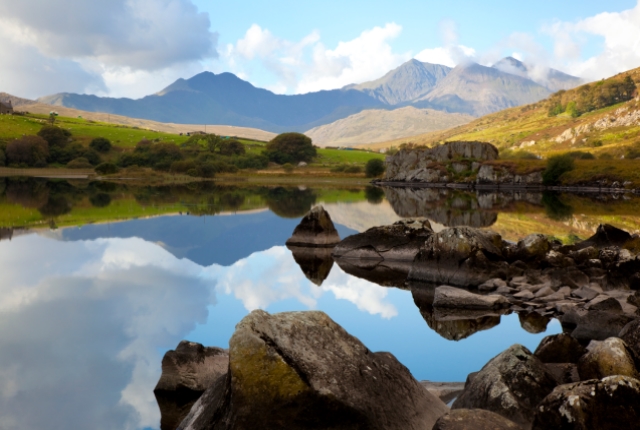 3. Cardiff
Capital city of Wales, situated in the south-east corner, is a cosmopolitan city, filled with both beautiful medieval buildings as well as modern museums and pubs.
Millennium sports stadium and the Wales Millennium Centre are one of the few most visited tourist spots and star attractions of the city.
Cardiff Castle, at the other hand is an eleventh century castle giving the tourist an intro to the Welsh history. National Museum, Cardiff has exhibitions of gold ornaments and pottery dating back to the Bronze age.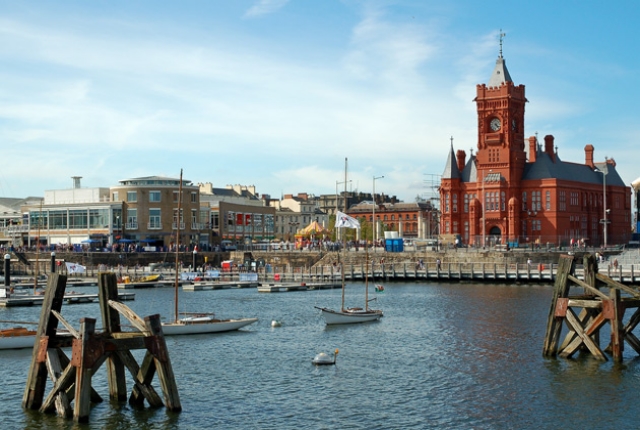 4. Aberystwyth
Known by the known of "Aber", an historic university town and a student hub or student destination spot.
There is no surprise in the fact that the town is so popular amongst young people which is seen and explained by over 50 pubs. Around 7,000 students attend Aberystwyth each year.
The beaches are beautiful and it comes with mind-blowing Victorian architecture all around. Remain of Norman Castle and a massive Iron Age fortress could be found nearby too.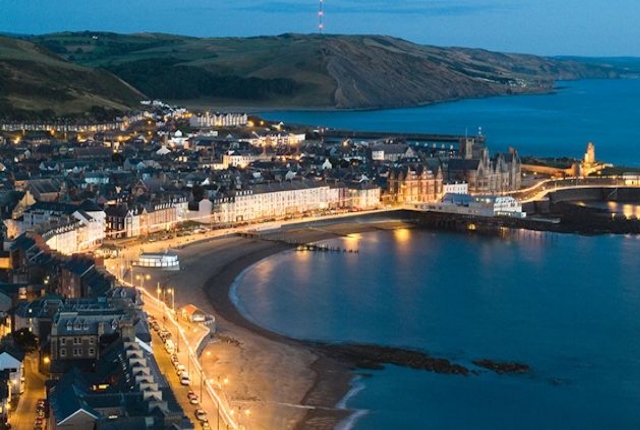 5. Llandudno
Also known as the "Queen of the Welsh Resorts". Between the Great Orme and Little Orme, lies the beautiful and enthralling Llandudno, largest and without a doubt, the most charming seaside resort.
It was built in 1950s and was built in a way to match the Victorians attributes.
The resort has a stroll way which is stretched along the sea and has 700-meter support at the end. Great More is an amazing place to get the best views of town!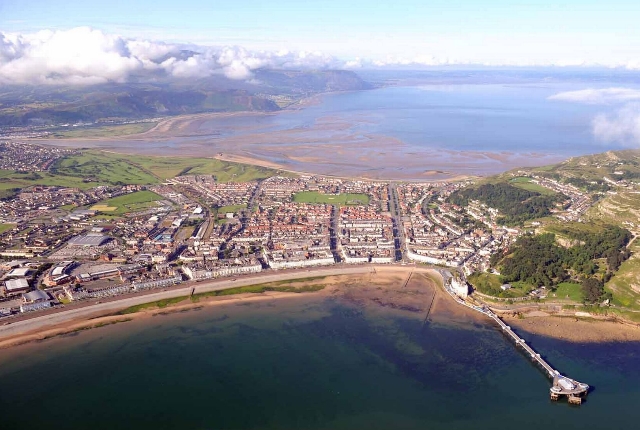 6. Caernarfon
Caernarfon is best known for Caernarfon castle built in the mid-13th-century, by King Edward I and it is the most preserved fortresses in all of Wales. The inner buildings have somehow all disappeared. The castle was constructed to be used both as a royal palace and a military stronghold. The north-east tower of castle showcases the Prince of Wale's exhibition too.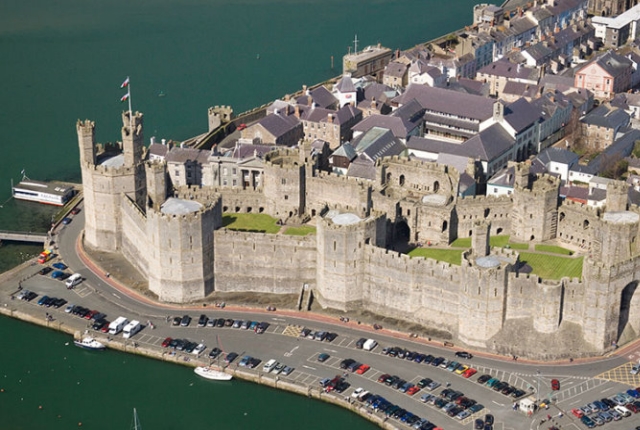 7. Brecon Beacons National Park
This is a hiker's paradise, bordered by two different sets of black mountain. The park was named after red sandstones which resemble like beacons.
The park has many rivers, caves, underground caves and waterfalls, the most famous being River Usk, Henryd Falls and Sgwd yr Eira Waterfall.
The park is dotted historical and archeological remains of Wales' history which includes Neolithic cairns, Bronze Age standing stones, Iron Age forts and crumbling Norman castles.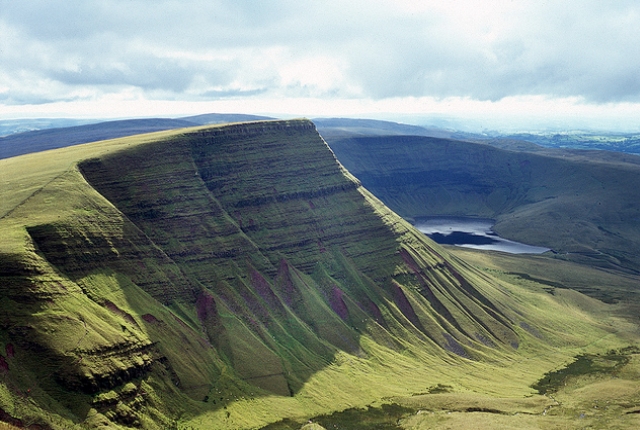 8. Pembrokeshire Coast
Encompassed by water surrounding three sides of the area, Wales has more than what's coming to its of sensational coastline.
The absolute beauty is at the beach of Pembrokeshire Peninsula, bulging like an old man's jaw into the sea.
Everything here has its own beauty like Historic castles which include The Pembroke Castle, cathedral, churches and houses of God (St David's), and charming angling harbors, for example, Laugharne, Adventurous travelers could stay away from all this by taking unique accommodation like vintage railcars, etc.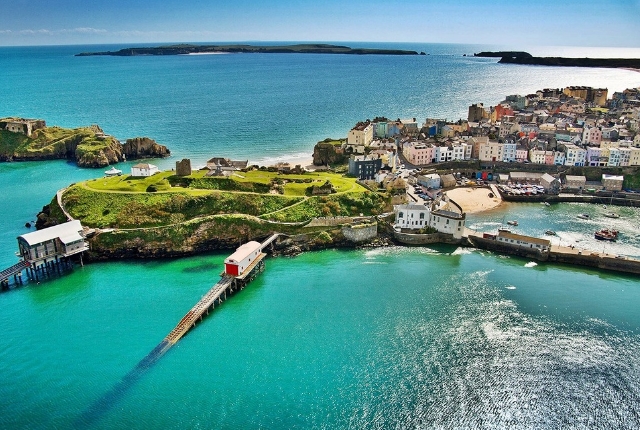 9. Portmeirion
A beautiful hotel resort and an eye-catching attraction center located by the coastline of Snowdonia National Park. It has its interiors and construction done between 1925-1975, to resemble a quiet Italian fishing village to give you an out of the world experience which you won't find anywhere else. This has been the location for the shooting of a lot of TV programs and Cult classics. It is good for overnight stays generally.