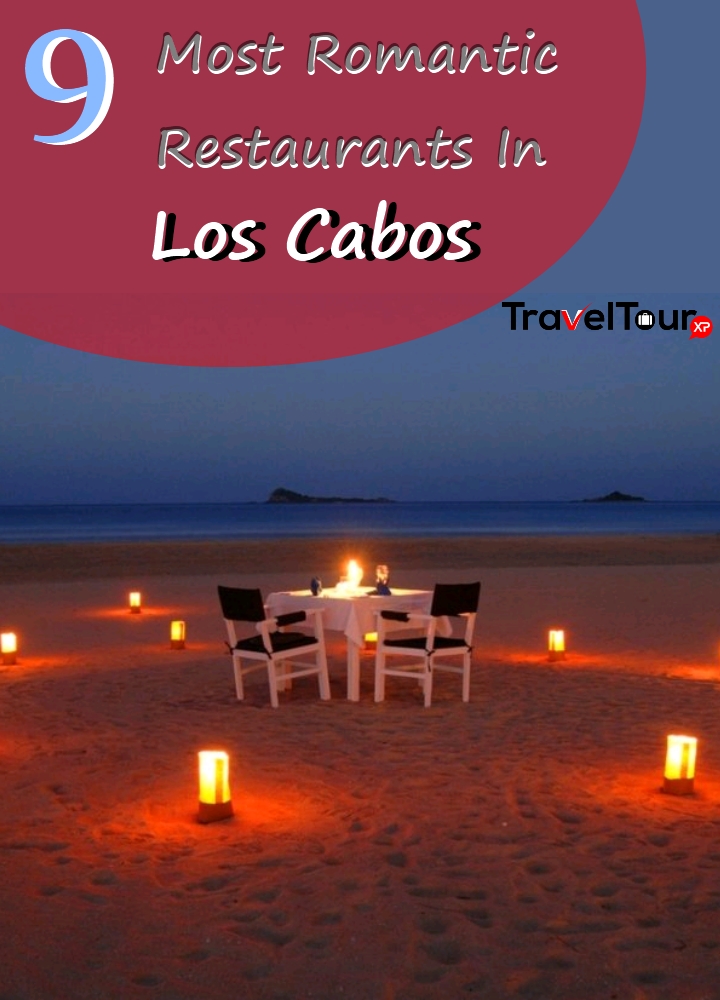 Whether it is a Valentine's Day or not, one must make time for a little romance. Baja is a romantic place surrounded by some of the natural treasures, such as secluded beaches, secret desert paths, uninhabited islands, and tropical oases with waterfalls. However, if you are looking for a special romantic evening.
Some Of The Romantic Restaurants Which Provide The Best Food, Ambiance, And Service.
1. Agua, One & Only Palmilla
Agua Restaurant is one of the most popular dining of Cabo. Established on a bluff, facing the Sea of Cortez, the Mexico-style restaurant serves Mexi-terranean food, a special blend of Mexican influences with Mediterranean fare. Stand by the fountain courtyard to feel the elegance of dining alfresco or step inside to enjoy a delicious evening repast by the fireplace glow. For a romantic evening, reserve the Moonlight Table in advance. Enjoy the beauty of San Jose coastline and the moonlit sea. All through the restaurant, musical entertainment brings a unique ambiance of realness to the night.

2. Don Manuel's, The Resort at Pedregal
Don Manuel's is a fine eating restaurant, where the cooking depends on local, natural produce grown especially for the restaurant and arranged using old world strategies in a modern setting. The kitchen, "Su Cocina," is a special feature of this Signature Restaurant. Like any Mexican kitchen, its doors are always open to Don Manuel's visitors. Before having a romantic dinner on the beach, the couples can enjoy in private booth, dining area or the patio facing the Pacific Ocean.
Visit Don Manuel's, The Resort at Pedregal

3. El Farallon, The Resort at Pedregal
El Farallón looks like a coastal seafood shop that has outlived a number of storms. The restaurant is occupied everyday from local fishermen with remuneration. Close to it, an old fashion scale measures every catch, and selection of the day is manually written with chalk on a board. Numerous selections from the day's catch are shown on ice in a market-style fish display of El Farallón, or "La Panga," joined by local experts accessible to answer your inquiries and help in your choice. It is usually fully booked for weeks in advance, so reservation is a must. Open daily for dinner from 7:00pm – 11:00pm. Pick the ocean front table to enjoy the waves crash right before you. You can also visit Champagne Terrace.
Visit El Farallon, The Resort at Pedregal

4. The Restaurant, Las Ventanas al Paraíso
The Restaurant's menu is fixed in originality and all things local. Famous for inventing the term "Baja-Mediterranean" food, The Restaurant at Las Ventanas has expanded the Baja food story with a propelled Mexican menu reflective of the distinct Mexico regions. Modern, elegant and relaxed, The Restaurant highlights Mexico's credible decorative touches and the magnificent, hand-painted crockery. Each table at this place enjoys spectacular sights of the resort's pools and the glimmering Sea of Cortez.
Visit The Restaurant, Las Ventanas al Paraíso

5. Cocina del Mar, Esperanza
Cocina del Mar is popular for its grand range of fresh fish and seafood specialties. It uses only the freshest ingredients, providing a spectacular and unique presentation. Inspired by the broad selection of cuisine that are provided by the coasts of the American continent and the worldwide experience of the restaurant's culinary team. The Argentina-born executive Chef provides cuisine that covers various traditions and styles of North, Central, and South America, using contemporary and creative strategies. A three and the four-course menu is provided, considering always vegetarian and vegan choices. If accessible, reserve a cliff-side table.
Visit Cocina del Mar, Esperanza

6. Pitahayas, Sheraton Hacienda del Mar
The Pitahayas chef Volker Romeiker mixes dishes from the Far East with the flavors from the Pacific Rim, for a menu that's both innovative and inviting. Earning awards for 12 consecutive years, Pitahayas Restaurant has a prestige for world-class cuisine in a relaxed yet elegant environment. You can test dishes like marinated Atlantic salmon with lobster alfredo sauce, a fish trilogy with mango papaya relish, and grilled octopus marinated in yuzu and soy sauce. Test exceptional varietals from their wide wine cellar, which highlights over 400 labels from everywhere throughout the world, or pick from a global list of spirits. Live music is also included on select evenings, offering a relaxing soundtrack. The American Academy of Hospitality Sciences gave the prestigious 5 Star Diamond Award to the restaurant in 1999. It is the only restaurant in Los Cabos to receive 13 awards consecutively. Advance bookings are necessary.
Visit Pitahayas, Sheraton Hacienda del Mar

7. DOC Wine & Bar
DOC Wine Bar, situated in Calle Cabo San Lucas, is an Italian restaurant. Its warm and small space give a pleasant and charming experience. Its decor comprises of old Italian posters, candles, and blackboards, where the restaurant exhibits its menu, wine lists, and quotes — transports you to central Italy's little restaurant. The service is excellent. The menu changes regularly, however, always incorporates Italian dishes arranged to order with fresh ingredients. Try their original desserts. A lot of these meals are prepared with the organic products brought from farms in towns. Pasta and salads are always placed at the base of the menu. These foods are the house specialty at Doc Wine Bar. The restaurant also provides steaks, seafood, and other fresh products. The wine selection comprises of purely Mexican and Italian wines.

8. Salvatore's Restaurant, the Siesta Suites Hotel
Salvatore's, situated by the pool, is popular for exceptional Italian food, generous segments, a quaint environment and excellent personal service. The restaurant is a pristine place in downtown Cabo San Lucas. Italian staples are provided at this funky little place. Some of these foods include mussels in marinara sauce, lasagna, chicken parmigiana, and calamari. Portions are huge and costs are reasonable.
Visit Salvatore's Restaurant, the Siesta Suites Hotel

9. Bar Esquina, Bahía Hotel
Bar Esquina is one of the most known restaurants in Cabo. It is well-known for its great cooking, ambiance, service and area. Bar Esquina highlights a special twist on International creative food: fresh fish from the Pacific & Sea of Cortez; Mexi-terranean food, using locally grown, natural produce; and the best quality meats made on a mesquite grill. It serves fresh and natural Mexican coffee directly from Oaxaca or Chiapas, blended every day from 7 am. After dinner, go out for a walk with your partner at the Medano beach. Enjoy stargazing and some more Baja romance.
Visit Bar Esquina, Bahía Hotel