Are you planning to explore South Island during your coming vacations? That's a brilliant idea! South Island is an island in New Zealand and larger of its two main islands. It is well-known for its natural landscape that gifts it dramatic scenery. Beautiful lakes, incredible glaciers, and mountains adorn the South Island. You can find here Southern Alps where you can watch breathtaking views of 3,724m tall Aoraki Mt. Cook. You simply can't miss visiting Queenstown which is world famous for a host of adventure sports, such as skiing and bunjee jumping. So, if you are looking forward to visit South Island, have a list of popular destinations to explore on the island can help make your excursion here more interesting and thrilling. Scroll down to discover some worth-visiting attractions in South Island.
Find Below Eight Prominent Places To Visit In South Island:
1. Kaikoura
Kaikoura, a small charming seaside town, is a worth-visiting place in South Island. Being surrounded by spectacular scenery of mountain of Southern Alps, you can find here all kinds of amazing wildlife. It is world famous marine reserve. Make sure you go for whale watching, viewing pelagic sea birds, and swimming with adorable dolphins and seals here in the natural, fascinating environment. Also, you can find several fresh seafood specialties over here.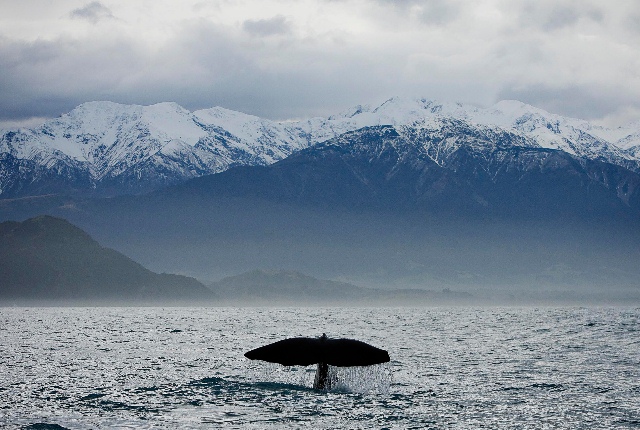 2. Golden Bay, South Island
You simply can't miss visiting Golden Bay, one of the most spectacular beaches in South Island when exploring it. Golden Bay is paraboloid in shape and you can find it in the northwest of this incredible island. It lies to the northwest of Cook Straight and Tasman Bay. Unwind in this natural paradise. Enjoy the fun of swimming, hiking, thrilling caving, and horse-riding at this wild yet amazing.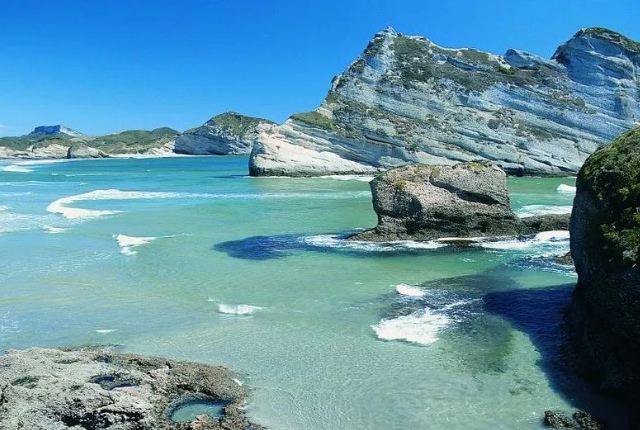 3. Punakaiki Pancake Rocks
Do not miss visiting Punakaiki pancake rocks when holidaying in South Island. Punakaiki is a small settlement that you can find between Greymouth and Westport on the west coast of this island in New Zealand. Punakaiki is home to unique, ancient rock formations which are about 30 million-year- old. These rocks are naturally compressed into outstanding layers of hard limestone and peculiar soft sandstone developing a unique 'pancake' appearance. You can find that rough seas in the vicinity send multiple columns of water quite high in sky, and they are popular as 'blowholes'. Make sure you watch these incredible blowholes and pancake rock of Punakaiki.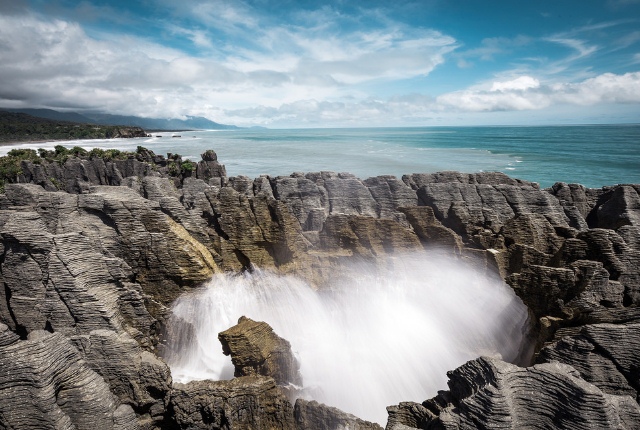 4. Hanmer Springs
Hanmer Springs is a popular town in South Island's Canterbury region, and it is widely famous for its mineral waters and thermal pools. Relax at the thermal pools. Have massage to get rid of stress. Unwind in the natural environment. Shop in the boutique shops in the close by village. Also, you can find a rugged Waiau Gorge in the south direction. It is popular for its whitewater rapids and marine life. The mountains in the vicinity to it are home to several amazing trails and seasonal ski slopes. Enjoy hiking, biking, fun of bungy jumping, exploring forest trails, walking, and going for a jetboat ride over here.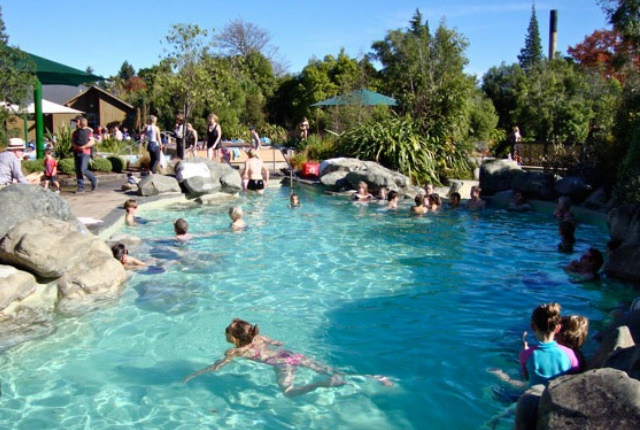 5. Otago Peninsula
Make sure you explore Otago Peninsula when in South Island. This craggy, windswept area is a part of crater wall of a unique extinct volcano. You can find here incredible walking tracks that will lead you to amazing clifftops and stunning beaches. Explore diverse wildlife over here. You can find here the biggest breeding colony of Albatross on the planet, amazing yellow-eyed penguins, sea lions, and fur seals.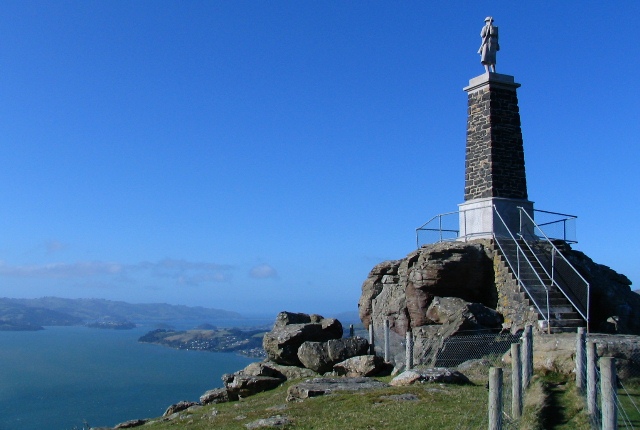 6. Hokitika
Are you a history buff? If yes, then do not miss visiting Hokitika, which is popular as a small, vibrant town with a great historic significance. You can find it on the west coast of the island. Hokitika is home to the community of beautiful crafts and arts. Visit this historic town in the month of March, as every year in March Hokitika Wild Foods Festival is organized here.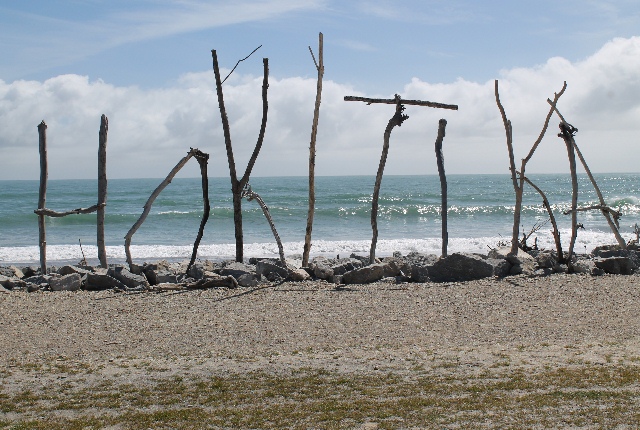 7. Franz Josef
Your trip to South Island would be incomplete without visiting Franz Josef and Fox Glaciers. These iconic glaciers are present in the west coast of the country. Franz Josef is well-known for being a world heritage area and its glacier. Go for a guided tour to walk to the face of this incredible glacier. Frans Josef is also famous for its hot springs, enchanting waterfalls, lush rainforests, and charming lakes. Watch stunning mirror reflections of breathtaking Mt. Cook in the outstanding Lake Matheson in the vicinity.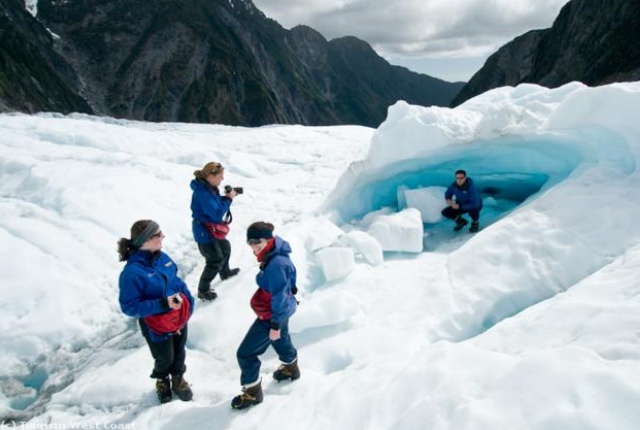 8. Haast Pass
Enjoy exploring the scenic driving route of Haast Pass that life between Makarora and West Coast of the island. Watch at amazing natural views of the breathtaking waterfalls, scenic nature walks, rushing rivers, and native green forest as you pass through Haast Pass when in South Island.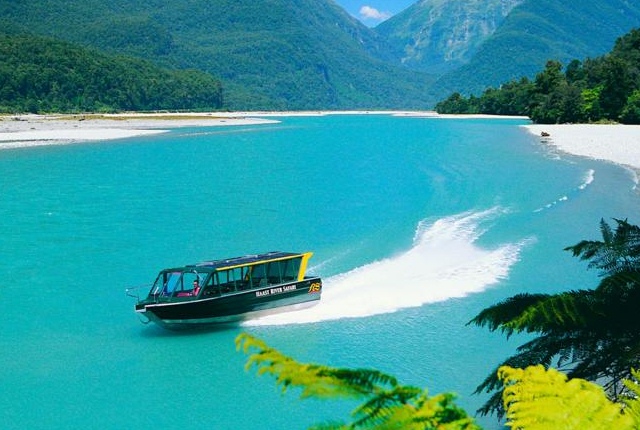 Now that you know these eight amazing attractions in South Island, make sure you explore all of them when holidaying on this scenic land.