From plenty of reasons to visit Thailand, one reasons invites you in Thailand to try out its famous food. However, there are food items that you don't leave Thailand tasting without. I am sure that you will have the same fun as visiting its beaches and definitely come over again for the food. What's the best thing about Thai dishes is that most of its dishes are spicy and comes with world's best taste and also a true example of feast to the eyes. Moreover, these food items of Thailand carrying a different taste will introduce you to its culture, spices and the life of people. Just go through the 6 dishes below and learn about the must try food items of Thailand.
6 Food Items That You Must Try In Thailand:
1. Tom Yung Goong
In English, it has another name as spicy shrimp soup. Its aroma and the bold refreshing balance of lemongrass, galangal, chilli, shallots, fish and lime juice prepares you a soup that you would hardly find in any other place. The main body of the soup comprise of straw mushrooms and the fresh prawns. It is a dish that you would enjoy with any meal and its exotic smell will compel you to have it even after your stomach is full. Just keep in mind that you order the soup only if you are fond of spicy.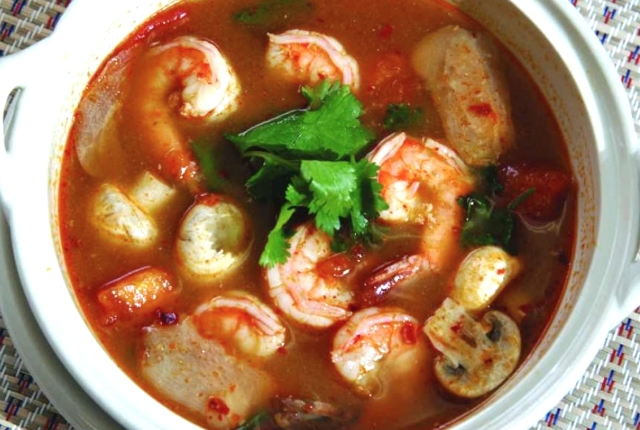 2. Pad Thai
This is the Thai style f fried noodles. The dish has its reach in all over the world. From Cape Town to Khao San road, people have been huge follower of this dish. A fistful of small, thin or wide noodles, onions, eggs, and crunchy beansprouts in a hot wok will make your appetite grow even more. Also, half of its taste comes from the equal portion of sugar, fish sauce, finely grounded peanuts and chilli powder. This is spicy and appealing to the eyes as well.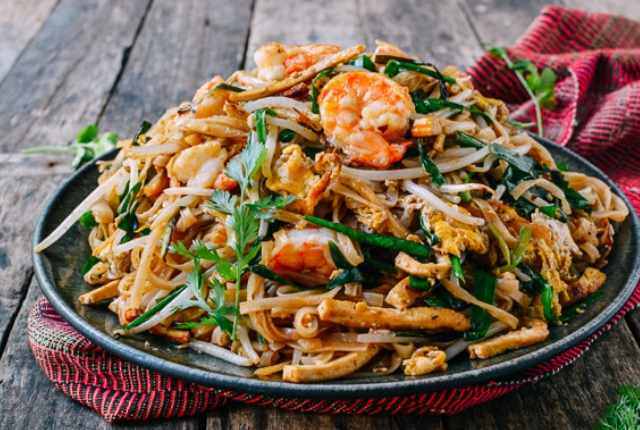 3. Som Tam
Having the other name as spicy papaya salad, this dish comes from northeast Thailand. Although, the dish is served in all over Thailand but its taste comes with slight regional differences. Also, the sweet to sour taste may vary according to the restaurants. With the common ingredient as papaya, the dish is healthy and is also delicious. The best companion to serve this dish with are sticky rice and barbequed chicken.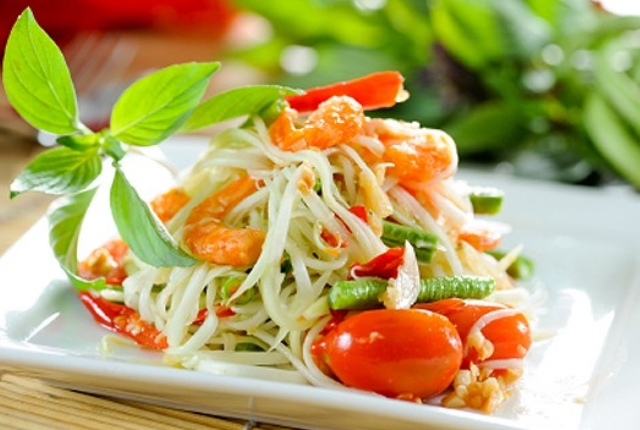 4. Gaeng Daeng
Having the other name as Red curry, Gaeng-Daeng is other form of curry that comprises of red curry paste, morsels of meat, coconut milk and sprinkled with thinly sliced lime leaves. The curry is so aromatic that you can smell it from a distance and cannot stop ordering it regardless of the time. In Thailand, the stunning taste of the curry is compared to the beautiful woman.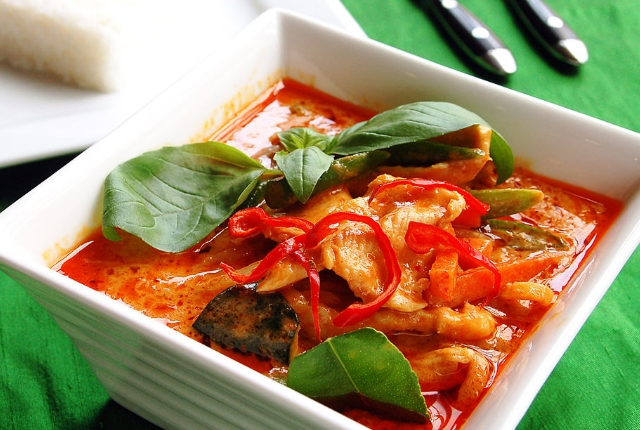 5. Tom Kha Kai
Tom Kha Kai or the chicken in the coconut soup is popular not only among Thai people but also among its visitors. This iconic soup comprise of the blend of chilli, shallots, galangal, lemongrass and tender strips of chicken. However, what makes it little different from other Thai dishes is the portion of coconut that softens its spicy taste and credit for is aroma and appearance goes to fresh lime leaves and sweet smelling, creamy and compelling concoction.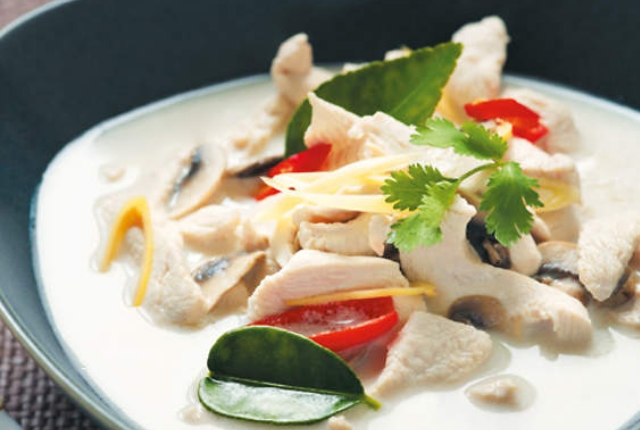 6. Khao Pad
Khao Pad is called fried rice dish of Thailand. It might seem an easy dish but it comes with the special flavor and taste an ingredient of Thailand. This fried rice of Thailand is prepared from egg, onions, cucumber, and special herbs of Thailand and its rice. The dish is popular among Thai and is served for lunch. What's is common about every Thai dish is the usage of basil, Prawns, Crab or chicken. These ingredients render taste and flavor to the dishes and also make its aromatic.